1:45 p.m. ET, April 30, 2019
Military colonel shot during clashes with opposition, minister of defense says
A military colonel was reportedly shot during clashes with the opposition on the Francisco Fajardo highway, Venezuela's Minister of Defense Vladimir Padrino tweeted.
"At the moment entering the operating room. I hold the opposition political leadership responsible," Padrino tweeted in Spanish at 12:35 p.m. ET.  
1:38 p.m. ET, April 30, 2019
Protesters chant "What do we want? Democracy!" outside Venezuelan embassy in Washington
Demonstrators gathered today outside of the Venezuelan embassy in Georgetown in Washington, DC.
Dozens of demonstrators held Venezuelan flags and posters and shouted "Venezuelans want democracy, not another Cuba." They chanted "What do we want? Democracy! When do we want it? Now!" as well as opposition leader Juan Guaido's name.
They also called on activist group Code Pink to leave the embassy, which it has occupied. The group opposes Guaido.
Some Code Pink activists stood outside and held signs saying "US hands off Venezuela." They also sang "We shall not be moved."
1:18 p.m. ET, April 30, 2019
Turkey and Cuba condemn violent uprising
Turkey and Cuba's foreign ministry leaders condemned Tuesday's attempted coup to remove Venezuelan President Nicolás Maduro.
Turkey's Foreign Minister Mevlut Cavusoglu expressed his concerns about the uprising.
"Concerned about news that there are some attempts against the constitutional order in Venezuela. Oppose attempts to change legitimate governments via non-democratic means," Cavusoglu tweeted.
He called on people to "stand in favor of settling problems in the country through dialogue. Always with the people of Venezuela."
Cuban Foreign Minister Bruno Rodriguez Parrilla tweeted that the country was standing in solidarity with Maduro.
12:59 p.m. ET, April 30, 2019
UN Secretary General urges restraint and asks all to refrain from violence
UN Secretary-General António Guterres is watching developments in Venezuela "closely and with concern," spokesperson Stephane Dujarric said.
The UN is also reaching out to the parties, Dujarric said at the noon briefing Tuesday.
Dujarric said the Secretary General urges all sides to use maximum restraint and asks all stakeholders to refrain from violence and to restore calm.
"Contacts are being had at various levels with the United Nations," concerning Venezuela, Dujarric said.
1:12 p.m. ET, April 30, 2019
What you need to know about the uprising in Venezuela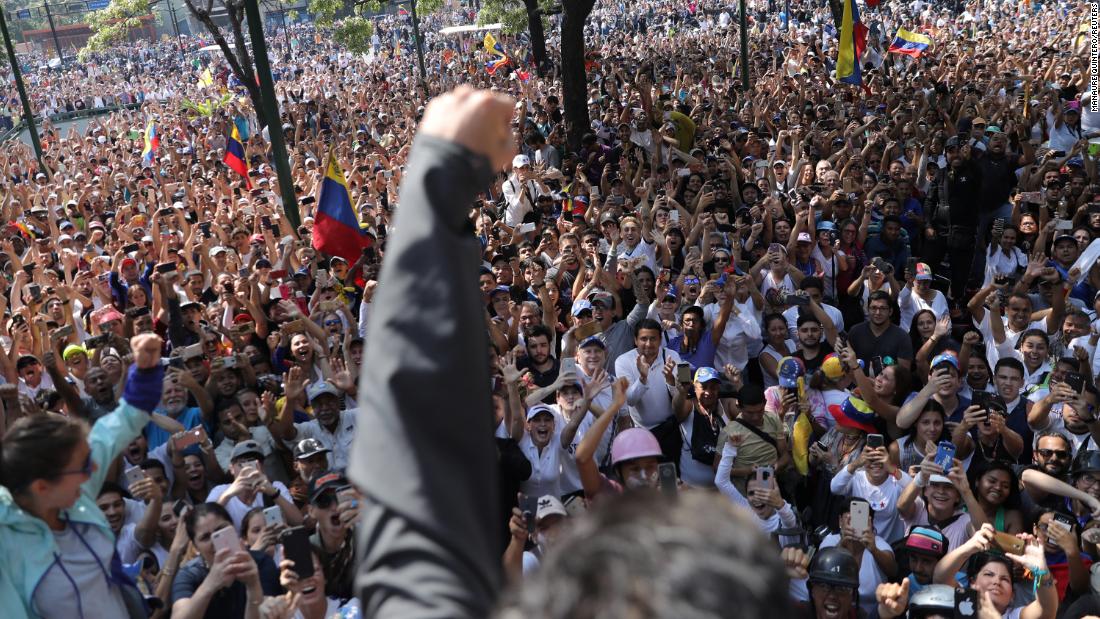 Protesters have taken to the streets after the leader of Venezuela's opposition declared he was "beginning the final phase of Operation Freedom," promising to bring an end to the government of Nicolás Maduro.
Here's what you need to know:
What's led up to today: Opposition leader Juan Guaido — who declared himself interim president in January — has been recognized as Venezuela's leader by dozens of other countries and has led months of protest against Maduro's government.
Why today matters: Guaido gave a dawn address in which he was flanked by men in military fatigues and armored vehicles in the capital Caracas. It marked his boldest attempt yet to involve the military in the removal of the Venezuelan leader.
What Guaido has promised: The 35-year-old has promised a transitional government and free elections to end the rule of the socialist Maduro regime, which has overseen the once-wealthy oil nation's descent into economic collapse and a humanitarian crisis.
What Maduro is saying: "The situation is under control," Maduro's Communications Vice Minister Isbemar Jimenez told CNN on Tuesday. "All military garrisons support Venezuelan President Nicolás Maduro."
12:24 p.m. ET, April 30, 2019
Russian officials say Venezuela opposition is attempting to "incite conflict"
The Russian Ministry of Foreign Affairs on Tuesday condemned Venezuela's opposition for attempting to "incite conflict" after self-proclaimed acting president Juan Guaido called for an uprising to topple President Nicolás Maduro.
Read the ministry's statement:
"The radical opposition on Venezuela has once again turned to confrontation with the use of force. Instead of peaceful resolution of political disagreements a course was chosen that is aimed to incite conflict, provoking disruptions of public order, clashes involving the armed forces.
We urge to say no to violence. It's important to avoid turmoil and bloodshed. Issues that Venezuela is facing right now must be resolved via a responsible process of talks without any preset conditions. Any action must be taken exclusively within the framework of the legal field, in full accordance with the constitution and without any destructive outside interference.
We confirm our principled position supporting political, civilized ways of resolving inner disagreements by the Venezuelans themselves. We appeal to all members on the international society, including the closest neighbors of this country, with an urge to confide their adherence to the UN Charter, norms and principles of the international law, support Venezuela's return onto a path of stable and incremental development through a dialogue that includes all responsible political powers within the country.  
We also view the objective reporting on the unfolding situation in Venezuela to be crucial. Media should not multiply fakes, turn into an obedient tool of agenda-driven political powers which are aiming to escalate the tensions in Venezuela."
12:22 p.m. ET, April 30, 2019
Opposition diplomat's message to Maduro: "Venezuela is ready for a change. Nobody is going to stop it."
Venezuelan opposition diplomat Carlos Vecchio said today's actions were only the beginning.
An attempted coup is underway to remove President Nicolás Maduro.
"This is only the beginning," he told reporters. "This is an operation that is developing right now. We will see more events in the hours and the days to come."
Vecchio said today's actions were not as a result of military coup.
"This is a constitutional process led by the Venezuelan people under the leadership of a civilian — the interim president of Venezuela Juan Guaido," he said. "He's calling for the restoration of our Constitution and of course, the restoration of our Democratic system."
Vecchio then had a message for Maduro:
"Venezuela is ready for a change. You must facilitate the transition in our country. You must allow the Venezuelan people to re-establish the Democratic system. The time is now. Venezuela is ready for a change. Nobody is going to stop it."
11:49 a.m. ET, April 30, 2019
Brazil's president: I support Guaido and the "freedom of Venezuelans"
Brazil's far-right president, Jair Bolsonaro, tweeted his support for Guaido and "the freedom of Venezuelans."
"Brazil sympathizes with the suffering Venezuelan people enslaved by a dictator supported by the PT, PSOL and ideologically aligned. We support the freedom of this sister nation to finally live a true democracy," Bolsonaro tweeted.
"Brazil accompanies with great attention the situation in Venezuela and reaffirms its support in the democratic transition that is being processed in the neighboring country. Brazil is alongside the people of Venezuela, President Juan Guaido and the freedom of Venezuelans."
11:33 a.m. ET, April 30, 2019
Photos show what's happening on the ground