Zimbabwe's longtime leader Robert Mugabe is dead
7:10 a.m. ET, September 6, 2019
Mugabe died while at Gleneagles Hospital in Singapore
Mugabe died Friday morning at Singapore's Gleneagles Hospital, according to Singapore's Ministry of Foreign Affairs.
The Ministry expressed their condolences and said it was working with the Embassy of Zimbabwe on repatriating Mugabe's body.
The cause of death has not been released.
6:21 a.m. ET, September 6, 2019
In photos: Mugabe's political legacy
From an imprisoned guerrilla fighter to his country's longest serving leader, Mugabe's life in the public eye was nothing short of extraordinary.
Here's a look back at some of the controversial figure's moments in power.
5:50 a.m. ET, September 6, 2019
Zimbabwe opposition recognizes Mugabe's "contribution"
Nelson Chamisa, leader of the country's main opposition party, the Movement for Democratic Change (MDC) extended his condolences to the Mugabe family and to Africa this morning, saying that it was a "dark moment for the family because a giant among them has fallen."
Chamisa expressed that while he and his party had "great political differences" with Mugabe during his tenure, they "recognise his contribution made during his lifetime as a nation's founding President."
Referencing the word to describe "togetherness and community" he added: "In the true spirit of Ubuntu, we would like to give this moment to mourning but there will be time for greater reflection."
5:51 a.m. ET, September 6, 2019
"I'm not going to shed any tears:" British politicians reflect on Mugabe's divisive legacy
Labour peer Peter Hain, a former Africa minister and anti-apartheid campaigner, called Mugabe "a tragic case study of a liberation hero who then betrayed every one of the values of the freedom struggle."
Speaking to CNN this morning, Hain said:
"On the one hand he is revered -- and rightly so for his role in the liberation struggle...but then people also have to recognise ... most of Zimbabweans will not mourn his passing at all."
"He turned it (the country) into one that had to import in food … and he would not tolerate any opposition ... (and) unleashed a wave of terror to stop their candidate Morgan Tsvangirai standing in the second round."  
Hain added that Mugabe and his wife, Grace, were "notorious for their own self enrichment."
Opposition Labour Party MP and Shadow Foreign Secretary Emily Thornberry said that she's "not going to shed any tears" over Mugabe's death.
Speaking on the BBC's Radio 4 she said:
"I'm not going to shed any tears I'm afraid for the death of Mugabe. He took over the country when it had such promise and we were all so hopeful. In fact, we were hopeful about him, but he completely lost his way and I think ruined the chance of a country that did have a great future."   
UK Labour MP Kate Hoey, formerly the chairwoman of the all-party Parliamentary group on Zimbabwe and a longtime Mugabe critic, said on Twitter:
"Mugabe brought independence to Zimbabwe and then killed in the Gukurahundi-up to 80,000 of his own citizens in Matabeleland and brought his country to its knees economically. A hero to a brutal dictator". 
4:20 a.m. ET, September 6, 2019
The US Embassy sends a message of condolence
The United States Embassy in Harare has tweeted their condolences to Mugabe's family and to the people of Zimbabwe, focusing on Mugabe's "legacy in securing" the country's independence.
4:21 a.m. ET, September 6, 2019
The liberation leader turn despot
There are some figures in our African history with which the African people have a very complicated relationship.
Across the length and breadth of this continent, there are many people who value Robert Mugabe's contribution to African history.
And there are many people who revile his sudden turn to autocracy and dictatorship.
If it was not for Robert Mugabe, Zimbabwe would not have come into being. He took power when all of southern Africa -- South Africa, Namibia, Zimbabwe -- were all in a great grip of apartheid.
But that kind of control of liberating his people turned very sour very fast.
And the things he's now remember for are all the worst things – the violence, the incredible control, the one-man leadership.
As we talk about these things, Zimbabwe became one of the most educated countries in all of Africa through his education policies.
Adult literacy rates stand at 89%, according to the World Bank.
3:56 a.m. ET, September 6, 2019
How Mugabe's land reform crippled the economy 
One of the first things Mugabe when he became prime minister in 1980 was to impose a 10-year ban on any Zimbabwean land reform or distribution of farmland.
Under British rule, the best farm land had been reserved for the white population, with blacks working on the farms.
The 1992 Land Acquisition Act allowed Mugabe to force rich white farmers to give up their property and redistribute it to poor and landless blacks. A year later, he threatened to expel white landowners who objected to the rules.
In 2000, Mugabe spearheaded the "Fast Track Land Reform," which led to the redistribution of nearly 23 million acres of land, with more than 4,000 commercial farmers – mostly white -- forced off their land almost overnight.
No compensation was paid to those land owners.
Mugabe said the reforms were needed to compensate blacks for years of colonial abuse. But his critics say that the land was handed out to his political allies and supporters, many of whom had little to no farming experience.
In the 2001-2002 fiscal year, the country's total agricultural output had dropped by 60%.
And in 2016, Zimbabwe suffered through a countrwide food shortage, exasperated by severe drought and tough weather conditions.
The economic collapse has seen more than 3.1 million Zimbabweans leave the country.
Just months before Mugabe was ousted by his own military in 2017, he had threatened a new round of land seizures from Zimbabwe's white farmers.
3:26 a.m. ET, September 6, 2019
Robert Mugabe's legacy is complicated
In November 2017, when Robert Mugabe resigned, after decades in power, the word spread through Harare rapidly by text, social media and from the shouts of celebration. People poured onto the streets in spontaneous joy and celebration.
They high-fived the soldiers in armored cars that had helped force Mugabe out in an apparent coup, they climbed on top of vehicles, and cheered in front of the presidential office. Just days before you couldn't even stand there.
The sentiment was clear -- in the capital at least --  that people wanted him out and hoped for a better future.
Mugabe's legacy is complicated. In the eyes of many he turned from a liberation icon, likened to Nelson Mandela, into a despot who helped destroy Zimbabwe's economy.
Already today you see that contrast in reactions. African leaders and liberation movements will praise Mugabe for the icon that he is. Many may gloss over the impact that he had on his people.
Even his successor, Emmerson Mnangagwa, who was at his side for decades, but was then intimately involved in pushing him out of power, glossed over the pain that Mugabe's power had wrought.
Over the past few weeks, there have again been protests brutally suppressed by the police  and allegations of kidnapping of opposition activists by shadowy figures.
Zimbabwe's economy is in tatters and many can't afford basic goods. Hunger looms because of a drought and a collapsed agricultural sector.
Zimbabwe post-Mugabe is a lot like Zimbabwe during Mugabe's final years. And that legacy shouldn't be forgotten.
3:17 a.m. ET, September 6, 2019
Mugabe had spent months at a Singapore hospital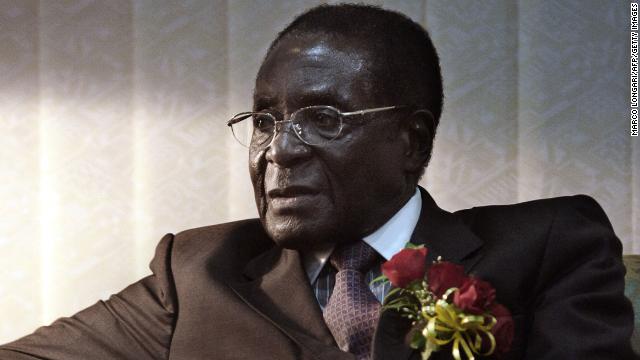 Mugabe had been unwell for some time, although details of his illness have long remained a mystery.
Last month, Zimbabwe's President Emmerson Mnangagwa announced that after a four-month stay in a Singapore hospital, the 95-year-old was still under observation.
Speculation about Mugabe's health had been swirling amid his visits to Singapore for treatment, but it was the first time the government had disclosed how long he'd spent at the hospital.
"Unlike in the past when the former President would require just a month for this, his physicians this time around determined that he be kept under observation for much longer," Mnangagwa said on August 5.