Zimbabwe's longtime leader Robert Mugabe is dead
3:26 a.m. ET, September 6, 2019
Robert Mugabe's legacy is complicated
In November 2017, when Robert Mugabe resigned, after decades in power, the word spread through Harare rapidly by text, social media and from the shouts of celebration. People poured onto the streets in spontaneous joy and celebration.
They high-fived the soldiers in armored cars that had helped force Mugabe out in an apparent coup, they climbed on top of vehicles, and cheered in front of the presidential office. Just days before you couldn't even stand there.
The sentiment was clear -- in the capital at least --  that people wanted him out and hoped for a better future.
Mugabe's legacy is complicated. In the eyes of many he turned from a liberation icon, likened to Nelson Mandela, into a despot who helped destroy Zimbabwe's economy.
Already today you see that contrast in reactions. African leaders and liberation movements will praise Mugabe for the icon that he is. Many may gloss over the impact that he had on his people.
Even his successor, Emmerson Mnangagwa, who was at his side for decades, but was then intimately involved in pushing him out of power, glossed over the pain that Mugabe's power had wrought.
Over the past few weeks, there have again been protests brutally suppressed by the police  and allegations of kidnapping of opposition activists by shadowy figures.
Zimbabwe's economy is in tatters and many can't afford basic goods. Hunger looms because of a drought and a collapsed agricultural sector.
Zimbabwe post-Mugabe is a lot like Zimbabwe during Mugabe's final years. And that legacy shouldn't be forgotten.
3:17 a.m. ET, September 6, 2019
Mugabe had spent months at a Singapore hospital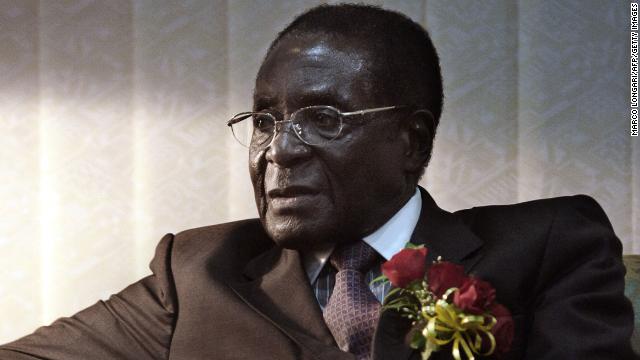 Mugabe had been unwell for some time, although details of his illness have long remained a mystery.
Last month, Zimbabwe's President Emmerson Mnangagwa announced that after a four-month stay in a Singapore hospital, the 95-year-old was still under observation.
Speculation about Mugabe's health had been swirling amid his visits to Singapore for treatment, but it was the first time the government had disclosed how long he'd spent at the hospital.
"Unlike in the past when the former President would require just a month for this, his physicians this time around determined that he be kept under observation for much longer," Mnangagwa said on August 5.
3:08 a.m. ET, September 6, 2019
Mugabe's former ministers pay tribute
Former ministers who served under Mugabe are in mourning this morning.
Here's what they said about their former leader:
Jonathan Moyo, former Minister of Higher & Tertiary Education, Science & Technology Development said: "A dark cloud has enveloped Zimbabwe and beyond. The Lord gave, and the Lord has taken away; Blessed be the name of the Lord!" 
David Coltart, former Minister of Education, Sport, Arts and Culture called Mugabe "a colossus on the Zimbabwean stage," and that his "enduring positive legacy will be his role in ending white minority rule & expanding a quality education to all Zimbabweans." 
Supa Mandiwanzira, former Minister of Information Communication Technology said Mugabe was a "monumental giant in our country & Africa's history."
The African National Congress said it "mourns the passing of friend, statesman & revolutionary comrade Robert Mugabe."
2:55 a.m. ET, September 6, 2019
The two weeks that ended Mugabe's reign
CNN's David McKenzie looks back at former Zimbabwe president Robert Mugabe's reign and his eventual deposing almost two years ago.
2:48 a.m. ET, September 6, 2019
Mugabe's grim legacy
Robert Mugabe, whose death was announced Friday, began his political career as a leader in the quest for the independence of Zimbabwe -- then known as Rhodesia -- and was regularly compared to South Africa's venerated freedom fighter Nelson Mandela.
As a revolutionary guerrilla leader, he fought white-minority rule and spent years in jail as a political prisoner.
In the mid-70s, he assumed leadership of the political wing of the Zimbabwe African National Union (ZANU-PF), a militant liberation movement based in Mozambique.
From there, he helped orchestrate an armed resistance against white rule, emerging as a war hero both at home and abroad when the conflict ended in 1979.
He became the first prime minister of the newly independent Zimbabwe after elections in February 1980. But the descent into tyranny didn't take long.
His hardline policies drove the country's flourishing economy to disintegrate after a program of land seizures from white farmers, and agricultural output plummeted and inflation soared.
By 1983, it became clear that Mugabe's administration would be merciless to any one opposing his rule. He presided over forces that carried out a string of massacres in opposition strongholds, and the country's Fifth Brigade is believed to have killed up to 20,000 people, mostly supporters of Mugabe's main political rival.
As the country was plunged into economic ruin, Mugabe and his wife faced fierce criticism for leading lavish lifestyles.
He celebrated his 85th birthday with a lavish party that cost a reported $250,000, even as the country remained in an economic and health crisis. He continued to hold such birthday events annually, last year spending a reported $800,000 and celebrating in a region suffering drought and food shortages.
He repeatedly rebuffed repeated calls to step down, insisting he would only leave office when his "revolution" was complete.
Read more here.
2:46 a.m. ET, September 6, 2019
President Mnangagwa announces death on Twitter
Zimbabwe's President Emmerson Mnangagwa, who took over from Robert Mugabe after the military seized control of the country in 2017, tweeted news of the 95-year-old's death early Friday morning.
"It is with the utmost sadness that I announce the passing on of Zimbabwe's founding father and former President, Cde Robert Mugabe," he tweeted.
"Cde Mugabe was an icon of liberation, a pan-Africanist who dedicated his life to the emancipation and empowerment of his people. His contribution to the history of our nation and continent will never be forgotten. May his soul rest in eternal peace."