Prince Harry, Meghan and Archie arrive in Cape Town for first leg of their Africa tour
1:14 p.m. ET, September 23, 2019
That's a wrap for day one of Meghan and Harry's royal tour to southern Africa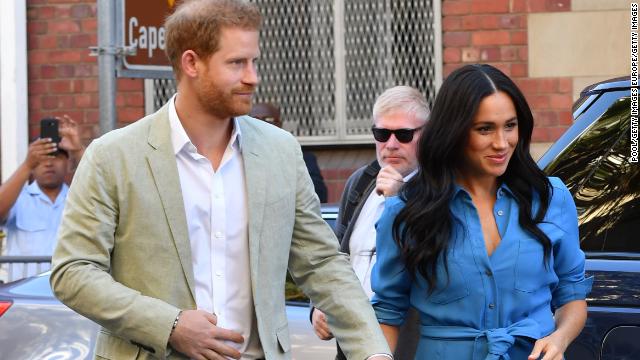 Prince Harry and Meghan concluded their first day in South Africa with a stop at the District Six Homecoming Center, where they were met by a small group of former residents of the neighborhood.
They joined a cooking activity and sampled some of the cuisine before departing.
We're wrapping things up here too. We'll be back with more from the royal visit tomorrow.
In the meantime, here are 8 things to watch for on the tourin the coming days.
12:18 p.m. ET, September 23, 2019
A brush with royalty
Alfonzo Solomon, 37, waited in District Six all afternoon with his friend, Joseph Bouman, for a glimpse of the royal couple.
Hours later, he says his wildest dreams came true when the Duke and Duchess came over and shook his hand.
"It was literally an out of body experience," Solomon, who works in the film industry, told CNN. "We saw them coming out of the museum, the whole crowd went crazy and then they slowly started walking towards us."
He said Bouman put out his hand and Prince Harry came straight over and shook it, then shook his hand too.
"Meghan gave me a very nice smile," said Bouman, 47, principal at a local high school. "I'm never going to wash this hand again!" he added with a chuckle.
12:04 p.m. ET, September 23, 2019
A right royal run in
Tarryn Josephs is a local journalist in Cape Tow; today, though, she is here not to report, but as an enthusiastic royal fan.
Josephs says she has adored the royal couple for years — and was rewarded for her admiration when the Duchess came over while walking down the street.
"She said my name!" She squealed with delight in the moments after. "I asked her to say my name and she did!"
Standing next to her is Rene and Ludwig Brink.
"She took the flowers from my son! My son gave her our national flower and she took it and said thank you very much," Rene tells CNN excitedly.
"They are lovely, so lovely. I'm so happy that they are here. We've been here since 10 o'clock this morning, but it was worth the wait."
11:15 a.m. ET, September 23, 2019
Meghan and Harry arrive at District Six Museum
The Duke and Duchess of Sussex have made it to District Six in Cape Town.
As the couple's convoy pulled up at the District Six Museum, the large crowd that had gathered to greet them briefly fell silent.
Then, as Harry and Meghan emerged from their car, royal fans immediately broke out in rapturous cheering, whistles and screams.
The pair stopped to wave before being greeted by museum director Bonita Bennett.
Inside, the pair will be shown an interactive map explaining the neighborhood's history under apartheid. In celebration of the area's creative background, a jazz musician and former resident of the area will show them around various exhibits.
They will then depart by for a short walk to the District 6 Homecoming Centre one block away.
10:48 a.m. ET, September 23, 2019
Excited crowd waits patiently for royal couple's arrival
Sue Freeling, a Cape Town resident of 25 years, is one of those who has come downtown today in the hopes of catching a glimpse of the royal couple.
She says what draws her to the couple is the fact they seem so genuine. 
"[Meghan] is representing being a mother, being a wife and woman of color in the royal family — it's fantastic," Sue told CNN. 
She is an enthusiastic fan of the royals, and says Diana's legacy continues to be remembered fondly here in South Africa. She adds that Harry has links here as well.
Standing next to her, a young family can't help but get caught up in the excitement. 
Roxanne Naidoo, her husband Mark and daughter Michaela Grace, from Durban, are in Cape Town to see a family member, but said they couldn't miss an opportunity to participate in the royal visit. 
"We were just talking and saying abuse against women, it's really good to know that she has added that to her [part] of the royal tour," Roxanne told CNN. "That's what South African women need to hear."
"If I could say anything to them, I'd say thank you." 
10:44 a.m. ET, September 23, 2019
Well-wishers wait for Harry and Meghan in downtown Cape Town
Outside the District Six museum in Cape Town, lines of royal fans have started to arrive and grab spots behind the cordon in anticipation of Harry and Meghan's arrival.
9:44 a.m. ET, September 23, 2019
Sussexes head off for their next engagement
The Sussexes have now departed Nyanga township and are headed to their next engagement in District Six, a former inner-city mixed-race neighborhood where freed slaves, migrants, workers and merchants lived alongside each other for decades.
In 1966, the government declared it a whites-only area and more than 60,000 residents were forcibly removed and relocated to the Cape Flats township.
12:56 p.m. ET, September 23, 2019
Meghan tells victims of gender-based violence: "I am here for you"
Meghan, the Duchess of Sussex has hailed the "incredible work" done by a South African community group to combat gender-based violence.
"You are incredible and what you are doing is so powerful because you are so powerful," she told workers and volunteers at the Justice Desk in Cape Town's Nyanga township. "The work that is being done here to keep women and children safer is needed more than ever."
Meghan said she and Prince Harry had been following South Africa's gender violence crisis as much as they could from afar, but that they were keen to learn more now that they were in the country. 
"We are eager to learn and see first hand the vital work that you're doing ... on the ground to make the change, not just that you need but also deserve." 
The rights of women and girls is something that is very close to my heart … I know that when women are empowered the entire community flourishes," Meghan continued.
"On one personal note, may I just say that while I'm here with my husband as a member of the royal family, I want you to know that for me, I am here has a mother, as a wife, as a woman, as a woman of color and as your sister," she added.
I am here with you and I am here for you."
9:43 a.m. ET, September 23, 2019
Harry: It's time to redefine masculinity
Visiting a project that provides self-defense classes and female empowerment training to girls and young women on the first day of a royal visit to South Africa, Prince Harry says it is time to rethink what masculinity means.
"Touching on what your president said last week: No man is born to cause harm to women. This is learned behavior and a cycle that needs to be broken," the Prince told a cheering crowd outside Nyanga Methodist Church in Cape Town.
Now it's about redefining masculinity. It's about creating your own footprint for your children to follow in so that you can make a positive change for the future."
Beaming from ear to ear, Harry thanked the crowds of well-wishers who had gathered in Nyanga township to welcome him and Meghan, the Duchess of Sussex.
"I wanted to ensure that our first visit as a family, with my wife by my side, focused on the significant challenges facing millions of South Africans, while acknowledging the hope that we feel so strongly," he told the crowd.
Harry said the couple was "incredibly grateful" to have the chance to listen and learn about "the issues that define your daily lives in these communities."
"That's what this is -- a community. A community where men and women have a vital role to play."