| | |
| --- | --- |
| Select a chart from the menu to the right for comparisons of the amount of money raised by each candidate. | |


The graph below shows the amounts the major party candidates have spent in the general election, according to FEC reports. Click on each candidate for more.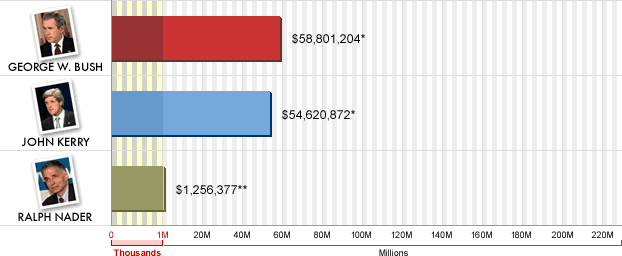 Note: Numbers are rounded to the closest dollar. *General election spending for Bush and Kerry comes from the $74,620,000 in public funding both received from the Federal Election Commission. In exchange for public funding, candidates agree to limiting spending and discontinue fund-raising for the general election campaign, which begins after each candidate is nominated by their respective party; **Nader is not subject to spending limits, so for comparison, Nader's amount represents his spending since August 2004.

---
NOTE
• Source: The information on this page is from candidate filings with the Federal Federal Election Commission