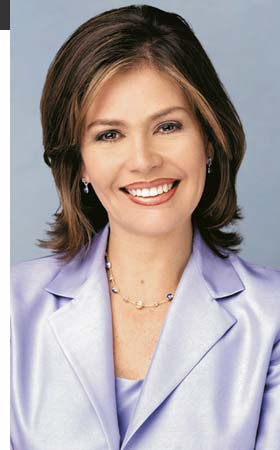 Glenda Umana
Glenda Umaña is an anchor for CNN en Español. She presents Nuestro Mundo global news as it happens, where it happens, from Monday through Friday.
On Mirador Mundial, Umaña has anchored live coverage from Atlanta of the war on terrorism, the allied military offensive in Iraq, Pope John Paul II's visit to Cuba, the resignation of Paraguayan President Raul Cubas, the Clinton Impeachment trial and presidential elections in Bolivia, Brazil, Costa Rica, Colombia, Ecuador, Mexico, Paraguay, United States and Venezuela. She has also interviewed Latin American leaders such as Vicente Fox and Hugo Chavez, as well as Nobel Prize laureates Oscar Arias and Rigoberta Menchu.
Before joining CNN en Español in 1997, Umaña worked as a correspondent for CBS TeleNoticias. She began her career at Channel 17 in Costa Rica, working with the country's first English-language newscast. Umaña then worked for Costa Rica's Channel 6 before joining Teletica Channel 7, where she anchored the highest-rated newscast in the country for eight years.
Umaña has covered global events such as Pope John Paul II's visit to Nicaragua and the political scandals surrounding Ernesto Perez Balladares' presidential campaign in Panama. She has also interviewed many of Latin America's most distinguished celebrities.
She has received numerous honors in the field of broadcast journalism, including an award for "Best Television Report" from the Association of Central American Journalists.
Umaña has a degree in Journalism from the University of Costa Rica and holds a master's degree in Communications from Florida International University. She is fluent in Spanish and English.