Thursday, August 09, 2007
Cafferty: Hand-in-hand in Iran?
WATCH
"The Cafferty File":
Phony war on terror?
.
What do you think of when you see Iraq's Nuri al-Maliki holding hands with Iran's Mahmoud Ahmadinejad?
Seeing them holding hands reinforces my belief that we should get the hell out of Iraq.
-Mike, Daytona Beach, Florida
Isn't this just a custom? What did we think when Cheney and Bush held hands with those sheiks? Isn't it better that Mr. al-Maliki and Mr. Ahmadinejad are holding hands than throwing bombs at each other?
-M., El Paso, Texas
It is a common friendship custom among men in the Arab and Persian culture, similar to shaking hands. You shouldn't read anything more into it. These leaders will eventually have to be peaceful neighbors and one would hope that they are planning for the future when American occupation of Iraq ends.
-Gary, New Hampshire

We're being duped, plain and simple.
-Mary, Warwick, Rhode Island


Is it a good idea to pay poor high school students as an incentive to stay in school?
Kids already think the world revolves them. It is essential for them to learn that certain things are expected from them where they do not financially benefit.
-Richard, Syracuse, New York
Why not? It would be cheaper than paying for the law enforcement necessary to deal with them as street criminals. To take it further, the state might make the welfare drawn because of those children contingent on whether they go to school.
-Ray, Lubbock, Texas
No, sir. All that does is show them what a handout is. Not a hand up.
-Reed, Lansing, Michigan
Tuesday, August 07, 2007
Situation Online: Fred Thompson, missing children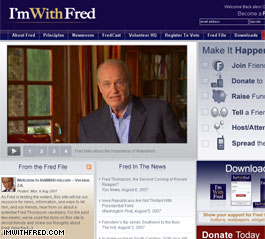 Fred Thompson 2.0
Former Tennessee Sen. Fred Thompson's presidential campaign may not be fully up and running, but his
Web site
certainly is. Thompson's non-campaign campaign Web site re-launched today with a host of new interactive features, a significant upgrade from the site's sleek but stripped-down predecessor. Click
here
to read more.
Finding lost kids
It's the 21st century version of the milk carton. In a new attempt to get information out about kids in danger, the National Center for Missing and Exploited Children is putting pictures of missing kids on a new computer screensaver. Click
here
to download the free screensaver to your PC.
Watch "The Situation Room" at 4 PM, 5 PM, and 7 PM ET for these stories and more from Internet reporter Abbi Tatton.
Monday, August 06, 2007
Cafferty: Expanding spy powers?
WATCH
"The Cafferty File":
Hit Mecca if attacked?
.
Should Congress have expanded the Bush administration's authority to eavesdrop without warrants?
I feel like I am between "Iraq and a hard place". As a lifelong Democrat I have been defending my party for their slow response to the GOP and Bush, the insane Decider. Passing the wiretap legislation just blew me away. Normal people know that they will use it against a person or group who disagrees with them and is therefore considered a "traitor". I can no longer look at Sen. Clinton, Obama, Richardson or Biden and see a strong leader. But there is no Republican qualified to lead the country. We are in a terrible place. I hope they all have awful "vacations"... They are as bad as the Iraqi leaders who took off and left us holding the bag.
-Barbara, South Carolina

You know, most of us really don't care about this. Bravo to President Bush and bravo to the Democratic-controlled Congress. It's nice to give them both a round of well-deserved applause now and then and this is perhaps a rare time I agree with both parties. I don't mind one bit if the government listens in on callers who are calling international numbers and believe that for the most part, the government does use good judgment in who to "listen in on." Besides, if we're not breaking any laws, what is the harm? It just might save the country from another terrorist event.
-Brandon

Silly me, I thought electing these Democratic bozos was supposed to help us stop this type of intrusion, along with the war and all the other atrocities committed by this administration. Seems to me they've actually just taken up where the Republican Congress left off. Term Limits. One term only. That's our only hope to obtain a representative government.
-Dave, Santa Cruz, California
Jack, Wow, I am speechless. I am extremely disappointed in this democratically-controlled Congress. President Bush has abused his power during his time in office. Now the Congress is simply enabling him to do so.
-Connor (Disappointed Democrat in South Dakota)

Do you see any downsides to diversity?
Diversity is a reality. In a political context, we must elect individuals who can take diversity, tension and conflict, and integrate this into a cooperative effort.
-Michael, Los Angeles, California

The Harvard study should not be surprising. Humans seem to have always been more comfortable with those who appear to be like us. Members of one's family or tribe looked a lot alike. They had similar needs and desires, and their religious beliefs were similar. Those outside a small group or even a homogeneous nation were to be feared. Not much has changed in the 200,000 years of homo sapiens' existence.
-Paul, Agawam, Massachusetts

I have a belly-full of diversity and the idiots who keep promoting it. We have a nation that has become so diverse so that no one can agree on anything.
-Jimmy, Chester, Virginia
Just because people of different ethnic groups live in the same neighborhood, or even on the same street, it does not necessarily mean they will take the time to get to know each other.
-Rhone, Fort Washington, Maryland