Friday, March 09, 2007
The Cafferty File: Privacy & Patriot Act
Click here
to go behind the scenes with Jack Cafferty.
In The Cafferty File today, we asked viewers:
Does it surprise you that the FBI misused the Patriot Act to get personal information?
Nothing surprises me about the way the Patriot Act is being misused. What does surprise me is that people with far more education than I, couldn't see this coming in the first place.
Larry, Aptos, California
No, I'm not surprised that the FBI did this. I'd have been surprised if they hadn't done it. It's just too tempting to cut corners when there's no accountability.I'm just waiting for Tony Snow to tell us that the DOJ Inspector General is aiding the terrorists by issuing his report. David,
Oviedo, Florida
It was absolutely unsurprising. You put raw steak in front of a dog and think he's not going to eat it? Come on, it's like the Cold War only now the government is the biggest threat to the "American way of life."
Elena, Monticello, New York
I'm amazed that they admit to a mistake. Almost refreshing.
John, Royersford, Pennsylvania
The Situation Online: Daylight Saving Time
Springing ahead early
Due to a
congressional act
,
Dayliight Saving Time
will now start this Sunday, three weeks earlier than in previous years. The move is meant to save energy. But will you have to expend more energy to adjust? The latest versions of
Microsoft
and
Apple
's operating systems have the time adjustment built into the system. But if you have an older version, you will have to update your computer. To see if you are eligible for an update, click
here
if you use Windows and
here
if you have a Mac.
Verizon
says that while all its cell phones will automatically adjust, you may have to download an
update
for your PDA device. Those with older versions of
TiVo
though will have to
fix their clock
manually.
Watch "The Situation Room" at 4 PM, 5 PM, and 7 PM ET for these stories and more from our Internet reporters.
Thursday, March 08, 2007
The Cafferty File: Libby Pardon?
Click here
to go behind the scenes with Jack Cafferty.
Do you think President Bush should pardon Lewis "Scooter" Libby?

I think Libby will surely be pardoned just before Bush leaves office. The honorable thing for Libby to do once pardoned is to write a book exposing the inner circle of corruption and deceit which has resulted in the loss of trillions of dollars, hundreds of thousands of lives, and the U.S. becoming the most hated country on earth.
Eric, British Columbia
Of course he will be pardoned, do you even need to ask? It will happen after the 2008 elections so the Democrats can't use it against the Republicans in the election. It's as simple as that.
Jon, California
I don't think he should but I think he probably will. If he is going to do it, I wish he would do it now and get it over with. He will probably wait until just before he leaves office and in the meantime, Libby's attorney will be in the courts keeping his client our of jail. Let's just save the money that all the government lawyers will cost in those 18 months, and use it to improve the conditions that the injured soldiers are finding at Walter Reed.
Sara, Cedar, Michigan
Why pardon a criminal? Bush and the entire administration belong in a cell with Libby.
Kathy, Kenosha, Wisconsin

Should pregnant girls younger than 16 be considered crime victims?



An emphatic yes! In fact, unless legally married, it should be under 18 years of age. Other laws are strictly adhered to for the protection of minors. I believe the teen pregnancy rate would fall sharply if the 'father' were to be held accountable for his actions.
Dee, Naples, Florida
No. Young girls (and boys) are acting older and dressing like their idols, i.e. Pussycat Dolls, Britney and Paris. They flaunt their bodies and sexuality at a disturbing level. Charging young boys with a crime would be wrong.
Eric, Port Angeles, Washington
As someone who provides pastoral counsel, I believe that women of all ages need to be able to get reproductive health care the minute they need it. They should not have to delay seeing a doctor out of worry that strangers will find out about their medical needs. Timely access to health care is a matter of life and death!
Dennis, Worcester, Massachusetts
My God. Are so few victims reporting crimes that the police have to go searching for them now? Is crime at such a low rate we have to invent new crimes to keep police busy? When will politicians learn that making doctors into police is not the answer?
Grey
Are deadlines for withdrawing troops from Iraq a good idea?
Public deadlines are a horrible idea. Private deadlines, known only to the decision makers, are a fantastic idea whose time has come! I'm tired of all the nonsensical dying in Iraq.
John, Austin, Texas
Since this war is going from lost to more lost, it doesn't matter if a deadline is set or not. So set it. It might increase the violence, but surges and all other previous measures did not decrease the violence. So what's the difference? Giving peace a chance and removing the U.S. occupation might be a positive step.
Mad, El Paso, Texas
Jack, the Democrats are playing right into the terrorists' hands, and are sinking themselves for the '08 election. General Petraeus's plan is going to work and withdrawal will be with honor, which is what mainstream America wants. The Democrats have seriously misread the '06 election. And Jack, have you not heard most of the soldiers? They want to pursue the enemy.
Paul, Tennessee

Yes, yes, yes, and yes! A deadline will let the American people know when the war will end. It will let the Iraqi people know when they have to stand on their own. Most of all, it will give our troops a date to which they can look forward to for celebration. When I hear the Bush drones say it will give the terrorists a day to wait for, I laugh. Wake up! The terrorists are in Iraq like never before, thanks to us. The terrorists are now going to be in Iraq until the end of time.
Grace, Knoxville, Tennessee
The Situation Online: Terror e-mails, McCain fundraiser

Fmr. U.S. Navy sailor Hassan Abujihaad praised the October 2000 attack on the destroyer USS Cole in e-mails to a terror-financing Web site.
Terrorist e-mails
A former U.S. Navy sailor is
accused of
providing material support to terrorists while on active duty and passing classified information to two men with suspected ties to terrorism.
Click here (PDF)
to view the federal criminal complaint containing emails that Hassan Abujihaad, formerly Paul R. Hall, sent to terror-financiers.
McCain's cyber event
Senator
John McCain
heads to Rudy Giuliani's home turf of New York City tonight for a sold-out, twenty-one hundred dollar a plate event with supporters. The Presidential Candidate will also take questions from the audience. But for McCain supporters who can't make it to New York, they can buy a
$100 E-ticket
to watch it all online. Is McCain changing the way presidential fundraising events operate?
Watch "The Situation Room" at 4 PM, 5 PM, and 7 PM ET for these stories and more from our Internet reporters.
Wednesday, March 07, 2007
The Cafferty File: Evangelical Votes
Click here
to go behind the scenes with Jack Cafferty.
In The Cafferty File today, we asked viewers:
How important is evangelical support to the Republican presidential candidates?
Evangelicals will not play a part in 2008 because they will stay home licking their wounds. George Bush and the Republican Party have made fools out of them, so they will not show up to vote, and those who do just may turn on the Republican Party for betraying them.
Tom, Long Beach, California
In a perfect world, evangelical support would doom a candidate. Candidates would be elected based on real issues and ideas rather than the notion that the earth is 6,000 years old. Evangelicals represent a demographic for whom the issue of teaching evolution in high schools trumps an unjust war.
Jim, Dallas, Texas
Very important. That's why we see John McCain kowtowing to the likes of lunatics like Jerry Falwell now. A couple of years ago, McCain was at odds with him. What has changed since, except the 2008 presidential election? Crap like this sickens me. McCain liked to be thought of as an independent thinker… some rebel!
Steve, Bridgewater, Massachusetts

Will Americans ever consider soda a health drink?
If Americans ever consider soda a health drink, brainwashing by corporate America to consume sugar will have succeeded. Obesity is America's No. 1 medical problem, and soda consumption is a primary cause.
Chet, San Antonio, Texas
Americans will believe whatever expensive advertising and marketing campaigns will tell them, and justify their obesity and unhealthy practices by whatever means necessary.
Scott
Nope, soda is soda Jack, no matter what they put on the label.
Patricia, Palmdale, California
Jack, Soda will be a health drink as soon as a drug company buys controlling interest in one...just wait and see.
John

Will it ever be possible to completely wean Congress off pork?
Pork, like beauty, is in the eye of the beholder. So long as politicians are elected in part because they bring economic prosperity to their community and because their constituency doesn't care about how their pet projects affect the rest of the country, we will continue to have pork.
Greg, Mechanicsburg, Pennsylvania
It isn't possible to wean Congress completely off pork, but it would be nice if the electorate would wean them off pork tenderloin on to pickled pigs' feet.
Bob, Louisville, Kentucky
Until we start holding our politicians accountable, and put them on a strict budget and require them to be honest, they will continue to act like a kid in Vegas with daddy's credit cards.
Craig, Tampa, Florida
Tuesday, March 06, 2007
The Cafferty File: Guilty Verdict
In The Cafferty File today, we asked viewers:
How will the Libby guilty verdict impact the Bush White House?
Jack, It won't make much difference, just one less tick on the dog… the others are burrowed deep and will make it until the term is up!
George, Fort Worth, Texas
The verdict will embarrass the Bush White House to the point that Bush and Cheney will be under constant watch by the Democratic Congress. This could potentially bring more investigations and possible impeachment of both Bush and Cheney.
Josh, Sylvania, Ohio
President Bush will have to pardon him or risk Mr. Libby working a plea bargain by giving up the Vice President and Mr. Rove. It won't hurt the President politically; his approval rating can't go much lower.
Allen, Mountain Home, Idaho
The administration will continue to dance around the truth, but with a lot less effectiveness.
Corrine, Stockton, California

Does it mean anything if Senator Barack Obama is triggering a lot of interest overseas?
So much of the president's job is foreign policy that it's important that our leader is well-liked overseas. Global perception of the U.S. is underrated, and the importance of good relations with other countries is often overlooked
Alexander, Washington, D.C.
Obama's popularity in Europe is irrelevant. Bush is hated there but it hasn't saved us from him.
Ann, California
Interest in Obama and in Clinton indicates that people abroad are distinguishing the U. S. from the policies of the Bush administration that have displeased so many abroad. It indicates that there is hope for a different U. S. when there is a different leadership.
Eric, Portland, Maine
Hopefully, future American foreign policy will be on more sound footing, and based on truth. However, even in such a case, we'll always fare better with a "little help from our friends." True leadership can be judged if people and countries want to follow our president's ideas.
Harriet, Ronkonkoma, New York

Is another government commission the answer to problems at the nation's Veterans Administration hospitals?
V.A. hospitals in general have been in decline for years and it's only now that we finally wake up to the raw deal veterans, returning home from a trumped-up war, get for their troubles. Another commission? I think we need a commission to decide if this American president should be impeached for his disgraceful leadership of our country.
Lori, Brunswick, Maine
Another commission? Isn't that what we always get, politicians scrambling to save their political necks from the latest backlash of their own incompetence and apathy toward the American people?
Bill, Cleveland Heights, Ohio
Jack, I mostly agree with your opinion of presidential commissions. They are worthless. This is totally true as far as U.S. citizens and the victims of problem situations are concerned. However, commissions are very useful as a diversion for the administration.
Harold, Depoe Bay, Oregon
Anytime someone wants to do a study or appoint a commission, it's a pass-the-buck proposition and these guys are damn good at passing that buck.
Tom, Lansford, Pennsylvania
Monday, March 05, 2007
The Situation Online: "Coulter Cash," Libby blogging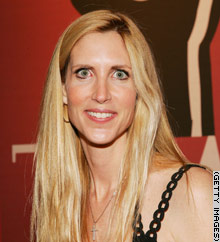 Cashing in on Coulter
Presidential Candidate
John Edwards
is using Ann Coulter's controversial words to raise campaign cash. The right wing pundit described Edwards by using an
anti-gay slur
at a
conservative conference
in Washington on Friday. The Edward's campaign has responded by posting a
video of her statement
on their web site and asking for a contribution.
Blogging the Libby trial
While waiting for a verdict in the Libby trial,
bloggers are detailing
everything happening inside the court room. In particular, bloggers across the web are
keeping track
of the
notes
(pdf)
passed between the jury and Judge Reggie Walton.
Watch "The Situation Room" at 4 PM, 5 PM, and 7 PM ET for these stories and more from our Internet reporters.
The Cafferty File: Who's to blame?
In The Cafferty File today, we asked viewers:
Who is ultimately responsible for the conditions at Walter Reed Army Medical Center?
We, the voting public, are responsible for the continuing failure of our elected officials to perform their jobs with dedication and expertise. We vote for sound bites, we vote for carefully wrapped empty packages, we abandon critical thinking and we will loudly defend our right to glorify mediocrity.
Karen, Phoenix, Arizona
Jack, the sad fact is that we are responsible. This is a republic and our representatives are elected by us to represent our views and opinions.
Robert, Honolulu, Hawaii
Everybody is responsible... from the staff of the hospital up to the president himself. I would like President Bush to go to Walter Reed the next time he needs a medical procedure done. Then we will see how fast things improve there.
Quinn, Seattle, Washington
The entire Bush administration is responsible for the Walter Reed scandal. Wounded American troops are treated the same way as the Katrina victims.
Paul, Traverse City, Michigan

What's the best way to increase voter turnout among young people?



Get rid of the Electoral College and implement a popular vote. This will make everyone's vote truly count. If people feel their vote counts, they will go to the polls.
Jon, Astoria, New York
Appeal to things that are of interest to them. Get off the war; focus more on illegal immigrants and how to stop them, health care, raising minimum wage, stuff that they can have an active voice in.
David, Prestonburg, Kentucky
The best way to get the youth to vote is to do what I'm doing. I'm 18 and I'm running for a public office. I tell my friends and that spreads like wildfire. Then they begin to realize the importance in voting.
Johnathan, New Haven, Indiana
The candidates can reach voters in the 18-24 year age bracket by addressing the issues that are important to us. We are a lost demographic to candidates who reach out to our parents' and grandparents' generations. They will continue to see low voter turnout if they don't tell us what they can do to help us.
Rachel, College Station, Texas

When it comes to Iraq, what kind of "Plan B" should the U.S. have?
Plan B should be to get rid of the people who came up with Plan A. Then they should come up with Plan C.
Robert, Pelham, New York
Pull out of Baghdad. Surround the city. Nothing goes in or out. Let them fight their civil war and then get the hell out of there. We have given enough.
Dwight, Beverly, Ohio
I fear their "Plan B" is to stall 'til January '09 and hand the problem off to the next president.
Jenny, New York
Hey Jack, Plan B? I think you mean Plan Z.
Joel, Stratford, Connecticut