Thursday, August 24, 2006
The Situation Online: Apple recall & Pluto demoted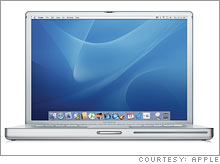 Included in the recall are batteries from the PowerBook G4 computer.
Apple recall

Apple
is
recalling
1.1 million laptop batteries in the U.S. over fears that they may overheat. Is your computer vulnerable? Click
here
to see which laptop models are affected, and how to solve the problem.
Dell
was forced to
recall
over 4 million laptop batteries in August because of similar concerns.
Pluto: 1930-2006
After more than a week of heated deliberations, the votes are in: Pluto is out. A group of international astronomers gathered in Prague have determined that Pluto doesn't fit the bill as a planet. According to the new definition, a planet must be dominant enough to clear the neighborhood around its orbit, but Pluto's orbit overlaps into Neptune's.

The decision leaves our solar system with just eight planets. The many textbooks and Web sites naming Pluto as a planet will all have to be updated. NASA especially has a lot of work to do, as a search on 'Pluto' on NASA.gov rakes in nearly 20,000 results. The owner of the amateur space site nineplanets.org says he will not be changing the site's name, especially since the domain name eightplanets.org is already taken.

Watch "The Situation Room" at 4:00 PM, 5:00 PM, and 7:00 PM, ET for these stories and more from our Internet reporters.
FDA nominee still faces hurdles
From CNN Congressional Correspondent Andrea Koppel
WASHINGTON (CNN) -- With Thursday's decision by
the FDA to allow the Plan B contraception pill
to be sold without a prescription to women over 18 years old, two Democratic senators who had blocked the nomination of acting FDA administrator Andrew von Eschenbach decided to let it proceed.
Sens. Hillary Clinton of New York and Patty Murray of Washington had blocked the nomination to pressure the administration to approve the "morning after" pill.
FDA approval of Plan B "is really a positive step forward," Sen. Murray said, though she said she was still concerned about the age restriction. "For 3 years, I've been very concerned the FDA hasn't been able to keep its credibility."
But von Eschenbach may not lose the "acting" title anytime soon -- and it has nothing to do with reproductive politics.
Sen. David Vitter's office said the Republican from Louisiana would maintain his hold on von Eschenbach's nomination to pressure the FDA to approve the import of prescription drugs from Canada. It is a long-standing Senate tradition that a senator may place a hold on, or block, a nomination for federal office for almost any reason.
When senators return to Washington in September, however, the GOP leadership may pressure Vitter to release the hold and allow the full Senate to vote on the long-delayed nomination.
Wednesday, August 23, 2006
The Cafferty File: Lieberman's run
On "The Situation Room" today, we asked viewers the following questions, and here are some of our favorite responses that we didn't get to read on air:
Is Joe Lieberman making a mistake by staying in the Connecticut Senate race?
It seems to me it's the ole, "if I can't have her no one can." Her, being the nomination from his party. The guy has always been a weasel.
John, Redwood City, California
Running as an Independent, Senator Lieberman may be doing the best thing for his own self-interest, but his re-election will not be in the nation's best interest. The war in Iraq was not necessary and will be looked back upon as a strategic blunder which made us less safe. President Bush is ultimately responsible; but, he had his enablers and Sen. Lieberman is one of them.
Roy, Texas
Joe Lieberman is the only one telling the truth. We got into this mess (Iraq War), but we can't cut and run. Democrats thinking they can cut and run and that will stop the terrorists are living in lala land. Lieberman knows what is going on and needs to stay in office in order to fight the war, the Republicans, and the terrorists.
Marty, Canyon Lake, Texas

How much importance should be placed on the first anniversary of Hurricane Katrina?



Civil War, Pearl Harbor, President Kennedy's assassination, 9-11, and Katrina are American wounds. Nations, as humans, grow more in pain than in joy. Say what you like about the U.S., but its defining trait is a resilient spirit
Dave, Vancouver
It seems that Hurricane Katrina only happened yesterday in that little seems to have been done. The mess is still there and people are homeless. What's going on with all those trailers? Where is all that money that was promised? It looks like a Third World area. Not even a basic cleanup seems to have been implemented.
Rosemary
About as much importance as is being placed on Hurricane Charley. Remember us in central Florida? We are still recovering from the three hurricanes, Charley, Frances and Jeanne, that criss-crossed us in 2004. Does anybody still care about that?
Mike, Wauchula, Florida

Why do some politicians insist on sticking their feet in their mouths?
Shame on you, Jack. What seems like politicians sticking their foot in their mouth is just a rare occasion of what they really believe slipping out, instead of the pretty messages they usually spout.
Bob, Williamsburg, Virginia
No reasonable human being would seek public office. Hoof-in-mouth is part of the general genetic disorder required to be a politician. This defective gene makes politicians think they are invincible and they can speak as they choose.
George, Roanoke, Virginia
Politicians' feet end up in their mouths because they are so focused on trying to deceive us with their scripts that eventually the unconscious part of their minds tries to slip us the truth.
Victoria, Bozeman, Montana

Let he who has never stuck his own foot into his own mouth ask that question, Jack. Why do politicians do it? Who hasn't!?!
Greg, Mechanicsburg, Pennsylvania
But How'd He Get the Bottle on the Plane?
The recent plot to bomb several U.S.-bound airliners using liquid explosives has made its way onto the political airwaves in Tennessee's U.S. Senate race.

Rep. Harold Ford, Jr., (D-Tennessee) references the terrorist conspiracy, which was foiled by British authorities, in his latest campaign ad, shot in the aisle of an empty passenger plane.

"Once again terrorists try to take down passenger planes. This time with liquid explosives," Ford tells viewers while brandishing a bottle of what appears to be an orange sports drink. "Thank God the British stopped them."

Ford also addresses border security and port security, the topic of one of his earlier spots, and recommends adopting all of the 9/11 Commission's 41 recommendations.

The ad was shot on a passenger plane in Smyrna, Tennessee, outside of Nashville, according to a campaign spokeswoman. Democratic media firm GMMB produced the spot, which begins airing statewide Thursday on broadcast and cable.

Ford is the Democratic nominee for the Senate seat being vacated by Senate Majority Leader Bill Frist (R). The Republican nominee is Chattanooga Mayor Bob Corker.
Does Murkowsi have a losing personality?
From CNN Political Research Director Robert Yoon
WASHINGTON (CNN) -- Alaska Gov. Frank Murkowski placed a distant third in
his state's GOP gubernatorial primary on Tuesday, behind former Wasilla Mayor
Sarah Palin and former state Sen. John Binkley. (
Full story
)
It's not often that incumbent governors lose their party's primary for
another term, it's even more rare when an incumbent governor places third. Why did Murkowski lose? One analyst said his personality may be part of
the reason.
"Governor Frank Murkowski is very unpopular, despite his nearly 22 years
in the U.S. Senate (1981-2002) and easy victory for governor in 2002,"
University of Virginia political analyst Larry Sabato said on
his Web site
.
"So what's the problem? It's partly personality, partly a rocky economy
and partly his audacious appointment of his lightly-qualified daughter Lisa
Murkowski to succeed him in the Senate."
Murkowski was elected governor in 2002 after serving 22 years as the
state's junior U.S. Senator. Once elected, one of Murkowski's first decisions
in office was to appoint his daughter, Lisa Murkowski (R), to his U.S. Senate
seat.
Former Gov. Tony Knowles won the Democratic nomination and will face
Palin in November. Knowles is a former two-term governor and the 2004
Democratic nominee for U.S. Senate. He lost that race to Lisa Murkowski.
With nearly 70 percent of the precincts reporting, Palin had 51.1
percent, Binkley 29.5 percent, and Murkowski 18.9 percent, according to the
Alaska Division of Elections.
Other incumbents who have lost primary bids this year are Sen. Joe
Lieberman, D-Conn.; Rep. Cynthia McKinney, D-Ga. and Rep. Joe Schwarz, R-Mich.
Lieberman has since launched an independent bid for a fourth term in the
U.S. Senate. He lost his Aug. 8 Democratic primary to millionaire businessman
Ned Lamont.
Tuesday, August 22, 2006
The Cafferty File: New tax man?
On "The Situation Room" today, we asked viewers the following questions, and here are some of our favorite responses that we didn't get to read on air:
Should the IRS hire private companies to collect federal income taxes?
This is just another reason the IRS should be reorganized from the ground up. If a private business operated in this manner it would be bankrupt in a month.
Larry, N. Myrtle Beach, South Carolina
Sure we should hire private contractors to collect our taxes. The Army has hired contractors to cook for our troops. We have hired contractors to run our prisons. I think we should hire contractors to replace our politicians as well.
David, Manteca, California
Of course the IRS should seek outside help. Have you seen any government entity do any thing right yet? Farm it out and they have someone to blame.
Doug, Kerens, Texas

Should Phoenix, Arizona, police be able to enforce federal immigration laws?
I have a better idea! Why don't the border states pass their own immigration laws and bypass the federal government altogether? Maybe something could get done!!
Richard, Punta Gorda, Florida
No. Our overburdened police departments do not need to take on the federal government's responsibility. We don't have the resources, and it's the feds who don't have the will.
Ken, Pinetop, Arizona
Any state should be allowed to police any immigration problem, especially when the federal government will not. The immigration problem is a very serious one, especially since terrorists can, and most likely have, entered the U.S. this way.
Dorothy, Charleston, South Carolina
Of course the Phoenix police should be allowed to enforce immigration laws, and in the process, maybe they can show the impotent federal and state authorities how it is done!
Ed, Geneva, Illinois

What does it mean when individual states have to take their own steps toward energy independence?
What it means, Mr. Cafferty, is that national leadership is non-existent or misdirected. I believe the Illinois plan is a great start and others should follow suit. Being from Texas, I don't have much hope of this happening in my state any time soon. November is our opportunity to make sure our state gets on the right track.
Kent

I'm not sure about your question, Jack, but I feel compelled to repeat: Why don't we turn coal into gasoline and skip the corn? It would be much more efficient.
Dan, Tennessee
The Illinois initiative is a perfect example of how our government has come full circle from its founding. We are once again in an era of "taxation without representation" since our federal lawmakers could care less about the issues that the American people believe are important. I applaud Illinois for taking this step and only wish the rest of the country would heed their example.
E., New Orleans, Louisiana
The Situation Online: 9/11 re-drawn, CIA leak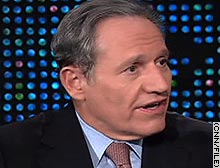 Bob Woodward said a Bush administration official's reference to Plame was "casual and offhand."
Calendar of Events

Did former Deputy Secretary of State Richard Armitage discuss the identity of CIA employee Valerie Plame with reporter Bob Woodward? Under the Freedom of Information Act, the Associated Press has obtained an
official State Department calendar
which shows that Armitage met with Woodward on June 13, 2003. [To view the calendar obtained by AP, you must scroll down to the middle of the page and click on the right-hand column].
In a statement made last year, Woodward said that he had a "casual and offhand" discussion about Plame with an unidentified administration official in mid-June, 2003. Whether that official was Armitage is unknown. Armitage and Woodward have no comment. The newly-disclosed calendar also shows meetings with Scooter Libby and, notably, actor Tom Cruise and other prominent figures in the Church of Scientology. The calendar does not reveal the subject matter of any of the meetings, however.

9/11 Graphic Details
Are Americans ready for a 9/11 comic book? The events of that day have already been re-enacted for film and television, and now the shocking details of the 568-page 9/11 Commission Report are being transformed into a new 128-page illustrated adaptation. Watch an interview with the book's authors, Sid Jacobson and Ernie Colon, and judge the comic for yourself online at Slate.com, where it is being serialized.
Watch "The Situation Room" at 4:00 PM, 5:00 PM, and 7:00 PM, ET for these stories and more from our Internet reporters.
Poll: GOP better on terrorism, Dems better on Iraq
WASHINGTON (CNN) -- Americans believe Democrats would do a better job of dealing with the situation in Iraq and handling the economy, while Republicans would do better against terrorism, according to a poll released Tuesday.
On the war in Iraq, respondents favored Democrats over Republicans by 47 percent to 41 percent, with 8 percent saying it made no difference and 3 percent offering no opinion. That is a reversal from a January 2003 CNN/USA Today/Gallup poll, when Republicans were favored in this regard 53 to 29 percent.
On terrorism, Republicans scored a sizable 48 percent to 38 percent advantage over Democrats, with 11 percent saying it did not matter who was in charge.
The same poll, in results made public Monday, found that opposition among Americans to the Iraq war has reached a new high, with only about a third of respondents saying they favor it. (
Full story
)
The poll of 1,033 adult Americans was conducted between August 18 and 20 by telephone for CNN by Opinion Research Corporation. It has a sampling error of plus-or-minus 3 percentage points.
2,500 Marine reserves involuntarily tapped for duty

A Marine takes aim in Iraq.
WASHINGTON (CNN) -- The U.S. Marines Corps plans to recall 2,500 troops back to active duty to fill needed positions in Iraq and Afghanistan.
While President Bush authorized the call-up of Marine Individual Ready Reserve (IRR) forces last month, Marine commanders announced the move Tuesday.
Some from the IRR force have volunteered for duty, Marine officials said. But pressing future needs -- spefically combat, communications, intelligence, engineers and military police personnel -- made the involuntary call-up necessary.
These Marines will begin to fill positions in current positions in spring and summer 2007. Tours could last 12 to 18 months.
While the service can only call up 2,500 Marines at first, there is no cap on how many they may tap later. Some 59,000 Marines are in the reserves, with the 38,000 in second- or third-year status most likely to be called up.
The Marines recalled more than 2,600 IRR troops early in Operation Iraqi Freedom. The Army, meanwhile, has called up more than 10,000 such soldiers since the September 11, 2001, attacks, most of them in 2004 after the invasion of Iraq.
Poll: Lieberman, Lamont running neck-and-neck

Ned Lamont, left, defeated incumbent Sen. Joe Lieberman in the Democratic primary.
(CNN) -- A new poll by the American Research Group indicated a statistical dead heat in the U.S. Senate race in Connecticut between upstart Democratic nominee Ned Lamont and incumbent Sen. Joseph Lieberman.
Some 44 percent of respondents deemed "likely voters" supported Lieberman, while 42 percent said they would vote for Lamont in the November election. This gap was well within the margin of error of plus-or-minus 3.5 percentage points. Republican nominee Alan Schlesinger got backing from 3 percent of likely voters. (
Full results
)
Late last week, Quinnipiac University released its own poll showing Lieberman with a healthy, double-digit lead over Lamont -- 53 percent of likely voters to 41 percent. (
Full story
)
The main difference between the two polls lay in the percentage of respondents who said that they were undecided: 2 percent in the Quinnipiac survey compared to 11 percent in the ARG poll, more than 5 times larger.
According to the ARG poll, some 65 percent of Democrats said they'd vote for Lamont, compared to 30 percent for Lieberman. Overwhelming support from Republicans -- who backed him 57 percent to Lamont's 18 percent -- propelled Lieberman.
Lieberman led Lamont 68 percent to 32 percent among the 9 percent of likely voters who said they had a favorable view of both top candidates. Lieberman was viewed favorably by 56% of likely voters, while 47 percent had a favorable opinion of Lamont.
In a hotly contested, high-profile Democratic primary, Greenwich cable executive Lamont rallied from political obscurity to upend Lieberman -- the party's 2000 vice presidential nominee -- 52 percent to 48 percent. Throughout the campaign, Lamont criticized the three-term senator's support for the Iraq war. After conceding the primary, Lieberman said that he would continue in the race as an "independent Democrat." (
Full story
)
Attorney general promises help to fight New Orleans crime
WASHINGTON (CNN) -- The Justice Department vowed to step up anti-crime efforts in New Orleans, with Attorney General Alberto Gonzales saying 10 federal prosecutors will be immediately sent to prosecute federal firearms, drug and immigration-related violations.
After an initial crime drop following Hurricane Katrina, violent crime has spiked this summer. The announcement by Gonzales, made during a news conference at the Port of New Orleans, comes days ahead of the first anniversary of the colossal storm. (
Full story
)
President Ford gets heart pacemaker
ROCHESTER, Minnesota (CNN) -- Former President Gerald Ford has received a cardiac pacemaker and is in stable condition at the Mayo Clinic, where the procedure was done, a statement from his office said Monday.
Over the past few days, Ford, 93, has been evaluated and undergone a series of tests at the clinic that resulted in the implantation of the device, which is intended "to enhance his heart's performance," his office said. (
Full story
)
The procedure "went smoothly and without incident," according to the statement, and Ford is "resting comfortably."
Monday, August 21, 2006
The Cafferty File: GOP & Lieberman
On "The Situation Room" today, we asked viewers the following questions, and here are some of our favorite responses that we didn't get to read on air:
What does it mean when Republicans are supporting Democrat Joe Lieberman in the Connecticut Senate race?
It would be a blessing, because if Lieberman is anywhere near the presidential ticket for Democrats in 2008, it's another win for the Republicans.
John, Marlton, New Jersey

What are the Republicans doing by supporting Lieberman? They are doing what I always do when I go to the polls... choosing the lesser of two evils.
Matt, Athens, Georgia
It means that the Democratic Party is supporting candidates that are way too far to the left. The American public will not support ridiculous left wing positions in a general election and will cross party lines to elect more centrist views that they can support.
Charles, Smithtown, New York
It means that all is well in Washington. It's politics as usual.
Bill, Indian River, Michigan

Will things ever get back to normal for the victims of Hurricane Katrina?
If we took all the money wasted on the Iraq War, we could have rebuilt New Orleans several times over. This country needs to meet the needs of its people!
Anne, Englewood, Florida
I think it's very encouraging that there has been so much volunteerism, donations, and community effort around rebuilding New Orleans. I do feel, however, that our government is shamefully distant from the effort.
Michael, Utica, New York
Much of what was flooded should not be rebuilt. The area that is below sea level should become a park. If it is rebuilt the way it was, the way the climate change is going, it will only be destroyed again.
Grover, Fairfield, OhioWhat should be done about Iran if they won't let inspectors look at their nuclear facilities?

I'm sure Iran will allow foreign inspectors to examine their nuclear program just as soon as the U.S. allows foreigners to inspect ours. Is it that hard to believe that people in other countries can be just as proudly patriotic as we are?
Isaac
Hey Jack, haven't we walked softly long enough? I think it's time to pull out the big stick.
Zelma, Zoarville, Ohio
This should be a sign for the world community to take a hard-line stance against Iran. It's time the world demonstrates that any more transgressions will not be met with sanctions, but with a few well-placed cruise missiles. Only then will Iran stop their program.
Ben, Washington, D.C.
With concurrence from Murtha, we can 'redeploy' our troops from Iraq to take over the nuclear sites. Or, we can do what we used to do to fascist nations, bomb the hell out of them until they surrender unconditionally.
Joseph, Alexandria, Virginia
Judge drops Padilla terror charge
(CNN) -- A federal judge in Miami has dismissed the lead terror count against Jose Padilla, the U.S. citizen once identified as a "dirty bomb" suspect and detained for three years without charges as an "enemy combatant."
U.S. District Judge Marcia Cooke tossed out the first of three counts in an indictment handed down last year, Padilla's lawyer, Andrew Patel, told CNN. (
Full story
)
The dismissed count alleged that Padilla, a Brooklyn-born convert to Islam, and others plotted to "murder, kidnap and maim persons in a foreign country," Patel said.
Padilla has pleaded not guilty to the indictment, which includes two other counts -- conspiracy to provide material support to terrorists, and providing material support to terrorists. Those counts remain, and a trial is scheduled for early next year.
Former President Ford in stable condition

Gerald Ford, shown here during his White House days, is the nation's oldest living president.
ROCHESTER, Minnesota (CNN) -- Former President Gerald Ford is in stable condition at the Mayo Clinic, six days after being admitted for "testing and evaluation," said a clinic spokesman.
A brief statement from Ford's office did not disclose details about his condition or treatments. Lee Aase, the famed clinic's manager for media relations and research communications, told CNN that more information would be released later today.
Ford, 93, has been in frail health in recent years, having been hospitalized four times since December. Last month, the nation's 38th president spent two days in a Vail, Colorado, hospital after complaining of shortness of breath.
In January, he spent 11 days in a hospital near his Rancho Mirage, California, home being treated for pneumonia -- a month after being admitted to the same hospital for unspecified tests.
In 2003, Ford was hospitalized after suffering a dizzy spell while playing golf in 96-degree heat. He also had a mild stroke during the 2000 Republican National Convention.
Ford became president in August 1974, after the Watergate scandal forced then-President Richard Nixon from office. He narrowly lost the 1976 presidential election to Jimmy Carter.
-- CNN's Keith Oppenheim and Katherine Wojtecki contributed to this report.
Bush not a winner in 'home' state, but not alone
WASHINGTON (CNN) -- President Bush boldly, albeit light-heartedly, announced that he was "going to stay out of Connecticut" and its senatorial race, adding he may be "the only presidential candidate who never carried the state in which he was born."

When Bush made the remark at a Monday press conference, he admitted it may not hold up to extensive research. And in this case, fact-checkers didn't have to dig too deeply.

His father George H. W. Bush -- born June 12, 1924 in Milton, Massachusetts -- lost his "home" state by decisive margins in his two runs as a major party's presidential candidate. In 1988, Massachusetts Gov. Michael Dukakis won the state 53-45 percent (though Bush went on to become the nation's 41st president). Then-Arkansas Gov. Bill Clinton defeated the elder Bush, 48 percent to 29 percent (with independent candidate Ross Perot winning 23 percent) in the Bay State four years later.

And if 1992 seemed like the distant past, the 2004 election itself disproved Bush's assertion. Not only did President George W. Bush lose his native-born state, so did his Democratic opponent, John Kerry.

The Massachusetts senator was born December 11, 1943, at Fitzgerald Army Hospital in Aurora, Colorado. But his Centennial State roots only went so deep, as Kerry lost Colorado -- winning 47 percent of votes, compared to Bush's 52 percent.

In fact, roughly one in five major party presidential candidates since 1789 did not win the state they were born in, according to CNN's Keating Holland.

That list doesn't include Al Gore, who notably lost Tennessee -- which he represented between 1976 to 1985 in the House of Representatives and from 1985 to 1993 in the Senate -- to Bush in the 2000 presidential race. But while raised partly in Carthage, the former vice president was actually born in Washington, D.C., where his father served as a senator. Gore carried the District of Columbia in the 2000 election with 85 percent of the vote.

-- CNN's Keating Holland contributed to this report.
Poll: Slight rise, but Bush approval ratings still weak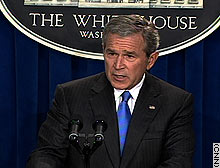 President Bush took questions from the press Monday.
WASHINGTON (CNN) -- President Bush's job approval ratings remain anemic among Americans, with disapproval exceeding approval 57 percent to 42 percent, according to a poll released Monday.
Bush's approval rating rose 2 percent from a poll conducted in early August -- and up 5 percent from mid-June. The poll of 1,033 Americans carried out August 18-20 for CNN by Opinion Research has a plus-or-minus 3-point sampling error.
A bare majority (51 percent) said they viewed Bush as a strong leader, but he got negative marks on most other matters.
Fewer than half of respondents (44 percent) said they believe Bush is honest and trustworthy, with 54 percent saying they do not believe he is. And just 41 percent said they agree with the president on issues, compared to 57 percent who disagree.
In addition, a mere 35 percent favor the war in Iraq, while 61 percent oppose it -- the highest amount of opposition to the war in any CNN poll since the conflict began in 2003.
Bush's tepid ratings don't bode well from the GOP ahead of the coming congressional elections. By a 9-point margin, 52 to 43 percent, more respondents said they would vote for Democratic candidates than Republicans.
When asked about his popularity during a news conference Monday, Bush said, "I've been here long enough to understand, you cannot make good decisions if you're trying to chase a poll.
"I'm going to do what I think is right," he added. "And if, you know, if people don't like me for it, that's just the way it is."
Bush: 'Urgent need' for 'effective' Lebanon force
WASHINGTON (CNN) -- President Bush on Monday called for an "effective international force" in southern Lebanon to ensure the shaky cease-fire between Israel and Hezbollah militants holds.
"The international community must now designate the leadership of this new international force, give it robust rules of engagement and deploy it as quickly as possible to secure the peace," Bush said at a news conference. (
Full story
)
Some countries have hesitated to contribute troops to the U.N. force, called for under U.N. Resolution 1701, because a clear mandate has yet to be spelled out. While vowing the United States "will do our part," the president ruled out contributing troops because of opposition from Lebanon and Israel.
Deploying an international force would expedite the delivery of humanitarian aid, said Bush. The United States has sent 25,000 tons of wheat, vowed $230 million for Lebanon's infrastructure, is considering a $42 million pledge to help train Lebanese forces and will send an "oil response team" to address spillage on Lebanon's coast.
Democrats ratify new presidential nominating calendar
From The Morning Grind
Nevada and South Carolina will join Iowa and New Hampshire as the kickoff states for the 2008 Democratic presidential nominating contest, under a plan approved Saturday by the Democratic National Committee.
The new calendar means Democrats will hold four nominating contests in January 2008, forcing the party's presidential hopefuls to expand their campaign efforts beyond the traditional proving grounds of Iowa and New Hampshire.
All other states will be allowed to hold caucuses and primaries beginning February 5. The DNC approved the new calendar by a voice vote.
The calendar change was opposed by New Hampshire Democrats, who charge that it violates their state law by placing a similar presidential contest within the seven-day buffer zone that Granite State law requires.
And Kathy Sullivan, chairwoman of the New Hampshire Democratic Party, warned that frontloading the calendar prevents Democrats from other states the opportunity in helping choose the party's presidential nominee.
"This is going to result in four states nominating our presidential candidate in 2008," Sullivan told CNN. "It makes Iowa, Nevada, New Hampshire and South Carolina very important, and while I appreciate feeling made to be important, I don't think the voters of four states should make that decision."
Sullivan also suggested that Saturday's vote will not be the final say on the matter.
New Hampshire Secretary of State William Gardner is charged with setting the state's primary date, and Sullivan said she expects him to do so in November 2007. Sullivan acknowledged that she does not know what Gardner will eventually do, but the secretary of state has already stated he intends to enforce New Hampshire law.
"Right now the calendar is not set," Sullivan said. "What happened today is irrelevant to New Hampshire."
But supporters of the new plan said that placing Nevada and South Carolina in the early part of the calendar will ensure that more diverse voices are involved in helping choose the Democratic nominee.
Iowa and New Hampshire have large white populations, while 23 percent of Nevada's population is Hispanic, and blacks make up 29 percent of South Carolina's population.
"It covers a larger part of the country with greater diversity earlier on in the calendar where a candidate can show strength, a more cross sectional type strength, because of the diversity," Waring Howe Jr., a DNC member from South Carolina, told CNN. "Not just the racial but the geographic and economic diversity."
The calendar adopted by the DNC has Iowa holding the first contest, a caucus, on January 14. Nevada would follow with a caucus on January 19, the New Hampshire primary on January 22 and the South Carolina primary on January 29.
The DNC also approved a measure that would deny a presidential candidate delegates if that state did not honor this new calendar and the candidate continued to campaign in that state. Actions constituting a violation include making personal appearances, hiring campaign workers and buying advertising.
The Republican Party does not plan to alter its presidential primary calendar.
Bush grants "Deliverance" to former Georgia moonshiner
From The Morning Grind
President Bush did not make history in the Ford-pardons-Nixon sense with his latest batch of presidential pardons announced earlier this week. He did, however, earn the unique distinction of being the first president to grant a pardon to a cast member of the Academy Award-nominated movie "Deliverance."
Randall Leece Deal of Clayton, Georgia, played one of the Griner brothers in the 1972 film about four Atlanta businessmen who have unpleasant encounters with the locals during a North Georgia canoe trip. The roles of the businessmen were played by Burt Reynolds, Jon Voight, Ronny Cox and Ned Beatty.
Deal's only line in the movie: "It ain't nothing but the biggest f..ing river in the state!" For the record, Deal did not play one of the surlier locals involved in an infamous scene with Beatty.
Before his big break in the movies, Deal was in his twenties in the early 1960s when he was charged and convicted on two counts of violating liquor laws, acts commonly known as "moonshining," and one count of conspiring to violate liquor laws.
"That really wasn't true," Deal told CNN of the conspiracy charge. "But anyway, that's what they charged us with."
Moonshining was a common practice in the area in the 1960s, Deal said. He also points out that he was not in it for the money, but was more interested in the fun and camaraderie of the enterprise.
"I was just helping some friends back then," he said. "It was really just more like a game than anything, to be honest with you. It wasn't a big business deal, fiddling with moonshine. At least to me it wasn't."
Deal never served any jail time for the convictions, but the black mark on his record rankled him enough to seek a presidential pardon over 40 years later.
"I just got to thinking about it, you know. Just to get her wiped out if possible," he said.
Deal hired a local attorney and "just filled out the papers and sent it in to the White House, or wherever you send them to, a good long time ago."
The Justice Department announced his pardon on Wednesday, and Deal first heard the news when reporters started contacting him that afternoon at his home in Clayton.
"I really didn't have an idea what kind of a deal it would be," he said. "But evidently it's a pretty big old deal to get one."
Deal defies the image of the well-connected, deep-pocketed presidential pardon recipient like controversial financier Marc Rich, who received one of President Clinton's final pardons in 2001. According to Federal Election Commission records, Deal has never made a federal political contribution. When asked if he had any special political connections with the White House, he laughed and said, "Oh no. No sir. None whatsoever."
But he did describe himself as a supporter of President Bush, pardon or no pardon. Although the pardon doesn't hurt.
"Well, you know, somebody does something for you, it should help your opinion of them, shouldn't it?" he asked. "Isn't that the way it's supposed to be?"
These days, Deal, now 66, works at the local sheriff's office, and just celebrated his 16th anniversary there on Wednesday, the same day his pardon was announced. He said his movie career is long behind him. His only post-"Deliverance" acting role was in the little-known 1982 film "Trapped," which he calls "just a little old bitty thing. Nothing to mention." He does still receive the occasional residual check for his brief acting career, each check usually no more than a few dollars.
Also long behind him are his moonshining days.
"There isn't really much of that around here anymore," he said. "In fact, I was thinking here a minute ago, and I believe practically everybody I helped (make moonshine) is dead."
A temporary hiatus
From The Morning Grind
As the summer draws to a close, the Grind is going on a temporary hiatus and will return on Tuesday, September 5. Continue to tune into CNN, Headline News and cnn.com for the latest breaking news.
DAYAHEAD/Events making news today
President Bush has no public schedule.


The Senate is in recess until September 5, 2006. The Senate Radio-Television Correspondents' Gallery Daybook.



The House is in recess until September 6. The House Radio-Television Correspondents' Gallery Daybook.
Political Hot Topics
HARD LINE AGAINST IMMIGRATION IS THE "SAFER POSITION" FOR GOP:
There seems to be little doubt that a hard line against illegal immigration is the safer position in a GOP primary. But many Republicans believe, in a year when many national trends are not blowing their way, that it is also the safer position in a general election. It is a counterintuitive strategy: The way to win a swing district is not with a campaign aimed at swing voters. Instead, the goal is to motivate conservatives with anti-illegal-immigration appeals, hoping they overcome their disenchantment with GOP policies in Washington. Of course, Republicans also hope to snare independents and even some wayward Democrats with the immigration issue. But they plan to do it with hot words -- not with the cool centrism that is more typical in districts where both parties have run competitively.
Washington Post: In Porous Border, GOP Sees An Opening
DEMS ADD NV, SC TO CALENDAR:
Seeking to broaden the party's nominating process, Democratic leaders voted Saturday to add Nevada and South Carolina to the opening rounds of the 2008 presidential contest. The move could prove significant by introducing new voices and issues into the race for the White House -- but only if Democrats choose to seriously campaign in the two added states. Iowa and New Hampshire -- host of the first caucus and primary, respectively -- have long dominated the early balloting, and many of the Democrats' 2008 prospects have opposed changing the political calendar. None wished to anger activists in those traditional proving grounds.
Los Angeles Times: Democrats Add Nevada, S.C. to Early 2008 Voting
NH SEC. OF STATE REACTS:
Secretary of State William Gardner said he will choose when New Hampshire Democrats vote for their Presidential candidates -- not the Democratic National Committee, which [Saturday] ordered the state to share more of the nominating spotlight in 2008. "As chairman of the Democratic Party, Howard Dean is not going to pick the date of the New Hampshire primary," Gardner told the New Hampshire Sunday News. Democrats in Chicago approved a calendar calling for New Hampshire to retain its first-in-the nation primary with residents casting votes Jan. 22, three days after Nevada would conduct its caucuses. "The primary's going to be held on a date that honors our tradition and the action taken by the DNC dishonors that tradition," Gardner said. He said the "tradition" means Iowa and New Hampshire kicking off the nominating process. Gardner plans to wait until late next year to set the actual primary date.
Manchester Union-Leader: Dem bums! DNC puts NH behind Nevada
COUNTDOWN TO PRIMARY DAY IN AK... GOV'S JOB ON THE LINE:
It's not every year that the primary election, where voters select a Democrat and Republican to face off in the governor's race, upstages the general election, where people actually choose a new leader. But this time, the incumbent governor is in danger of losing his warm-up campaign, despite promising that he's the only one who can usher in a gas pipeline deal that will fuel the state's economy for the next 50 years. "It's become painfully obvious that many of you are questioning your support for me," Murkowski says in a new campaign commercial, his face framed by soft lighting and a string of yellow roses rising behind him. In the spot, which began airing over the weekend, Murkowski asks voters for one more chance.
Anchorage Daily News: Republican voters face year's biggest decision
REPUBLICANS' "SAFETY WALL" OF CASH HAS "ERODED":
The traditional fundraising advantage held by incumbent lawmakers -- which Republicans have regarded as a safety wall in their effort to keep control of Congress -- has eroded in many closely contested House races, as many Democratic challengers prove competitive in the race for cash. In a year of bad omens for the GOP, the latest batch of disclosure forms filed with the Federal Election Commission offers one more: Incumbency no longer means that embattled Republican representatives can expect to overwhelm weakly funded Democratic challengers with massive spending on advertising and get-out-the-vote efforts... Of this year's 27 most vulnerable [GOP] incumbents, 14 face challengers who have raised at least $1 million, according to FEC reports. At this point in 2004, no Democratic challenger had raised $1 million. What's more, all but one of the 27 Democratic challengers has raised at least $400,000.
Washington Post: GOP's Financial Edge Shrinks
ROVE'S REP, "VISION" ON THE LINE:
[Karl] Rove knows something about tough battles, and he's in another one. Freed from the uncertainty over whether he would face criminal charges -- an indictment would have forced him to vacate his West Wing office -- Bush's top strategist is focusing his full attention on the fall elections. Some Republicans see him as their best hope for heading off disaster in November... At stake is more than Rove's reputation as a canny tactician. A Democratic takeover of the House or Senate would not only jeopardize President Bush's ability to pass legislation but also enable Democrats to launch the sort of inquiries and subpoenas that Republicans used to bedevil the Clinton White House. Losing control of Congress would undercut Rove's vision of building a durable Republican majority.
USA Today: GOP counts on Rove to head off disaster
TIME COVER: "THE PRESIDENTIAL AMBITIONS OF HILLARY CLINTON":
If you ask anyone around Hillary Clinton the question that everyone is asking, the answer comes back in a shot: The freshman Senator from New York is far too busy concentrating on her re-election in November to be giving even a passing thought to 2008. Thank you very much. But politics is ultimately a game of logistics, and the junior Senator is putting the machinery in place for a campaign that looks far grander than a re-election cakewalk in New York. All it will need is for someone to throw the switch.
TIME: Ready To Run
McCAIN BUILDING HIS '08 TEAM:
Senator John McCain is locking up a cast of top-shelf Republican strategists, policy experts, fund-raisers and donors, in a methodical effort to build a 2008 presidential campaign machine, drawing supporters of President Bush despite the sometimes rocky history between the two men. Mr. McCain's effort to woo a diverse lineup of backers and scare off rivals has augmented his travel schedule on behalf of Republicans - which this week and next includes trips to Iowa, Louisiana, Virginia, South Carolina, Ohio and Florida.
New York Times: McCain Mines Elite of G.O.P. for 2008 Team
McCain's bench
LIEBERMAN ON RUMMY... "TIME FOR NEW LEADERSHIP AT THE PENTAGON":
Senator Joseph I. Lieberman, facing continued criticism from many in the Democratic Party because of his support for the war in Iraq, leveled his most pointed criticism yet at the Pentagon during a television interview on Sunday, calling for the resignation of Defense Secretary Donald H. Rumsfeld. Ned Lamont, who defeated Mr. Lieberman in the Democratic primary this month, said later that he had advocated that stance for months, and he questioned the timing of the senator's criticism... "I think it's still time for new leadership at the Pentagon," Mr. Lieberman said on CBS's "Face the Nation." "With all respect to Don Rumsfeld, who has done a grueling job for six years, we would benefit from new leadership to work with our military in Iraq."
New York Times: Lieberman Jabs at Rumsfeld, Saying Military Needs a Change
KERRY SAYS LIEBERMAN IS "DEAD WRONG" ON IRAQ, "OUT OF STEP" WITH VOTERS:
Senator John F. Kerry yesterday blasted Senator Joseph I. Lieberman over his decision to stay in the Connecticut senatorial race as an independent, saying Lieberman "is making a Republican case" to voters and is echoing the words of Vice President Dick Cheney in his campaign. Kerry, a Massachusetts Democrat, said on ABC's "This Week" that Lieberman is "dead wrong" on the issue of the Iraq war, and said he is making a "huge mistake" by aligning himself with Republicans who support it. He urged Democrats to coalesce behind Ned Lamont, who defeated Lieberman in the Aug. 8 Democratic primary, based largely on his strong antiwar stance.
Boston Globe: Kerry calls Lieberman 'out of step' with voters
OBAMA ARRIVES IN AFRICA WITH "FANFARE":
The last time he traveled to Africa, he wore a backpack and walked with anonymity. Fourteen years later, he arrives with a title, an entourage and such fanfare that some roads in his father's village have been freshly paved in his honor. Sen. Barack Obama (D-Ill.) arrived [in Cape Town, South Africa] Saturday to begin a two-week, six-nation sweep through Africa, a journey steeped in political significance and personal reflection as he returns to the continent of his late father for the first time as a U.S. senator. Amid the jubilation, Obama worried his visit had mistakenly raised expectations that he could shower prosperity on a Kenyan province that has long been awash in poverty. "There is a sense that somehow I can deliver the largess of the U.S. government to that region," he said in an interview last week as he prepared for his trip. "And I can't."
Chicago Tribune: Obama returns to Africa as celebrity
HAGEL HITS GOP POLITICAL TACTICS ON TERRORISM:
American politicians are undermining the U.S. fight against terrorism by seeking political advantage from arguments over national security, Sen. Chuck Hagel said Sunday. The fight against terrorism is "too serious to be left to headline seekers or politicians or political parties," the Nebraska Republican said on "Fox News Sunday." Hagel, a possible 2008 presidential candidate, has often been a critic of Bush administration policies, particularly its conduct of the Iraq war. Hagel acknowledged concern about GOP tactics on subjects such as a federal judge's ruling last week that ordered the U.S. government to stop warrantless wiretapping of telephone calls involving suspected terrorists. After the ruling was handed down, the Republican National Committee issued a statement saying: "Liberal judge backs Dem agenda to weaken national security." That type of comment is counterproductive, Hagel said.
Bloomberg.com: Republican Sees Danger in Party's Barbs Over National Security
"MATINEE MITT" WOWS 'EM IN L.A.:
California Republicans believe a handsome, blue-state Republican such as Mitt Romney would turn the presidential map upside down in 2008, appealing to the voters on both coasts who normally back Democrats in national elections. Mr. Romney is eyeing a White House bid as he finishes his last few months in the Massachusetts governor's mansion, and made his case to state party activists this weekend at the California Republican Convention. They loved him -- cheering wildly for a stump speech that closely resembled a stand-up routine and later praising him as someone with the right kind of fiscal and conservative values. "He's got the charisma Kennedy had and the morals we wish Kennedy would have had," said Republican Donee Chabot of Los Angeles, who works in real estate.
Washington Times: Romney golden to GOP in blue state
RENDELL'S CASUAL RACE:
Far ahead in the polls and flush with campaign funds, Gov. Rendell so far is running a more low-key campaign than he did four years ago, when he battled from behind to win the Democratic primary and, later, the general election. Though he still spends a lot of time on the road, his campaign stops have, for the most part, been marked by feel-good speeches about what his administration has accomplished over the last 3 1/2 years, rather than big, bold campaign promises about what he would do if he is reelected. And though he's taken several bus tours around the state, he's done them without the usual entourage of reporters and television cameras recording his every word. At campaign stops, he never even mentions his opponent, Lynn Swann, by name.
Philadelphia Inquirer: Rendell's campaign is low-key and upbeat
ANTI-WAR PROTESTERS EXPECTED TO GREET BLOOMBERG IN IRELAND:
Not all Irish eyes will be smiling when Mayor Bloomberg visits the Emerald Isle tomorrow. Some anti-war protesters, angry with Bloomberg's support of Israel and President Bush, said they will hold a peaceful vigil while he dedicates a memorial in Ballymote, County Sligo, to the New York's Fighting 69th Infantry Regiment. "We had no problem originally with the mayor's visit to Sligo, but we were very concerned about his recent comments in support of Israel," said Tim Mulcahy, one of the organizers of the Sligo Anti-War Movement. "He's not the person who should receive a warm welcome here in Sligo," Mulcahy told the Daily News. Last month, Bloomberg issued a statement commending "President Bush and his cabinet for their continued support of Israel and its right to defend itself."
New York Daily News: Irish anti-war activists to protest Mike's visit