Friday, May 26, 2006
The Morning Grind
Bush and Blair admit mistakes, but see progress in Iraq
President Bush and British Prime Minister Tony Blair acknowledged last night that mistakes have been made in the execution of the Iraq war, but hailed the formation of a permanent government as a significant step towards stabilizing the country for eventual self rule.
Neither Bush nor Blair would commit to a specific date as to when coalition forces would withdraw from Iraq, and the President said he intended to "keep the force level there necessary to win." But Blair did say he thought Iraqi Prime Minister Nuri al-Maliki's prediction that his country would be able to assume security responsibilities by the close of 2007 was "possible."
"I think what will you find is that progressively, there will be more and more parts of Iraq that are policed by the Iraqi security forces themselves, and their capability is improving," Blair said. "But I also think you will find, probably over the next few months, there will be a real attempt by the anti-democratic forces to test them very, very strongly."
Bush said the biggest mistake he made was his challenge to insurgent fighters when he dared them to "Bring it on!"
"I learned some lessons about expressing myself maybe in a little more sophisticated manner," the President said. "I think in certain parts of the world, it was misinterpreted."
Bush also noted that the Abu Ghraib prison abuse scandal has tarnished the U.S. reputation abroad and hindered efforts in Iraq. But he added the United States acted quickly to bring those to justice.
"We've been paying for that for a long period of time," he said. "Unlike Iraq, however, under Saddam, the people who committed those acts were brought to justice."
Blair admitted they underestimated the will of the insurgent fighters.
"The biggest reason why Iraq has been difficult is the determination by our opponents to defeat us," he said.
And he noted that it was wrong to prevent members of Baath Party from participating in planning for a new government.
"Though at the time it was very difficult to argue this, we could have done de-Baathification in a more differentiated way than we did," he said.
***RUMSFELD REITERATES BUSH'S RESOLVE:
Following the Bush and Blair nationally televised news conference, Defense Secretary Donald Rumsfeld sat down for a one-on-one interview with CNN's Larry King. Rumsfeld backed Bush's decision not to name a specific date to withdraw troops, saying, "It just doesn't do any good.
"It's based on conditions on the ground," Rumsfeld said. "There's no question that it's our desire to reduce the forces and we intend to and the Iraqis intend for us to."
Rumsfeld also answered a number of questions on the war including...
Criticism that not enough troops were initially sent into Iraq: "I suppose history will decide that. The fact of the matter is that we sent the number of troops that every single general in the chain of command wanted. Now, could you have overridden them and sent more? You know, people run around saying, 'Well, you sent less than the generals wanted.' That's just utter nonsense. It's not true."
Voters will send a message in the midterm elections that they do not support the war: "I think the people are very likely to do the right thing." He later added, "The American people have -- we put all of our faith, all of our confidence in the American people with this Constitution. We said given sufficient information on big issues, they'll find their way to the right decision and that doesn't mean one party or another. It means will they persevere in this instance? And I believe they will."
Poor pre-war intelligence: "It was imperfect intelligence, but all intelligence is imperfect. There's no way in the world you can know all kinds of things like that and behavior perfectly. You can't predict it. What do they say that a war plan never survives first contact with the enemy? You sit there and you take all the intelligence. You fashion a war plan. You begin and the enemy's got a brain, so it's constantly adapting and adjusting, and you have to adapt and adjust to the changes that take place."
The biggest surprise: "I would think the absence of -- not finding weapons of mass destruction would be the biggest surprise. I mean, the intelligence, everyone saw it. Everyone believed it. And, goodness knows, the President did, the United Nations, the Congress, people all saw it there, the other countries in the world. And, it wasn't -- we know he had chemical weapons. We know he used chemical weapons against his own people and his neighbors. But finding them, of course ... We found a lot of things that were buried, found jet airplanes buried of all things if you can imagine burying a jet airplane in the dirt."
Leaving his post anytime soon: "I'm not going to get into that. I obviously feel that what we're doing is important. I support (Bush) enthusiastically. He is enormously talented, bright. I just spent an hour and a half with him. And he must have asked 50 questions of [Gen.] John Abizaid and me and [Chairman of the Joint Chiefs of Staff Gen. Peter] Pace. The three of us were with him. And I enjoy working with him, because he is such a talented, dedicated, decent person."
***BOEHNER URGES COLLEAGUES TO TOUT GOP ACCOMPLISHMENTS:
In addition to receiving talking points on the big issues of the day, GOP lawmakers were also given a strategy memo written by House Majority Leader John Boehner (R-Ohio) that urges them to promote Republican legislative accomplishments over the Memorial Day recess. Boehner touts the GOP's work on the economy, border security, national security, and the differences in approach between Democrats and Republicans on gas prices.
Boehner writes the GOP has much more to do "in the coming weeks and months."
"We'll continue our work to hold the line on spending, we'll work on border security and pension security and providing affordable health care to working families, and we'll work to help lower energy prices for working Americans," he writes. "And that's just a start. We have a tremendous opportunity ahead of us. United together behind a common vision that reflects our principles and values as Republicans, we will be successful in moving our ambitious agenda and responding to the concerns of the American people."
***GIVE (FRIST) HELL HARRY:
Not to be outdone, Senate Minority Leader Harry Reid (D-Nevada) accused Senate Majority Leader Bill Frist (R-Tennessee) yesterday of cluttering up the legislative schedule with social issues such as a constitutional amendment banning same sex marriage for his own personal gain.
"Bill Frist is hoping to resurrect his leadership and raise his presidential profile by turning to Karl Rove's playbook of 'distort, distract, and divide,'" Reid wrote to supporters of his Give Em' Hell Harry Web site. "It is sad to see that Republicans are willing to sacrifice the Constitution, a sacrosanct document for their short-term political goals."
Reid added, "These tactics will not stop us in 2006. The American people are fed up with the "do nothing Bush Republicans" and pandering to the extreme right wing in their party will do them no good -- we will win in November."
The Grind thinks that the Memorial Day recess couldn't have come at a better time. Have a happy and safe holiday.
=======================================
DAYAHEAD: Events making news Friday, Saturday and Sunday...
The Senate gaveled into session at 8:45 a.m. ET with three votes scheduled before the chamber adjourns for the Memorial Day recess. The Senate approved Brett Kavanaugh's nomination to serve on the U.S. Court of Appeals for the D.C. Circuit; Michael Hayden's nomination to lead the CIA; and Idaho Gov. Dirk Kempthorne's (R) nomination to be secretary of Interior. The House is in recess.


Vice President Cheney delivers the commencement/commissioning address to graduates of the U.S. Naval Academy at 10 a.m. ET in Annapolis.


British Prime Minister Tony Blair visits Georgetown University at 11 a.m. ET to speak "on the challenges facing the international community in the 21st Century and on the policies and institutions needed to address these challenges."


President Bush has no public schedule today and heads to Camp David at 2:50 p.m. ET.


New York Gov. George Pataki (R) -- a potential candidate for the 2008 Republican presidential nomination -- visits Maquokete, Iowa, to attend a fundraiser for LaMetta Wynn, a candidate for state Senate.


Bush delivers the commencement address at 9 a.m. ET Saturday to graduates of the U.S. Military Academy at West Point in West Point, New York.


Cheney delivers the commencement address at Natrona County High School on Saturday at 3 p.m. MT in Casper, Wyoming.


Senate Majority Leader Bill Frist (R-Tennessee) -- who is eyeing a run for the White House in 2008 -- heads to the important primary state of South Carolina on Saturday to meet with GOP activists and Congressional candidate Ralph Norman, tour a hospital and attend a festival. Frist will be in Rock Hill in the morning and Anderson that afternoon.
Political Hot Topics
BUSH, BLAIR ACKNOWLEDGE "MAJOR MISJUDGMENTS" IN JOINT PRESSER:
President Bush and Prime Minister Tony Blair of Britain, two leaders badly weakened by the continuing violence in Iraq, acknowledged major misjudgments in the execution of the Iraq war on Thursday night even while insisting that the election of a constitutional government in Baghdad justified their decision to go to war three years ago. Speaking in subdued, almost chastened, tones at a joint news conference in the East Room, the two leaders steadfastly refused to talk about a schedule for pulling troops out of Iraq -- a pressure both men are feeling intently.
New York Times: Bush and Blair Concede Errors, but Defend War
"BRING 'EM ON" SENT THE "WRONG SIGNAL":
Asked what "missteps and mistakes" he regretted the most, Bush responded with uncharacteristic reflection, citing his July 2003 admonition to Iraqi insurgents to "bring 'em on," and his declaration shortly after the Sept. 11, 2001, attacks that the U.S. wanted Osama bin Laden "dead or alive." "Kind of tough talk, you know, that sent the wrong signal to people," Bush said. "I learned some lessons about expressing myself, maybe in a more sophisticated manner... I think in certain parts of the world it was misinterpreted." Bush went on to say the mistreatment of Iraqi prisoners by American guards at the Abu Ghraib prison was the "biggest mistake that's happened so far."
San Francisco Chronicle: Bush says he regrets 'tough talk'
SENATE PASSES IMMIGRATION BILL:
The Senate yesterday approved legislation that would trigger the biggest changes to U.S. immigration policy in decades, by strengthening border security, establishing a guest-worker program, and providing the means for millions of illegal immigrants to stay in the country and possibly become citizens. The product of a tenuous bipartisan coalition that faced tough conservative opposition, the measure calls for 370 miles of triple-layer fencing along the Mexican border, a complicated three-tiered system for determining who can stay and who must leave the country, and more jail cells for those awaiting deportation... But even as the Senate approved the bill 62 to 36, the measure's backers acknowledged that it faces formidable opposition in the House.
Washington Post: Senate Approves Immigration Bill
JEFFERSON FILES SEALED FOR 45 DAYS:
President Bush intervened directly Thursday in an increasingly tense constitutional fight between Congress and the Justice Department by ordering that records seized from a Congressional office over the weekend be sealed for 45 days. "Our government has not faced such a dilemma in more than two centuries," Mr. Bush said in his first statement on the swirl of events surrounding the Federal Bureau of Investigation's search of the office of Representative William J. Jefferson, Democrat of Louisiana, who has been accused of accepting bribes. "Yet after days of discussions, it is clear these differences will require more time to be worked out."
New York Times: To Ease Standoff, Bush Seals Seized Files
"AMUSEMENT HARDENED BY EXPERIENCE" IN NOLA:
Rep. William J. Jefferson has long provided one of Louisiana's favorite success stories: the sometime-sharecropper's son who rose from rural roots to attend Harvard Law School, become a Democratic Party power player and reach the halls of Congress. So when the FBI revealed that it had videotape of Jefferson accepting $100,000 in cash that the bureau said was intended to bribe a Nigerian official -- and that $90,000 of it had been found in the freezer of Jefferson's home -- constituents of Louisiana's 2nd Congressional District reacted with shock, disappointment and a touch of amusement hardened by experience.
Los Angeles Times: Cash-in-Freezer Probe a Hot Topic in New Orleans
HASTERT CATCHES HEAT FROM THE RIGHT OVER JEFFERSON DEFENSE:
Conservatives yesterday expressed confusion and outrage over House Speaker J. Dennis Hastert's defense of a Democratic congressman whose Capitol Hill office was raided last weekend by the FBI. "Only thing I can figure is that Denny got up one morning and said, 'Our approval with the public is at 27 percent -- how can I drive that down further?'" said former Rep. Bob Barr, Georgia Republican... Radio host Rush Limbaugh yesterday told his millions of listeners that the Hastert-Pelosi alliance shows the GOP has become "politically tone-deaf," while a Louisiana senator [David Vitter] was the only elected Republican in Washington to criticize the defense of congressional privilege by Mr. Hastert, [an] Illinois Republican.
Washington Times: Hastert slammed for raid reaction
VA CHIEF "MAD AS HELL":
It will cost at least $10 million to inform veterans that their personal information may be in the hands of criminals, Veterans Affairs Secretary Jim Nicholson told Congress on Thursday. He warned that the ultimate price tag of the government's response could be tens of millions more... When asked for an estimate, Nicholson tossed out the figure of $100 million - or more... There's no indication the data are being used for criminal purposes, and Nicholson and George Opfer, the agency's inspector general, say they believe the theft was random. Still, Nicholson told lawmakers, he's "mad as hell" at the employee.
USA Today: Cost to tell veterans of data theft starts at $10M
IG FOUND OUT THROUGH OFFICE GOSSIP:
The theft of personal data for 26.5 million veterans came to the attention of the Veterans Affairs inspector general only through office gossip, he told Congress Thursday. In four hours of testimony, IG George Opfer said the department failed to heed years of warnings about lax security and noted that the employee who lost the data when his house was burglarized had been improperly taking the material home for three years. "We were on borrowed time," Opfer told Senate and House panels investigating the breach.
AP via Yahoo! News: VA breach discovered through office gossip
JOHN SNOW RESIGNING:
Treasury Secretary John W. Snow, who has presided during a period of strong economic growth but at times seemed out of sync with President Bush, has informed the White House that he will resign in the coming days after three years as the nation's chief economic officer, a source close to Snow said yesterday. Snow asked the White House to announce his resignation in early June and said he plans to stay in the job no later than July 3 while a replacement is sought, the source said. The secretary's decision was intended to bring finality to a process that has played out awkwardly in public over months as Snow's job security has been a regular source of Washington speculation.
Washington Post: Treasury Secretary to Step Down
ANWR VOTE "SYMBOLIC":
The U.S. House voted Thursday to open the Arctic National Wildlife Refuge, but the move was primarily symbolic, since opponents in the Senate are certain to filibuster. The vote was 225-201. The debate preceding it came off like a play left too long on Broadway: entirely predictable and delivered with as much rehearsed passion as the players could summon. Pro-drilling lawmakers said the refuge could produce a significant amount of oil that would lessen our dependence on foreign sources. The opponents said America has to break its oil addiction because ANWR would do very little to satisfy demand.
Anchorage Daily News: Pro-ANWR vote in House mostly for show
BUNNING TO BLOCK VOTE ON FEMA CHIEF:
Angered over FEMA's flood insurance program, a senator said late Thursday he would block the nomination of R. David Paulison as the agency's chief in the latest hitch in the push for his approval before the start of the hurricane season. A spokesman for Sen. Jim Bunning, R-Ky., said he will delay Paulison's confirmation until the Federal Emergency Management Agency develops a suitable appeals process for property owners whose flood insurance claims are rejected. FEMA administers the insurance program. Bunning spokesman Mike Reynard said the agency was supposed to establish an appeals process by December 2004.
AP via Yahoo! News: Senate panel approves FEMA nominee
"FAR BETTER THAN AVERAGE CHANCE" CHENEY WILL TESTIFY IF CALLED:
If a prosecutor calls him as a witness, Vice President Dick Cheney probably can't avoid testifying in his former chief of staff's perjury trial, legal experts said Thursday. "There may be significant issues of executive privilege and significant issues of classified information. But there are obviously significant factual issues that bear on the charges the prosecutor has brought" in the CIA leak investigation, said former federal prosecutor E. Lawrence Barcella Jr. "So there is a far better than average chance that you are going to see the vice president sitting in the witness chair" if he is summoned, Barcella said.
AP via Yahoo! News: Experts say Cheney can't avoid testifying
MD GOV CANDIDATE WILL RETURN JACK $$$:
Montgomery County Executive Douglas M. Duncan received $20,000 in political contributions from corporations he said were "related to or affiliated with" former lobbyist Jack Abramoff, at a time when the county was considering leasing a school to a Jewish organization Abramoff supported. Duncan said in a statement last night that he was unaware of the contributions he received seven years ago and was returning the money. Duncan, who is seeking the Maryland Democratic nomination for governor, issued the statement three hours after answering questions about the contributions from The Washington Post.
Washington Post: Duncan to Return Abramoff-Tied Funds
OBAMA IN '08?
Sen. Barack Obama (Ill.) has brought on two nationally known Democratic consultants as advisers in recent weeks, prompting renewed speculation that the freshman senator may be considering a 2008 White House run. Anita Dunn, a partner with Squier Knapp Dunn, a media consulting company, and Minyon Moore, who is with the Dewey Square Group, are now serving as advisers to Obama. Dunn is working with Obama's leadership political action committee -- Hopefund -- through the end of the year... Moore is serving as an unpaid adviser to Obama, working to build an African American outreach program. Obama's office insists the moves have nothing to do with positioning him for a presidential race in 2008 or beyond.
washingtonpost.com/The Fix: Obama Staff Move Prompts Renewed '08 Speculation
"UNDECIDED" IN NY:
Most New York Republicans are just plain lost when it comes to picking their party's candidates for governor and U.S. Senate, a new poll shows. The Siena College survey found 22 percent of likely Republican primary voters backing former Assembly Minority Leader John Faso for governor, while 17 percent of GOP voters backed former Massachusetts Gov. William Weld. The greatest number, a whopping 61 percent, said they were undecided when it came to picking a candidate for governor. In the Senate race, only 21 percent of GOP voters backed former Yonkers Mayor John Spencer as their party's nominee, while 20 percent backed former Reagan-era Pentagon official Kathleen "KT" McFarland. The largest number, 59 percent, were undecided on a challenger to incumbent Democratic Sen. Hillary Rodham Clinton.
New York Post: GOP Races are Dunno vs. Whozat
CONDI WEIGHS IN ON IDOL:
Secretary of State Condoleezza Rice took time out from matters of war and peace to catch this week's finale of American Idol. Unlike many adults who claim they watch the show only because their kids commandeer the TV, Condi is an unabashed fan. Rice was rooting for fellow Birmingham native Taylor Hicks and will soon send him a congratulatory letter, says a State Department official. The Alabama connection helps explain why she has long been glued to the show: last year's runner-up Bo Bice is also a 'Bama boy, as was the winner of the second Idol competition, Ruben Studdard... According to the State Department official, Idol isn't the only junk food on Condi's TV diet. She also watches Law & Order and was a fan of The Bernie Mac Show before its cancellation.
TIME: Taylor Hicks' Biggest Fan?
WAYNE GRETZKY'S WIFE MAY SUE NEW JERSEY:
Janet Jones Gretzky and estranged NHL assistant coach Rick Tocchet say they've been forced to live under a cloud of suspicion after both were alleged to have links to an illegal sports-gambling ring in New Jersey... Tocchet and Janet Gretzky, who allegedly placed bets with the illegal sports-betting ring but has not been charged with any crime, filed legal notices May 8 that pave the way for them to sue law-enforcement authorities for defamation. In separate filings, both said they may file $50 million (U.S.) lawsuits against state police and New Jersey's Department of Law and Public Safety alleging the government agencies leaked information to the media about phone conversations intercepted by wiretaps.
Toronto Star: Janet Gretzky moves to sue N.J. officials
Thursday, May 25, 2006
Hastert lawyers: ABC report a 'known falsehood'

Hastert's lawyers accused ABC News of "libel and defamation."
Lawyers for House Speaker Dennis Hastert accused ABC News of "libel and defamation" after a report that he is being investigated in connection with the Jack Abramoff corruption probe.
The Illinois Republican's attorneys sent a
letter
to ABC News President David Westin and correspondents Brian Ross and George Stephanopolous about what it called the network's "continued repetition of a known falsehood." The correspondence threatened "any and all actions necessary to rectify the harm" done to Hastert's reputation. (
Read the letter
)
Earlier this week, the network -- citing "high-level official sources" -- claimed the FBI is investigating a letter Hastert wrote three years ago to then-Interior Secretary Gale Norton. The letter reportedly urged Norton to block an Indian casino that would have competed with casinos operated by tribes represented by Abramoff, a once high-powered lobbyist who has since plead guilty to conspiracy, fraud and tax invasion charges. (
Full story
)
Hastert's office has responded vociferously, and the Justice Department took the unusual step of denying the report.
FBI seeks interviews with Congress on NSA
The FBI wants to interview top members of the House of Representatives and senators from both parties about the leak to The New York Times about the National Security Agency's domestic surveillance program, two sources with knowledge of the leak investigation confirmed to CNN.
The Capitol Hill newspaper Roll Call first reported that the FBI wanted to question members of Congress as part of its probe. The sources do not know if any members have actually been interviewed yet.
The FBI declined to comment.
The New York Times in December reported the existence of the program, which allows phone calls between the United States and overseas to be monitored without a court warrant so long as one party is a terror suspect.
Only a few members of the House and Senate were briefed on the NSA program before it became public.
One source with knowledge of the investigation said, "There is only a certain universe of people who had this information and could have leaked it. Obviously any investigation would focus on that universe. If members who had knowledge were not interviewed, then any investigation would not be complete."
The source added, "This is common sense."
A spokesman for the House Intelligence Committee would not say whether its chairman, Rep. Peter Hoekstra, R-Mich., had been asked for an interview but did say he has been questioned in the past on other investigations.
"It's his belief that you must vigorously pursue all illegal leaks to send a message that there is no tolerance," spokesman Jamal Ware told CNN.
A House Intelligence Committee official said there are discussions between congressional officials and the Justice Department and FBI about the interviews.
"The full scope of this is still being negotiated between all sides," the official said. "There are a broad range of issues to consider. There are constitutional separation of power issues that have to be resolved."
A spokesman for Rep. Jane Harman, D-Calif., ranking minority member on the House Intelligence Committee, said she has not been contacted about "any inquiry" regarding the NSA leak.
House Minority Leader Nancy Pelosi, D-Calif., who used to sit on the Intelligence Committee, told reporters, "It is not unusual ... that the investigation would include all of those who had access or had been briefed about the program. If asked, I will certainly participate in that inquiry."
Pelosi's spokeswoman, Jennifer Crider, told CNN Pelosi has not been notified that the FBI wants to interview her about the leak on the NSA story.
"I know for a fact she has not been notified in writing," Crider said.
A source with knowledge of the leak investigation said there should not be a separation of powers concern regarding interviews with members of Congress, saying that lawmakers have been talked to in previous leak inquiries.
FBI spokesman Richard Kolko said, contacted for reaction, said, "This is a sensitive and ongoing matter, and it would be inappropriate for the FBI to comment on this investigation at this time."
The Morning Grind
Bush and Blair to speak on Iraq
It is not quite prime time, but President Bush and British Prime Minister Tony Blair will likely receive high ratings when they appear tonight at a joint news conference to discuss Iraq.
No new initiatives or specific timetables for withdrawal of coalition troops will be unveiled when Bush and Blair stand before the cameras at 7:30 p.m. ET, but rather they are expected to discuss the progress being made with the establishment of the new Iraq government. White House Press Secretary Tony Snow told reporters yesterday that the new government "really does mark a new era" and praised Prime Minister Nouri al-Maliki for being a "very aggressive, take-charge kind of guy."
Maliki declared yesterday that Iraq military forces would be able to take over full security responsibilities by the close of 2007.
In an interview on CNN's Lou Dobbs Tonight, Snow said he expected Bush and Blair "to talk in very practical terms about how to make that happen, not in terms of skedaddling out of Iraq, but how to strengthen the Iraqi people so that you really do have a success story."
And Snow said Bush is still firmly against setting a timetable for reassigning and withdrawing U.S. troops from Iraq.
"The President would like to be able to move U.S. forces into support roles, but you're going to do that as conditions on the ground dictate," Snow told CNN host Lou Dobbs. "You're not simply going to say, 'You know what, we're going to do it in March, we're going to do it in April.'
"You have to find out the shifting realities on the ground, and as the Iraqis become more capable of providing peace, security, prosperity and becoming reliable allies in the war on terror. As the president's often said, as they stand up, we're going to stand down," Snow added.
***
The Senate is expected to approve an immigration reform bill favored by Bush, but opposed by many House Republicans. The Senate bill will include a guest worker provision as well as a defined path to citizenship for illegal immigrants. Opponents of the Senate bill describe the latter as amnesty. Groups such as Team America PAC and the American Conservative Union are urging its members to contact their senators and representatives telling them to reject the bill. Expect the Capitol Hill switchboard to be busy today.
***
Sen. John McCain (R-Arizona) has returned $20,000 in political contributions from a powerful Texas family that is under federal investigation for the unlawful use of offshore tax shelters.
McCain's political action committee, Straight Talk America, returned $5,000 to Charles Wyly, $5,000 to his brother Sam, $5,000 to Sam's wife Cheryl and $5,000 to Charles' son Charles III, according to the PAC's most recent Federal Election Commission filing.
"We have a vetting process here at Straight Talk America," said Craig Goldman, the PAC's executive director. "When that vetting process indicates there is any controversy with a donor, we return the check."
The Wylys were original hosts of a May 15 Dallas fund-raiser for McCain, but Goldman said the PAC asked that they not attend and the family complied.
Goldman said he is not sure how much money McCain, who is considering another run for the White House in 2008, raised at the event.
The Wylys' support of McCain caught many people by surprise, because just six years earlier not only did they back George Bush, then the governor of Texas, in the Republican presidential primary, but they also worked aggressively against McCain.
The brothers formed "Republicans for Clean Air" in the 2000 campaign and used the 527 organization to run $2.5 million worth of ads criticizing the Arizona Republican's environmental record.
Charles Wyly is the chairman and Sam Wyly is the vice chairman of Michaels Stores, which the company describes as the "nation's largest retailer of arts and crafts materials."
McCain appeared on CNN's Larry King Live. Some of the highlights include:
On his hot temper:
"My anger did not help my campaign (in 2000). It didn't help. People don't like angry candidates very much."
On running for the White House in 2008:
"I think I'll make that decision in the year 2007. My effort and my focus should be for the 2006 election -- all Republicans, it should be. Because we're going to have a tough election."
Thinking about running:
"Of course. Of course, one thinks about it. And I've been asked several times, and this has been kind of skewed. I ran into somebody that said, 'Do you want to be president?' Sure. I'd like to be president. The question is, 'Do you want to run for president? And do you think that you can have a viable candidacy?' There are very few Senators I know that wouldn't like to be president."
On his health:
"It's excellent ... Very good."
***
House Speaker Dennis Hastert and the Justice Department are denying an ABC report broadcast last night that the Illinois Republican is being investigated in connection with the Jack Abramoff corruption probe. Hastert is seeking a full retraction, but ABC is standing by its story. We expect to hear more on this today.
=======================================
DAYAHEAD: Events making news in Washington today...
President Bush delivers 11 a.m. ET remarks at the "Change of Command Ceremony for the Commandant of the U.S. Coast Guard" at Fort Lesley J. McNair. At 5:05 p.m. ET, Bush greets British Prime Minister Tony Blair and the two heads of state hold a joint news conference at 7:30 p.m. ET.


The U.S. Permanent Representative to the United Nations John Bolton was scheduled to appear before the Senate Foreign Relations Committee at 9:30 a.m. ET on the issue of United Nation's reform. Bolton was expected to be asked about Iran.


Senate Democrats kicked off a daylong "Homeland Security Summit" this morning at 9:45 a.m. ET in room 902 of the Hart Senate Office Building with opening remarks by Sens. Hillary Rodham Clinton (D-New York) and Richard Durbin (D-Illinois). Highlights include a 10 a.m. discussion on "improving crisis communication" with Delaware Gov. Ruth Ann Minner (D) and 9-11 Commissioner Jamie Gorelick; at 12:30 p.m. former Senator/9-11 Commissioner/now New School President Bob Kerrey (D-Nebraska) delivers the keynote address; and the summit closes with a 2 p.m. ET discussion on "post-Katrina emergency preparedness."


The Senate Veterans' Affairs Committee and Senate Homeland Security and Governmental Affairs Committee hold a 10 a.m. ET hearing on recent revelations that the VA lost the records of 26.5 million veterans and their spouses. Veterans Affairs Secretary Jim Nicholson, Veterans Affairs General Counsel Tim McClain and Veterans Affairs Inspector General George Opfer will testify at the hearing being held in room 342 of the Dirksen Senate Office Building. The House Veterans' Affairs Committee held a hearing on the same issue at 9 a.m. ET this morning.


Treasury Secretary John Snow joins House Republican Conference Chairman Deborah Pryce (R-Ohio) and other Republicans to talk taxes at 10 a.m. ET on the terrace of Cannon House Office Building.


The Business Industry Political Action Committee (BIPAC) holds a 10:15 a.m. ET news briefing on "why the business community should support its allies on both sides of the aisle -- not hedge its bets on which party wins majority in November." The event is being held at BIPAC's offices, 888 16th Street, NW.


House Minority Leader Nancy Pelosi (D-California) holds her weekly news conference at 10:45 a.m. ET in room H-206 of the Capitol


Sen. Sam Brownback (R-Kansas) -- a potential 2008 presidential candidate -- holds a hearing on the "consequences of legalized assisted suicide and euthanasia" at 1 p.m. ET in room 226 of the Dirksen Senate Office Building.


House Republicans gather at 1 p.m. ET on the West Front Steps of the Capitol to "pay tribute to America's veterans and active military at (a) Memorial Day rally."


Congressional Democratic leaders visit a gas station at 2 p.m. to criticize Republicans for pursuing a social agenda instead of working to lower energy prices and focusing on other pressing issues. Democrats will meet at the Capitol Hill Exxon, 339 Pennsylvania Avenue, SE.


The Clintons -- former President Bill and Sen. Clinton, a potential 2008 presidential candidate -- attend the Sons of Italy Foundation's 18th Annual National Education and Leadership Awards Gala at 9 p.m. ET in the Omni Shoreham Hotel in Washington.


And Defense Secretary Donald Rumsfeld is tonight's guest on Larry King Live at 9 p.m. ET.
Political Hot Topics
CHENEY TOLD LIBBY TO "GET ALL THE FACTS OUT" ON WILSON:
Vice President Cheney was personally angered by a former U.S. ambassador's newspaper column attacking a key rationale for the war in Iraq and repeatedly directed I. Lewis "Scooter" Libby, then his chief of staff, to "get all the facts out" related to the critique, according to excerpts from Libby's 2004 grand jury testimony released late yesterday by Special Counsel Patrick J. Fitzgerald. Libby also told the grand jury that Cheney raised as an issue that the former ambassador's wife worked at the CIA and that she allegedly played a role in sending him to investigate the Iraqi government's interest in acquiring nuclear weapons materials... In the court filing that included the formerly secret testimony, Fitzgerald did not assert that Cheney instructed Libby to tell reporters the name and role of Valerie Plame.
Washington Post: Libby Told Grand Jury Cheney Spoke of Plame
FITZ MAY CALL CHENEY AS A WITNESS:
A court filing on Wednesday by the special counsel in the C.I.A. leak case suggested that Vice President Dick Cheney would testify as a government witness in the trial of his former chief of staff, I. Lewis Libby Jr. The legal brief did not say with certainty that Mr. Cheney would be called as a witness. But the latest filing, like earlier court papers, underscored the prosecutor's contention that the vice president's role was critical to understanding Mr. Libby's wrongdoing. But the new filing was the first to indicate that Mr. Cheney himself might be called as a government witness.
New York Times: Counsel Says He May Use Cheney in Libby Trial
DID SOMEONE ON THE HILL LEAK NSA WIRETAPS INFO?
The FBI is seeking interviews with top House Members from both parties to determine whether they leaked details of the National Security Agency's domestic surveillance program to The New York Times, further fanning the flames of an already tense relationship between Capitol Hill and the Bush administration. Those being targeted for interviews include GOP and Democratic leaders, as well as the chairmen and ranking member of the Intelligence committee. Altogether, 15 senior Members and Senators were briefed about the existence of the NSA program before the Times first disclosed it in a Dec. 16 article, according to briefing records released last week by John Negroponte, director of the Office of National Intelligence.
Roll Call: Hill Targeted on Leaks
VETERANS CHIEF WASN'T NOTIFIED OF DATA THEFT FOR 13 DAYS:
Jim Nicholson, the secretary of veterans affairs, expressed outrage Wednesday over being kept in the dark about the theft of computer data on 26.5 million veterans as he himself came under heavy criticism from Capitol Hill. Mr. Nicholson issued a statement vowing "a very extensive review of individuals up and down the chain of command" and urging the inspector general's office at the Department of Veterans Affairs to expedite an investigation of the affair. An administration official who has followed the episode said Mr. Nicholson was not told about the missing data until the night of May 16, or 13 days after the disks containing the data were stolen in a burglary at the home of a department employee.
New York Times: Veterans Chief Voices Anger on Data Theft
SOME LAWMAKERS AT RISK AFTER THEFT:
The VA has said that the stolen disk mostly contains data from veterans discharged after 1975, which could expose up to 29 sitting members of Congress to identity theft. Yet there are approximately 25 million living veterans, less than the number of individuals with identities potentially compromised by the breach, and the full extent of the breach remains unclear.
The Hill: Lawmakers among 27M hit by theft
FINAL SENATE VOTE ON IMMIGRATION:
The Senate moved to the verge of passing landmark immigration legislation yesterday, scheduling a final vote for today on a bill that would tighten the borders while allowing millions of illegal immigrants to stay in the country and permitting new guest workers to come and go. But the very mixture of get-tough and be-kind measures that have made Senate approval possible could prove the biggest obstacle to reaching an accord with the House, where conservatives are determined to secure the borders before tackling other matters. Senate leaders said their coalition is fragile, and it may be hard pressed to survive changes that House members signal they will demand this summer.
Washington Post: Fragile Senate Coalition Set To Pass Bill on Immigration
BIG WEDGE FOR THE GOP:
Lindsey Graham and Jim DeMint, South Carolina's senators, are both conservatives who champion limited government and expanded individual opportunity. In accord on most issues, they strongly disagree on one: immigration...The DeMint-Graham divide illustrates a schism among usual allies that is vastly complicating Bush's efforts to secure passage of immigration legislation. Normally the president charges into a legislative fight with most Republicans united behind him. Now, everywhere he looks in the ranks, there are deep divisions. Radio talk show host Rush Limbaugh advocates a crackdown, while the Wall Street Journal editorial page espouses the legalization route. Richard Land, a leader of the 16-million- member Southern Baptist Convention, supports Bush's policy; another top religious activist, Gary Bauer, president of American Values, an Arlington, Virginia-based group that promotes traditional marriage, is critical of Bush's plan.
Bloomberg News: Bush's Immigration Proposal Drives Wedge Between Usual Allies
IS HASTERT UNDER INVESTIGATION OR NOT?
Despite a flat denial from the Department of Justice, federal law enforcement sources [Thursday] said ABC News accurately reported that Speaker of the House Dennis Hastert is "in the mix" in the FBI investigation of corruption in Congress. Speaker Hastert said tonight the story was "absolutely untrue" and has demanded ABC News retract its story. Law enforcement sources told ABC News that convicted lobbyist Jack Abramoff has provided information to the FBI about Hastert and a number of other members of Congress that have broadened the scope of the investigation... ABC's law enforcement sources said the Justice Department denial was meant only to deny that Hastert was a formal "target" or "subject" of the investigation. "Whether they like it or not, members of Congress, including Hastert, are under investigation," one federal official said tonight.
ABC News' "The Blotter": ABC News Update on Hastert Story
BIPARTISAN CALLS FOR RETURN OF ITEMS SEIZED IN JEFFERSON RAID:
House leaders from both parties escalated a confrontation with the Bush administration Wednesday, demanding the return of all materials seized in an unprecedented FBI raid on the office of a congressman under investigation for bribery. And the chairman of the House Judiciary Committee, F. James Sensenbrenner Jr. (R-Wis.), announced he would hold hearings next week on what he called serious constitutional questions concerning the search of the Capitol Hill office of Rep. William J. Jefferson (D-La.). Jefferson, who is under investigation in a federal bribery and influence-peddling case, filed a motion in U.S. District Court demanding the return of material confiscated during the 18-hour weekend search.
Los Angeles Times: House Leaders Want Return of Items Seized in FBI Search
WILL "PROTECT THEIR OWN" MENTALITY BACKFIRE?
Some lawmakers are warning of a voter backlash against members of Congress "trying to protect their own" if party leaders keep escalating a constitutional dispute over the FBI's raid of a representative's office. Yet not long after House Speaker Dennis Hastert and Minority Leader Nancy Pelosi demanded on Wednesday the bureau return documents it took, White House aides were in talks with Hastert's staff about the possible transfer of the material, perhaps to the House ethics committee, according to several Republican officials. The goals of any transfer, they said, would be to deny the documents both to prosecutors and to Rep. Willliam Jefferson, a Louisiana Democrat ensnared in a bribery investigation, until the legal issues surrounding the weekend search of his office are resolved.
AP via Yahoo! News: Some lawmakers wary of fight over FBI raid
FIRST ABRAMOFF-RELATED CORRUPTION TRIAL UNDERWAY:
Prosecutors accused David H. Safavian, the federal government's former top procurement official, of lying repeatedly to investigators as the first trial related to the political corruption scandal of lobbyist Jack Abramoff got underway yesterday. Safavian is accused of concealing the truth and obstructing federal inquiries about his relationship with Abramoff and also about a golfing trip the two men took in 2002 to Scotland and London. Prosecutors signaled that they plan to rely heavily on hundreds of e-mails between Safavian and Abramoff to show that Abramoff was seeking two government properties over which Safavian had influence while offering Safavian favors, including the overseas trip.
Washington Post: Safavian Lied About Dealings With Abramoff, Prosecutor Says
RECRUITING KEY FOR NOVEMBER:
Long before anyone casts a vote, recruiting can determine the fate of a party. The goal is a strong candidate in every winnable race, but recruiters often fall short. For example, Republicans dominate Florida government but were unable to find a strong challenger for Democratic Sen. Bill Nelson. And Democrats have House candidates that analyst Amy Walter of the non-partisan Cook Political Report calls "not top tier" in some districts where close splits in the 2004 presidential vote suggest GOP incumbents might be vulnerable. The competition is intense. Recruiters often target the same people - Republicans and Democrats tried at various points for ex-Redskins quarterback Heath Shuler, now running as a Democrat for a House seat in North Carolina. And there's no single formula for persuading someone to run. "It's an individual decision," says Rep. Tom Reynolds, R-N.Y., chairman of the GOP House campaign committee. "The big mistake is if you act as if there's only one tool in the toolbox," adds Rep. Rahm Emanuel, D-Ill., Reynolds' Democratic counterpart.
USA Today: Party recruiters lead charge for '06 vote
McCAIN RETURNS $20K IN DONATIONS:
The much-hyped detente between Sen. John McCain (R-Ariz.) and big Texas donors to President Bush ran into an embarrassing snag last month, prompting the Senator to return $20,000 in donations from the Wyly family after realizing they were being investigated by federal tax authorities. McCain, whose active courtship of Bush's financial network has been widely promoted by his political aides, gave back the checks from Sam and Charles Wyly Jr. and other relatives after his political action committee's "vetting system" turned up multiple probes into the Wylys regarding their offshore holdings on the Isle of Man. "There's a government probe into some tax shelters they have," said Craig Goldman, the executive director of Straight Talk America, McCain's leadership PAC, explaining the refunded donations.
Roll Call: McCain Woos Donors, Then Returns Checks
ROMNEY'S IRAQ SURPRISE:
Traveling under tight security, Governor Mitt Romney yesterday wrapped up an unannounced, one-day trip to Iraq to visit troops from Massachusetts, and warned against a ``cut and run" pullout from the war-torn country. Romney, traveling with two other governors, will conduct a round of talks with national leaders in Afghanistan today and meet US troops, as part of a Department of Defense-sponsored visit to the two countries at the center of US military activity in the region. The Massachusetts governor, who is exploring a bid for the GOP presidential nomination in 2008, yesterday said he supported President Bush's strategy to maintain a strong US presence in Iraq.
Boston Globe: Romney makes surprise stop in Baghdad
RUDY NOT ASKED TO ATTEND NY GOP CONVENTION:
New York's best-known Republican - potential presidential contender Rudy Giuliani - will skip next week's state GOP nominating convention because of what party officials claim was a "scheduling" conflict, The Post has learned. Giuliani was only indirectly invited to the major GOP event by a party functionary - who contacted the former mayor's advance man - and was never directly asked to attend by either state GOP chairman Stephen Minarik or by Gov. Pataki, his potential rival in the race for the Republican presidential nomination, it was learned. "It doesn't sound like Pataki was especially interested in having him there," said a longtime GOP activist familiar with the situation.
New York Post: Rudy is Shutout of Party
BLOOMBERG "LOOKING QUITE THE DEM":
The mayor, a life-long Democrat who took the Republican line to run for office in 2001, endorsed Gov. Pataki at his new party's convention in New York 2002, and served as host for the Republican National Convention in 2004. But since his reelection campaign, he has taken a high profile on typically Democratic issues, backing abortion rights, gun control and immigration rights. Polls suggest that the next governor will be a Democrat, Eliot Spitzer, who has compared himself to Bloomberg. "If Spitzer is holding anywhere near the lead he's holding now, [Bloomberg] is likely to endorse him," said Doug Muzzio, a professor of public affairs at Baruch College.
New York Daily News: Mayor looking quite the Dem these days
Wednesday, May 24, 2006
The Situation Online
Veteran victims

We have the latest on the massive identity theft security breach and how the
Veterans Affairs Department
is
handling
the loss of 26 million identities.
Zacarias who?

In a new audio tape, Osama bin Laden claims that admitted 9-11 conspirator Zacarias Moussaoui had
nothing to do
with the attacks on September 11. Compare this to what Moussaoui said
before (PDF)
and
after (PDF)
his trial, and what jurors made of
his role
in the 9-11 terror attacks.
Help wanted?
Democrats detail what they call "critical" Department of Homeland Security vacancies in this interactive online job map. Homeland Security is calling the map's accuracy into question.
Censor or safeguard?
The popularity of blogs and social Web sites like MySpace is prompting school districts around the country to take aggressive measures in the name of protecting its students. An Illinois school district is having students sign a pledge (PDF) holding them accountable for their behaviors online, while a district in California is beefing up their warning (PDF) that it will take disciplinary action in cases of "cyberbullying".
Music to Your Ears
If you've picked up a CD by Ray Charles, Alicia Keys, Dave Matthews Band, or dozens of other Sony BMG artists, you may be entitled to cash and free music according to a settlement finalized by a federal judge.
The Morning Grind
White House Deputy Chief of Staff Karl Rove
Rove urges House to back Bush's immigration plan
If there is any question about how serious the White House views the split in the Republican Party over immigration reform, look no further than the Capitol Hill Club this morning.
White House Deputy Chief of Staff Karl Rove met with House Republicans for the second time in a week to discuss the issue and urge his fellow Republicans to embrace Bush's immigration goals. House Republicans disagree with the President over his guest worker proposal as well as his plan to put in place a process for illegal immigrants to gain citizenship. Opponents describe the latter as amnesty.
"We are on the brink of Senate passage of the immigration bill and this is part of their efforts to see an immigration bill passed," a House GOP Leadership aide, who spoke about Rove's visit on the condition of anonymity, told the Grind. Republicans will hold their weekly meeting today at the club, which is located next door to the Cannon House Office Building.
A senior GOP House aide described Rove's visit this morning as a follow-up to field any unanswered questions on the issue.
"This can be a huge victory for our party, but it means we have to work through this as a family to ensure we get the correct result," the aide, who also spoke freely on the issue under the cloak of anonymity, told the Grind.
The House passed an immigration reform bill in Dec. 2005 and now waits to see what the Senate will approve. Senate Majority Leader Bill Frist (R-Tennessee) told CNN's Soledad O'Brien this morning that he expected the chamber to vote on the bill "later tonight or tomorrow" and said the citizenship and guest worker provisions would be part of it.
Appearing on CNN's American Morning, Frist claimed that the debate has helped to bring understanding to the issue, but he acknowledged that reconciling the differences with the House will be "tough" and it will require "presidential leadership" to help produce a final bill.
Even though Rep. William Jefferson has pledged to continue serving in the House as he fights allegations of accepting bribes, there is now a behind the scenes effort to pressure the Louisiana Democrat to give up his seat on the powerful Ways and Means Committee, CNN's Dana Bash reports.
Democratic sources said they want to make clear to Jefferson that they don't stand behind him, and would prefer that he resign his seat from this prestigious committee. When offered the chance yesterday to defend Jefferson, House Minority Leader Nancy Pelosi (D-California) said it was not her place.
"Mr. Jefferson's service in Congress is a matter between him and his constituents," Pelosi said. "Every member of Congress, no one is appointed here, everyone is elected by their constituents. It's between him and his constituents."
Asked about whether Jefferson should give up his committee posting, Pelosi responded, "I'm not going to make any statement about that right now."
On Capitol Hill today, the House and Senate will convene a Joint Session of Congress at 11 a.m. ET to hear from Israeli Prime Minister Ehud Olmert. Prior to the joint meeting, House Republicans hold a media availability at 10 a.m. ET outside the Capitol Hill Club; Pelosi and other Democratic leaders hold a news conference at 10 a.m. ET in the Cannon Rotunda; the House Armed Services Committee hears testimony on the use of the National Guard along the Southern border at 10 a.m. ET; and the Senate Homeland Security and Governmental Affairs Committee holds a 10 a.m. hearing on R. David Paulison's nomination to head Federal Emergency Management in the Department of Homeland Security.
Off the Hill, the Democratic National Committee holds a 1 p.m. press conference with Democratic mayors on the GOP's priorities at its headquarters; and the centrist leading Democratic Groups Third Way and Democratic Leadership Council hold a 2 p.m. ET event at the Mayflower Hotel on "The political challenges and opportunities of fast-growing areas."
Meanwhile, Bush's day is a mixture of politics and policy as he takes the show to the Keystone State this afternoon. But first Bush participates in an 11:35 a.m. ET event on the Council on Physical Fitness and Sports at the White House. At 2:55 p.m. ET, Bush will tour the Limerick Generating Station in Pottstown, Pennsylvania. At 3:20 p.m. ET Bush makes remarks on energy and at 5:40 p.m. ET he attends a Pennsylvania Congressional Victory Committee reception. This year, Pennsylvania has two high profile statewide races with Republicans hoping former football star turned GOP candidate Lynn Swann can defeat incumbent Democratic Gov. Ed Rendell, while Senate Democrats are hoping Democratic state Treasurer Robert P. Casey Jr. can knock off Sen. Rick Santorum (R-Pennsylvania). Polls show that Rendell is beating Swann, while Casey is leading Santorum.
For Santorum to win he will need a strong turnout of conservative voters and CNN's Sasha Johnson reports that he has some fences to mend with the GOP base. At last month's kick-off of the Pennsylvania Republican Assembly (PARA), several activists warned that Santorum's decision not to support former Rep. Pat Toomey (R-Pennsylvania) in his 2004 primary challenge to moderate Sen. Arlen Specter (R-Pennsylvania) cost Santorum dearly among hard core conservatives.
Ray Horvath, a self-described issues voting conservative, predicted Santorum would have walked to an easy victory in November had he backed Toomey's bid.
"There's a lot of resentment towards Rick," said Horvath. "He's got enough of the base that's gone. I've been predicting for two years he's not going to win."
Many of the conservatives, who assembled at the Holiday Inn outside Pittsburgh last month, said they'd grudgingly vote this fall but given the Keystone State's blue tint noted that Santorum needs an enthusiastic base of worker bees to overcome the Democrat's get-out-the-vote efforts.
"When they pull the curtain, sure they might vote for him, but the real question is whether or not they're going to lift a finger and they're going to work for him," said Republican activist James Gartner.
Others warned Santorum could become the unlucky recipient of their general anger towards a party which they say is addicted to overspending and drifting away from core conservative principles.
"I would certainly prefer not to have the Democrats in charge of the House or the Senate," said Henry Jackson, another GOP activist. "But I think it might be more important to send the Republicans a message in voting out Rick Santorum or having someone else come in."
Another Senate incumbent is taking a hit, this one from the left. Sen. Joe Lieberman (D-Connecticut) is being opposed in his reelection bid by Democracy for America, the political action committee founded by Democratic National Committee Chairman Howard Dean, CNN's Robert Yoon reports. DFA is now run by Dean's brother Jim, and it has endorsed Lieberman's primary opponent, Ned Lamont.
"Even President Bush loves Lieberman -- there are rumors he has been considered for a post in Bush's cabinet," Jim Dean said in announcing the DFA's endorsement of Lamont. "Is that the kind of Democrat that we want in Washington?"
Last week, Lamont won enough votes at the state Democratic Party convention to secure a spot on the August primary ballot. DNC spokeswoman Stacie Paxton assured the Grind that Dean had nothing to do with the DFA's decision to endorse Lamont over Lieberman.
"The DNC does not get involved in Democratic primaries, and the governor plays no role in decisions made by Democracy for America," Paxton said.
Though Democracy for America was founded by Howard Dean, he turned over the reigns to his brother after being elected in February 2005 to head the DNC. Right before he cut ties to the DFA, he predicted great things for the organization in a February 8, 2005 e-mail to supporters.
"DFA will continue to fight for fiscally responsible, socially progressive candidates everywhere," Dean wrote. "And it will continue to be a place where ordinary people can be part of our political process and fight for real change. I am committed to DFA's future."
And we close with this bit of good news. While much has been made about how Americans are more likely to vote for the next American Idol rather than cast a ballot for the elected officials, a new CNN poll shows that this is not the case. When asked on a scale of 1 to 10 to rate their chances of voting in the American Idol competition or in the midterm elections, only 5 percent of Americans answered they would definitely cast a vote in the show, while 43 percent said they definitely planned to vote in November.
"The number of people who say they are going to definitely vote in November is eight times higher than the number of people who said they would definitely vote in the American Idol competition," said Keating Holland, CNN's polling director. "It turns out Americans do take political elections more seriously than they do America Idol."
Political Hot Topics
LAWMAKERS RILED UP OVER JEFFERSON RAID:
The FBI's raid on a congressman's office is rippling through Capitol Hill, with majority Republicans in the House complaining to President Bush and predicting a constitutional showdown in the Supreme Court. Lawmakers predict this may be the beginning a long dispute over the FBI's search of Rep. William Jefferson's office last weekend. Historians say it was the first raid of a representative's quarters in Congress' 219 years. House Speaker Dennis Hastert, R-Ill., was so angry that he complained to Bush about the FBI's conduct. "My opinion is that they took the wrong path," Hastert said of the FBI, after meeting with Bush in the White House. "They need to back up, and we need to go from there."
AP via Yahoo! News: Speaker Hastert protests to Bush over raid
VETERANS AFFAIRS WAITED 2 WEEKS BEFORE REPORTING DATA THEFT:
The Veterans Affairs Department learned about the theft of electronic data on 26.5 million veterans shortly after it occurred, on May 3, but waited two weeks before telling law enforcement agencies, officials said Tuesday. The officials said investigators in the Justice Department and the Federal Bureau of Investigation were furious with the leaders of the veterans agency for initially trying to handle the loss of the data as an internal problem through the agency's inspector general before coming forward. Officials said the investigators in the Justice Department and F.B.I. had complained that the delay might have cost them clues to the whereabouts of the data, stored on computer disks that were stolen in a burglary on May 3 at the home of an agency employee in Maryland.
New York Times: Agency Delayed Reporting Theft of Veterans' Data
BUSH OFFERS "QUALIFIED" ENDORSEMENT OF WEST BANK WITHDRAWAL:
President Bush yesterday embraced Israeli Prime Minister Ehud Olmert's strategy of withdrawing from isolated Jewish settlements on the West Bank and unilaterally imposing final borders over Palestinian objections if he cannot negotiate a peace plan with their leaders. Welcoming Olmert to the White House for the first time since his election eight weeks ago, Bush reserved judgment on the specifics of any "realignment" plan but called the concepts "bold ideas" and expressed satisfaction that the new Israeli leader would first make a serious attempt to craft an agreement with Palestinian President Mahmoud Abbas.
Washington Post: Israel Has 'Bold Ideas,' Bush Says
LIFE IN BAGHDAD:
Three years after the U.S. invasion, during which most of the Iraqi capital's infrastructure collapsed, rudimentary services here remain sporadic at best. Decades-old water treatment plants that were supposed to have been fixed during postwar reconstruction meet only 60 percent of Baghdad's needs, said Lt. Col. Chris Hall, whose unit, attached to the 101st Airborne Division, is helping Iraqis rebuild power and water facilities. Garbage chokes the city of 4.5 million people. Trash collection is erratic or nonexistent, depending on which part of the city you live in... Garbage clogs sewage pipes, causing raw sewage to overflow into the streets and fill the air with the stench of decay. In the Shiite slums of Sadr City in northeastern Baghdad, residents live in dwellings made of bits of corrugated metal, chunks of concrete and rusted oil canisters. Snowy white egrets skim the surface of putrid, greenish-black pools of sewage in the streets.
San Francisco Chronicle: Violence aside, Baghdad is broken
HAYDEN GETS INTEL PANEL APPROVAL:
Air Force Gen. Michael V. Hayden won a bipartisan endorsement from the Senate intelligence committee yesterday to head the CIA at a time of reorganization and troubled morale, and legislative leaders said they hope to have the full Senate confirm him for the job by Thursday. The panel voted 12 to 3 to recommend that Hayden, a four-star general with substantial experience in electronic surveillance, succeed Porter J. Goss, who leaves the CIA post on Friday after 18 stormy months. Hayden won the backing of the committee's eight Republicans and four of seven Democrats. Voting against him were Democrats Evan Bayh (Ind.), Russell Feingold (Wis.) and Ron Wyden (Ore.).
Washington Post: Intelligence Panel Backs Hayden as CIA Director
SENATE COULD PASS IMMIGRATION BILL TODAY:
The Senate is expected to approve as early as today the most significant and wide-ranging immigration reform legislation in two decades. The bill would grant citizenship rights to an estimated 10 million illegal aliens currently in the country and allow them to collect Social Security benefits for work they performed while illegally employed in the U.S. The bill also grants complete amnesty to employers who have drawn the estimated 12 million aliens to the U.S. by illegally providing them with jobs. In addition, an estimated 2 million new foreigners will be admitted to the country annually under the bill, more than doubling the current flow of legal immigration.
Washington Times: Senate likely to pass bill on aliens
HOUSE CONTINUES TO RESIST AMNESTY:
House Republican leaders Tuesday resisted the latest White House effort to move beyond the enforcement-only approach they have taken in rewriting immigration laws, emerging from a meeting with President Bush emphasizing their continued opposition to the broader approach the Senate is taking. "The basic difference of opinion that we have seen on this issue between the House and Senate and the White House is real, it is honest, and it was exhibited at this meeting," House Majority Leader John A. Boehner (R-Ohio) said. His comments came as the Senate worked toward a final vote - expected Thursday - on its immigration bill. The remarks underscored that the divide between the two chambers would be difficult for legislators to bridge.
Los Angeles Times: House GOP Not Budging on Border
FOX KNOCKS BORDER FENCE IN UTAH VISIT:
Mexican President Vicente Fox was silent on the volatile issue of immigration when speaking to Utah business and political leaders. However, he broached the topic Tuesday to hundreds of Mexican-Americans, saying cooperation and not "fences" will best settle differences. "We don't set up walls," Fox said in Spanish, with English interpretation, at the Utah Cultural Celebration Center. "It is not with fences we are going to solve this problem, but hand-in-hand... We are neighbors, we are friends, and we are partners."
Salt Lake Deseret News: Fox targets 'walls'
FCC WON'T INVESTIGATE NSA:
The Federal Communications Commission declined Tuesday to investigate whether a spy agency has access to millions of Americans' telephone records. It cited the secrecy of the National Security Agency. The decision drew a call for congressional hearings from a Democratic congressman who had requested a probe. "The FCC has abdicated its responsibility to protect Americans' privacy to the National Security Agency without even asking a single question about it," Rep. Ed Markey, D-Mass., said. Markey had asked the regulatory panel to look into a report in USA TODAY that the NSA has been secretly collecting the phone call records with the help of telecommunications companies. FCC Chairman Kevin Martin wrote Markey that "the classified nature of the NSA's activities make us unable to investigate the alleged violations" of privacy.
USA Today: NSA secrecy makes investigation impossible, FCC says
BERNANKE CALLS MONEY HONEY COMMENTS "LAPSE OF JUDGMENT":
Ben S. Bernanke, the new chairman of the Federal Reserve, is likely to be a lot less interesting at dinner parties from now on. On Tuesday, not quite four months after taking over at the Fed, Mr. Bernanke publicly admitted to a "lapse of judgment" in earlier telling a television reporter at a banquet here that investors had "misunderstood" him. Mr. Bernanke's remarks to Maria Bartiromo of the financial news channel CNBC, made at the White House Correspondents Dinner on Saturday, April 29, touched off a brief furor among stock market traders when Ms. Bartiromo reported the conversation as an important disclosure the following Monday.
New York Times: Fed Chief Swears Off Improvising
LOTT KEEPING OPTIONS OPEN ON WHIP, LEADER BIDS:
Senator Trent Lott keeps a dog-eared piece of paper in his pocket showing which senators supported his proposal to spend $700 million to move a railroad line in his home state of Mississippi, and which opposed him. Lott keeps the paper so he can "pull it out and remind people who voted with me and who didn't," he said. A former Senate majority leader, Lott, 64, has never stopped keeping score as he eyes a possible return to the Republican leadership after the November elections. Lott said he might run for whip, the No. 2 job, if Mitch McConnell of Kentucky moves up to replace retiring Majority Leader Bill Frist and the No. 3 Republican, Rick Santorum, loses his tight re-election race. Lott doesn't rule out a bid for the top spot if Republicans lose so many seats in November that the caucus demands leadership changes and resists promoting McConnell.
Bloomberg News: Lott Prepares for a Possible Return to Senate Leadership Role
CARTER, MONDALE HAVE LIVED LONGEST SINCE LEAVING OFFICE:
Jimmy Carter and Walter Mondale have surpassed John Adams and Thomas Jefferson as the president and vice president who have lived the longest since leaving office. As of Tuesday, Carter and Mondale had lived 25 years and 123 days since leaving the White House in 1981. That's a day longer than Adams and Jefferson, who both died July 4, 1826, exactly 50 years after the Declaration of Independence was signed. More important than their longevity, some observers contend, is the legacy of productivity the pair have crafted.
AP via Yahoo! News: Carter, Mondale surpass Adams, Jefferson
DODD'S RUN ALL ABOUT THE $$$:
Democratic Sen. Christopher Dodd said Tuesday that his ability to raise millions for a White House bid would be a deciding factor in whether he pursues the party's presidential nomination. The five-term Connecticut senator said he is optimistic that he can garner enough money and support to be a credible candidate, although he won't decide on a presidential run until early next year. High-profile Democrats such as Sen. Hillary Rodham Clinton of New York and Sen. John Kerry of Massachusetts, the 2004 Democratic nominee, have several times more than the roughly $2 million Dodd has in campaign cash.
AP via Yahoo! News: Conn. senator says run depends on money
OTTER WINS GOP GOV PRIMARY IN "REDDEST OF THE RED STATES":
C.L. "Butch" Otter and Jerry Brady will face each other in the fall to replace Gov. Dirk Kempthorne. Brady and his wife had traveled to Idaho Falls to vote Tuesday, but were back in Boise by evening to celebrate with other Democrats Downtown. Otter was in Washington, D.C., where Congress is in session. He spoke to the Republicans gathered at the DoubleTree Hotel Riverside over the phone. Idaho is the "reddest of the red states," he said "and we're going to stay just that way." Brady didn't wait to start drawing comparisons between the two candidates. "Oh, yeah, this has been a long wait - I'm really eager to get on with the main event," he said. "This is a great way to start. He's in Washington and I'm here, hooray."
Idaho Statesman: Otter, Brady to compete for vacant governor's seat
SCARY MOMENT FOR SC LT GOV:
Lt. Gov. Andre Bauer and a friend survived a fiery plane crash just after takeoff Tuesday evening from a dirt airstrip in a rural area near the town of Blacksburg in Cherokee County. Azalia Leonhardt, the wife of John M. Leonhardt Sr., of Columbia, said Bauer was piloting the plane and her husband was the co-pilot... She said Leonhardt told her the plane's engine seemed to cut off as the plane took off. She said Bauer was taking off from a dirt airstrip on private property that the two had flown from before... Bauer's political consultant and adviser, Rod Shealy of Lexington County, said he spoke with Bauer's sister and an agent with the State Law Enforcement Division who said Bauer should recover fully. Shealy said Bauer has injuries to his head, for which he received stitches, and a broken ankle.
Columbia State: Bauer's plane crashes
MY SUPER SWEET SENATE INTERNSHIP:
Like, ohmigod! Guess who's soooo interning in the office of Senate Minority Leader Harry Reid (D-Nev.)? Jacqueline Barkett, a star from "My Super Sweet 16," the MTV show about spoiled, rich teenage girls whose parents throw them outrageously extravagant birthday bashes and coming-of-age parties. We were tipped off to Reid's reality-show intern by a posting on craigslist.com, which said, "One of these former Paris Hilton wannabes is now working [in] the Senate. Her name is Jacqueline and she is a lonely intern who landed the job thanks again to daddy." Seems true enough. Daddy, aka William Barkett, is an investment banking executive in La Jolla, Calif., who has given generously to Democratic campaign committees, including $41,700 to the Democratic Senatorial Campaign Committee in 2005 and 2006.
Roll Call: MTV Star-Turned-Reid Intern
Tuesday, May 23, 2006
The Situation Online
Failing grades
Why did it take
nearly three weeks
to learn of a major security breach at the
Department of Veterans Affairs
? Reports online suggest that veterans
may have been vulnerable
to computer security breaches for years.
In response to
the theft
of over 26 million veterans' personal data, the
U.S. government
has set up online resources for those possibly affected by the crime.
Politics at the pump
Would Americans be better or worse off at the pump if Democrats were in power? A new
online tool
from the Republican Party tries to make gas prices a political issue, but Democrats are
picking it apart
.
The Morning Grind
Sen. Hillary Clinton (D-New York)
Clinton's energy plan
Sen. Hillary Rodham Clinton (D-New York) outlined an ambitious, multi-tiered energy reform plan this morning that she claims would reduce foreign oil imports by 50 percent in 2025 as well as promote the use of clean fuel alternatives.
"There are no silver bullets to this complex problem," Clinton said of the nation's energy needs in a speech delivered at the National Press Club. "It will take a well-funded comprehensive approach with government changing do-nothing policies; business providing accessibility, efficiency and innovation; and citizens doing everything we can to reduce our dependence on oil.
She added, "No longer can we all pass the buck and blame things beyond our control. It's time for everyone, from the president and our oil companies to each of us to adopt a virtual revolution in our thinking about energy and act on what we now know."
A fact sheet distributed by the New York Democrat's office, described the plan as akin to the Manhattan Project.
To help fulfill her goals, Clinton said she would introduce legislation to create a "Strategic Energy Fund" to help funnel more than $50 billion toward clean energy investment. The outline of Clinton's proposal provided by her office stated the fund would be subsidized by a fee imposed on oil companies whose profits exceeded expectations. This two-year fee would be waived if the companies invested in clean fuel alternatives and refinery capacity. Clinton's plan also "eliminates oil company tax breaks that the companies have said they don't need, and ensures that oil companies pay their fair share of royalties for drilling on public lands," the fact sheet stated.
Among other things, the fund would finance tax credits for people who purchase hybrid and other fuel efficient vehicles as well as companies that invest in wind and other renewable energy sources.
"We need a serious commitment from government to prioritize advanced energy and a commitment from our oil companies to re-invest their unanticipated profits into our shared energy future," said Clinton, who is considering a run for president in 2008. "I want the oil companies to be part of the solution, not just part of the problem."
Meanwhile, the Republican National Committee releases a new web video today titled "Democrats Pump Up The Price." It accuses Democrats of seeking to raise the gas tax and backing approval of the Kyoto Treaty that Republicans estimate would cost the American family $955 more per year.
In other RNC news, four cities are vying for the right to host the Republican National Convention in 2008. Cleveland, New York City and Minneapolis-St. Paul and Tampa-St. Petersburg all submitted bids and will now be evaluated by the RNC's Site Selection Committee. Finalists will be announced by July 1, and members of the selection committee will visit each city in August. A recommendation will be made in November and a final decision will be announced early next year. Aaron McLear, an RNC spokesman, told the Grind they are "very pleased with the bids we have received."
It is not often that Democrats and Republicans are able to come together on an issue, unless it threatens their collective rights. But following the FBI's weekend raid of Rep. William Jefferson's (D-Louisiana) Capitol Hill office, this is exactly what is happening. House Speaker Dennis Hastert (R-Illinois), Senate Majority Leader Bill Frist (R-Tennessee), House Minority Leader Nancy Pelosi (D-California) and House Minority Whip Steny Hoyer (D-Maryland) have all vowed to investigate the matter.
"Once I have more information about this raid made available to me, I have had an opportunity to carefully consider the long-term ramifications for the Legislative Branch of this action, and I have consulted with the appropriate bipartisan leaders of the House, I expect to seek a means to restore the delicate balance of power among the branches of government that the Founders intended," Hastert said in lengthy statement released by his office.
CNN's Deirdre Walsh reports that there are ongoing bipartisan staff level conversations and meetings about the search of Jefferson's office.
Jefferson is being investigated for allegedly taking bribes in return for official acts. While he has not been charged with any crime, a Kentucky businessman and a former Jefferson aide have both pleaded guilty to bribery charges and have agreed to cooperate with prosecutors in the investigation.
Jefferson vowed yesterday to fight the charges and run for re-election.
"I plan to carry out my responsibilities here as I have since the time I've been here," Jefferson said yesterday. "I expect to continue to represent the people who have sent me here."
Sen. Chris Dodd (Connecticut) is the latest Democrat to express interest in running for the White House in 2008. Just hours after a Democratic insider told CNN's Ed Henry last night that Dodd was laying the groundwork for a potential run, The Hartford Courant published an in-depth interview with the Connecticut lawmaker where he acknowledged his intentions.
"This is the right time for me," Dodd told his state's largest newspaper. "This is the right thing to do."
This is not the first time Dodd, a five term Senator who first won a House seat in 1974, has flirted with the idea of running for president. He briefly considered a bid in 2004, but chose instead to back Sen. Joe Lieberman's (D-Connecticut) unsuccessful quest for the Democratic nomination. Dodd also thought about running for Senate Minority Leader in 2004 after Sen. Tom Daschle (D-South Dakota) was defeated, but quickly decided against it when Senate Minority Whip Harry Reid (D-Nevada) declared he had enough votes to succeed Daschle. Dodd lost to Daschle by one vote 10 years earlier in a race for the same post.
Dodd told the paper he plans to "to do all the things that are necessary to prepare to seek the presidency in 2008," such as hiring campaign staff and traveling to key states to gauge support for a potential candidacy.
He hinted at a possible White House run last month when he told the Associated Press "It's a little itch at this point."
Dodd joins a crowded field of at least 11 other Democrats considering running for the White House in 2008.
On Capitol Hill today, Pelosi participates in a 12 p.m. ET news conference on stem cell research in H-204; Hoyer holds a 12:30 p.m. ET pen-and-pad with reporters in H-306; House Majority Leader John Boehner (R-Ohio) holds a 11:30 a.m. ET pen-and-pad with reporters in H-107; and the Senate Intelligence Committee will vote at 2:30 p.m. ET on Gen. Michael Hayden's nomination to head the CIA.
President Bush meets with Israel's Prime Minister Ehud Olmert today at the White Houses where the topics of discussion are expected to range form Iran's nuclear program to the Hamas-led Palestinian government. Bush meets with Olmert at 3:10 p.m. ET and the two leaders hold a joint press availability at 5 p.m. ET.
Political Hot Topics
"INCREMENTAL" THE NEW KEYWORD ON IRAQ PROGRESS:
President Bush on Monday embraced the new leadership in Iraq as a turning point in the war but claimed only gradual progress in years of fighting and acknowledged that Americans are uneasy about the outcome. "I can understand why people are concerned about whether or not our strategy can succeed because our progress is incremental," Bush said in his first speech since the swearing in of a new Iraqi government over the weekend. "Freedom is moving but it's in incremental steps, and the enemy's progress is almost instant on their TV screens." The president acknowledged the American lives lost in Iraq, past mistakes and tough days to come. He repeatedly returned to the word "incremental" to describe progress there.
AP via Yahoo! News: Bush Sees 'Incremental' Progress in Iraq
JEFFERSON CALLS RAID "OUTRAGEOUS INTRUSION":
An unusual FBI raid of a Democratic congressman's office over the weekend prompted complaints yesterday from leaders in both parties, who said the tactic was unduly aggressive and may have breached the constitutional separation of powers between the executive and legislative branches of government. Rep. William J. Jefferson (La.), who is at the center of a 14-month investigation for allegedly accepting bribes for promoting business ventures in Africa, also held a news conference in which he denied any wrongdoing and denounced the raid on his office as an "outrageous intrusion." Jefferson, who has not been charged, vowed to seek reelection in November.
Washington Post: FBI Raid on Lawmaker's Office Is Questioned
HASTERT STATEMENT ON RAID:
"...[I]t would appear that the Attorney General himself was aware that Separation of Powers concerns existed and that the Justice Department was treading on Constitutionally suspect grounds..."
Roll Call: Hastert Questions Feds' Tactics in Raid
"A SCANDAL OF THEIR OWN":
Democrats' plans to make Republican corruption a theme of their election strategy this year have been complicated by accusations of wrongdoing in their own ranks, leading the party to try on Monday to blunt the political effects of the unfolding case against Representative William J. Jefferson. Democratic leaders sought to distance the party from Mr. Jefferson... In doing that, the leaders tried to draw a distinction between the accusations against him and what they said was a much broader pattern among Republicans of trading legislative influence for campaign donations, trips and other perks.
New York Times: For Democrats, a Scandal of Their Own
WILL A "MAJORITY OF THE MAJORITY" BACK IMMIGRATION BILL?
Backers of President Bush's bid to revamp immigration laws scored another small victory in the Senate yesterday, but they are increasingly concerned about a House Republican policy that could block final agreement even if a bipartisan majority is within reach. Speaker J. Dennis Hastert's insistence that major legislation reach the House floor only if it appears to be backed by a "majority of the majority" could throw a high hurdle in front of efforts to reach a House-Senate compromise on immigration later this year, lawmakers said. Hastert (R-Ill.) has invoked the policy in blocking bills that appeared likely to win approval from more than half of the House's 435 members but less than half of its 231 Republicans.
Washington Post: Immigration Bill Expected To Pass Senate This Week
HASTERT TO BECOME LONGEST-SERVING REPUBLICAN SPEAKER:
Dennis Hastert isn't saying much about his next milestone. His staff is also mum. The Illinois Republican is not one for premature celebrations, and he won't test his luck this year. He is about to become the longest serving Republican Speaker in House history, according to the Congressional Research Service, but during an interview in his office last week he cut off a question about it. "If I make it to June," he said. On May 31, Hastert will tie the mark set by "Uncle" Joe Cannon, a tough, cigar-chomping conservative from Illinois.
The Hill: Hastert to set record 'if I make it to June'
REPUBLICANS SAY MOLLOHAN "STALLED" ETHICS PANEL:
Republicans and Democrats are trading blame for the gridlocked House ethics panel, which for more than a year took no action despite a bevy of corruption scandals surfacing for members of both parties... Republicans said Rep. Alan B. Mollohan, who served as the ranking member of the panel, stalled the process because of his own ethical challenges. He stepped down last month from his post and was replaced by Rep. Howard L. Berman, California Democrat... Democrats, meanwhile, said the majority party's claim is "ludicrous." "The facts speak for themselves. The Republicans fired the chairman and two members of the committee, purged the professional staff and unilaterally tried to weaken the rules," said House Minority Whip Steny H. Hoyer, Maryland Democrat.
Washington Times: Parties blame each other for ethics-panel gridlock
RICE AVOIDS IRAQ IN "NONCONTROVERSIAL" SPEECH:
Outside Boston College's graduation ceremonies yesterday, some 200 protesters chanted, "Shame, shame!" and "Give her a subpoena, not a degree, for crimes against humanity!" But inside the school's football stadium, as Secretary of State Condoleezza Rice, the focus of the protest, took the podium, most students and parents listened with rapt attention. After a high-profile ramp-up to the ceremony, including an impassioned outcry from some faculty and students, the graduation passed uneventfully, with no arrests and no evictions from Alumni Stadium. There was applause as Rice's name was called, and more clapping in response to her remarks about triumphing over segregation's restrictions in her native South. Her speech was pointedly noncontroversial -- devoid of policy statements, with only a tangential mention of Iraq as she spoke of the need for graduates to remain optimistic.
Boston Globe: At BC, protests of Rice muted
OLMERT VISIT NOT EXPECTED TO PRODUCE "DRAMATIC RESULTS":
Israeli Prime Minister Ehud Olmert is expected to walk away from his first visit to the United States without getting the Bush administration to put its heft behind Olmert's sweeping West Bank pullback plan. U.S. and Israeli officials played down any expectation Monday that Olmert's meeting Tuesday with President Bush would yield dramatic results. "I don't expect anything formal, but the two of them obviously are going to be talking about ways to keep moving forward" with the peace process, White House spokesman Tony Snow said. Israeli Ambassador Daniel Ayalon said the emergence of a Hamas-led Palestinian government had complicated matters with its steadfast refusal to oppose terror.
AP via Yahoo! News: Low Expectations for Olmert's U.S. Visit
STATE OF BILL AND HIL'S UNION:
[Bill] Clinton is rarely without company in public, yet the company he keeps rarely includes his wife. Nights out find him zipping around Los Angeles with his bachelor buddy, Ronald W. Burkle, or hitting parties and fund-raisers in Manhattan; she is yoked to work in Washington or New York — her Senate career and political ambitions consuming her time. When the subject of Bill and Hillary Clinton comes up for many prominent Democrats these days, Topic A is the state of their marriage - and how the most dissected relationship in American life might affect Mrs. Clinton's possible bid for the presidency in 2008.
New York Times: Clintons Balance Married and Public Lives
IT'S NEWS THAT BILL WILL APPEAR WITH HIS WIFE:
Former President Bill Clinton will add some luster to next week's Democratic state convention in Buffalo, The Post has learned. Clinton is expected to be there when his wife, Sen. Hillary Rodham Clinton, is nominated for a second term next Wednesday, a Democratic source said. The former president is not slated to speak, but is expected to bring excitement to a convention that is expected to function as a pep rally rather than feature any real drama.
New York Post: Bill to Boost Hill
DODD PLANS '08 BID:
Sen. Christopher J. Dodd said Monday he has "decided to do all the things that are necessary to prepare to seek the presidency in 2008." The Connecticut Democrat will hire staff, raise money and travel around the country in the next few months as he tries to enlist support. Like other presidential contenders, Dodd said during a lengthy interview in his Capitol Hill office that he will not formally decide until early next year whether to make his bid official. At the moment, he joins about 10 other major Democratic Party figures who are considering a run. Dodd came close to running in 2004 but never entered the race. Circumstances are different today - he is not up for re-election to his Senate seat, and colleague Joe Lieberman is not running for president.
Hartford Courant: Eye On White House
CAN HUCKABEE GET BEYOND THE WEIGHT-LOSS THING?
A few years ago he was best known as the second most famous politician from Hope, Arkansas. Now, Huckabee is mentioned on the short list of candidates for the 2008 Republican presidential nomination, alongside names like Sen. John McCain and former New York City Mayor Rudy Giuliani. Whether Huckabee can keep pace with these national notables depends on one question: Does he have the political heft to get voters to focus beyond what he's currently best-known for nationally -- his significant weight loss and adoption of a rigorous physical exercise and healthy eating regimen -- to his broader vision for the nation?
washingtonpost.com/The Fix: Mike Huckabee: Placing Faith in a Hopeful Message
"NO ROOM" IN THE "BIG TENT" FOR THESE GUYS:
Alabama Democrats should get rid of a candidate who denies the Holocaust and another who has advocated killing illegal immigrants, activist Al Sharpton said Monday. While state party officials say they are powerless to remove the pair from the ballot because the June 6 primary is so close, Sharpton said: "There's no room for these two men in our big tent." Larry Darby, seeking the party's nomination for attorney general, denies the Holocaust occurred and recently spoke at a gathering of National Vanguard, which describes itself as a "pro-white" organization. Harry Lyon, who wants to become the Democrats' gubernatorial candidate, has advocated killing illegal immigrants as a way to keep them out of Alabama.
AP via Yahoo! News: Sharpton: Pull 2 Ala. Candidates From Race
BUSH PLANNING TO SEE GORE MOVIE? "DOUBT IT":
Is President Bush likely to see Al Gore's documentary about global warming? "Doubt it," Bush said coolly Monday. But Bush should watch it, Gore shot back. In fact, the former Democratic vice president offered to come to the White House any time, any day to show Bush either his documentary or a slide show on global warming that he's shown more than 1,000 times around the world. "The entire global scientific community has a consensus on the question that human beings are responsible for global warming and he has today again expressed personal doubt that that is true," Gore said in an Associated Press interview from France where he attended the Cannes Film Festival.
AP via Yahoo! News: Bush Snubs Gore Film on Global Warming
Monday, May 22, 2006
The Situation Online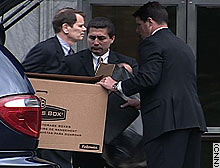 A box of materials is loaded into a car after FBI agents searched Rep. William Jefferson's office.
Freezer burn

The
search warrant (95 page PDF)
used to raid Congressman William Jefferson's Capitol Hill office
gives insight
into the FBI's bribery investigation against the Louisiana Democrat.
Hurricane season

The National Weather Service launches a
new Web site
in conjunction with Hurricane Preparedness Week. The site hypothesizes what would happen if a
storm surge
hit the
Brooklyn Battery Tunnel
.
Veterans' records stolen
Following the theft of over 26 million veterans' personal data, the U.S. government has set up online resources for those possibly affected by the crime.

Levee integrity
On the heels of Ray Nagin's re-election, a new report suggests 80 percent of the flooding that ravaged New Orleans could have been prevented.
The Morning Grind
Back to Iraq
President Bush shelves his public push for immigration reform today and revisits what has become the most pressing issue of his administration: Iraq.
Bush heads to Chicago to deliver an 11:35 a.m. ET speech on the "Global War on Terror" to the National Restaurant Association. His remarks this morning comes just a few days after Iraq's parliament approved a Cabinet.
In a brief statement yesterday, Bush described the formation of a new government as "a new day for the millions of Iraqis who want to live in freedom." The President also said he called Iraq's leaders to congratulate them on the progress they have made.
"I assured them that the United States will continue to assist the Iraqis in the formation of a free country, because I fully understand that a free Iraq will be an important ally in the war on terror, will serve as a devastating defeat for the terrorists and al Qaeda, and will serve as an example for others in the region who desire to be free," the President said.
Meanwhile, Bush's chief ally on Iraq, British Prime Minister Tony Blair, visited Baghdad Monday to meet with government leaders including Iraqi President Jalal Talabani and Prime Minister-designate Nuri al-Maliki.
"If the worry of people is the presence of the multinational forces, it is the violence that keeps us here," Blair said. "It is peace that will allow us to go."
A CNN poll released last week showed that only 34 percent of Americans approved of how Bush was handling Iraq. And unpopularity with the war is one of the main concerns for Republicans fearful of losing control of Congress to Democrats in the midterm elections. The Iraq war, 76 percent, ranked second only to terrorism, 79 percent, as "extremely or very important" to how Americans would vote in November.
Overall, Americans have low opinions of how the House and Senate, the poll also showed. The Senate registered a 25 percent approval rating, while the House fared slightly better with a 34 percent approval rating.
While Bush is delivering his speech, one of his most vocal critics on Iraq, Rep. John Murtha (D-Pennsylvania), will be receiving the John F. Kennedy Profile in Courage Award for speaking out against the war. The ceremony, being held at the John F. Kennedy Presidential Library and Museum in Boston, begins at 11 a.m. ET. Among those expected to attend: Sen. Edward Kennedy (D-Massachusetts) and House Minority Leader Nancy Pelosi (D-California).
The FBI raid of Rep. William Jefferson's (D-Louisiana) office over the weekend will surely be the topic of conversation in the Capitol hallways as lawmakers return to work this afternoon. Jefferson is under investigation for a bribery scandal that has already ensnared a former aide and a Kentucky businessman, CNN's Terry Frieden and Kevin Bohn report. Court papers released yesterday show that federal agents found $90,000 in cash last year stashed in Jefferson's freezer. Agents told a judge the money was part of a $100,000 payment that had been delivered by an informant in the bribery probe. The Justice Department has been investigating Jefferson's relationship to telecommunications deals in Africa and elsewhere. Jefferson has denied any wrongdoing and vowed to remain in office to battle any criminal charges he may face.
Jefferson's ethical problems and questions about Rep. Alan Mollohan's (D-West Virginia) personal finances have helped to dilute the Democratic Party's "culture of corruption" campaign theme that they hoped to ride to victory in November. Until recently, it was only Republicans who were caught up in scandal. Earlier this year, Rep. Rep. Randy "Duke" Cunningham (R-California) was forced to trade in his House seat for a jail cell for accepting bribes and Rep. Tom DeLay (R-Texas) decided to resign his House seat rather than risk losing re-election in November. DeLay, who leaves the House next month, is fighting charges in Texas that he broke campaign finance laws and two of his former aides have pleaded guilty in the Jack Abramoff lobbying scandal. Rep. Bob Ney (R-Ohio) continues to fight allegations of wrongdoing in the Abramoff scandal. Ney has not been charged and he maintains he is innocent.
Two California Republican incumbents turn to Vice President Cheney today to help raise money for their re-election bids. Cheney speaks at a fundraiser for Rep. John Doolittle at 3:30 p.m. ET in Sacramento and at 9:30 p.m. ET attends a fundraiser for Rep. Richard Pombo in Stockton.
Other notable events:
Sen. John McCain (R-Arizona) speaks at the New Hampshire Federation of Republican Women Lilac Breakfast in Manchester; Sen. Hillary Rodham Clinton (D-New York) delivers the commencement speech at Adelphia University on Long Island; Sen. Evan Bayh (D-Indiana) visits the Indianapolis Motor Speedway to learn how ethanol is being used by race car drivers; and cities interested in hosting the Republican National Convention in 2008 must submit bids by the close of business.
And for you Garden State political animals, excerpts of former New Jersey Gov. Jim McGreevey's (D) book have been released and detail a tortured life of a politician who hid his homosexuality. CNN's Payal Bawa reports that McGreevey recounts nights spent hanging with up-and-coming political operatives in Garden State strip clubs and watching a "pickup convention" of municipal officials in Atlantic City in 1983 -- after which, he wrote, "I knew I would have to lie for the rest of my life -- and I knew I was capable of it. The knowledge gave me a feeling of terrible power."
Even though he married twice, McGreevey describes his relationships with women as "largely artificial, my sexual performance a triumph of mind over matter."
"So, instead, I settled for the detached anonymity of bookstores and rest stops -- a compromise, but one that was wholly unfulfilling and morally unsatisfactory," he wrote. "There was also the constant fear of contracting HIV."
The book is due in stores in September.
Political Hot Topics
"NO PRECEDENT" FOR "CLIMBING FROM A HOLE AS DEEP" AS BUSH'S:
Confronting the worst poll numbers seen in the West Wing since his father went down to defeat, President Bush and his team are focusing on the fall midterm elections as the best chance to salvage his presidency and are building a campaign strategy around tax cuts, immigration and national security. Modern history offers no precedent of a president climbing from a hole as deep as the one Bush finds himself in, and White House strategists have concluded that no staff shake-up or other quick fix will alter their trajectory. In the sixth year of his tenure, they said, Bush cannot easily change the minds of voters whose impressions are fully formed.
Washington Post: Elections Are Crux Of GOP's Strategy
WOULD LOSING CONGRESS BE GOOD FOR REPUBLICANS?
...Some Republicans are so discouraged by the direction of the country and the record of their party - including the growth of federal spending, turmoil in Iraq, and Bush's immigration policy - that they have begun wondering if Republicans might be better off losing control of Congress. "Two years in the political wilderness would do us a lot of good," said one Republican member of Congress who asked not to be named because of his heretical view.
Los Angeles Times: A Restive Base Throws the GOP Off Balance
JEFFERSON TAPED TAKING $100K; STASHED CASH IN FREEZER:
Rep. William J. Jefferson (D-La.), the target of a 14-month public corruption probe, was videotaped accepting $100,000 in $100 bills from a Northern Virginia investor who was wearing an FBI wire, according to a search warrant affidavit released yesterday. A few days later, on Aug. 3, 2005, FBI agents raided Jefferson's home in Northeast Washington and found $90,000 of the cash in the freezer, in $10,000 increments wrapped in aluminum foil and stuffed inside frozen-food containers, the document said.
Washington Post: FBI Says Jefferson Was Filmed Taking Cash
HOUSE OFFICIALS GIVEN 1 HOUR'S NOTICE OF RAYBURN RAID:
Saturday night's FBI raid on the office of Rep. William Jefferson (D-La.) surprised and angered House officials, who were not told that the Rayburn House Office Building search was to take place until one hour beforehand, offering the latest sign that federal prosecutors are using increasingly aggressive tactics in their pursuit of allegedly corrupt lawmakers... This is believed to be the first-ever FBI raid on a Congressional office. Chief Judge Thomas F. Hogan of the U.S. District Court for the District of Columbia authorized the search on Thursday night, but it was not conducted until Saturday.
Roll Call: FBI Raid Angers Some on Hill; Feds Probe Additional Jefferson "Schemes"
"WE'RE GOING TO BRING THIS CITY TOGETHER":
Newly re-elected Mayor Ray Nagin expressed confidence that political opponents and business leaders would unite to rebuild this hurricane-stricken city. "We're going to bring this city together. It's my intention to reach out to every segment of this community," Nagin said Sunday, a day after defeating Lt. Gov. Mitch Landrieu. Nagin said he plans to put together a commission to decide on action in the next 100 days. Debris removal and housing will be top priorities. The former cable television executive dismissed threats by some business people who supported Landrieu and said they would leave if Nagin remained in office.
AP via Yahoo! News: Nagin Looks to Mend Divides in New Orleans
HOW NAGIN WON:
After winning almost universal support from white voters four years ago, then watching that base abandon him in New Orleans' mayoral primary last month, incumbent Ray Nagin managed to win back enough white support to claim a healthy victory over Lt. Gov. Mitch Landrieu in Saturday's runoff election. Aided by a bump in turnout for the runoff, Nagin, who is African-American, was also able to boost his already-strong appeal among black voters, thwarting the efforts of Landrieu, who is white, to overcome the 9 percentage-point deficit he drew in the primary. Political observers had speculated that to win a second four-year term, Nagin would have to quadruple his dismal 6 percent showing among white voters in the primary and broaden his reach beyond the almost 70 percent of African-American votes he earned in the April 22 contest. It appears the mayor executed that strategy in textbook fashion...
New Orleans Times-Picayune: Broad appeal aided Nagin in the runoff
IMMIGRATION TIMELINE NOT "PRACTICAL," SAYS USCIS CHIEF:
The director of U.S. Citizenship and Immigration Services, the agency that would administer a new guest-worker program and rule on applications from millions of illegal aliens, says the pending Senate bill doesn't give his agency enough time to prepare for that giant task. "Quite frankly, I don't think that's really practical. Ninety days to register 12 million people. Do the math," Emilio T. Gonzalez, who took over as director early this year, told The Washington Times. In a wide-ranging interview, he said he is on track to make USCIS a true part of the nation's national security team, defended the agency against accusations of sloppy decisions and mismanagement by a former senior employee, and said that by this time next year the agency will look entirely different.
Washington Times: Immigration bill's timeline hit
WILL REPORTERS GO TO JAIL FOR BREAKING NSA WIRETAPS STORY?
Attorney General Alberto R. Gonzales raised the possibility yesterday that New York Times journalists could be prosecuted for publishing classified information based on the outcome of the criminal investigation underway into leaks to the Times of data about the National Security Agency's surveillance of terrorist-related calls between the United States and abroad. "We are engaged now in an investigation about what would be the appropriate course of action in that particular case, so I'm not going to talk about it specifically," he said on ABC's "This Week." ...When asked if journalists could be prosecuted for publishing classified information, Gonzales responded, "There are some statutes on the book which, if you read the language carefully, would seem to indicate that that is a possibility."
Washington Post: Prosecution of Journalists Is Possible in NSA Leaks
BLOGS, PODCASTS BECOME NECESSARY TOOLS FOR POLS:
Look who's podcasting! No, it's not your teenager. It's your senator. Veteran politicians more familiar with turntables and typewriters are enlisting twentysomething computer whiz kids to brave the digital world of blogs, podcasts and the Web in an effort to help them connect directly with voters. The 2004 presidential campaign ushered in Internet fundraising and the lightning speed effectiveness of Web logs. The next campaign promises a significant increase in Web-based activities; politicians are responding to the reality.
AP via Yahoo! News: Politicians Get Help in New Online Media
McCAIN WON'T BACK GAY MARRIAGE BAN:
The Republican with the loudest presidential buzz says he won't back a constitutional ban on same-sex marriage, despite its importance to conservative GOP primary voters. Arizona Sen. John McCain said yesterday the controversial proposal to amend the Constitution would step on states' rights. "The states regulate the conditions of marriage, and unless there's some decisive overruling by the federal courts, then I will continue to believe that the states should decide," McCain said on "Fox News Sunday." "We in Arizona should make our decisions about the status of marriage in our state just as the people in Massachusetts and other states should make their decisions," he said.
New York Daily News: McCain sez 'I don't' to backing constitutional ban on gay nups
WHAT DOES GORE WANT?
Six years after his agonizing election loss to George W. Bush, the former vice president is basking in the limelight generated by the national release this week of An Inconvenient Truth, an independent film that documents his crusade against global warming. Gore says he's trying to get people to lead their leaders. A groundswell of political will from regular citizens, he says, will pressure politicians and automobile, fuel and chemical corporations to embrace green technology... Gore's re-emergence has fueled speculation that he still wants to be one of those leaders. He has fun with the idea even as he bats it away. Asked where he'd like to be in 21/2 years, he strokes his chin, stares ahead and says dreamily, "Standing on the steps of the Capitol - " before buckling with laughter.
USA Today: Al Gore's coming back - but how far?
HILLARY'S PLAYLIST:
Sen. Hillary Rodham Clinton has joined the iPod generation. Motown tunes, classical music and the Rolling Stones are all on the playlist on Clinton's iPod player, she told the New York Post for Monday editions. "I've got everything — a total smorgasbord," the 58-year-old senator said. Songs from Clinton's youth figure heavily in the selection of about 1,000 songs, said Clinton, who called herself "a child of the '60s and '70s." The mix includes Aretha Franklin's "Respect," the Beatles' "Hey Jude" and "Take it to the Limit" by The Eagles, she said.
AP via Yahoo! News: What's on Sen. Hillary Clinton's iPod?
TONY SNOW... AN EQUAL OPPORTUNITY CABLE NEWS VIEWER:
Reporters en route to Arizona on Air Force One last week opted to watch the movie "King Kong" in the press cabin. Not so Tony Snow, the new White House press secretary and former Fox News commentator, who told reporters that he spent the flight in the staff cabin watching Gen. Michael V. Hayden's confirmation hearings to be the new C.I.A. director - on CNN. Mr. Snow's seemingly nonchalant mention of the cable network - "Well, we've been watching it on CNN" - did not go unnoticed by the "King Kong" enthusiasts or, for that matter, by anyone covering President Bush. In essence it was code to try to convince people that he was an honest broker and that Fox News was not the White House channel of choice.
New York Times: Fox, What Fox? New Press Secretary Changes Channels
McGREEVEY BOOK DETAILS "TORTURED LIFE OF LIES AND SEXUAL REPRESSION":
Jim McGreevey shockingly admits that before he became governor of New Jersey, he'd have anonymous gay sex at Garden State highway rest stops. "All I knew was that my behavior was getting crazier and crazier," McGreevey says of his torrid truck-stop trysts in an upcoming book that details his tortured life of lies and sexual repression... "The closet starves a man, and when he gets a chance he gorges till it sickens him," he writes in his book, titled "The Confession."
New York Post: McGreevey's Gay Road Thrill