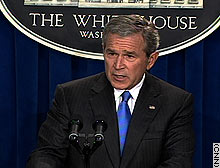 President Bush took questions from the press Monday.
WASHINGTON (CNN) -- President Bush's job approval ratings remain anemic among Americans, with disapproval exceeding approval 57 percent to 42 percent, according to a poll released Monday.
Bush's approval rating rose 2 percent from a poll conducted in early August -- and up 5 percent from mid-June. The poll of 1,033 Americans carried out August 18-20 for CNN by Opinion Research has a plus-or-minus 3-point sampling error.
A bare majority (51 percent) said they viewed Bush as a strong leader, but he got negative marks on most other matters.
Fewer than half of respondents (44 percent) said they believe Bush is honest and trustworthy, with 54 percent saying they do not believe he is. And just 41 percent said they agree with the president on issues, compared to 57 percent who disagree.
In addition, a mere 35 percent favor the war in Iraq, while 61 percent oppose it -- the highest amount of opposition to the war in any CNN poll since the conflict began in 2003.
Bush's tepid ratings don't bode well from the GOP ahead of the coming congressional elections. By a 9-point margin, 52 to 43 percent, more respondents said they would vote for Democratic candidates than Republicans.
When asked about his popularity during a news conference Monday, Bush said, "I've been here long enough to understand, you cannot make good decisions if you're trying to chase a poll.
"I'm going to do what I think is right," he added. "And if, you know, if people don't like me for it, that's just the way it is."