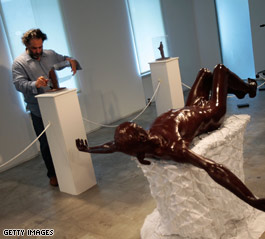 Cosimo Cavallaro uses a brush to touch up one of his controversial sculpture's in his exhibition.
His likeness is on watches, mugs, tattoos and dashboards. Some have seen it on the sides of buildings and in assorted pastries.
But if you want to get a whole mess of attention about where to put Jesus, nothing beats a bath in chocolate.
Call it blasphemy, free speech or a little bit of both, a Canadian artist has finally received the green light to showcase his religious-themed, cacao-inspired art.
Titled "Chocolate Saints ... Sweet Jesus", Cosimo Cavallaro's exhibition (which opened this past Saturday) features a life-size, anatomically correct sculpture of Jesus. The shocker is simple: the diety is made out of milk chocolate -- 200 pounds worth.
It's the artist's medium of the moment. And it's generating plenty of controversy.
A few months back, Cavallaro was assailed in his failed attempt to showcase the chocolate Jesus during Holy Week. The Catholic League called it an assault on Christian sensibilities.
That was then. As for now, Cavallaro tells the Associated Press he means no ill will to the Catholic Church, saying, "If my intentions were to offend, if I did do something wrong, I wouldn't be doing this. But I didn't do anything wrong."
Do you agree?
-- By Gabe Falcon, "360" Writer