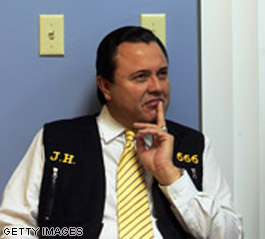 Jose Luis de Jesus Miranda says he is the second coming of Jesus Christ; his wife wants a divorce
Where was the money coming from?
That was one of many questions that crossed my mind when the CNN Miami Bureau first began working on a story over a year ago on a religious group -- critics call it a cult -- that had sprung up in a working class area of Miami.
The group "Growing in Grace" is the kind of organization that causes one to ask questions. Its leader is a charismatic minister named Jose Luis de Jesus Miranda who preaches that he is the second coming of Jesus Christ.
De Jesus' followers passionately believe that he is God. They stage protests outside other religions churches, believe there is no sin and give generously to their leader. (
Read why de Jesus thinks his church is misunderstood
)
That brings us back to the money. The church is primarily made up of working class Latino immigrants who manage to give 10 percent of their earnings to the church. Other wealthier followers give more. Much more. Church records show that church members have given donations in the hundreds of thousands of dollars.
De Jesus says he is Jesus Christ reborn, but he does not seem very interested in any vow of poverty. He wears diamond encrusted Rolexes, drives in luxury cars and is followed by a team of bodyguards, all offerings from his followers. "This is all free," de Jesus says with a wide smile. "Gifts that they give me. I can't reject that."
That generosity may have de Jesus in hot water. The self-proclaimed messiah is divorcing his wife of five years and records coming out in a Miami courtroom paint a picture of a church leader's life of luxury.
According to his wife's attorney and court records:


De Jesus lost $46,846.36 gambling at the Seminole Hard Rock Hotel & Casino in Hollywood, Florida last year.



Jo-Ann De Jesus, the preacher's daughter and the church treasurer, testified that de Jesus' first wife receives $12,000 in monthly alimony paid for by the church.



Properties were purchased in South Florida, Texas and Colombia with church funds but are titled to De Jesus or his daughter Jo-Ann.
De Jesus would not talk to CNN about our story on his finances and divorce. But a church official said that they have done nothing wrong and are cooperating with a federal investigation that resulted from his bitter divorce case.

Whatever the result of the investigation it may not hurt de Jesus' standing with his flock.

Church members we spoke with said they will continue to donate and that they are happy if de Jesus lives well.


-- By Patrick Oppmann, CNN Producer