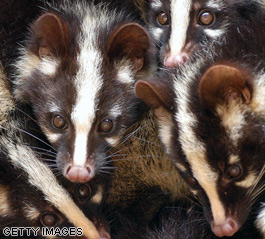 Though illegal to possess, civet cats were available in a Chinese market visited by Dr. Sanjay Gupta, CNN Chief Medical Correspondent.
The first time I heard of a civet cat was the spring of 2003, when I was in Iraq as an embedded reporter. Every now and then, we were able to dial in some radio news coverage from the desert, and I still remember hearing one report about a new respiratory disease called SARS. The reporter went on to say that it had possibly been traced back to the consumption of civet cats in the Guangdong province of China. In fact, at the time, the cats were considered a delicacy on the menu at several local restaurants in the city of Guangzhou.
Given the association of civet cats with SARS, it is no surprise that possession of the cats is now considered illegal in China. So imagine my surprise when I visited a Chinese marketplace this morning around 5:30 a.m., and immediately walked into a flurry of vendors with these strange-looking cats in cages. As I got a closer look, the vendors became apprehensive and started to cover the cages and scurry away. Frankly, the lights and cameras used by videographers Neil Hallsworth and Phil Littleton probably didn't help. Still, there was no doubt these were the elusive civet cats, and Craig Kirkpatrick from the wilderness conservation group Traffic confirmed it for me. They certainly do look like cats, as the picture above shows, but they have a snout that is considerably longer and more pointed. Most remarkably, according to Kirkpatrick, despite the civet cats' tumultuous history, their consumption continues to grow.
As Craig and I walked around the market, we saw all sorts of exotic wildlife. One back room was completely filled with turtles. There must've been thousands of them. While most of them were from farms in China, Craig deftly pointed out endangered turtles from Burma and Madagascar. When I asked the shop owners if they had permits for endangered animals, they quickly gave me the brush-off. Craig explained that while selling endangered animals is illegal, his experience has taught him that the police place a low priority on doing anything about it. In plain sight in this market, there were even a couple of Tibetan vendors who claimed to be selling the paws and bones of a tiger, a coveted and endangered animal. Tiger bones are believed to cure arthritis and its blood is said to have an almost mystical quality.
The various marketplaces I visited here were huge, with thousands of vendors and unimaginable numbers of animals and animal parts, from shark fins to bear bile, from poisonous live scorpions to fungus-infected caterpillars. So high is the demand for these animals that they are brought in from all over the world, sometimes legally and sometimes poached. We were told in no uncertain terms that for the right amount of money, we could get just about anything we wanted.
The demand is fueled by custom, such as the need to serve shark fin at a proper Chinese wedding or turtle at parties for the affluent. Part of the consumption is driven by traditional Chinese medicine, which is dependent on approximately 11,000 different plants and 1,500 different animals. Some of the consumption is driven by plain old curiosity. One thing is for certain, though, which is that as our human population continues to grow, certain animal species are declining and even disappearing. We are breathlessly consuming many of our planet's natural resources.
So how do we control this consumption in China and the rest of the world?
-- By Sanjay Gupta, CNN Chief Medical Correspondent
Editor's note: For more coverage of environmental issues, please check out Planet in Peril: A CNN Worldwide Investigation.