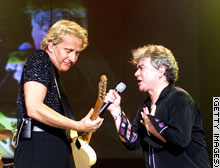 Don't all of us need a little more Air Supply in our lives?
I'm keeping a tally of the songs streaming in for our "360" political coverage theme contest.
While I'm happy to report you are sending us tons of great suggestions, frankly, I'm a little disappointed at the low turnout for Air Supply. "Lost in Love"; "All Out of Love"; "The One That You Love"; "More Love for Love" (I made up the last one) -- it's obvious that Russell Hitchcock and Graham Russell (he's the tall one) made some edgy music worthy of tough political issues.
And what about Biz Markie? Take a listen to the "Best of Cold Chillin" and you'll be surprised at the number of beat box tracks that are relevant to the race for '08.
Bottom line: we need more songs. So if you're a Van Morrison fan or a Spice Girls fanatic (they are getting back together ... sweet!) give us your best shot.
Hurry. We're keeping the contest open until the week after July 4th. Then we'll narrow the field down to the final three. That's when we'll ask you to vote on a winner.
Thanks, and don't forget Huey Lewis and the News.
-- By Anderson Cooper