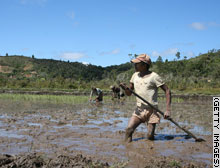 Peasant farmers work in Madagascar, where a delicate ecosystem is threatened by rapid deforestation and expansion of agricultural areas.
ANDRAFIAMENA, Madagascar -- The opportunity to get into the field and explore the wilderness of Madagascar has revived my spirit for adventure, despite what so far has been an exhausting journey.
I was last here approximately 10 years ago, and from our bird's-eye-view within the 40-year-old helicopter transporting the "360" crew and me, the landscape below is much changed. The fact that only 10 percent of Madagascar's pristine habitat is still around feels much more visceral and takes on new meaning upon witnessing it firsthand, both from the sky and on the ground. (
Watch Jeff Corwin meet Madagascar's unique wildlife
)
While Madagascar is in a state of environmental crisis -- the unique ecology here is in great jeopardy -- there is still a powerful echo of the wildness that makes this southeast African island-nation most profound. More than 90 percent of the species inhabiting Madagascar are endemic, meaning that they are found nowhere else but here.
While in the field, we came across extraordinary creatures, such as the black sufaka, a mysterious lemur that only dwells within remote dry forests of the north. It is quite likely that before our visit with the black sufaka it had not been previously documented by video cameras.
Another highlight was when one of the Malagasy biologists with the Conservation International team found a mysterious, one-inch long gecko that could very well be a new species. A taxonomist -- the biologist who classifies species -- could easily work 10 years in the field for a discovery as rare as this one. To be there in person for this find is a moment to cherish.
Perhaps the most memorable experience, though, was when we came across a tiny adult chameleon (a very strange lizard indeed) no bigger than a matchstick. Its genus name -- Brookesia -- is longer than the creature itself, which as of yet has no formal species title, as it was just discovered two months ago.
While celebrating the find, we were sobered by the fact that this tiny treasure only inhabits a small patch of quickly disappearing rainforest that's surrounded by fast-approaching cow pastures and banana plantations.
Whether or not this newly discovered life form will survive into the future is unknown. But what is certain is that Madagascar is still a great biological reservoir that, while precarious in regards to conservation, is far from a lost cause. I leave Madagascar believing that humankind has a rare and immediate opportunity to protect this almost magical place, a failure to do so would certainly affect many generations to come.
-- By Jeff Corwin, Wildlife Biologist