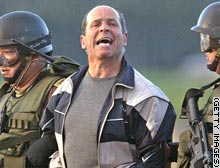 Simon Trinidad, aka Ricardo Palmera, is on trial this week in Washington, D.C., for kidnapping.
When I first heard this story I was simply blown away by one fact: Three government contractors, employees of Northrop Grumman, have been held for years in narco-terrorist guerilla camps somewhere in Colombia and America isn't up in arms and screaming about it.
It isn't on the evening news every night. There aren't yellow ribbons on every street corner. These guys are pretty much rotting away somewhere out there and they are not household names. For the record, their names are Thomas Howes, Keith Stansell and Marc Gonsalves.
It just seemed to me that if these guys had gone down in a plane in Iraq near an insurgent training base, or whatever, and got kidnapped you would never hear the end of it. Our producer Steve Turnham thought this was a very important story. He spearheaded our coverage and he came back with some extremely strong elements.
The private contractors were in Colombia as part of the U.S. government's drug eradication program. In 2003, they were flying low over rebel-held territory on an anti-drug surveillance mission when their plane crashed. The first thing they knew, they were surrounded by gunmen. And not just any gunmen. They were in the hands of the Revolutionary Armed Forces of Columbia (FARC), basically the largest armed rebel force in the Western Hemisphere, according to the US
The last four years have been frustrating for the families of the hostages and the company they work for, because the U.S. government prohibits negotiating with terrorists. Since FARC has been designated a terrorist group, there is little room for the U.S. government to get involved in active attempts to negotiate a release.
As it turns out, this is a story whose time may have come. A top FARC leader, Simon Trinidad, whose real name is Ricardo Palmera, is on trial this week in Washington, D.C., charged with kidnapping the Americans for his role in trying to bargain them away. Also, Colombian President Alvaro Uribe has just released a bunch of FARC prisoners in hopes of securing the Americans' release. And Uribe just happens to be making the rounds in Washington today to meet with top leaders of the U.S. government.
The families are more hopeful than they've been in years. At the same time, they are trying not to get their hopes too high, given how long FARC has held Howes, Stansell and Gonsalves.
-- By Joe Johns, CNN Correspondent