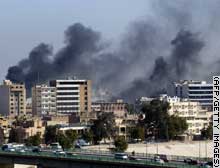 Smoke rises from twin car bombings Monday that killed scores of Iraqis in Baghdad.
Americans have a lot of issues that concern them these days: Immigration, health care, the environment, personal debt, housing prices. That's just to name a few.
But there is only one real issue in front of President Bush right now: Iraq.
Polls of Americans and foreigners alike show that majorities disapprove of the way President Bush is conducting the war in Iraq and question whether the United States is still a positive influence in the world.
The president is planning to send more troops, talking about the need for stabilization and a promise of better times, but in Washington, even members of his own party are skeptical. And the newly empowered Democrats are circling like dogs around a soup bone.
Sure, President Bush is engaging other topics. The White House is talking about "bold" legislatives initiatives and the need for bipartisan support to the keep the nation moving forward. The State of the Union is supposed to be the moment for a president to discuss such things, to weave a grand tapestry of his visions for the nation.
But Iraq is relentless. Some Republicans fear that unless the White House can somehow turn Iraq around or defuse it as a political time bomb, worry about the war will undermine every idea put forward by their party. They worry, quite openly, that if President Bush wants to protect his legacy, he may have to compromise on all sorts of other issues to get Democratic support.
Saddam Hussein was undeniably a terrible guy. He imposed unspeakable suffering on his own citizens and ruled with the despicable force of all tyrants. President Bush put an end to that. But in the process, the war he launched became something more. It morphed into the definining characteristic of his presidency for both good and bad.
So with two years left before he leaves office, here's my question: Can the president get any traction on any other legislation while the future of Iraq remains up for grabs?