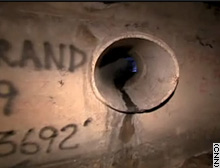 Illegal immigrants use tunnels like this one to enter the United States.
The cities of Nogales, Arizona, and Nogales, Mexico, are separated by a huge wall.
Many people illegally come into the United States over the wall or through broken portions of it. But the U.S. Border Patrol has gotten increasingly aggressive at patrolling this area, so illegal immigrants are increasingly adopting a subterranean tactic -- they are sneaking through the sewer system that sits under both cities.
This story attracted our attention when we heard that over a recent three month period, more than 1700 illegal immigrants were apprehended in the tunnels that act as sewers and storm drains for the city. They were captured by a specially trained U.S. Border Patrol unit that works within the pitch dark confines of the tunnels.
We spent a day with them recently in the muck and utter darkness of the sprawling sewer system. There is no way to see anything without night vision goggles. For the first 15 minutes of patrolling all was quiet.
We passed smaller tunnels in the sides of the wall with welded grates that are often broken by smugglers and illegal immigrants. Everything seems relatively routine, except for the vermin we hear scampering around. But then, the agents command us not to make a noise.

Watch Border Patrol agents take to the sewers
They hear something a few hundred feet away; on the other side of the line that separates the U.S. from Mexico. They get their weapons ready. Their night vision goggles make it clear that at least six individuals are hovering in the darkness.
They ask in Spanish, "Who is it?" There is no response.
"We are American police," an agent yells. "Slow down."
We hear the mystery people responding, but their soft voices make it hard to understand what they are saying. Minutes go by where we do not move. Down here, there is always concern that smugglers with nothing to lose will fire first, then agents tell me.
And then we see bright lights.
It turns out they are the lights of Mexican authorities, who the Border Patrol called to help out on their side of the tunnel. By then, the six people in question disappeared; not into the United States, but somewhere back in Mexico.
The mission is over. The agents consider it a routine day; we on the other hand, are still struck by the tension in the sewers.
Our clothes soaking wet, we climb through a side tunnel to get out, and exit through a sewer cap on a downtown Nogales, Arizona, street. I am struck by how none of the people passing by seem surprised to see a man climbing out of the sewer.
Within 30 minutes, we see four illegal immigrants arrested above ground in two different incidents after they get by the border fence. Just another normal day in Nogales.