Mike Johnson, the new speaker of the House, voiced support for revisiting Supreme Court decisions that struck down restrictions on the use of contraception, barred bans on gay sex and legalized same sex marriages, according to a CNN review of his prior public statements.
On a conservative talk radio show the day the Supreme Court struck down Roe v. Wade in June 2022, Johnson underscored Justice Clarence Thomas's concurring opinion that the high court should reconsider those other landmark rulings.
Johnson, citing his years as an attorney against "activist courts," defended Thomas' view, insisting that what Thomas was calling for was, "not radical. In fact, it's the opposite of that."
"There's been some really bad law made," he said. "They've made a mess of our jurisprudence in this country for the last several decades. And maybe some of that needs to be cleaned up."
When asked about Johnson's post-Roe comments, a spokesman for the congressman told CNN that Johnson "views the cases as settled law."
Still, CNN's review of more than 100 of Johnson's interviews, speeches and public commentary spanning his decades-long career as a lawmaker and attorney paints a picture of his governing ideals: Imprisoning doctors who perform abortions after six weeks; the Ten Commandments prominently displayed in public buildings; an elimination of anti-hate-crime laws; Bible study in public schools.
From endorsing hard labor prison sentences for abortion providers to supporting the criminalization of gay sex, his staunchly conservative rhetoric is rooted in an era of "biblical morality," that he says was washed away with the counterculture in the 1960s.
"One of the primary purposes of the law in civil government is to restrain evil," Johnson said on one radio show in 2010. "We have to acknowledge collectively that man is inherently evil and needs to be restrained."
His vision has been well received as a congressman in his deeply conservative district in western Louisiana. But his surprising rise to the speakership has brought his particularly subtle brand of fire-and-brimstone to second in line to the presidency — delivering him a national platform from which to shape and influence laws.
Johnson's endorsement of Thomas' opinion, legal experts say, positioned him significantly outside the mainstream.
"Speaker Johnson embraces a view that is not only outside of the mainstream but is so radical in terms of his endorsement of the Thomas position, that even the extremely conservative Supreme Court majority isn't willing to go there," said Norm Eisen, a senior fellow at the Brookings Institute and a CNN legal analyst. "It would take the country back more than a half-century."
The frontlines of the culture war
CNN unearthed more than two dozen radio interviews from Johnson's time as an attorney at the socially conservative legal advocacy group Alliance Defense Fund (ADF) where Johnson litigated and voiced support for what he sometimes described as a battle for the country between the forces of good and evil.
"The arrows in the culture war are particularly directed at our youth, where the Enemy often has the greatest effect," read the 2005  webpage for "God & Country," a Christian local radio show co-hosted by Johnson. "We cannot lose our children to the forces of darkness. Be aware and get active in your kids' schools."
Topics discussed on the show included "creation science" in public schools; how to "fight the porn industry"; God's "design for government"; and "the true meaning of 'separation of church and state.'"
As an attorney at ADF, Johnson repeatedly battled two organizations in his fight to keep religion in the public square: The American Civil Liberties Union, which he called "the most dangerous organization in America," and Americans United for Separation of Church and State. The groups clashed over prayer in public schools, public displays of nativity scenes and the right to open public meetings with prayer.
"They have convinced an entire generation of Americans that there's this so-called separation of church and state," Johnson said in 2008 about the ACLU.
Johnson's rhetoric has tapped into a "persecution complex" for evangelicals as American culture leans increasingly left on social issues, said Ryan Burge, a political scientist at Eastern Illinois University and a Baptist pastor.
"They want to feel embattled. They want to fight the culture war," Burge told CNN.
"When he talks about Griswold and Lawrence, evangelicals know that what he really is saying to them is: 'Our way of life is under attack and liberalism is on the march. Stand firm in our convictions,'" added Burge, referring to the landmark cases that legalized gay sex and contraception use.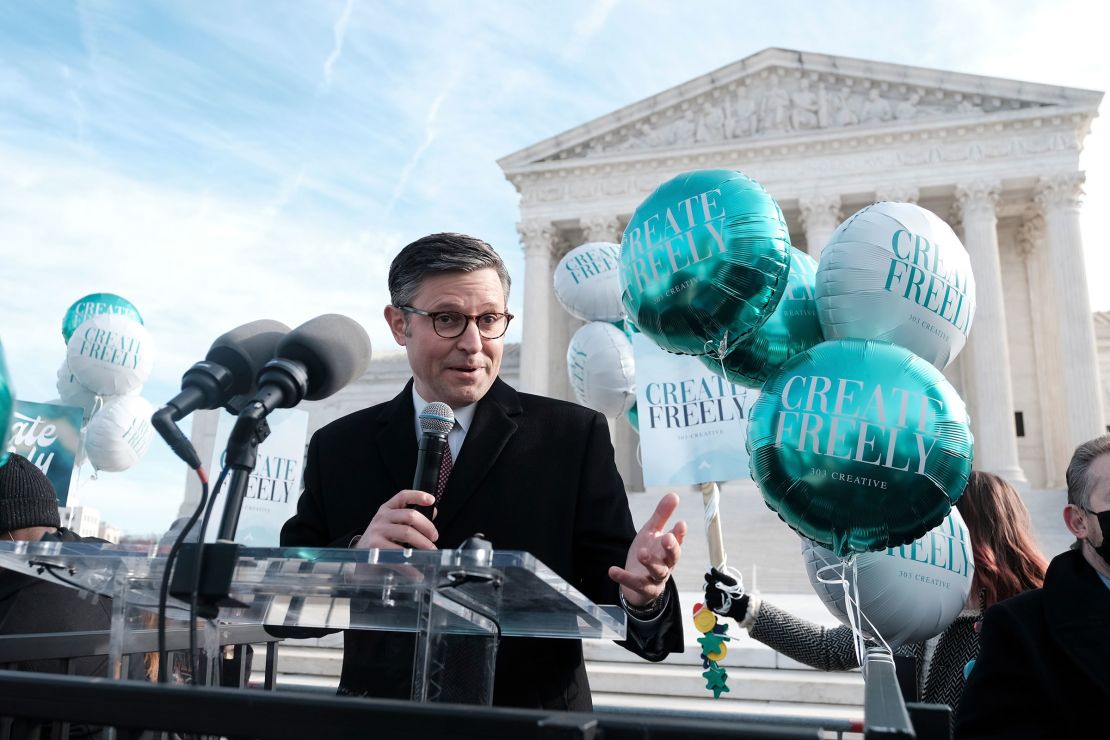 Johnson served not only as an attorney at ADF but a national spokesman for the organization, making appearances on radio and national television where he often addressed so-called "right of conscience" cases involving Christian businesses.
Discussing one case in New Mexico, where a wedding photography company was found in violation of the state's anti-discrimination laws for refusing to photograph a same-sex couple's commitment ceremony, Johnson argued anti-discrimination laws did not recognize a "behavior" like homosexuality.
"There are laws on the books that prohibit discrimination against people for their immutable characteristics, their race and creed and that kind of thing," Johnson said in a 2009 radio interview. "There's a difference – and the law has recognized a difference – between that and homosexual behavior. As something that you do, not an immutable characteristic of what you are."
The New Mexico Supreme Court disagreed and ruled against the company, which ADF represented. The Supreme Court declined to hear the case.
Johnson "doesn't understand the problem with a government compelling its citizens to follow not just religion, but a particular religion," said Katherine Lewis Parker, the former legal director for the ACLU of North Carolina, who opposed Johnson in a lawsuit related to prayer at official meetings.
In that 2007 suit, three residents in Forsyth County, North Carolina, argued local officials had an unconstitutional "practice of sponsoring sectarian prayer" with specific references to Jesus during meetings. Johnson defended the officials and argued that even in Congress, prayers often contain Christian references, which he called a "logical function of the nation's demographics."
During a deposition, Johnson peppered one of the plaintiffs about what type of prayer would be acceptable in county meetings. "So if someone might be offended by virtually any prayer, should we just get rid of prayer entirely?" he asked.
An appeals court ruled against Johnson's arguments in 2011, though the Supreme Court later ruled in favor of allowing such prayers in a separate case.
"I think he is a true believer and I think he wants to blend religion and government," Parker said of Johnson.
Homosexuality was a frequent topic for Johnson, which he has called "inherently unnatural" and a "dangerous lifestyle." In addition to suggesting he hopes the Supreme Court will reverse its decision allowing same-sex marriage, he also wrote in support of Texas' anti-sodomy laws, which said gay men caught having sex could be fined.
"It recognized a fundamental right, a constitutional right to, to sodomy, which had never been recognized before," Johnson said at a forum in 2005 on the Supreme Court's ruling in Lawrence v. Texas — which struck down the ban on gay sex in that state. 
Johnson supported an Arkansas law against same-sex couples adopting children, citing it as "good public poli