"I'm an American citizen. And they shot me."
From a dark room in Gaza's Al Quds hospital, Farah Abuolba speaks matter of factly into the camera. For more than a week, the teenager has been languishing without hope that she, her mother, and her sister will ever escape the nightmare they have entered.
On November 3, as she and her family tried to reach the Rafah border crossing with Egypt, the bus she was traveling in along Gaza's coastal road came under what she believes was Israeli attack, with a blast that severed half her left hand. The Israel Defense Forces (IDF) has denied that it struck that street on November 3.
"I felt all my blood, all my blood dripped all over me," Abuolba recalled tearfully the day after the incident, as the sound of explosions ricocheted in the background. "How I felt when I saw my hand falling, or how I felt my skin just – and my bones breaking. And how I saw my wrist just turn blue. I knew that my hand was gone."
That was her third attempt to evacuate from Gaza, where Israel has conducted thousands of airstrikes since October 7. But without being able to reach the Rafah crossing in southern Gaza, through which some foreign nationals have been permitted to exit into Egypt, Abuolba remains stuck in the battered Palestinian territory.
Approximately 400 American citizens plus their family members — about 1,000 people total — are stuck in Gaza and are seeking to leave, US Secretary of State Antony Blinken said at a Senate Appropriations Committee hearing on November 1. The number has changed little since, according to the latest from the State Department.
Abuolba grew up in rural Pennsylvania, where she has lived with her family since the age of three. Israel's siege of Gaza has been the unexpected coda to her first trip to see extended family in the enclave.
Speaking to CNN, she remembered the initial joy of the visit, relaxing on Gaza's beaches with her cousins. Now all she wants to do is go home.
"I'm trying so hard to find a way home just so I can fix my hand. How am I – how am I going to go to school now, like it's normal? Like my life is normal?" she asked CNN.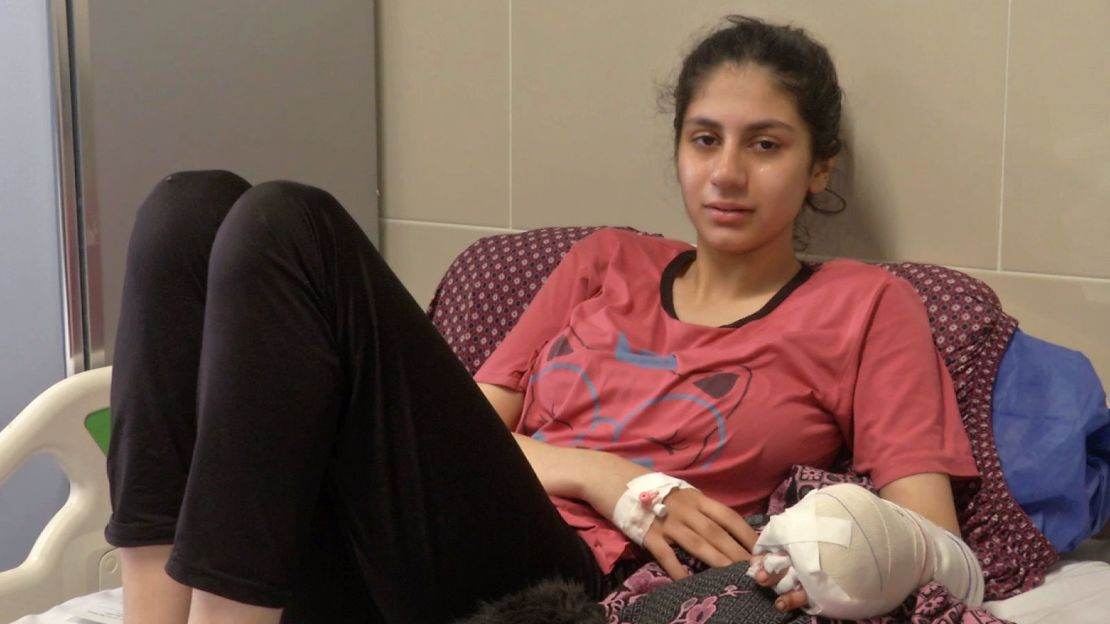 Her father, back home in Pennsylvania, appeared equally anguished while speaking to CNN by video. "I'm responsible for my family life, but I cannot do anything," said Karam Abuolba, 53.
"I feel everything hopeless. I feel like I'm dead."
His daughter celebrated her 17th birthday from her hospital bed in Al Quds, in Gaza City. Shortly after that, Israel's military closed in on central Gaza. The hospital has since ceased to function as a medical center and has lost nearly all communication to the outside world.
Karam Abuolba has only had sporadic communication with his daughter since then.
Forced to evacuate
Concerns grew this week that Gaza's hospitals would be targeted for military action, as Israeli forces emphasized allegations that Palestinian militant group Hamas hides behind civilian infrastructure – including Gaza's largest hospital, Al-Shifa – and called for several hospitals to evacuate. Hamas denies the allegations; CNN cannot verify either side's claims.
Early Wednesday, Israeli troops and tanks raided Al-Shifa, where medical officials say hundreds of patients and staff remain, alongside thousands more Palestinians who've sought shelter there.
On Monday, the IDF released a video appearing to show a Palestinian militant with a rocket propelled grenade outside Al Quds hospital – part of a group, it said, that had attacked Israeli troops in the area.
Hamas, the Gazan health authority, and the Palestine Red Crescent Society (PRCS) have denied that militants are using the medical facilities as cover. The PRCS also denied that any militants were operating or firing from inside Al Quds hospital, calling Israeli allegations a "clear incitement to continue targeting and besieging the hospital."
Late on Tuesday, the Palestine Red Crescent Society said it was "forced to evacuate" the hospital. Farah Abuolba was among the patients evacuated, her father said, and was on her way to southern Gaza. CNN has been unable to reach her.
Until his daughter is out of Gaza entirely, there are no guarantees of safety. Airstrikes have devastated civilian structures across the territory, and more than 11,000 people have lost their lives under Israeli attacks since October 7, according to the Palestinian Health Ministry, which draws on medical sources in the Hamas-controlled enclave.
Abuolba, who has lived in the US since 2007, said he thought the United States should do more to protect American citizens in Gaza like his daughter. "I pay taxes for the United States of America to support Israel to shoot and to bomb my wife and daughter? This is, it's not fair," he said.
"I need the president, I need Mr. Blinken to listen to this message. We are US citizens. We are loyal to this country," he said. "We are not asking for anything big. Send the Red Cross. Send them to support the US citizens."
The US is Israel's largest military trading partner, and in the wake of Hamas' October 7 attack in Israel – which killed an estimated 1,200 people – the Biden Administration has requested an additional $10.6 billion from Congress in military assistance for Israel.
US President Joe Biden has emphasized his steadfast support of Israel's right to defend itself, and the US has repeatedly vetoed United Nations Security Council resolutions calling for humanitarian ceasefires and pauses in the fighting. But Biden also admitted last week that he had made a direct request to Prime Minister Benjamin Netanyahu for a multi-day humanitarian pause to assist civilians in Gaza, which has not come to fruition.
Blinken, who has been conducting intensive diplomacy in the region, voiced rare US criticism of Israel's war conduct last week. "Far too many Palestinians have been killed. Far too many have suffered these past weeks," he said.
For Farah Abuolba, the suffering returns nightly. "When I sleep, I dream of what happened to me," she told CNN. "I can hear the rockets when they hit me, and my sister and my mom just screaming when they saw my hand fall."