Manchester United's nightmare season continued on Wednesday night after it was stunned in the Champions League by Copenhagen in a seven-goal thriller.
17-year-old Roony Bardghji's 87th-minute goal completed a dramatic victory for the Danish side as it beat the three-time winner of the competition, 4-3.
United had taken a two-goal, first-half lead through its own Danish player, Rasmus Højlund, but momentum swung shortly before halftime when Marcus Rashford was shown a red card after stepping on the ankle of a Copenhagen player.
Copenhagen dragged itself level by halftime, but a controversial penalty allowed United to reclaim its lead before two late goals swung the tie back in the hosts' favor.
The loss leaves Group A hanging in the balance – with Copenhagen and Galatasaray on four points and United bottom of the group on three, all behind undefeated leader Bayern Munich which sits top with 12 points – but also continues to ramp up the pressure on United boss Erik ten Hag.
Wednesday's defeat was the team's ninth in its last 17 games, a run which includes a humiliating loss in the Premier League to local rival Manchester City, as well as surprise home slip-ups to Brighton and Crystal Palace. The Red Devils were also convincingly eliminated from the League Cup at home by Newcastle United.
It's the first time the team has lost so many of its fixtures across all competitions to open a season since 1973-74, one in which the club was relegated.
Despite the poor run of form his side is on, there were glimpses of positivity from the performance against Copenhagen, according to ten Hag.
"This squad is resilient. The whole season so many decisions are against us, so many setbacks or injuries," he told reporters afterwards. "And every time there is a spirit and there is a fight and we will keep going because I'm sure, as I said, it will turn. Built on one moment in the season, it will turn in our favor."
Ten Hag added: "I think the attitude was great from the lads and they fought as a team. So together all on one pitch. They fought for every yard on the pitch, shoulder to shoulder. So I can't make any criticism on the team for that."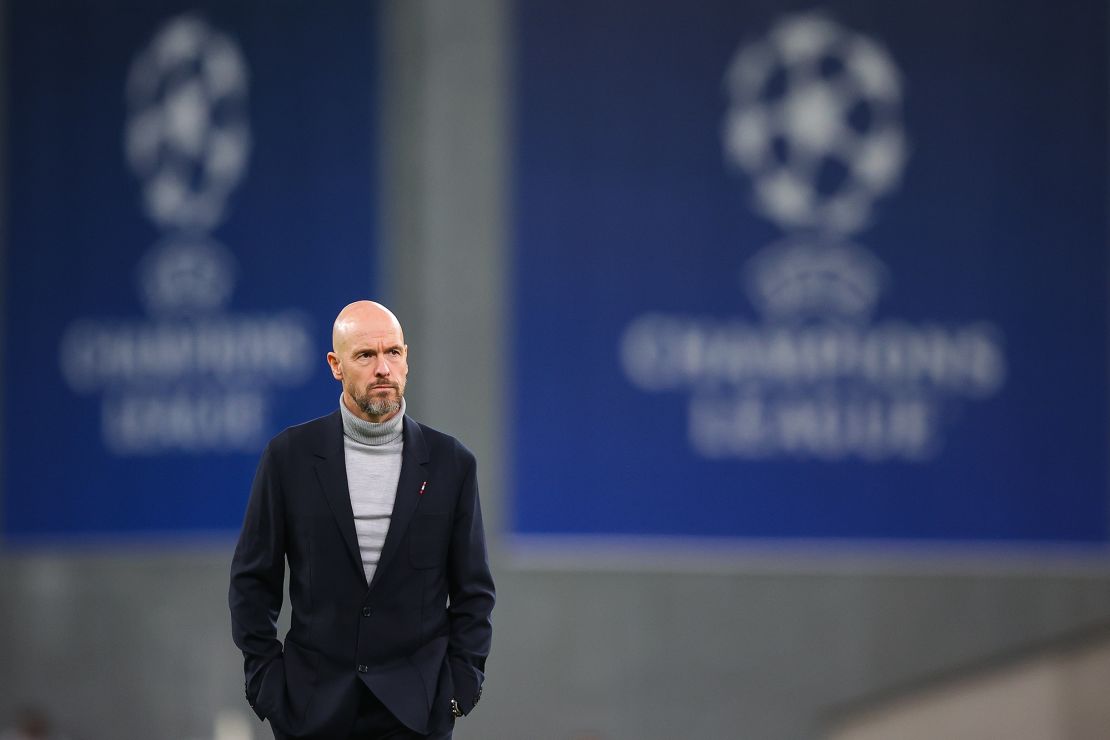 'This has nothing to do with football'
After an adversity-filled few weeks, Wednesday looked like it might have been the rebirth of Manchester United under the Dutchman.
Højlund's two early goals coupled with United's early composure on the ball and solidity in defense gave the team a completely different look in contrast to recent weeks.
But things turned on their head in the 42nd minute with Rashford's sending off.
The England international looked to be shielding the ball and in planting his leg to protect possession, stood on the ankle of Copenhagen's Elias Jelert. Rashford was initially shown a yellow card, but following a further inspection after a recommendation from the video assistant referee (VAR), it was upgraded to a red.
The review was subject to criticism though, with referee Donatas Rumšas shown still images and slow-motion replays of the incident, rather than at full speed. According to former United players and TNT Sports football pundits Paul Scholes and Owen Hargreaves, reviewing incidents in a slowed-down format can change the perception of the actual play and influence the decision. Indeed, after the game, ten Hag called the red card "harsh."
"I think he went for the ball and the referee has such a long time. They need such a long time to make it a red card," he said.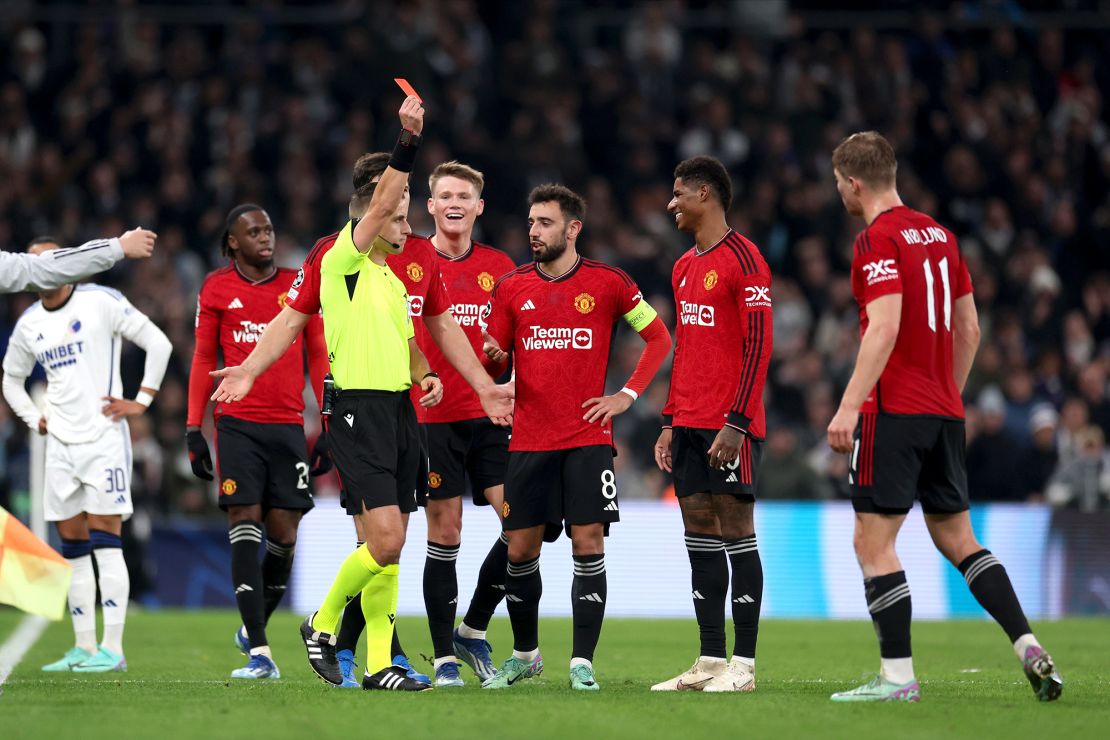 "I think when you freeze it, it looks always so [much] worse. And as I say, it takes them so long and they make a red card of it. I'm very disappointed about such decisions. I think the game is never meant to be like this. This has nothing to do with football. Decisions have to be made and I accept that there are also wrong decisions made. If I sum it up, then you make, on this level, three such tough decisions … you control the game, and I think the game is never meant to be for that."
The sending off gave the hosts renewed hope and they capitalized on the man advantage; Mohamed Elyounoussi pulling a goal back just minutes later before Diogo Gonçalves leveled the scores from the penalty spot in the ninth minute of added time at the end of the first half.
All of United's hard work had seemingly been undone in just a few minutes. So when the English side regained the lead in the second half, it was to the surprise of many.
The turning of the tide brought about renewed controversy when United was given a penalty via VAR for a handball, despite the ball appearing to hit Harry Maguire's fingers first.
United captain Bruno Fernandes had no issues duly converting from the spot, and it looked like ten Hag was on his way to get the win he so needed to get back on track and silence some of his critics.
However, in the final 20 minutes of the game, the hosts ramped up the pressure on 10-man squad and it eventually paid off.
First, Lukas Lerager tapped home from close range to once again bring parity before Bardghji's powerful finish with just minutes remaining sent the home crowd in Parken Stadium wild in celebration.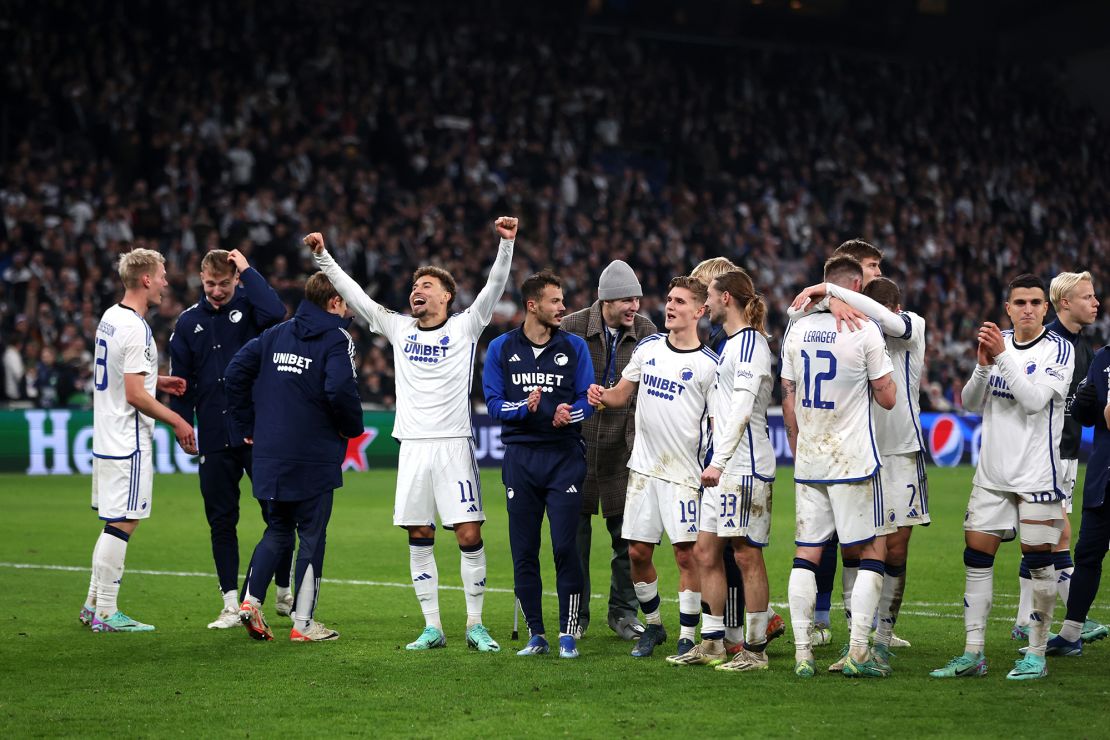 Bardghji became the youngest player to score a Champions League goal against Manchester United, aged 17 years and 358 days.
It leaves United's group stage qualification hopes in peril with just two games remaining – away to Galatasaray and at home against Bayern Munich, two teams which have already defeated the English side.
It was the first time in club history United has lost a Champions League match in which it led by two or more goals and is the team's first defeat after taking a two-goal lead since losing 5-3 to Leicester in September 2014.
Fernandes was resolute after Wednesday's defeat that the team's intentions remain the same even with the loss: to win its remaining games.
"Even before this game, that was still the belief; to win the last three games of the group stage. And now we have two, we have to win them if we want to keep in the Champions League and stay in the best competition, we have to win against the best," the Portuguese midfielder said.
"We have a very tough game away against Galatasaray, and after, we play against the top of the group. We want to win both, but now we have to focus on Luton because it's going to be a tough game again, we need three points in the league, we need to get back to the winning track after this defeat and keeping the winning track in the Premier League."