"The Marvels" flies into theaters next week, trying to reverse what has been a rough year at the box office for superhero movies, with both Marvel ("Ant-Man and the Wasp: Quantumania") and DC ("The Flash," "Blue Beetle") experiencing underwhelming setbacks.
There are various reasons for that, including lingering headwinds associated with the pandemic, mediocre projects and the impact of streaming, which has fueled a glut of such fare with adaptations for services like Disney+ and Max. Yet for this genre, a more subtle factor might be the bad, no good, extraordinarily nasty "heroes" that have entered the chat, as Amazon's "The Boys" spinoff "Gen V" concludes its first season and the animated "Invincible" begins its second.
Those programs, like flagship drama "The Boys," clearly aren't for everyone, reveling in levels of violence and sexuality that push past anything a responsible parent would want to share with a younger kid, unlike the family-viewing aspect of more traditional superhero movies.
For younger men, though, these edgy shows have tapped into an avid audience, pushing boundaries and breathing freshness into a category that – 15 years into Marvel's modern run, beginning with "Iron Man" – might have begun to feel a trifle stale and predictable.
Like "The Boys," "Gen V" has explored the corruptible side of superheroes, with its college-age characters at the appropriately named Godolkin University (God U, for short) yearning for a place among the Seven, the amoral heroes brought to the world by a shadowy corporation more interested in public relations and profits than the public good.
"Invincible" might be animated, but it's equally dark, with its Superman-like strange visitor from another planet, Omni-Man, actually having been dispatched to Earth to pave the way for an alien invasion and takeover, leaving his half-human, half-alien son as one of humankind's last lines of defense.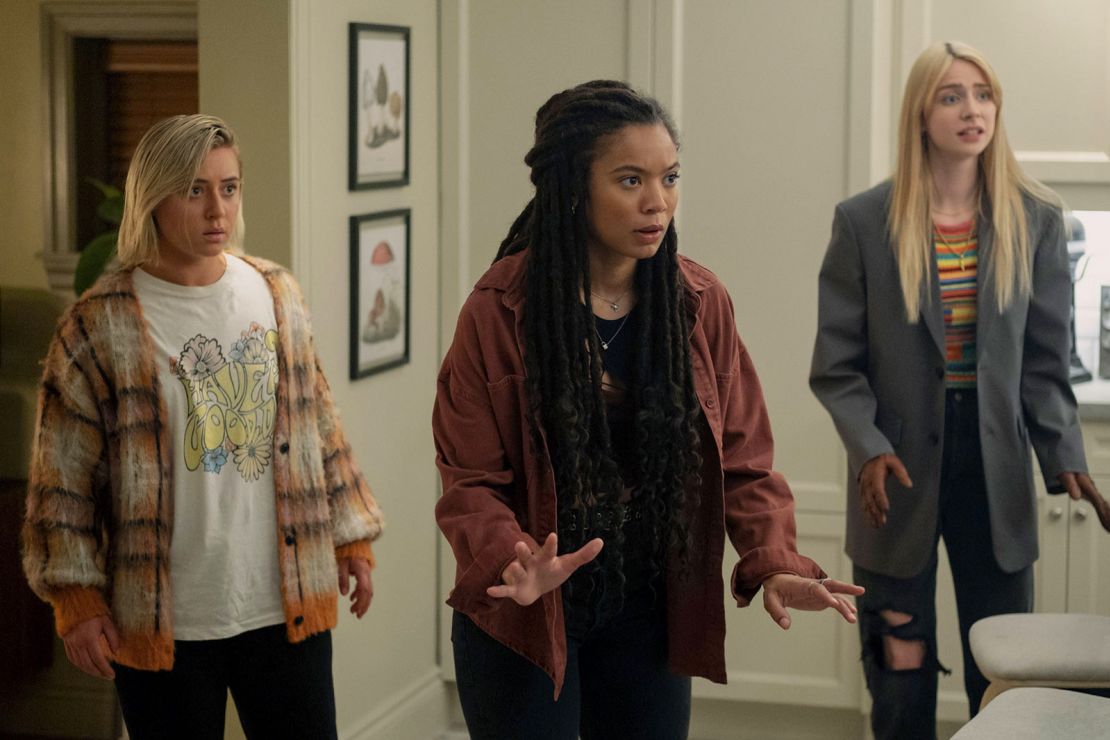 Both shows are beyond gory, creating the kind of visceral thrills that their staider counterparts can't hope to match. Of course, DC has delved into R-rated fare with "The Suicide Squad" and Marvel has its "Deadpool" sequel in the offing, but the Amazon shows practically exult in their rudeness in a way that reaches new heights, or depths, take your pick.
The fact that "The Boys," "Gen V" and "Invincible" play on Prime Video merely reinforces that streaming has created hungry platforms for genre-friendly franchises – including raunchier ones, like Max's "Peacemaker" – while further adding to the crush of viewing options featuring characters in capes and masks.
Notably, the upcoming "Captain Marvel" sequel derives its plural title from a pair of characters introduced via Disney+ series: Monica Rambeau, who acquired her powers in "WandaVision" back in 2021; and "Ms. Marvel," featuring a superhero-obsessed teenager, which kept the Captain Marvel character, or at least her universe, flickering during the 4 1/2-year gap between movies.
Marvel hit its peak with the release of "Avengers: Endgame" in 2019, so even without streaming and the pandemic, a small letdown was perhaps inevitable. While some quadrants of the internet are already lining up to write the company's obituary, based on its history and the new arrows in its quiver thanks to the incorporation of one-time Fox assets X-Men and Fantastic Four, such pronouncements sound premature, regardless of how well "The Marvels" performs.
Still, if making superhero movies feel special has already become more challenging, Amazon's gleefully dark descent into the world of "The Boys," and programs like it, has made the job that much harder – having to overcome not just homebodies, but Homelander.
"Gen V" concludes and "Invincible" begins its second season November 3 on Amazon's Prime Video.
"The Marvels" premieres in US theaters on November 10.