'Wemby' has officially arrived.
In the best game of his young NBA career so far, Victor Wembanyama dropped 38 points, to go along with 10 rebounds and two blocks, powering the San Antonio Spurs to a 132-121 victory over the Phoenix Suns.
This was the second matchup between the Spurs and the Suns in Arizona this week, with the two sides clashing on Tuesday at the Footprint Center. The Spurs came away with the victory that night too, rallying from 20 points down to win on a last-second shot, although the formula of Thursday's game was completely different.
The Spurs were quick out of the blocks, outscoring the Suns by 19 in the first quarter alone. They had a 27-point lead at one stage during the first half and went into the break up 75-55.
However, this time it was Phoenix's turn to mount a comeback. Lifted by their superstar duo of Kevin Durant and a returning Devin Booker, the Suns managed to erase the deficit and knot it up at 116 with a Keita Bates-Diop three-pointer with just over four minutes left in the fourth.
The Spurs made sure to not let their lead slip though and scored 12 unanswered points, 10 of which came from Wembanyama. The No. 1 overall pick was totally dominant, shooting 15-for-26 from the field, making three triples and controlling the paint on the offensive end by frequently taking advantage of smaller defenders in the post.
It is hard to believe that the 19-year-old Wembanyama is only five games into his NBA career.
"The NBA's got the greatest athletes on Earth," Wembanyama said after the game. "But so far, it's working out pretty well.
"Every game, we try to find the sweet spot where we need to hurt them. Today, it might be this way; tomorrow, it might be someone else. It's how great teams work."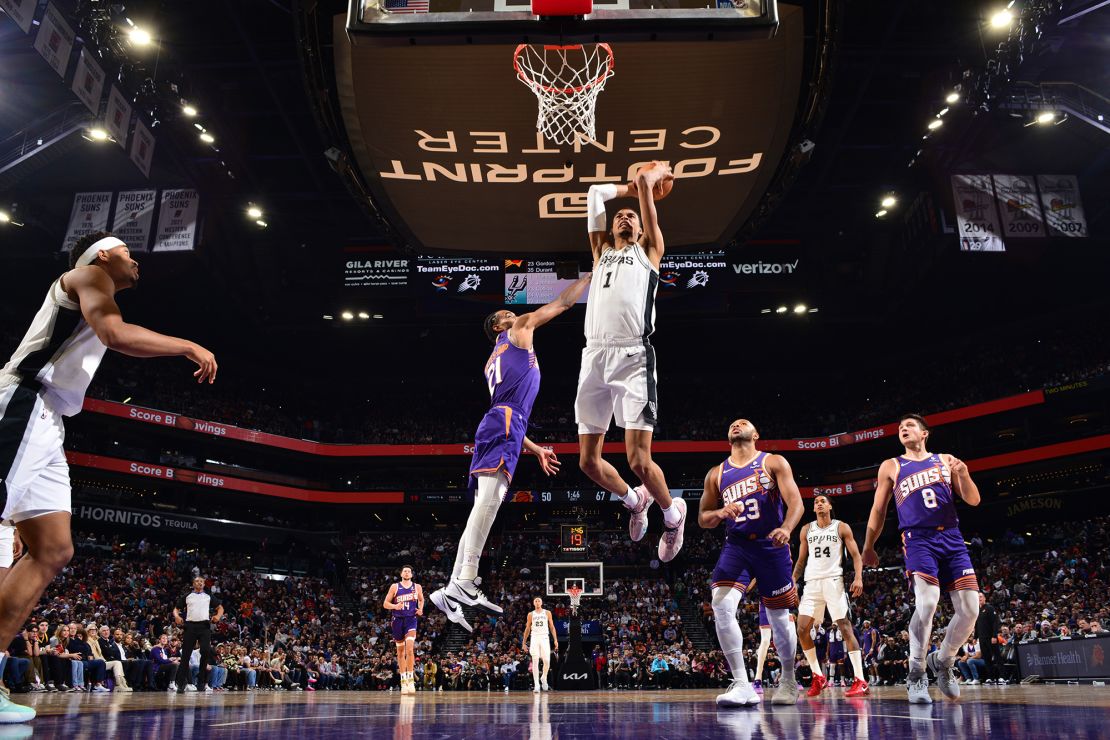 2014 NBA MVP Durant was full of praise for his young adversary after the game and told reporters that basketball has never seen anyone quite like Wembanyama.
"He's his own player, person, he's gonna create his own lane," said Durant, dismissing comparisons between himself and the Frenchman. "He's much different than anybody who's ever played. You can try to compare, but he's gonna carve out his own lane."
Durant posted 28 points while Booker, who had missed the previous three games with a sprained ankle, just missed out on a triple double with 31 points, nine rebounds and 13 assists.
The Spurs improve to 3-2 while the Suns, who are still without All-Star guard Bradley Beal, drop to 2-3.