Editor's Note: A version of this story appears in CNN's Meanwhile in the Middle East newsletter, a three-times-a-week look inside the region's biggest stories. Sign up here.
A small number of Palestinians and foreign nationals have finally been able to leave Gaza, after weeks of intense negotiations resulted in the partial opening of the Rafah crossing with Egypt.
The border in the south of the besieged enclave has been seen as the last hope for Gazans to escape as Israel's bombs rain down on the strip.
On Wednesday, some exited Gaza through Rafah following a deal brokered by Qatar between Israel, Hamas and Egypt, in coordination with the United States.
It comes soon after aid trucks were able to start entering the enclave in greater numbers in the opposite direction – a development that also required lengthy talks.
Rafah is the only Gazan border crossing that isn't controlled by Israel, which shut its crossings with the territory following Hamas' October 7 attack. It has emerged as a crucial location as the humanitarian situation in the territory worsens.
Here's what you need to know about it.
What is the situation at Rafah now?
For the first few weeks of the Israel-Gaza war, the Rafah crossing remained shut – leaving Palestinians with no way out of the enclave.
But it was partially opened recently to allow a small number of aid trucks into Gaza. And then on Wednesday, it opened again to allow a limited amount of hundred injured Palestinians and foreign nationals out – the first non-hostages to be released from Gaza since Hamas' October 7 attacks on Israel.
The injured Palestinians were quickly moved to hospitals in Egypt, while ambulances and consulate workers waited on the Egyptian side to process those admitted into the country.
In an initial update on Wednesday afternoon, officials on the Palestinian side said 110 foreign passport holders had departed Gaza. It was not yet clear if all those foreign passport holders had crossed into Egypt.
Meanwhile, aid workers have said the supplies that have reached Gaza are a fraction of what's required for the 2.2 million people crammed into the enclave under a blockade imposed by Israel and Egypt. Crucially, no fuel trucks have entered the crossing in weeks; Israel has repeatedly said fuel would be diverted by Hamas for its own war effort.
The World Food Programme (WFP) has described the situation in Gaza as "catastrophic" due to the lack of food, water, electricity and fuel, and called for more aid to be allowed into the territory.
Why is the crossing so important right now?
Located in Egypt's north Sinai, the Rafah crossing is the sole border crossing between Gaza and Egypt. It falls along an 8-mile (12.8-kilometer) fence that separates Gaza from the Sinai desert.
Gaza has changed hands several times over the past 70 years. It fell under Egyptian control in the 1948 Arab-Israeli war, and was captured by Israel in the 1967 war, after which Israel began settling Jews there and significantly curtailed the movement of its Palestinian residents. In 2005, Israel withdrew its troops and settlers from the territory, and two years later the strip was seized by Hamas.
Since then, Egypt and Israel have imposed tight controls on their respective borders with the territory and Israel blockades it further by restricting travel by sea or air. Israel has also enclosed the territory with a heavily fortified border fence.
Before the war that started in early October, Israel had two crossings with Gaza: Erez, which is for the movement of people, and Kerem Shalom, for goods. Both were heavily restricted and have been shut since the war began.
That has left the Rafah crossing with Egypt as the territory's only entrypoint to the outside world.
According to United Nations figures, an average of 27,000 people crossed the border each month as of July this year. The border was open for 138 days and closed for 74 this year until that month.
Closures often depend on the security and political situation on the ground. While Israel has no direct control over the crossing, Egypt's closures often coincide with Israel's own tightening of restrictions on Gaza.
How has Rafah crossing access changed over time?
Israel and Egypt signed a peace treaty in 1982, which saw the Jewish state withdraw from the Sinai Peninsula that it had captured from Egypt in 1967.
Israel then opened the Rafah crossing, which it controlled until it withdrew from Gaza in 2005. Between then and Hamas' takeover of Gaza in 2007, the crossing was controlled by the European Union, which worked closely with Egyptian officials.
Between 2005 and 2007, some 450,000 passengers used the crossing with an average of about 1,500 people per day.
Following Hamas' takeover, Egypt and Israel significantly tightened restrictions on the movement of goods and people in and out of the territory. But in 2008, militants blew up fortifications on the border with Egypt near Rafah, prompting at least 50,000 Gazans to flood into Egypt to buy food, fuel and other supplies.
Shortly after the breach, Egypt sealed its barrier with barbed wire and metal barricades.
The Rafah crossing has since been tightly controlled, with limited access and lengthy bureaucratic and security processes required of Palestinians wishing to cross into Egypt.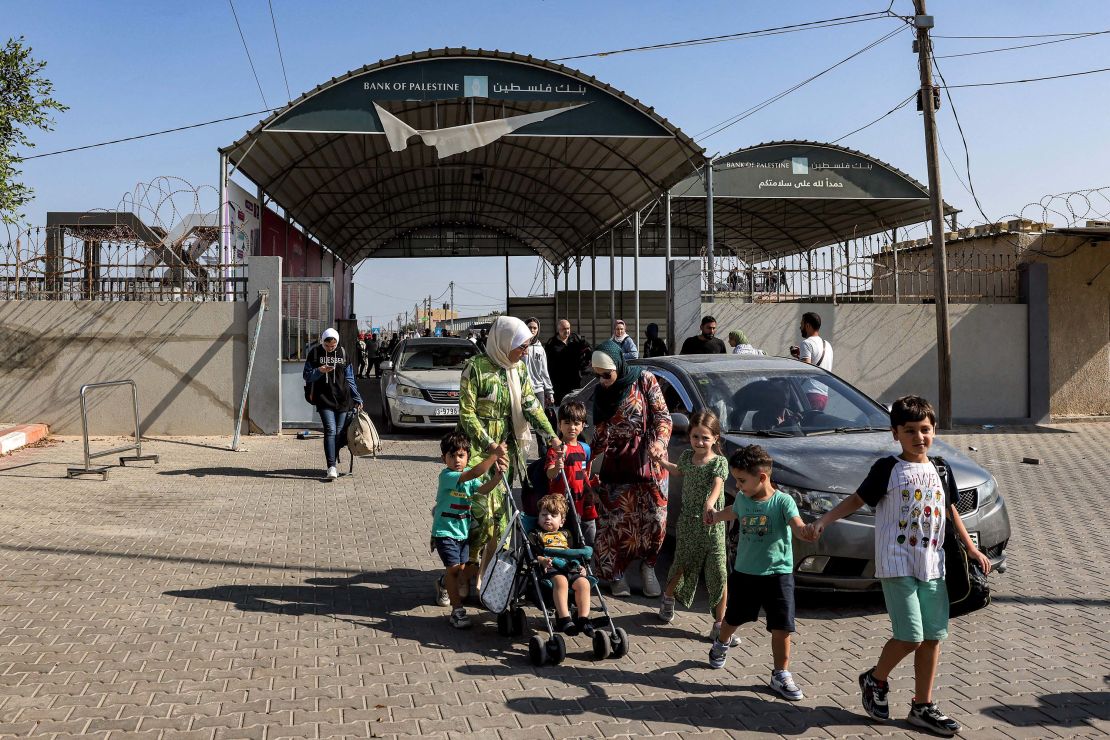 What is it usually like to cross the Rafah border?
Movement through Rafah on normal days is extremely limited; only Gazans with permits as well as foreign nationals can use it to travel between Gaza and Egypt.
Gazans wishing to cross the border often have long waits. Jason Shawa, a Palestinian American from Seattle who lives in Gaza, says the process has taken him a minimum of 30 days but wait times could last up to three months.
Travelers require an exit permit from Hamas and an entry permit from Egypt, he said. The process requires him to submit his documents to a Hamas government office for a permit to exit the territory. A few days later, he would receive a text message telling him which day he can leave, which could be up to three months later.
On the day of departure, a bus would take travelers from the Palestinian side of the border to the Egyptian one, where they would wait hours for Egyptian authorities to receive and process visa applications. Many travelers are turned away there, Shawa said, adding that Palestinians are regularly mistreated there.
Why is Egypt reluctant to open the crossing for Gazans?
Egypt, which already hosts millions of migrants, is uneasy about the prospect of hundreds of thousands of Palestinian refugees crossing into its territory. More than 2 million Palestinians live in Gaza.
Egyptian President Abdel Fattah el-Sisi said recently his country is trying to help – within limits.
"Of course, we sympathize. But be careful, while we sympathize, we must always be using our minds in order to reach peace and safety in a manner that doesn't cost us much," he said.
Many have also fumed at the idea of turning the Gazan population into refugees once again by displacing them from Gaza. Most Gazans are registered by the UN as refugees, whose ancestors came from areas that are now part of Israel.
"I think that is a plan of the usual suspects to try and create de facto issues on the ground. No refugees in Jordan. No refugees in Egypt," Jordan's King Abdullah said.
Egypt has called on Israel to allow humanitarian aid to enter via Rafah, but is yet to give in to US calls to establish a safe corridor for civilians inside Egyptian territory.
This story has been updated with additional developments.