Rome and Milan, Italy
CNN
—
A storm that brought heavy rain and violent winds to Northern Italy overnight and early Tuesday sent rapid floods through central Milan and caused Lake Como to breach its banks.
Several waterside bars were flooded at the lake — a popular tourist attraction — while civil protection authorities were forced to pump out water from areas nearby and erect mobile barriers.
The Seveso, a river that runs through the municipalities of Como, Monza e Brianza and Milan, also broke its banks, according to Italy's civil protection agency.
Parts of Milan became inaccessible, while social media posts showed water gushing down stairs into underground train stations and pedestrians falling down or clinging to poles during strong gusts of wind.
The city's safety councilor, Marco Granelli, said the winds felled trees, tore down scaffolding and ripped off roof tiles. Electricity was cut in several parts of the city as a precaution while authorities worked to clean up downed power lines.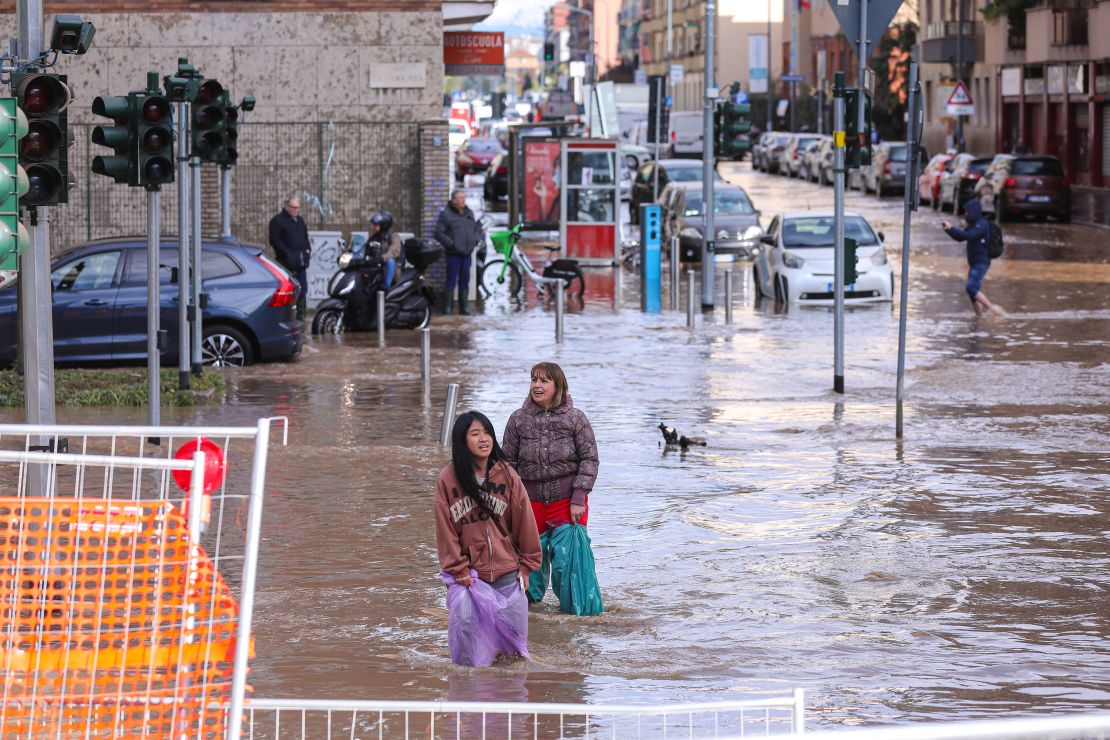 Tuscany, in Central Italy, was also affected by heavy rainfall.
Eugenio Giani, president of the region, said Tuscany experienced floods, fallen trees and landslides after 257 millimeters of rain fell in 24 hours — more than the monthly average rainfall for this time of year. A tree fell on a car while it was moving, but the driver escaped unharmed.
Science shows that as the climate crisis accelerates, extreme weather events such as heavy rain and storms will become more frequent and more intense. Italy is particularly vulnerable to climate change due to its geography, which puts it at high risk of landslides, and because it is surrounded by the warming Mediterranean Sea, which increases the chance of strong storms.
Venice in the northeast also narrowly escaped flooding, according to the city's Mayor Luigi Brugnaro. Strong winds blowing towards the north in the Adriatic Sea pushed water up into the city. Combined with the already high tides associated with the full moon, this caused an "exceptional" tide of 154 centimeters (around 61 inches). The highest-ever tide was recorded in 1966 at 194 centimeters.
Brugnaro said without the MOSE system of floodgates, which was active all night and throughout the day, the city would have experienced "record flooding" with 70% of its buildings under high water. The MOSE, which consists of 78 floodgates between the city lagoon system and the Adriatic sea, has been in place since 2020.
Rain is expected to fall all over the country throughout the rest of the week. Italy's civil protection agency put all areas of the Veneto region, which includes Venice, under red alert until November 1. Six regions in the north are under the next-level orange alert, and 11 regions are under yellow alert over the coming 24 hours.
The storm comes during a busy holiday season with more than 8 million Italians expected to travel over the week of November 1.
This year has been particularly deadly for flooding in Italy. In May, flooding in the northern Italian region of Emilia Romagna killed at least 14 people. More than 20 rivers broke their banks, causing hundreds of landslides, submerging homes and devastating farmland.
CNN's Laura Paddison contributed to this report.