A major search operation is ongoing to find the missing father of Liverpool FC player Luis Díaz after his kidnapping in Colombia on Saturday.
Díaz's mother, Cilenis Marulanda, was also kidnapped at the same time but later rescued in the town of Barrancas, Colombian President Gustavo Petro wrote on X, formerly Twitter.
General William René Salamanca Ramírez, Director General of the Colombian National Police, said 130 officers from various police departments are part of the search team looking for Díaz's father, Luis Manuel Díaz.
Ramírez said the teams are searching the rural area around Barrancas, the parents' hometown, in northern Colombia and a reward of up to 200 million pesos ($48,500) is being awarded for information that helps lead to Díaz's rescue, according to a statement on X.
In addition, Colombia's Military Forces said it deployed more than 120 men, along with two motorized platoons, an unmanned aircraft, checkpoints, helicopters and a plane with a specialized radar, to help with the search.
National media reported that Díaz's parents were kidnapped by armed men on motorcycles at a gas station in Barrancas.
Ramírez later posted a video to X of his phone call with Díaz, explaining the land and air operation deployed to find his father.
CNN has reached out to the Colombian National Police and Military Forces for comment.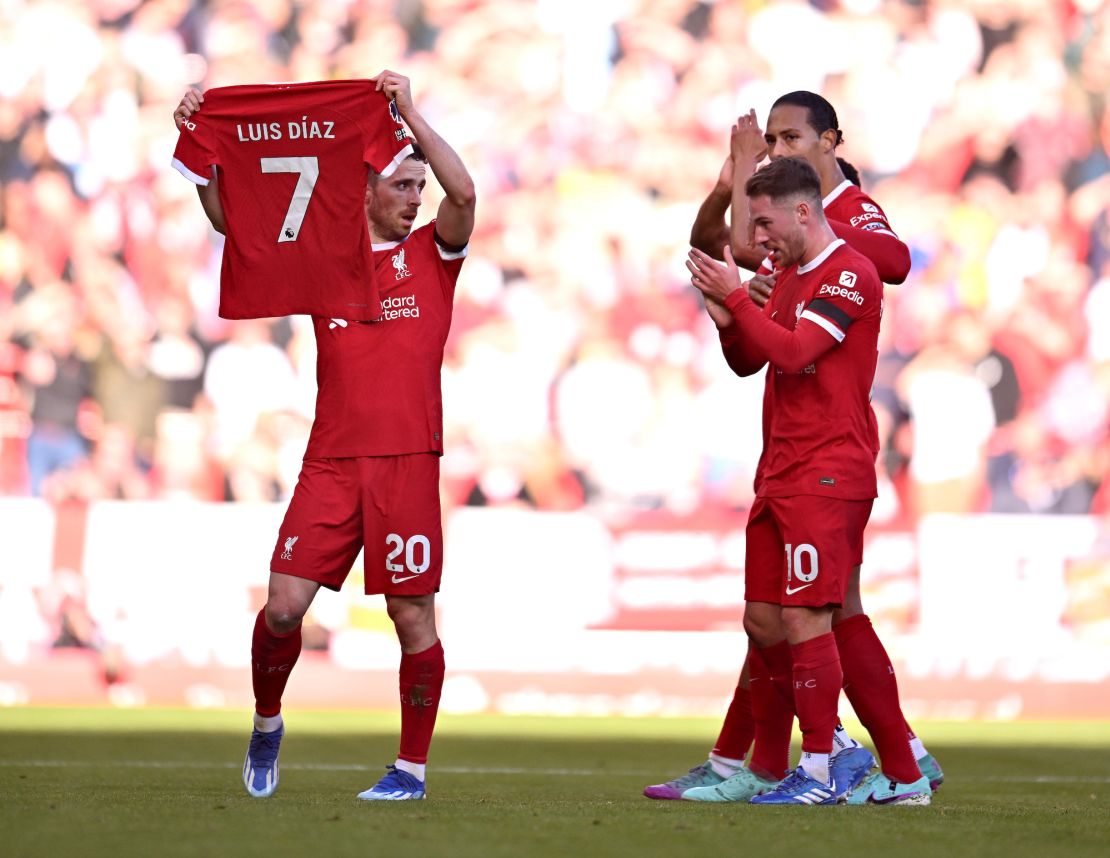 "We ask the captors of Luis Manuel Díaz, father of Luis Díaz, to release him now, without conditions," the Colombian national team wrote on X. "Football is peace. Lucho, we are with you. Colombia is with you."
Speaking after Liverpool's 3-0 Premier League win over Nottingham Forest on Sunday, head coach Jurgen Klopp said Díaz has returned to Colombia and the club is doing what it can to support him.
Diogo Joto, Díaz's Liverpool teammate, held up the Colombian's No. 7 shirt after his goal on Sunday.
"How can you make a football game really important on a day like this?" Klopp told reporters after the game.
"It's really difficult. I never struggled with that in my life. It was always my safe place, sometimes my hiding, as a player or as a coach, you are allowed during these 90 minutes just to focus on that and it was impossible.
"Absolutely impossible to do that. It was clear we have to give the game an extra sense and it was fighting for Lucho, then the boys put out the shirt and I was not 100% prepared for that, to be honest. It was really touching but wonderful as well."
Prior to Sunday's game, Liverpool released a statement saying it was "aware of an ongoing situation" involving Díaz's family in Colombia.