Editor's Note: The following story includes graphic material. Audience discretion is advised.
Israel's border with Gaza and Ashdod
CNN
—
Yanir Ishay has thrown away three boxes of cigarettes in the past two weeks.
He said he thought he could smell death on them, having carried the packets in his pockets while collecting human remains from the sites of Hamas' terror attack in southern Israel. Then his wife told him they were brand new — he'd just bought them.
"That's when I realized the smell was in my mind, not in the box," he told CNN.
Ishay is one of 120 volunteers – all of them men – working with ZAKA, a religious search and rescue organization, to recover the bodies of people killed near the Israel-Gaza perimeter by Hamas militants on October 7. Israeli authorities say more than 1,400 people were killed in the attack.
In response, Israel declared war on Hamas, pounding Gaza with airstrikes that have killed more than 6,850 Palestinians, according to information published by the Palestinian Ministry of Health in Ramallah, drawn from sources in the Hamas-controlled enclave.
Weeks on, as the war continues to rage, ZAKA volunteers are still collecting remains.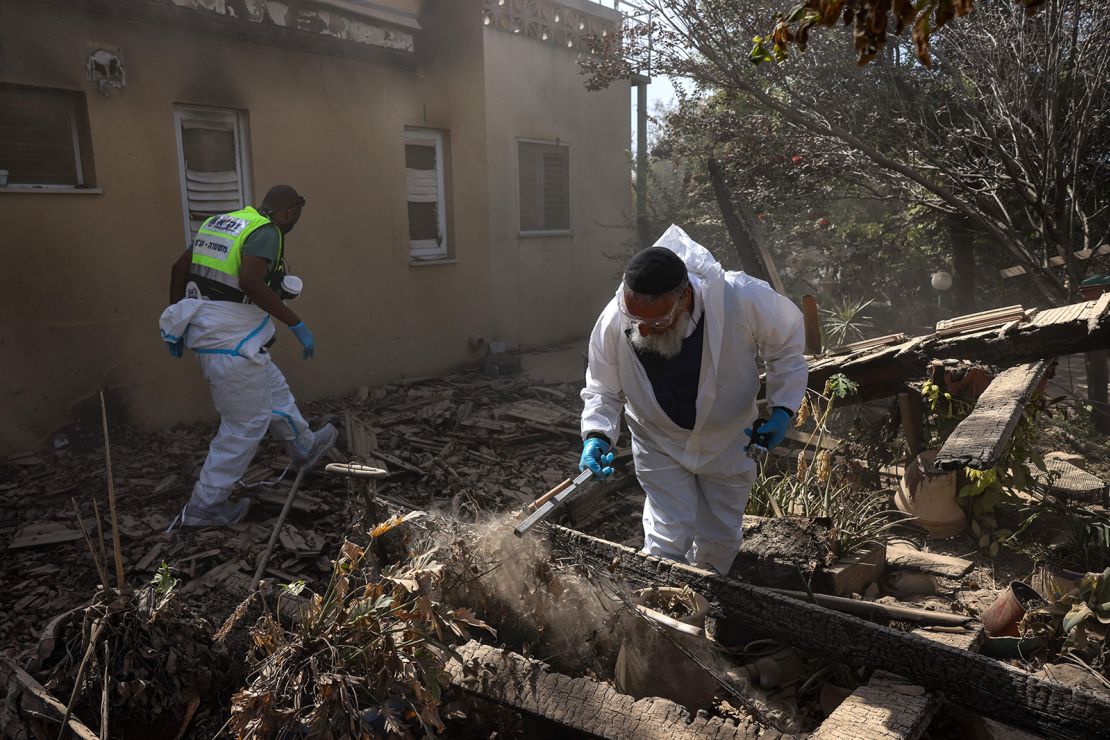 "With all the preparations and with all the experience, never in our worst nightmares have we ever imagined we would see anything like what we have seen here," Snir Elmalih, a longtime ZAKA member, told CNN at a cemetery in Ashdod, where he was working on Friday.
He and other volunteers told CNN the victims of the massacre included whole families, little children, babies, even pregnant women, and that their bodies were found in a horrific state – mutilated and burnt.
ZAKA has long worked in Israel and around the world, responding to terror attacks, accidents and disasters. Most of its members are deeply religious orthodox Jewish men and their mission is driven by the desire to ensure everyone, no matter what the circumstances of their death, can get a proper Jewish burial.
"We believe that the respect for the dead is no less important – and sometimes more important – than the respect for the living," Elmalih said. "We know how significant the idea of burying the dead is because God himself was involved in the burial of Moses."
On Friday morning, Elmalih was working at a cemetery in Ashdod, a city about 20 miles north of the Gaza Strip. A row of freshly dug graves in the burial grounds gets longer and longer each day, as more victims are identified and laid to rest. The cemetery has received so many bodies in the past two weeks that Elmalih needed to bring in extra refrigerated storage.
He was preparing yet another funeral when Yossi Landau, one of ZAKA's founding members, came by to say hello and drop off a care package. They spent a few minutes chatting, then gave each other a hug.
Landau, chief of the group's southern command, says he tries to provide emotional support for his men, but the trauma cuts deep and there is only so much he can do to help.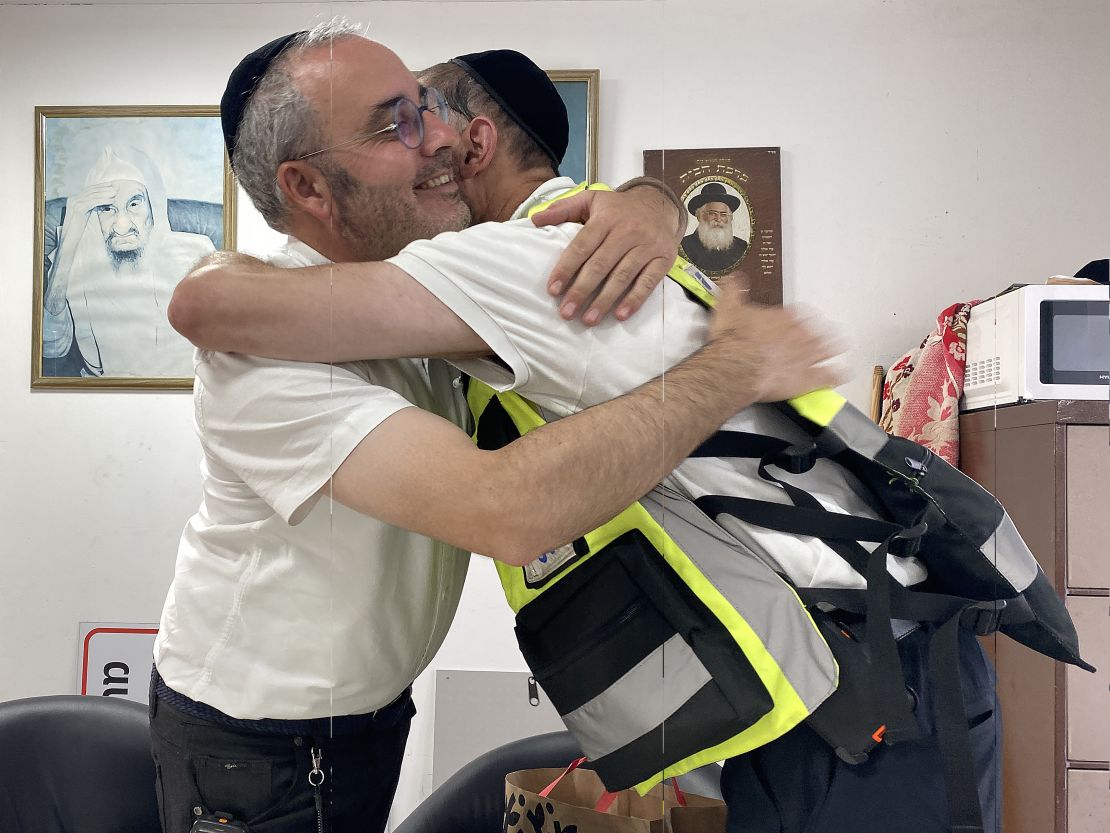 "I know them more than anyone else. The size of their shoes. I know when they get up in the morning. I know if they have any problems. I know when they need help and when they need to step aside," he told CNN.
The aftermath of the attack is so gruesome that only the most experienced ZAKA volunteers are allowed to take part in body collection.
And even for them, it is often too much.
"Everybody cries," said Eli Landau, Yossi's son and fellow volunteer. He spoke to CNN in Be'eri, one of the kibbutzim communities close to the perimeter fence that Hamas militants rampaged through. At least 130 of its 1,100 residents were murdered and dozens were kidnapped, according to the Israel Defense Forces (IDF).
"You can cry and everybody will understand. It's not stuff that I want to talk about and with these guys, I don't need to talk. We understand each other," Eli Landau said.
On Friday, he and other ZAKA volunteers were combing through homes in Be'eri for the second time, finding more victims and collecting remains left behind during their first visit.
Jewish tradition requires the body to be buried in its entirety, which means the volunteers painstakingly search sites for even the smallest fragments of the victims' remains and traces of blood.
"It's important to collect the whole body. Even the blood that has left the body. That's why the work is not done yet. We're going to go back to each and every community to clean everything, all the blood, so it can be buried," Elmalih explained.
It's a task that is becoming more and more difficult as time goes by. "These volunteers, they are exposed to the most difficult parts of the war. They are getting to the scenes, smelling the smells, seeing the horrific sights," Elmalih added.
As ZAKA volunteers worked in Be'eri, several busloads of foreign journalists arrived, escorted by the IDF. Yossi Landau stood in front of them, repeating over and over again what he saw when he first got there, answering questions, occasionally pausing to collect himself. He said he has made it his mission to spread the message.
Eli, his son, watched from afar, crying. "I don't know why is he doing what he is doing, talking about this again and again and again. He is going to lose his mind. It's not healthy for him, it cannot be good for any soul," he said.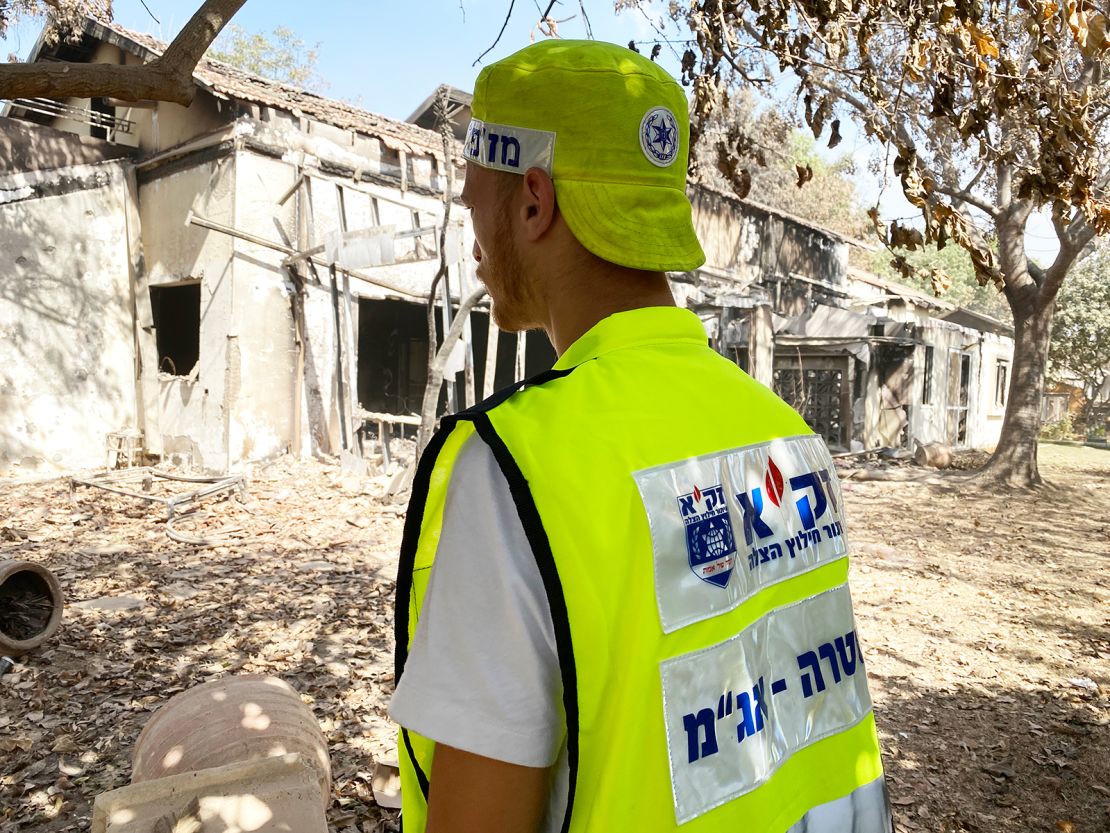 ZAKA volunteers Yanir Ishay, Yitzhak Ben-Shibrit and his son Aharon spent much of their Sunday working just a few hundred feet from the Gaza border fence, trying to recover the remains of people who were killed there.
"The military were protecting us, but we came under fire and there was nowhere to hide," Aharon Ben-Shibrit said, showing CNN a video of the volunteers lying pinned to the floor in as Hamas rockets flew overhead.
The job is dangerous – physically and mentally.
"The mental side is worse though," Ishay said. "When you die, you die, there's nothing after that. It's different with your mind," he said.
Ishay said he trusts his fellow volunteers completely – not just when they are dealing with a difficult scene, but also when they tell him it's time to step away. Last week, he took a day off after spending his birthday collecting the dead. It was too much, he said.
Most ZAKA volunteers say that they haven't begun to process the trauma, and when they can step away, they don't want to think.
"We disconnect ourselves from the world. You come to the field, you start working and nothing else matters. You get home and then start crying," Yitzhak Ben-Shibrit said.