An unprecedented trial will begin in Colorado next week to determine if former President Donald Trump is disqualified from returning to the White House because of his role in the January 6, 2021, insurrection. Several pending lawsuits are trying to derail his candidacy based on the 14th Amendment, which says US officials who take an oath to uphold the Constitution are disqualified from future office if they "engaged in insurrection" or have "given aid or comfort" to insurrectionists.
Here's what else you need to know to Get Up to Speed and On with Your Day.
Get '5 Things' in your inbox
• If your day doesn't start until you're up to speed on the latest headlines, then let us introduce you to your new favorite morning fix. Sign up here for the '5 Things' newsletter.
1. Maine shootings
At least 16 people were killed in two mass shootings in Lewiston, Maine, on Wednesday, according to multiple law enforcement sources. Hundreds of officers are searching for a 40-year-old suspect after he unleashed a barrage of bullets inside a restaurant and a bowling alley around 7 p.m. ET in Lewiston, the state's second-largest city around 36 miles north of Portland. Up to 60 others were wounded, law enforcement said. The shooter has been described as a certified firearms instructor and a member of the US Army Reserves. Maine residents are being urged to shelter in place as a manhunt is ongoing to locate the suspect, who is considered armed and dangerous.
2. Israel
Israeli Prime Minister Benjamin Netanyahu said Wednesday a ground incursion into Gaza will take place and that airstrikes were "just the beginning." His remarks come as the humanitarian crisis reaches a critical point in Gaza, with life-saving fuel on the verge of running out and health services crippled. US military advisers are urging Israel to avoid an all-out ground assault in Gaza and pressure is building on the international community to get Israel to allow desperately needed aid into the besieged enclave. A growing number of countries are also advocating for a "humanitarian pause" in fighting, but as Israel ramps up its airstrikes, there are fears the crisis could escalate further.
More than a century of bitter history in the region is the backdrop for tensions between Jews, Palestinians and Muslims worldwide. Listen to CNN's podcast "Tug of War" to hear some of the milestones that led up to today's conflict.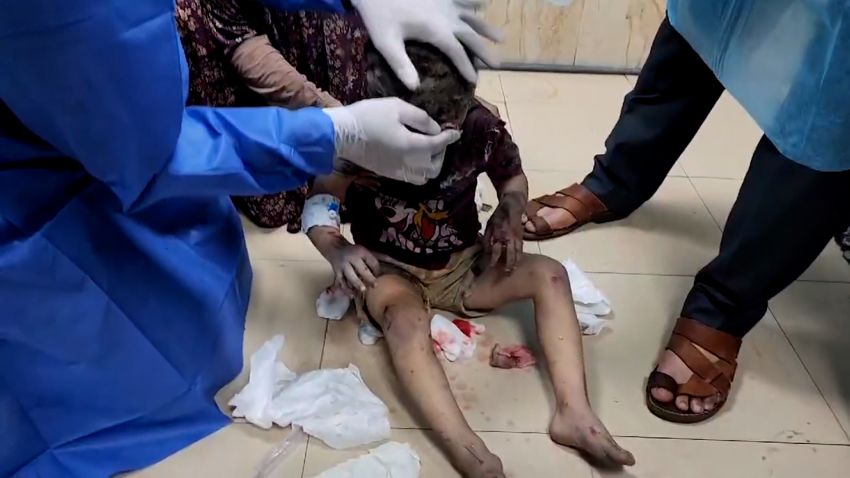 Video shows dire situation inside Gaza hospital
3. House speaker
The Republican-led House elected Rep. Mike Johnson as the new House speaker on Wednesday — more than three weeks after ousting Rep. Kevin McCarthy. Johnson, a vocal supporter of former President Donald Trump and a key congressional figure in the failed efforts to overturn the 2020 election, will now take the reins of the bitterly divided House Republican majority. He is expected to face a litany of pressing issues, including the looming threat of a government shutdown next month. Republicans tried and failed three separate times to coalesce behind a new speaker nominee before ultimately selecting Johnson. In a remarkable show of unity, the Louisiana Republican was elected with 220 votes and no Republican defections.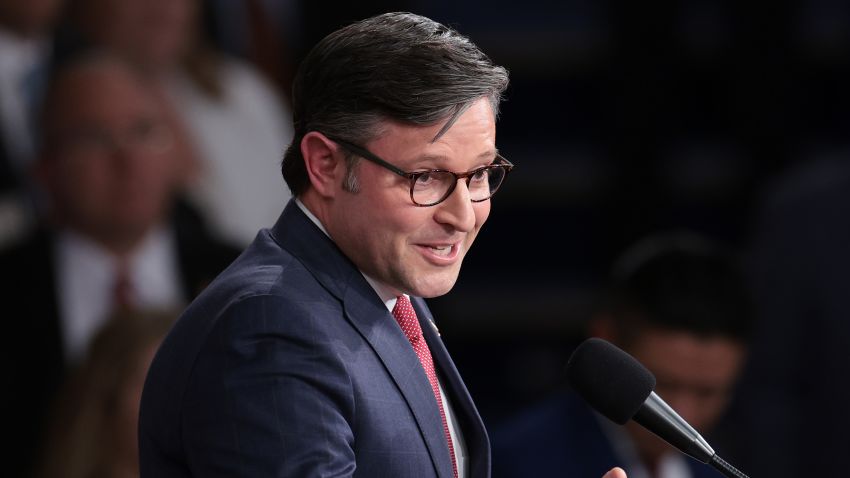 New House speaker reveals what his first bill will be
4. Auto strike
The United Auto Workers union and Ford, its largest employer, have reached a tentative deal to end a strike that will return 16,600 autoworkers to the job within days. Under the terms of the deal, workers will be paid at least 25% more between now and 2028. While the UAW said it was "pleased" with the tentative agreement with Ford, more than 29,000 other union members will continue to strike at America's two other unionized automakers: General Motors and Stellantis, which builds vehicles under the Jeep, Ram, Dodge and Chrysler names. The union has been on strike against the nation's Big Three automakers since September 15, impacting some of the largest and most profitable factories in the US.
5. Vaccines
Covid-19 shots may slightly increase the risk of stroke in older adults, particularly when administered with certain flu vaccines, according to a new study. The safety signal was detected by experts at the FDA who analyzed data from Medicare claims. It is the second study to find an elevated risk of stroke for seniors after Covid-19 and flu vaccinations given together. Some experts said people who are worried could consider getting each shot at different times rather than together. Separately, the CDC's independent vaccine advisers on Wednesday recommended a new meningitis vaccine. Pfizer's new vaccine, Penbraya, protects against five kinds of bacteria, the advisers said, and could soon be an option that offers people broad protection from meningococcal disease with fewer shots.
BREAKFAST BROWSE
Father and son make Halloween accessible to kids with disabilities
The co-founders of Walkin' & Rollin' Costumes have inspired a growing movement for more inclusion and accessibility in Halloween. View some of their finished designs.
McDonald's is getting rid of McFlurry spoons
It's the end of an era. The McFlurry spoon, which sparked confusion for being hollow, is being phased out.
Explosion 1 million times brighter than the Milky Way creates rare elements in space
Multiple telescopes observed a rare cosmic explosion called a kilonova that created heavy elements in space, including some necessary for life.
Olympic gold medalist Tara Lipinski welcomes first child via surrogate
Olympic figure skater Tara Lipinki and her husband Todd Kapostasy are the proud parents of a baby girl. The couple shared the news on Instagram, writing, "Meet Georgie Winter."
Lamar Odom's surprising new gig
The former basketball player is aiming to make senior housing and care resources easier to find for the general public.
TODAY'S NUMBER
$2,500
That's how much Hong Kong will pay new parents for having a baby. The government handout is a bid to boost the city's plunging birth rate, but many residents say that won't even cover one month's rent in the notoriously expensive city.
TODAY'S QUOTE
"We understand now that the separate nature of the collection has caused confusion and feelings of exclusion."
— Scholastic, a leading publisher of children's books, issuing a statement Wednesday after reversing its decision to make books on race and LGBTQ issues optional at elementary school book fairs. The company's decision to offer diverse books in a separate and optional collection has recently faced widespread backlash online.
TODAY'S WEATHER
Check your local forecast here>>>
AND FINALLY …
Feeling pain? Listen to sad songs
The songs that pull on your heartstrings the most can temporarily soothe the perception of pain, a new study found. Cue up your favorite melancholy and bittersweet tunes — or Adele's beautiful ballad "To Be Loved" — if you need an emotional release.