Tiger Woods has made so many comebacks in his extraordinary golfing career that they have become an integral part of his legend.
But after his 2021 high-speed, single-car accident in the Los Angeles suburbs, even Woods must have known that a serious comeback was unlikely. His right leg had been smashed to pieces, and he was lucky that it was still attached to the rest of his body.
What the 15-time major champion needed now wasn't so much a comeback in a competitive sense but rather a way back onto the course. Renowned golf writer Alan Shipnuck believes that the emergence of the Saudi-backed LIV Golf tour provided Woods with the most unlikely of pathways.
"This battle for the soul of professional golf gave Tiger a purpose," Shipnuck told CNN Sport. "It gave him a rallying cry. He was this galvanizing figure for the PGA Tour, fighting for its legacy."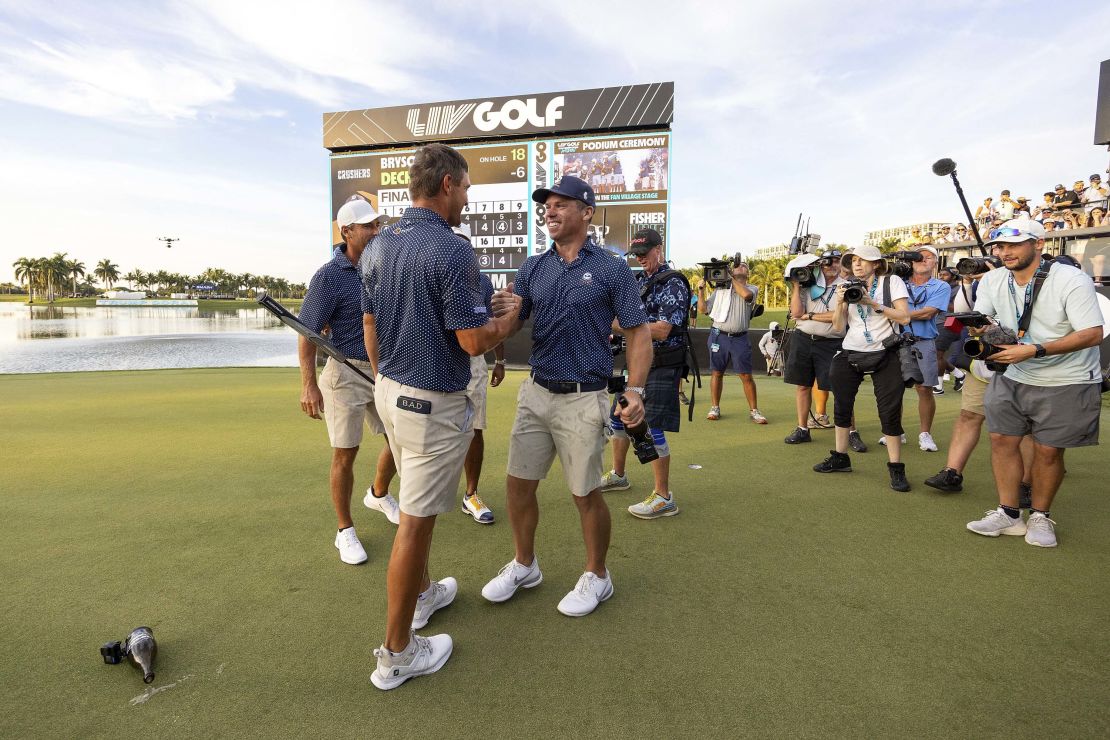 'Haves and have-mores'
In the spring and summer of 2022, men's professional golf had been plunged into a crisis. As the game's biggest stars were being tempted by guaranteed salaries well into eight figures, the game was cleaved into a world of "haves and have-mores," as Shipnuck described it.
As the battlelines were drawn and the rhetoric became increasingly heated, Woods arrived on the scene as the game's elder statesman, eager to make a stand for golfing heritage.
Fighting back from injury, divorce, and scandal, Woods' headlines had been less about golf for those who weren't around for his golden years. He won the Masters in 2019, but that was 11 years after his previous major win.
"Tiger's always been a loner," Shipnuck explained. "He's always been an introvert, and there's entire generations that don't know him at all because he's been injured for so long."
But that began to change after Woods flew into Delaware to head up an impromptu players' meeting, at which they all thrashed out a new direction for the PGA Tour.
"I really think it's been a crucial part of Tiger's road back from that accident, to have more human connection and to feel the love and the warm embrace of his colleagues. I don't think you can overstate how important that that this has been for Tiger.
"We may ultimately have to thank LIV Golf for giving us a new, improved, and more engaged Tiger Woods!"
Shipnuck's new book, "LIV And Let Die," chronicles the tumultuous emergence of the breakaway tour.
Australian two-time major champion Greg Norman emerges as the chief provocateur in the book, whose long-standing desire to shake up the game was re-energized by the seemingly limitless reserves of Saudi Arabia's Public Investment Fund.
It's a compelling read, littered with so much profanity that it sometimes reads more like a screenplay for a Quentin Tarantino movie than a book about a traditionally genteel sport.
Two of the 62 f**ks in the book come from five-time major champion Brooks Koepka, who joined the LIV Tour in the summer of June, 2022.
"F**k all of those country club kids who talk sh*t about me," Koepka is quoted as saying, "You think I give a f**k what they think about me? You think I care what people say about me? I had three surgeries and I'm supposed to turn down $130 million? I grew up with nothing."