Michael Cohen was once one of Donald Trump's most loyal allies.
But after going to jail for tax crimes and lying to Congress, Cohen, Trump's former lawyer and "fixer," became a star witness against his former boss, testifying before Congress about the hush-money payments he made to women claiming affairs with Trump and writing books highly critical of the former president.
Tuesday, Trump and Cohen are expected to be face to face in a New York courtroom as Cohen delivers testimony as part of the New York attorney general's civil fraud case against the former president.
When Cohen takes the stand, he will face down a very angry Donald Trump. It's the first time the two have been in the same room or even spoken in five years, according to multiple sources.
"It appears that I will be reunited with my old client @realDonaldTrump when I testify this Tuesday, October 24th at the @NewYorkStateAG civil fraud trial. See you there!" Cohen posted last week on the social media site Threads.
Cohen's testimony is the latest high-profile moment in the civil fraud trial, in which New York Attorney General Letitia James is seeking to bar Trump from doing business in the state. While Trump has played only a passive role in the trial to date, he is expected to be called as a witness later on.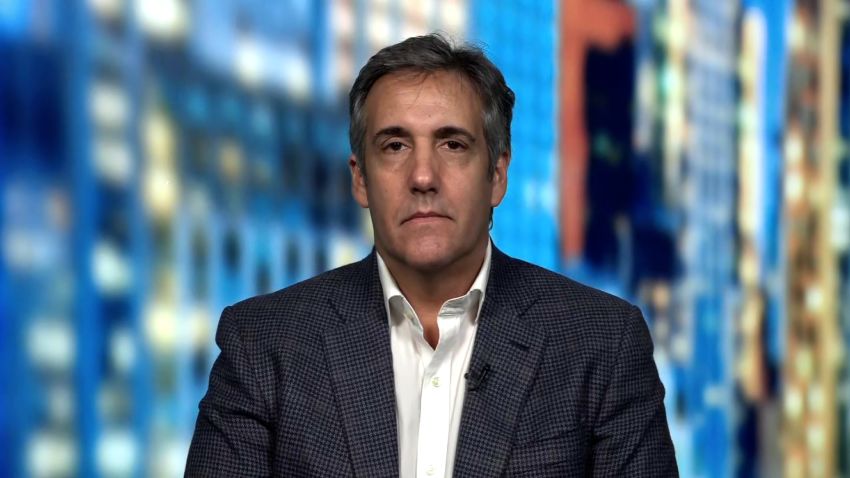 Michael Cohen reacts to testimony about Eric Trump
Trump voluntarily attended the civil trial's opening days, and the former president returned last week, when Cohen was initially supposed to be called to testify, though Cohen's appearance was delayed after he cited a medical issue.
Trump is also returning to the courtroom after he was fined $5,000 last week by Judge Arthur Engoron – and warned about possible imprisonment – for violating a gag order not to speak about any members of the court staff. Engoron fined Trump over a social media post attacking Engoron's clerk that had not been removed from Trump's campaign website.
Cohen is expected to testify about meetings with former Trump Organization Chief Financial Officer Allen Weisselberg and Trump regarding Trump's financial statements and net worth. Cohen has claimed there were meetings with Weisselberg and Trump about Trump's net worth before the financial statements were filed. Weisselberg testified earlier in the trial, "I don't believe it ever happened, no."
The attorney general's office has said Cohen's testimony before the House Oversight Committee in February 2019 – when Cohen alleged that officials at the Trump Organization inflated the value of its assets to secure loans and insurance and that they lowered the values for tax benefits – was the impetus for its investigation that led to the lawsuit against Trump.
Assistant Attorney General Colleen Faherty is expected to question Cohen on direct examination.
Cohen's testimony is also a crucial part of the criminal case against Trump brought by Manhattan District Attorney Alvin Bragg, who charged Trump earlier this year with falsifying business records related to the hush-money payments.
Cohen testified before Congress in 2019 about Trump's involvement in the hush-money scheme involving both former Playboy model Karen McDougal and adult-film star Stormy Daniels, who alleged having affairs with Trump (Trump has denied the affairs). Cohen even released a recording in which he and Trump can be heard discussing how they would buy the rights to McDougal's story.
Tuesday's testimony, however, is expected to focus not on the hush-money payments but on Trump's financial statements. Before Cohen testifies, the first witness will be Bill Kelly, the general counsel of Mazars, Trump's onetime accounting firm.
The trial is now in its fourth week. The attorney general's office has called 12 witnesses to testify, including six current or former Trump Organization employees, two of whom are defendants in the case: Weisselberg and former Controller Jeff McConney.
Trump's lawyers have cross-examined only about half the witnesses so far, opting to reserve their right to call them in the defense case. Engoron set aside more than three months for the trial, which could continue through late December.
An appraiser for Cushman & Wakefield testified last week that Trump's son Eric Trump was closely involved in several appraisal consultations with the real estate firm for Trump assets Seven Springs and Trump National Golf Club in Briarcliff Manor, New York, that valued the properties substantially lower than the amounts that appeared on Trump's financial statements in those years.
Eric Trump said in a deposition for the case that he didn't remember being involved in any appraisals for Trump properties.
The attorneys are scheduled to argue at a hearing Friday morning whether Ivanka Trump, the former president's daughter, can be forced to testify at trial even though an appellate court dismissed her as a defendant because the claims against her were too old.