Protests erupted around the Arab world on Friday as the Gaza war raged and an Israeli ground operation with the potential to displace millions of Palestinians loomed.
Thousands of demonstrators took to the streets in Egypt, Jordan, Lebanon, Iraq, Yemen and the West Bank after Islamic Friday prayers to protest Israel's actions in its war on Hamas.
The war has so far killed 4,127 people in Gaza, according to the Palestinian Ministry of Health in Gaza. It was launched by Israel in retaliation for an October 7 attack on the country by Gaza's Hamas rulers – Israeli authorities say 1,400 people were killed and around 200 were taken hostage.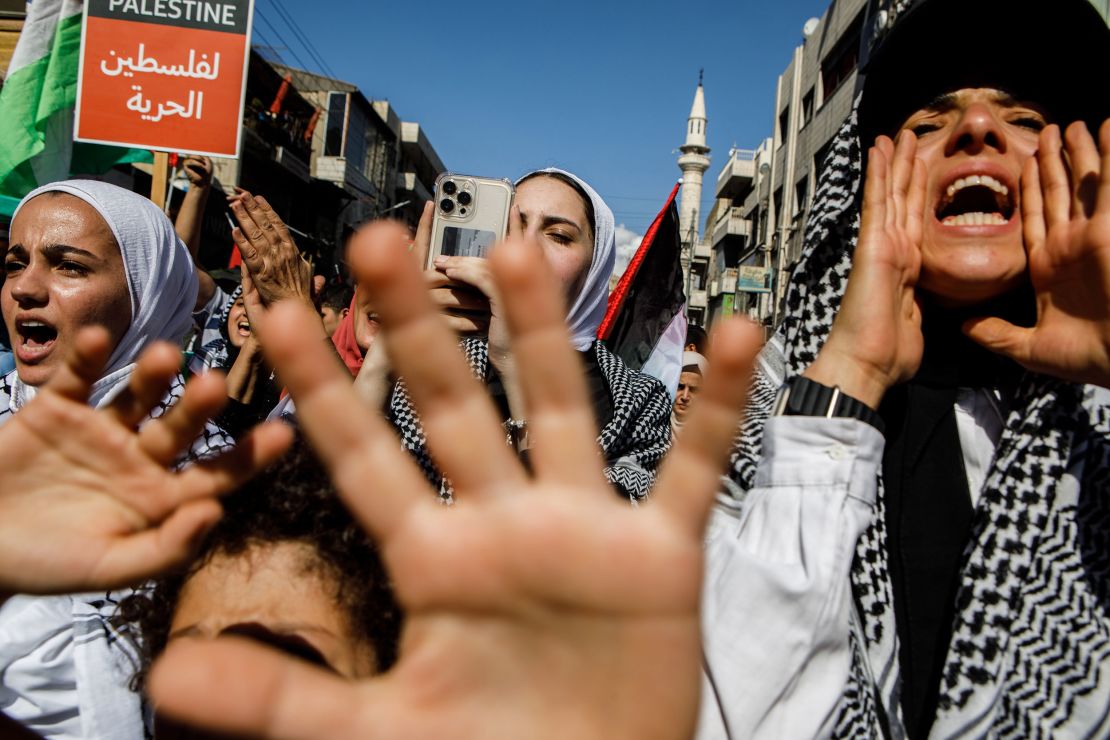 Israel's strikes and calls for Gazans to evacuate the north of the strip have prompted more than a million people to flee the area, raising concern about the prospect of displacement of millions of the enclave's Palestinians, most of whom are already registered as refugees as a result of the 1948 Arab-Israeli war.
Those fears have been heightened amid charged rhetoric by Israeli officials, who say Gaza will no longer be the same after Hamas is eliminated. US Secretary of State Antony Blinken has said the US was in talks with Egypt and Israel about establishing a humanitarian corridor at the Egypt-controlled Rafah border crossing for Americans and other civilians in Gaza to flee.
In a sign of the growing anger over the Israeli operation in Gaza, Egypt sanctioned its first major nationwide protest in a decade. Hundreds of protesters gathered Friday near downtown Cairo's Tahrir Square in support of Palestinians, and demonstrations occurred in other Egyptian cities
Some of the Cairo protesters chanted, "Where is the Arab army?" and, "Here they are, the Zionists," referring to Egypt's riot police, who pushed demonstrators into nearby Bab el-Louk Square and closed access to Tahrir.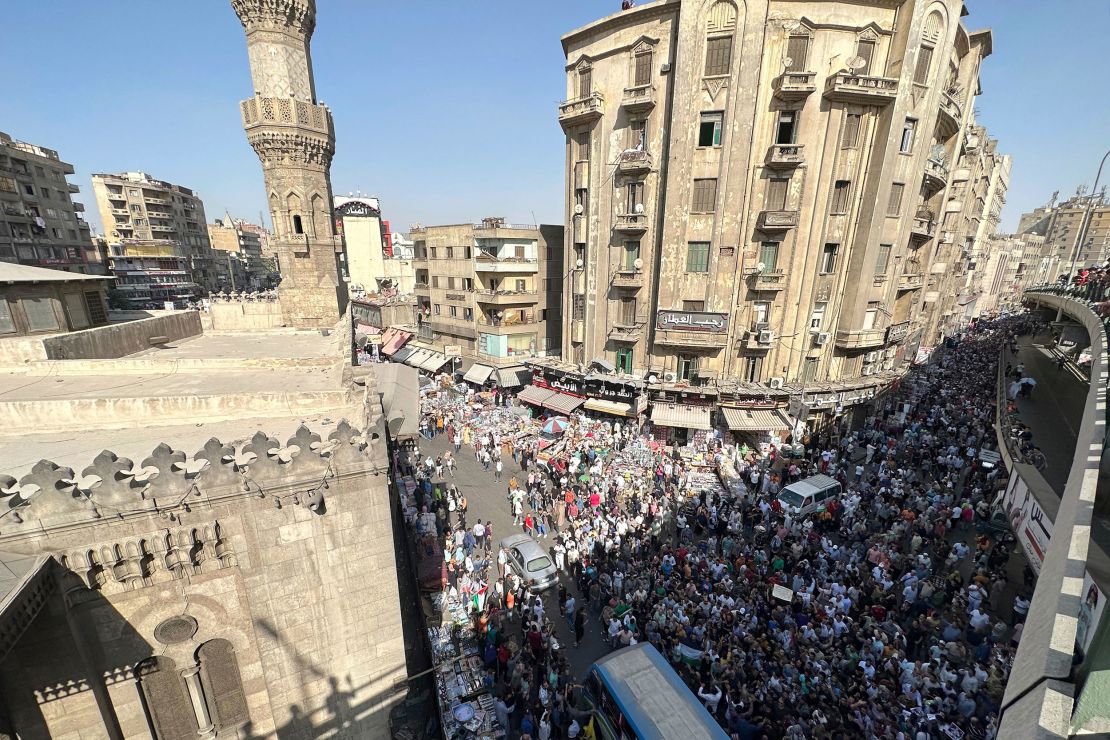 In the Lebanese capital, Beirut, several hundred people took to the streets to denounce the Israeli offensive. Many waved the Palestinian and Lebanese flags, along with the flags of the Iran-backed Hezbollah group and its political ally in Lebanon, Amal. Young protesters burned the American flag, decrying Washington's support for Israel.
Hundreds of Iraqis, mostly supporters of Iran-backed militias, staged a sit-in Friday at Iraq's main border crossing with Jordan. Others protested in Baghdad, not far from the fortified Green Zone that houses the United States embassy.
In Jordan's capital, Amman, some 6,000 protesters marched in support of Gazans. Some chanted slogans urging Hamas to intensify its strikes on Israel, Reuters reported.
The protests signal growing anger on the Arab street and frustration among regional leaders with the war as the Palestinian death toll climbs, and with the US' perceived unwillingness to put restraints on Israel's actions.
US President Joe Biden visited Israel this week, pledging continued backing for Israel. But he said that it would be a "mistake" for Israel to try reoccupying Gaza.
Rhetoric against Israel has been particularly heated from the governments of Jordan and Egypt, two US-allied countries that border the Jewish state and were the first Arab nations to sign peace treaties with it. Amman and Cairo have sounded alarms over what they perceive as a plan to transfer Palestinians from Gaza and the West Bank to Egypt and Jordan. While Israel has not announced any such plans, both countries have warned such a move could pull them into war.
That point was made clear by Egypt's parliament on Thursday when, in an emergency meeting, it authorized President Abdel Fattah el-Sisi to take "necessary measures" to protect national security, secure the country's borders, and support the Palestinians.
'Declaration of war'
Ayman Mohsab, undersecretary of the Arab Affairs Committee in the parliament, said Sisi has been authorized to take measures, "even if they include waging war."
Egypt's constitution stipulates that the president must seek approval from parliament before declaring war.
Sisi has suggested that Israel's calls for the evacuation of more than a million people from northern Gaza may be part of a larger plan to rid the entire area of Palestinians.
"The displacement or expulsion of Palestinians from the (Gaza) Strip into Egypt simply means that a similar situation will also take place – namely the expulsion of Palestinians from the West Bank to Jordan," Sisi said, adding that there will be no point in discussing a Palestinian state, as "the land will be there, but the people won't."
Jordanian Foreign Minister Ayman Safadi on Wednesday told Al Jazeera that any attempts to displace Palestinians from the West Bank to Jordan would be considered a declaration of "war."
Israel captured both the West Bank and Gaza, where millions of Palestinians live, in the 1967 war and began settling Jews there. It withdrew its troops and settlers from Gaza in 2005 but continues to blockade the territory. The West Bank, however, remains occupied and the previous right-wing government of Israeli Prime Minister Benjamin Netanyahu said it would advance plans to extend its jurisdiction to the West Bank. Netanyahu formed an emergency government with National Unity Party leader Benny Gantz on October 11.
The Palestinians want to establish an independent state in the West Bank and Gaza.
Egypt has pushed back against pressure for it to act, with the foreign ministry spokesman on Friday slamming Western media for "targeting Egypt, promoting the (Gaza) displacement scenario and holding it (Egypt) responsible" for the closure of the Rafah crossing between Egypt and Israel.
Jordan, Egypt and the Palestinian Authority on Wednesday canceled a planned summit on the Gaza war with US President Joe Biden less than 24 hours before it was scheduled to be held, with Jordan suggesting it was a futile effort that would be unlikely to end the war.
Instead, Egypt has organized its own Cairo Peace Summit, to be held on Saturday, according to state media, with several countries taking part, including Saudi Arabia, the United Arab Emirates, Qatar, Bahrain, Kuwait, Iraq, Italy and Greece, as well as the Palestinian Authority and the Secretary-General of the United Nations.
The US, Egypt and Israel agreed to let in humanitarian aid, starting with 20 of the 200 trucks that have been awaiting access to Gaza for days at the Rafah border crossing. The aid is still awaiting entry, however, and multiple sources told CNN the crossing is not expected to open Friday.
Egyptian television on Friday showed live footage of demonstrations in several cities in support of Gaza and in protest at the potential displacement of its population.
The protests follow a warning by Sisi on Wednesday that he could mobilize Egypt's entire population of 105 million to take to streets in support of his position regarding the Palestinian issue.
"If it comes to a point where I am asking the Egyptian people to go out (onto the streets) and express their refusal of this idea, then you will see millions of Egyptians," he said during a news conference with German Chancellor Olaf Scholz.
Protests are rare in Sisi's Egypt, where strict restrictions on demonstrations have been in place since he ousted a democratically elected government in a 2013 military coup. There have been no large-scale protests in Egypt since 2013, with the exception of rare and scattered demonstrations that took place in September 2019, leading to a massive crackdown and hundreds of arrests.
Additional reporting by Sarah Sirgany in Beirut, Nada Bashir in Amman and Hamdi Alkhshali in Atlanta.