India, the world's largest democracy and most populous country, does not recognize same-sex marriage, effectively barring millions of LGBTQ couples from certain legal benefits and insurance. However, things may change soon as India's Supreme Court is expected to rule on a consequential case that could dismantle the country's marriage ban and reimagine some of its conservative societal rules.
Here's what else you need to know to Get Up to Speed and On with Your Day.
Get '5 Things' in your inbox
• If your day doesn't start until you're up to speed on the latest headlines, then let us introduce you to your new favorite morning fix. Sign up here for the '5 Things' newsletter.
1. Israel
Conditions in Gaza have deteriorated into a "complete catastrophe," aid workers say, as hundreds of thousands of Palestinians try to flee south. Israel has vowed to wipe out Hamas, the Islamist group that controls the enclave, in response to its unprecedented October 7 terrorist attacks that killed 1,400 people in Israel. In Gaza, half a million residents have left the northern part of the region and more than 2,600 people have died in Israeli airstrikes, Palestinian officials said. President Joe Biden on Sunday warned Israel against occupying Gaza in one of his most notable public calls for restraint, calling the potential move a "big mistake." Sources also tell CNN that Israeli Prime Minister Benjamin Netanyahu has invited Biden to visit Israel soon, but it remains unclear if or when such a possible trip might occur.
Listen to CNN's podcast "Tug of War" to hear from our reporters who are on the ground in Israel documenting the escalating conflict.
2. Hate crimes
A Chicago-area landlord has been charged with hate crimes after fatally stabbing a 6-year-old Palestinian boy and wounding his mom, allegedly because they were Muslim. The US Justice Department has opened a federal hate crime investigation into the attack. The Will County, Illinois, Sheriff's Office said the victims were targeted by the 71-year-old suspect due to their faith and "the on-going Middle Eastern conflict involving Hamas and the Israelis." President Joe Biden and first lady Jill Biden said they were "shocked and sickened" by the attack and offered their condolences to the family in a statement released by the White House. This comes amid an uptick over the past week in rhetoric targeting "Jewish people as well as Muslim institutions," FBI Director Christopher Wray said Sunday.
3. House speaker
The divided House of Representatives is now in its 13th day operating without a speaker. The latest candidate, Republican Rep. Jim Jordan of Ohio, will apparently try to force a floor vote on Tuesday, despite lacking the support needed to win the gavel. One GOP source said Jordan may decide to go to multiple ballots on the floor if necessary. Jordan initially ran against House Majority Leader Steve Scalise of Louisiana, who went on to become the GOP speaker nominee — but the Louisiana Republican dropped out of the race abruptly last week after facing a bloc of hardened opposition.
4. Afghanistan quake
A powerful 6.3-magnitude earthquake struck Afghanistan on Sunday, just days after another deadly quake devastated its western Herat province. With the region already reeling from recent seismic activity, global aid groups and rescue teams say the country is now facing an escalating humanitarian crisis, on top of war and a collapsed economy. Taliban government officials estimate that more than 2,000 people across Herat province have been killed; more than 90% of those were women and children, according to UN agencies and officials on the ground.
5. Bedbugs
Bedbug paranoia is growing in Europe, leaving many locals and travelers anxious about encountering the unwanted critters. Paris has reported a "widespread" rise in bedbugs this fall, including sightings on public transit. Concerns have also spread to other cities and countries, including London and the Netherlands. As for precautionary measures, experts say travelers should inspect their rooms before unpacking, including a cursory bed check. This means pulling back sheets and blankets from the mattress and inspecting the seams of the mattress, particularly at the head area. Experts also recommend not placing your suitcase on the floor in a corner of a room, as this increases the chance of bringing bedbugs home with you.
BREAKFAST BROWSE
'Star Wars' X-wing model fetches over $3.1 million at auction
This miniature movie prop was considered one of the most coveted "Star Wars" artifacts to ever reach the market. It just sold for over $3.1 million.
'Ring of fire' eclipse appears over the Americas
In case you missed it, a solar eclipse created a "ring of fire" in the skies over the Americas on Saturday. See photos here.
Taylor Swift's concert movie brought in about $96 million at the box office
Dancing Swifties packed movie theaters to see the debut of the pop singer's concert film. Theater chain AMC expects it to play "to big audiences for several weeks to come."
Grandmother and granddaughter flight attendant duo hit the skies
This grandmother took her granddaughter under her wing, literally. See the adorable duo working together as Southwest Airlines flight attendants.
Rite Aid files for bankruptcy
The tough news comes as no surprise after the pharmacy chain raked in more than $3 billion in losses over the past six years.
IN MEMORIAM
Suzanne Somers, the actress best known for her role as Chrissy Snow on the hit '70s sitcom "Three's Company," died Sunday, her longtime publicist told CNN. She was 76. Following her exit from the show in 1981, Somers went on to become an author, talk show host and wellness entrepreneur.
TODAY'S NUMBER
10
That's how many freight train cars derailed off a bridge in Colorado on Sunday, killing one person and blanketing a portion of I-25 with coal. Photos of the scene show mangled train cars toppled across the highway and mounds of coal on the ground.
TODAY'S QUOTE
"Nothing worthwhile is ever easy — and labor negotiations are no exception."
— Marissa West, president of General Motors Canada, issuing a statement Sunday after Canadian autoworkers ratified a new labor contract with GM. The tentative deal means a strike involving more than 4,300 GM workers in Canada will not happen this week. The agreement, however, stands in stark contrast with the US — where more than 33,000 auto workers remain on strike against GM, Ford and Stellantis.
TODAY'S WEATHER
Check your local forecast here>>>
AND FINALLY …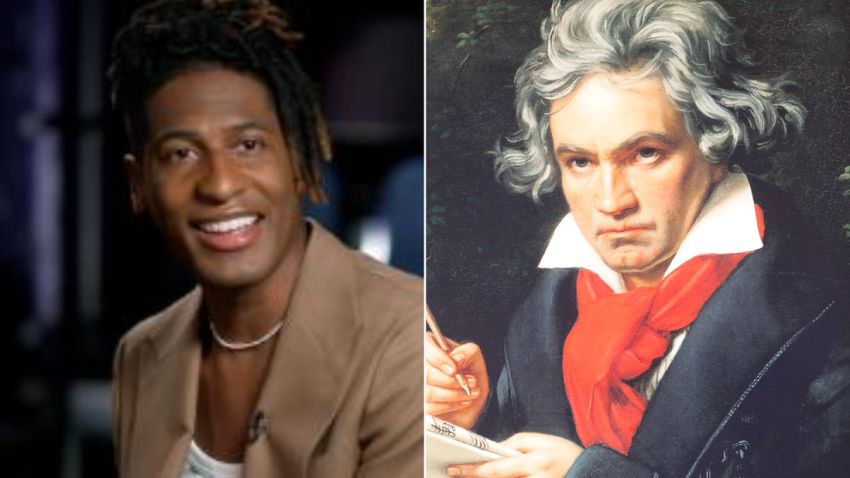 Watch Jon Batiste transform Beethoven's music
Transforming Beethoven's music
Grammy winner Jon Batiste can seamlessly transform Beethoven's symphonies across different genres! Watch his impressive demonstration during an interview with CNN's Chris Wallace.