Protests are erupting around the world as supporters of both pro-Israeli and pro-Palestinian movements gather outside embassies, government buildings and college campuses. In recent days, many of the world's most recognizable landmarks have also been illuminated in the blue and white colors of Israel's flag as a show of solidarity.
Here's what else you need to know to Get Up to Speed and On with Your Day.
Get '5 Things' in your inbox
• If your day doesn't start until you're up to speed on the latest headlines, then let us introduce you to your new favorite morning fix. Sign up here for the '5 Things' newsletter.
1. Israel
Israel has called on all civilians in Gaza City to leave their homes and head south today ahead of a potential ground invasion in response to Hamas' terror attacks that killed more than 1,300 people. The UN, however, said an order for the mass evacuation was "impossible" without major humanitarian consequences. Israel has amassed more than 300,000 reservists along its southern border for its possible intensified military operation, but Hamas militants told Palestinians living in the besieged Gaza Strip not to leave their homes. Meanwhile, the Biden administration said it will begin chartering flights today from Israel to destinations in Europe, as officials scramble to get Americans stranded in the war-ravaged country back home to the US.
Listen to CNN's podcast "Tug of War" to hear from our reporters who are on the ground in Israel documenting the escalating conflict.
2. House speaker
House Republicans appear to be far from electing a new speaker after Majority Leader Steve Scalise abruptly withdrew from the speaker's race Thursday evening. Scalise announced he was dropping out after his GOP conference failed to coalesce behind him in the aftermath of Kevin McCarthy's historic ouster. Republicans have now effectively frozen the chamber at a time when major international and domestic crises loom, from Israel's war against Hamas to a potential government shutdown in November. Additionally, with no indication there is any viable candidate who could secure the 217 votes needed to win the Speaker role, questions are being raised about how long the standoff will last and at what cost.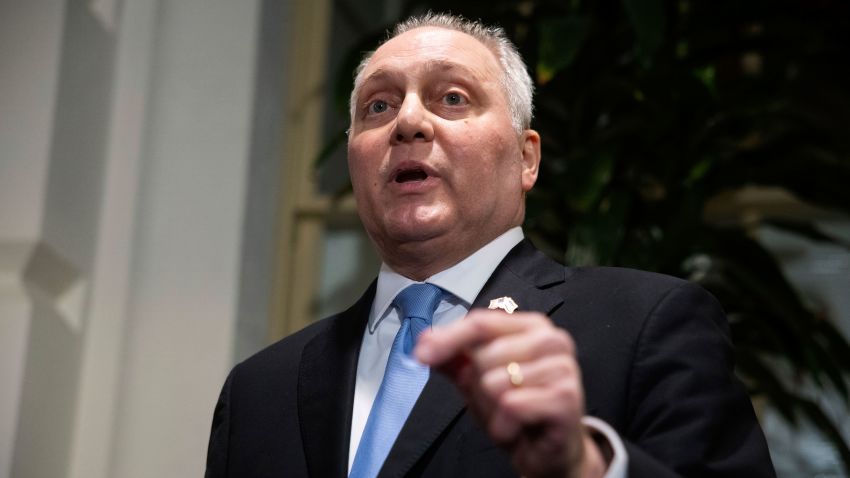 Hear what Scalise said after announcing he won't run for House speaker
3. Covid-19
More than 7 million Americans have received a dose of the updated Covid-19 vaccine since it became available in September, the Department of Health and Human Services said Thursday. The CDC recommended vaccines from Moderna and Pfizer/BioNTech for everyone 6 months and older on September 12. An updated vaccine from Novavax, which became available this month, is recommended for people 12 and over. In comparison, when last year's bivalent Covid-19 booster was available, more than 18 million people had received a dose by October 12, 2022, about six weeks after the CDC signed off on it. The new Covid-19 vaccines have been updated to target currently circulating coronavirus variants.
4. Medicare
Medicare enrollees will spend around $10 more next year for their monthly Part B premiums, the Centers for Medicare and Medicaid Services announced Thursday. The standard monthly premium for Medicare Part B will be $174.70 for 2024, up from $164.90 this year. The premium increase means that retirees will see a monthly bump of less than $50, on average, in their Social Security benefits next year. This comes as many seniors are concerned about their personal finances, analysts say. Inflation has caused Social Security payments to lose 36% of their buying power since 2000, according to a study released earlier this year by The Senior Citizens League. Monthly benefits would have to increase by $517 to maintain the same level of buying power as in 2000.
5. TikTok
EU officials issued a warning to TikTok on Thursday about "illegal content and disinformation" on its platform linked to the war between Israel and Hamas. The EU called for TikTok CEO Shou Zi Chew to respond within 24 hours and warned that failure to comply with its laws around content moderation could result in penalties. Also on Thursday, a federal judge ripped into Montana's statewide TikTok ban, saying in a hearing that the legislation appears driven by "paternalistic" views. Montana became the first state to authorize a complete ban on TikTok in May, prompting an immediate legal challenge. This ongoing court battle is being closely watched because it is viewed as a bellwether for TikTok's future in the rest of the US.
BREAKFAST BROWSE
Today is Friday the 13th
Whether you're superstitious or not, you may be surprised by the cultural origins of the supposedly unlucky day.
How to watch the 'ring of fire' solar eclipse
On Saturday, a "ring of fire" annular solar eclipse will put on a show for parts of the western and central US. Here's how to watch.
What to know before seeing Taylor Swift's Eras Tour in theaters
A concert film poses new questions for moviegoers used to sitting down and staying quiet. Are you allowed to get up out of your seat and dance? What about singing along? Here are the do's and don'ts at concert movies.
Disneyland is increasing its prices again
Another round of price hikes went into effect this week at "the happiest place on earth." See what's getting more expensive at Disneyland.
'Five times the Super Bowl': Why India vs Pakistan is a sporting rivalry like no other
Some experts are estimating a record half a billion viewers could tune into Saturday's India-Pakistan match at the Cricket World Cup. Here's why.
QUIZ TIME
Which 2024 Republican presidential contender announced that he is ending his campaign?
A. Former President Donald Trump
B. Tech entrepreneur Vivek Ramaswamy
C. South Carolina Sen. Tim Scott
D. Former Texas Rep. Will Hurd
Take CNN's weekly news quiz to see if you're correct.
Last week, 66% of readers who took the quiz got eight or more questions right. How will you fare?
IN MEMORIAM
Rudolph Isley, one of the founding members of the R&B group The Isley Brothers, has died, his family announced. He was 84. Though the band's membership evolved through the years, The Isley Brothers had enduring success with songs like "Love The One You're With" and "Testify."
TODAY'S NUMBER
700
That's around how many entertainment industry professionals have signed an open letter voicing their support for Israel and condemning Hamas as fighting continues in the Middle East. Gal Gadot, Amy Schumer, Mayim Bialik and Jerry Seinfeld were among those who signed the letter expressing their condolences to "all those experiencing unfathomable levels of fear and violence."
TODAY'S QUOTE
"Hopefully today's verdict can be a sign for healing."
— Colorado Attorney General Phil Weiser, issuing a statement after one Colorado police officer who arrested Elijah McClain was convicted of criminally negligent homicide. The other officer was acquitted. Elijah McClain, an unarmed 23-year-old Black man, died after he was subdued by police and injected with ketamine by paramedics in 2019.
TODAY'S WEATHER
Check your local forecast here>>>
AND FINALLY …