At least one tornado damaged homes, cars and businesses in Florida as severe weather hit the state Thursday.
A likely tornado damaged at least two homes in Clearwater Beach after it roared ashore early Thursday morning. No one was injured, Clearwater police said, but photos from the scene show debris scattered through streets and a home's gutter impaling a car's windshield.
A 90-year-old woman was asleep in her home when the storm hit and collapsed a wall and the home's roof in on her. She was uninjured, Clearwater police and fire officials said.
"She woke up to the sound of glass breaking," Clearwater Fire and Rescue spokesperson Rob Shaw told CNN. "She pulled the covers up over her head and rode out the storm."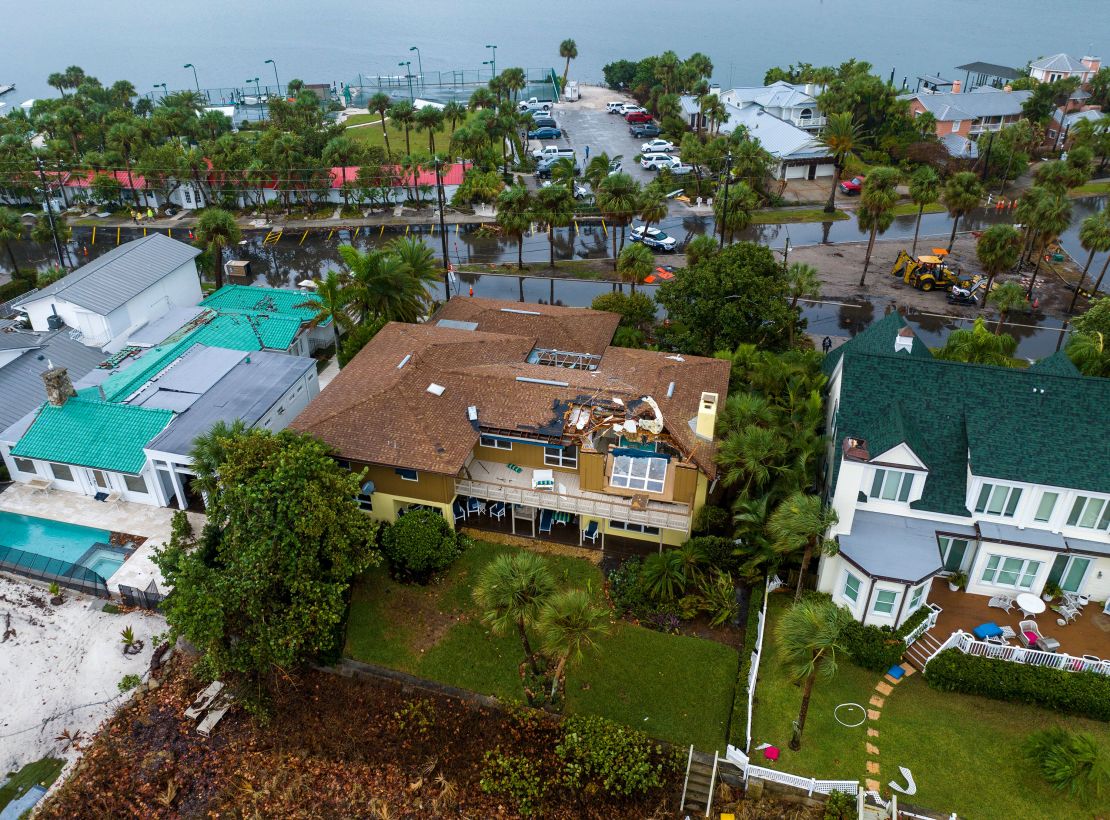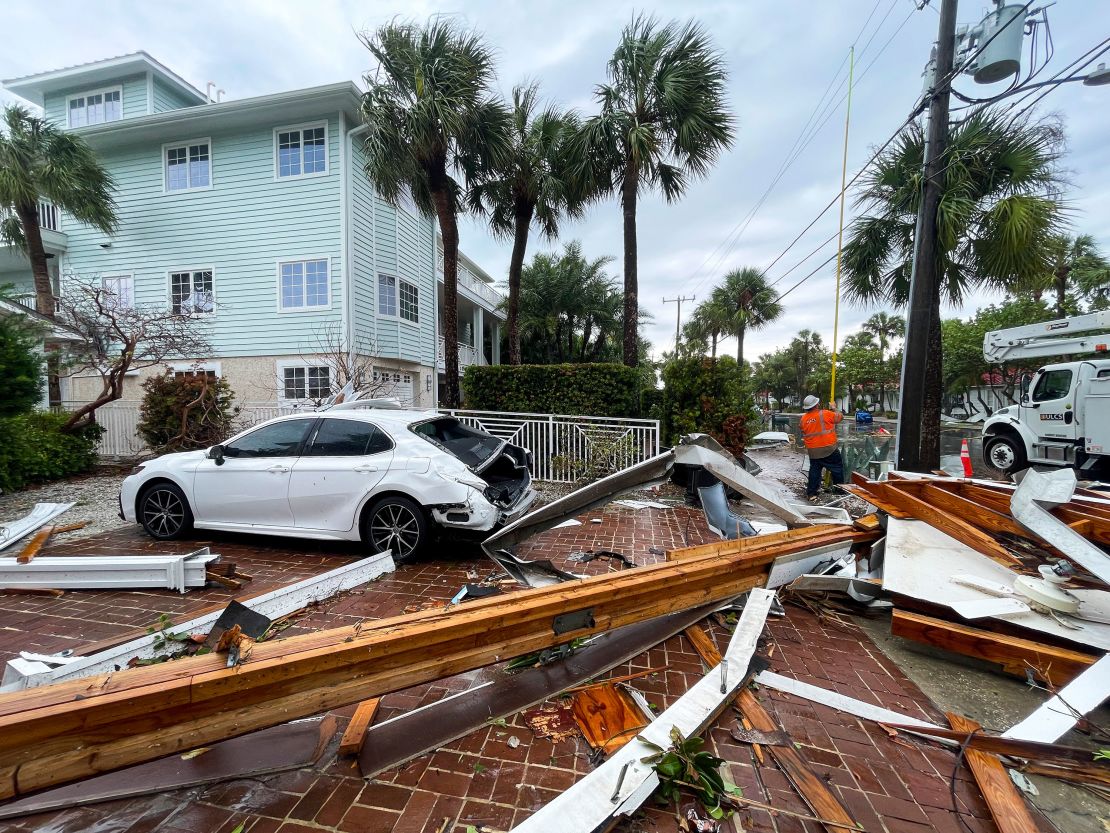 Damage, including downed power lines, was also reported near the coast in Dunedin, north of Clearwater Beach, town officials said. Video posted to social media by the city showed walls and roofs missing from buildings and windows blown out of businesses.
The National Weather Service will survey the damage to confirm it was from a tornado and determine its strength.
More damage was reported from a separate potential tornado around 65 miles north in Crystal River. The reported tornado damaged and destroyed "a multitude" of businesses and homes in the city, Crystal River mayor Joe Meek said on social media.
"There is a considerable amount of damage throughout the city," Meek said. "We have no reported major injuries or reports of deaths which is truly remarkable. When you look at some of these pictures of the houses and the condition that they're in – it's just a miracle."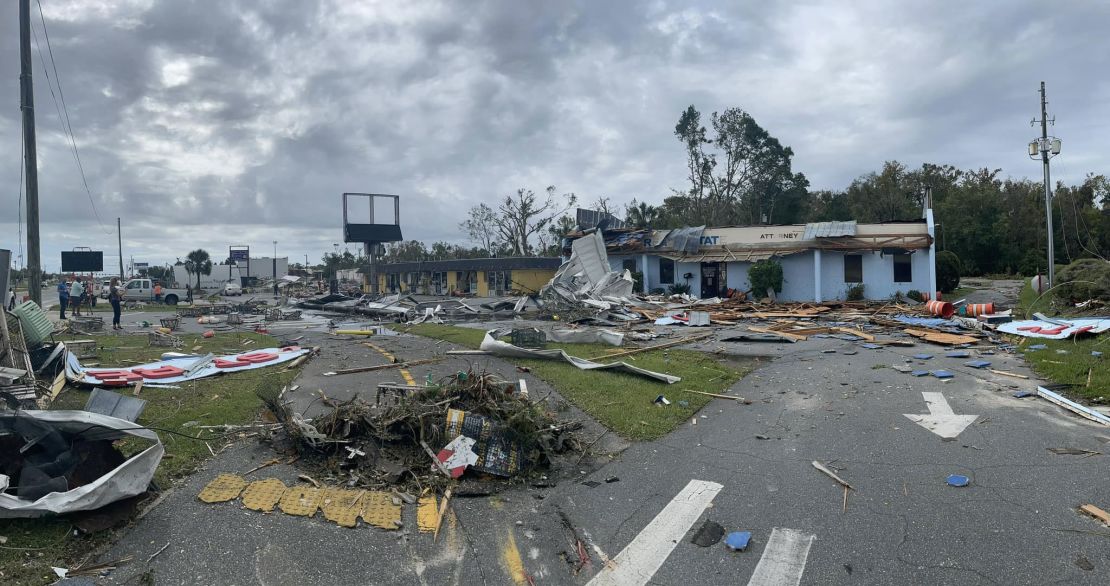 Citrus County officials said most of the roads that were closed because of downed power lines, trees and debris had since reopened. School was canceled across the county Thursday because of the damage.
The storms kept tracking east across the state, reaching parts of northeast Florida Thursday morning. An EF2 tornado with winds of 115 mph cut a mile-long path of damage through Palm Coast on Florida's Atlantic coast, the National Weather Service in Jacksonville said.
Palm Coast fire chief Kyle Berryhill said several homes suffered "major structural damage" in Palm Coast's Indian Trails neighborhood, but there were no injuries.
Photos posted to social media by the Palm Coast government showed a car flipped on its side, roof damage and insulation strewn about a yard there.
"We have several families that have experienced a catastrophic property loss and our hearts go out to them this morning," Palm Coast fire chief Kyle Berryhill said in a Thursday morning news conference.
Millions of Floridians were under a tornado watch through Thursday afternoon during the peak of the tornado threat. Wind gusts of 30 mph to 40 mph and bouts of heavy rain are possible into the afternoon across northern parts of the state as a storm system moves across the area.
The storm system will begin to move off into the Atlantic waters during the early afternoon. This means heavy rainfall and strong thunderstorms will still be possible over the area through most of Thursday, with activity beginning to wind down into the evening.
CNN's Andy Rose and Sarah Dewberry contributed to this story.