Editor's Note: "The Whole Story with Anderson Cooper: Seeing Red: Running with the Bulls" airs Sunday night at 8 p.m. ET on CNN. Bill Hillmann is the author of "The Old Neighborhood," "Mozos" and "The Pueblos." He is a professor at East-West University in Chicago and has written for NPR, VICE, The Toronto Star, The Washington Post and The Daily Mail, among other publications. The views expressed in this commentary are his own. Read more opinion at CNN.
On July 11, 2014, I was running with a bull in Pamplona, Spain. The 1,200-pound black bull with huge horns trotted just a few feet behind me, froth dangling from his mouth and his breath warm at my back.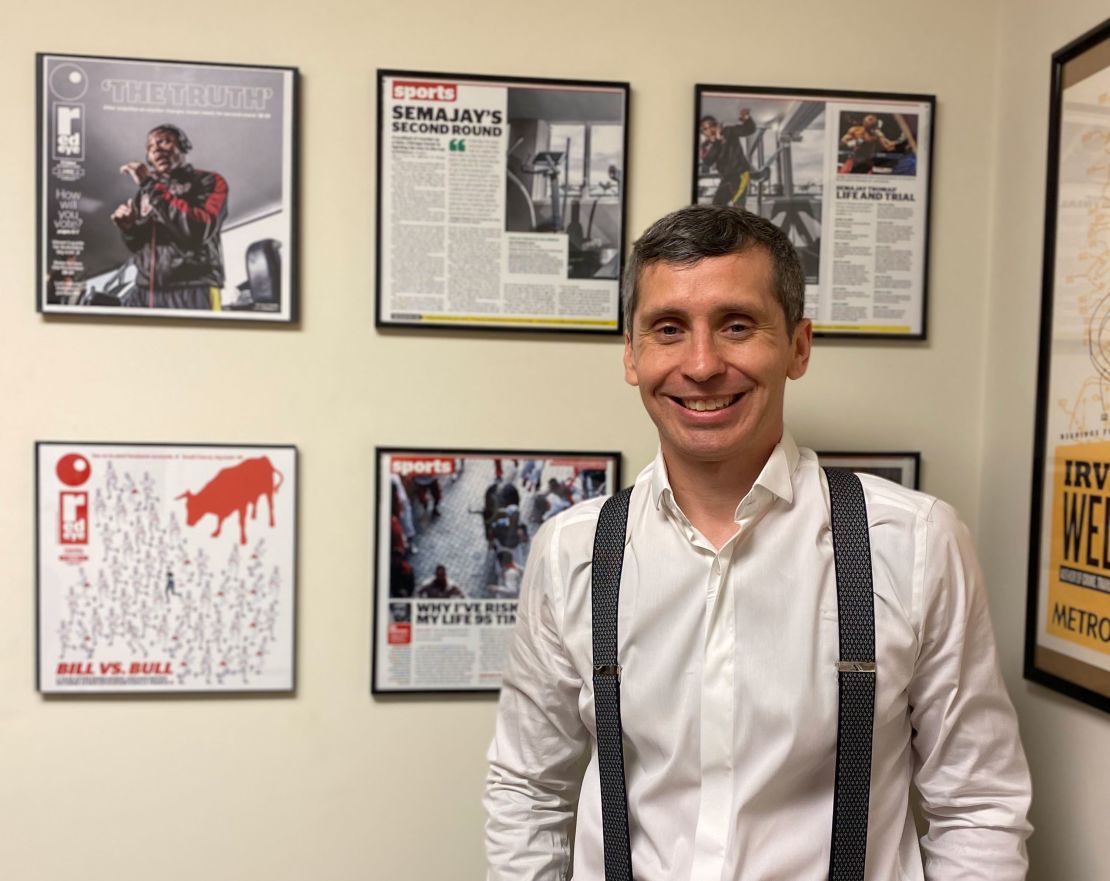 When a tourist pushed me to the ground, Brevito, a bull from the Victoriano del Río ranch, swooped down in slow motion, locked his eyes on me, aimed his long-curved horn and punctured my inner thigh. He lifted me gracefully into the air and we both fell to the cobblestone pavement. As I came loose from the horn, he gored me again under the knee before a medic pulled me under the wooden barricades to safety.
I peered into a racquetball-sized fleshy hole in my inner thigh as a garden hose of blood poured out of my leg from the second hole and filled my shoe, spilled onto the cobblestones and trickled into the gutter. "It must be the artery," I thought, "this is the end of my life." Suddenly my friend Michael Hemingway, a photojournalist and great grandson of the famed novelist, appeared in his red press vest with his camera around his neck. He rushed to my aid, knelt down and held my hand. After checking with the medic (this happened in the moment on the street, not at the hospital), Michael gave me the news that the artery was intact. I was going to live.
Throughout the grim encounter, I knew that, if I lived, I would return to run. The running of the bulls, a centuries old tradition in Spain, is a huge part of me. It is deep in my heart and soul.
Over the past 18 years, I've grown about as close to the culture as an outsider can possibly get. It all started with the writing of another American who got very intimate with this culture, Nobel Prize-winning writer Ernest Hemingway. "Nobody ever lives their life all the way up except bull-fighters," says Jake Barnes, one of Hemingway's unforgettable characters in his novel "The Sun Also Rises."
That book changed my life completely. I was a troubled kid and a reluctant reader. I had never read a novel cover to cover in my entire life until I sat down with the novella at the age of 20. I read it in one sitting at my college library. The story is a fascinating adventure into the Fiesta de San Fermín, also known as The Running of the Bulls in Pamplona. Hemingway explored the raw energy of the festival with a special appreciation for the mythical Toro Bravo, the Spanish Fighting Bull. By the time I finished reading that novel, I decided I would go to Spain and run with the bulls and I would become a writer.
I first traveled to Spain in 2005 and had a very intense experience running with the bulls. I became hooked. Since then, I've learned about the tradition from watching endless video footage of the run and seeking out gurus like Graeme Galloway, Joe Distler and Juan Pedro Lecuona. I became obsessed with improving as a runner. So I began to run with Lecuona, David Rodríguez, Aitor Arístegui and others leading bulls up the streets.
A run is considered successful when it's carried out directly in front of a bull, which is called "running on the horns." That means the animal accepts you as his leader and will follow you. This moment is transcendental. It makes you feel like you are one with the god Taurus. Once you feel that, you become a devoted believer. It is nothing less than a religious experience.
I started writing about this cultural event for major outlets and made long-lasting friendships. This is how I met and became friends with John Hemingway and his son Michael, the photojournalist who aided me in 2014.
Ernest Hemingway set me on this path that led to my brush with death on the tips of a bull's horn and another Hemingway came to my rescue when I needed a friend.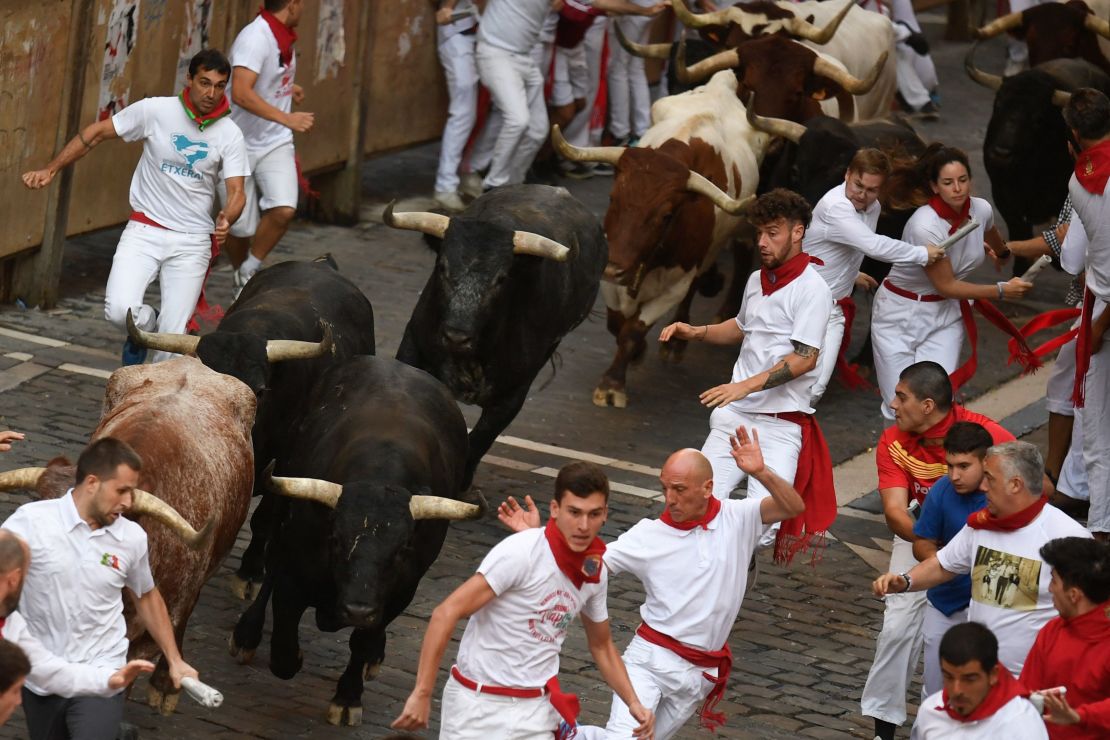 Due to the gorgeous, dangerous, and at times gruesome imagery of the bull run at the Fiesta de San Fermín, the running of the bulls catches the attention of international news media every summer. The festivity drives up tourism in Pamplona, a town of a little over 200,000 residents — except during the running of the bulls, when the population swells to more than a million.
The runnings see around 2,000 participants on weekdays and close to 3,500 on the weekends, according to the event's official website. In 2014, more than half the runners were foreigners and two out of every three were participating for the first time, according to a survey. (The event has used technology to facilitate counting runners and gathering data since 2011.)
Unsurprisingly, the tradition has been met with criticism for a long time. Animal rights groups criticize the event saying that bulls and people are harmed in it. However, in my experience, bulls are very rarely harmed in the run. If they are harmed it's usually from falls and goring inflicted by other bulls. Similarly, most people are hurt by other peopleas thousands run down the streets. But when a bull spears a runner, which according to the government of Pamplona happens to approximately one in every 2,500 participants in the San Fermín festivities, the injuries can be life-threatening.
Deaths do happen. Just last month, a bull gored and killed 61-year-old José Antonio Subies in Valencia. Since 1910, when record-keeping began in Pamplona, 16 people have died at las Fiestas de San Fermín. And last year alone, 10 people lost their lives during the thousands of bull-running events across Spain in the regions of Valencia, Madrid, Castilla y León and Navarra. The deaths are tragic, but they are part of an ancient spectacle that is at once horrific and poetic.
Pamplona has also gifted me love. Last year, I married Paula Andión Zabalza, whom I met during a fiesta in an apartment overlooking a bull-run in 2019. I was getting ready to enter the course and Paula was working for a friend of mine who runs a tourism company.
Get Our Free Weekly Newsletter
Paula's family is deeply involved in the world of the bulls in Spain and her grandfather, Fernando Zabalza, ran the bull ring in Tafalla, a town near Pamplona where most of the family still lives. Fernando only had daughters and he passed on his passion for bulls to them. Like her sisters, Paula is very knowledgeable of bulls and we often argued about them before I realized I really needed to ask her out on a date. I am still learning tremendous things about the culture from her and her family. Their connection with the Toro Bravo is one I can only aspire to feel and know.
That is why people like me are drawn out into the streets with these animals year after year: We want to connect with that primordial relationship between man and bull — one that is glorious but sometimes deadly.
Hemingway's writing, the culture of bull-running — and especially the majestic animals — have completely reshaped my life. As a full-time English and communications professor, I plan to teach "The Sun Also Rises" to my students. At a bare minimum, I hope to teach them to respect and appreciate other people's cultural heritage, the same way the book and the bulls have inspired me.