Manchester, England
CNN
—
British Prime Minister Rishi Sunak got up to speak from a podium bearing the words "Long-Term Decisions for a Brighter Future" – the slogan for this year's Conservative Party conference. But over the past three days on the fringes of the governing party's annual meeting, members have been planning their own long-term future – and in some cases for one that doesn't involve him.
This year's gathering, in Manchester, a historic city that was formerly the industrial powerhouse of northern England, held extra significance as it is likely the last to take place before the next general election. It was a golden opportunity for Sunak to unite his party after the battering his party's credibility took from his two immediate predecessors – the scandal-hit era of Boris Johnson and the economic tumult of Liz Truss.  
However, despite the fact Sunak – who has been in office for less than a year – has exceeded expectations by steadying the ship and restoring some calm to British politics, many members of his own party members spent this week settling old scores and resigning themselves to defeat.
As one senior Conservative told CNN on the night before Sunak's keynote speech: "He has done the near impossible and given us some hope of staying in power. For some reason, they don't seem to want to let him." 
Sunak is seeking a historic fifth successive term for the Conservative Party, which has been in power since 2010 – first in coalition and from 2015 alone. 
Those 13 years have been some of the most consequential in modern British politics. From Brexit to the Covid-19 pandemic, Johnson's transgressions and Truss's turmoil, Sunak inherited an unpopular mess of a party that, according to opinion polls, looks doomed.  
Nevertheless, Sunak and his team are optimistic that they can pull the party together before the next election, which must take place by January 2025. And their strategy for achieving this aim appears to involve shifting further to the right, with policies and rhetoric that are tailor-made for Conservative members rather than the broader public.
Curious optics
One of the clearest signs this week that Sunak feels the need to appeal to the right-wing of his base was the presence at the conference of Nigel Farage, one of Britain's most famous Brexiteers and perma-scourge of the Conservatives.  
It was Farage, as then-leader of the Euroskeptic UK Independence Party, who drove the political narrative that eventually forced the Conservatives to hold a referendum on leaving the European Union in 2016. While the party establishment loathes Farage, Conservative members greeted him with open arms and requests for selfies after he arrived on Monday afternoon. In many ways, he was the star of the show here in Manchester.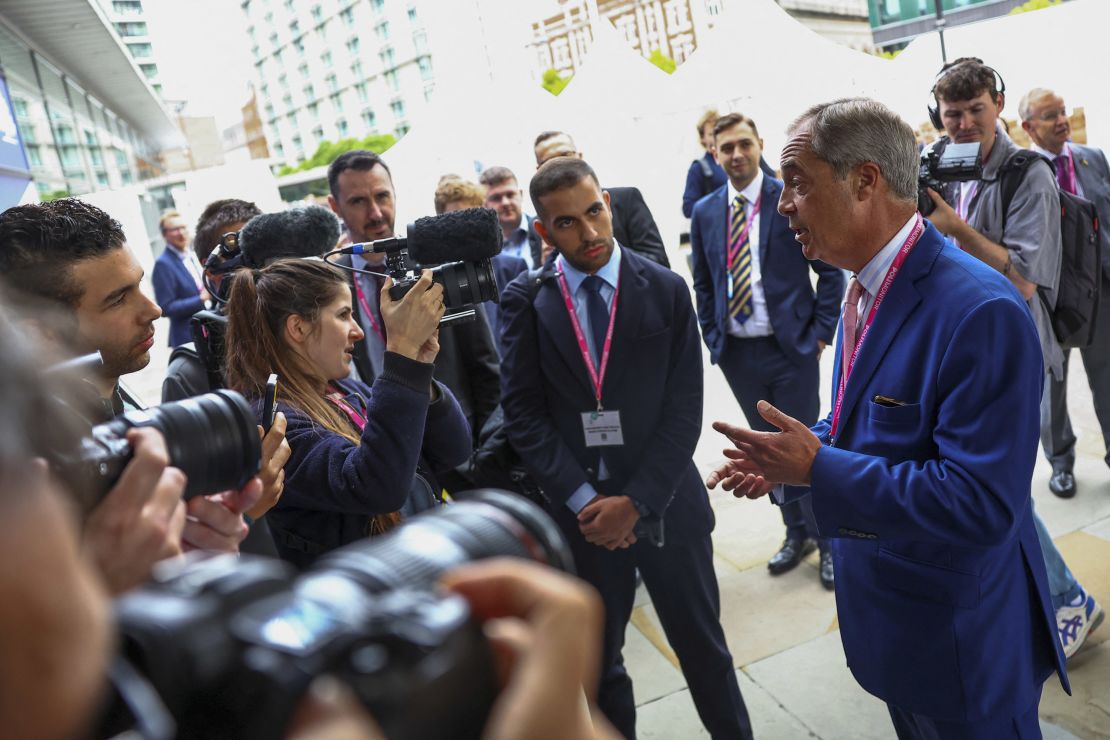 It's instructive, then, to see Sunak's strategy through that lens. 
Last week, the PM announced a controversial U-turn on green policies, including a delay on a plan to boost the number of electric cars on Britain's roads.   He has criticized the opposition Labour Party for endorsing lower speed limits for drivers. Many of his Cabinet ministers have hinted at the prospect of leaving the European Convention on Human Rights, which they regard as hindering efforts to curb immigration to the UK, particularly by refugees. 
The health minister said transgender patients could be banned from hospital wards that corresponded to their lived gender. Business Secretary Kemi Badenoch railed against trans rights activists, repeating an attack line that Labour MPs don't "know what a woman is." 
And in his closing speech, Sunak scrapped an expensive, high-speed rail project in the north of England, which he claimed would save taxpayers £36 billion – which, he said, would be reinvested instead in "hundreds of new transport projects" in the North and Midlands, both rail and road.   
The optics of this were curious, as the scrapped project, known as HS2, would have provided Manchester, the conference's host city, with faster links to London and the wider region with better rail capacity and connections.
Asked if they believed making the announcement in Manchester was a PR own goal, a Sunak ally told CNN: "The brutal truth is we are not going to win in Manchester anyway, so it doesn't matter if we piss them off." 
Most of this is broadly attractive to Conservative members and it would be reasonable to assume that it would give them a reason to rally behind Sunak.  
But there was not much sign of unity this week. Quite the opposite, in fact. The Conservative Party has always been a broad church, with competing factions jostling for supremacy. But these factions appear more splintered than ever.
Walking around the conference centre, it was striking to see groups of Conservatives who in various ways represented every iteration of the party since 2010. And quite a lot of those factions sincerely dislike one another and have serious disdain for each other's vision for the future of the party.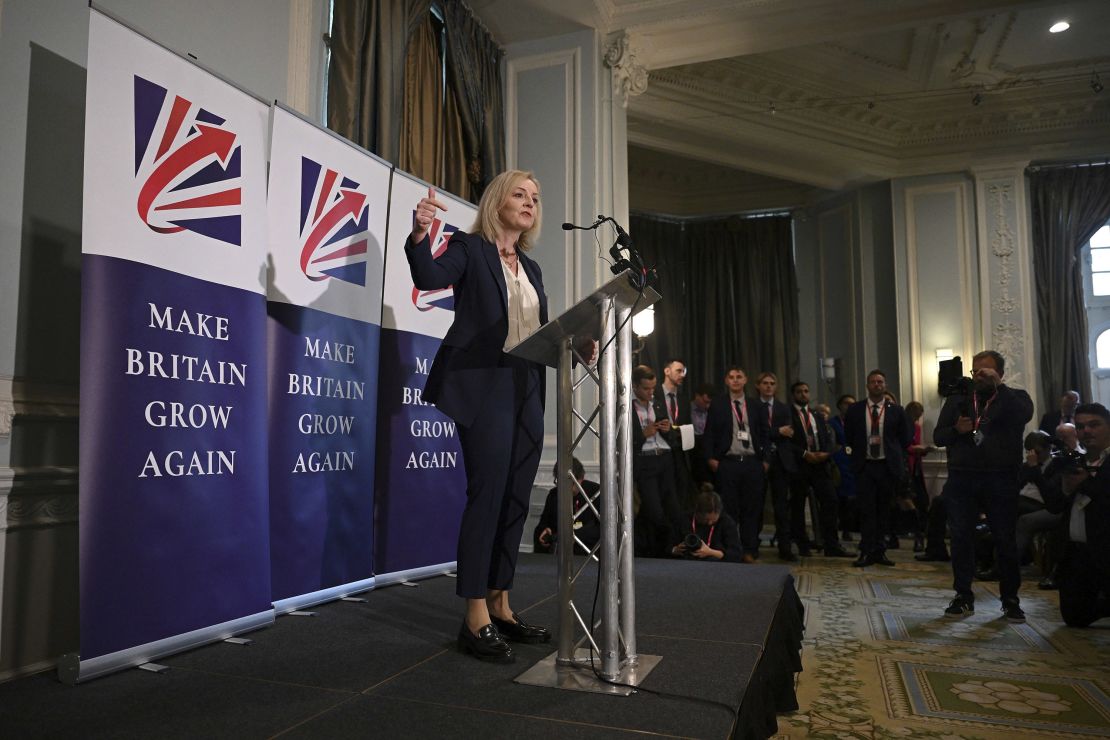 True Conservative talisman?
The most high-profile rebellion came from Sunak's immediate predecessor, Truss, who spoke at a rally at the same time as Jeremy Hunt, Sunak's finance minister, gave his conference speech on the main stage.  
Truss, along with others on the libertarian right, called for a complete rethink of the tax system and size of the state. Her speech was made almost a year to the day that her own tax-cutting plans caused markets to crash and sank the pound to its worst low ever against the dollar. 
You might assume that less than 12 months since her disastrous premiership came to an end, the public might not be that interested in Truss's thoughts. But Conservative Party members are rather different to the general public. In stark contrast to Hunt's speech taking place on the main stage, Truss's rally – held in a side room of a hotel next to the main conference center – was standing-room only.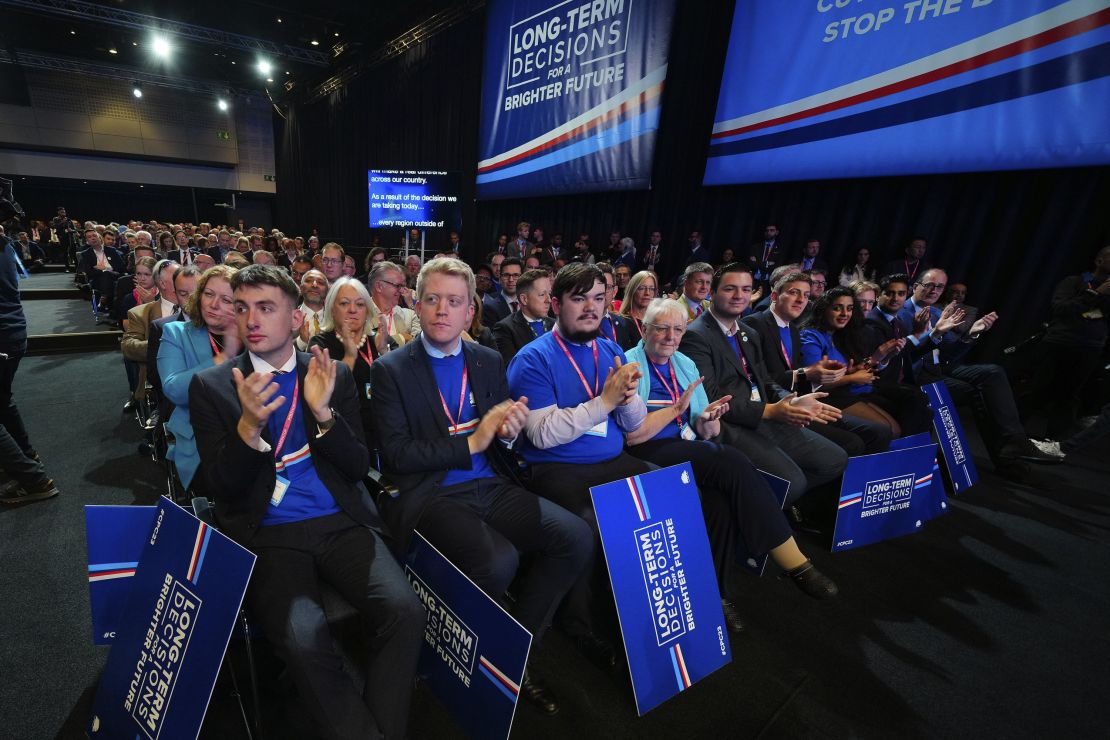 But other factions within the party believe the true Conservative talisman to be another former PM: Boris Johnson.
Superficially, the Johnsonites are on the same wing of the party as Truss and her acolytes. However, the most passionate of his supporters are the so-called "red wall" voters: People typically from the north of England from poorer backgrounds who supported Brexit and, in many cases, voted Conservative for the first time because of Johnson. (The red-wall name is derived from the color most associated with the opposition Labour Party, which historically held sway in these areas.)
Many members of this group find Truss's talk of tax cuts for the wealthy and businesses offensive and out-of-touch at a time the UK is suffering a cost-of-living crisis. A senior member of a local government in one of these areas told CNN: "How could anyone expect me to go and tell people that we should cut taxes and cut money for local government? It's ridiculous."  
Unfortunately for Sunak, many of these members didn't have a much better view of him. While broadly they supported lots of his recent announcements – they simply don't believe he is serious about them.  
"He's out-of-touch. He is a liberal. He won't do it properly," said one of the red-wall members.   
On the opposite wing of the party, the moderates are uncomfortable with some of the rhetoric they are hearing from cabinet ministers and the prime minister on issues like migration and LGBT+ rights – especially Suella Braverman, the home secretary, whose hardline stance worries even some on the right of the Conservative Party – including within the cabinet.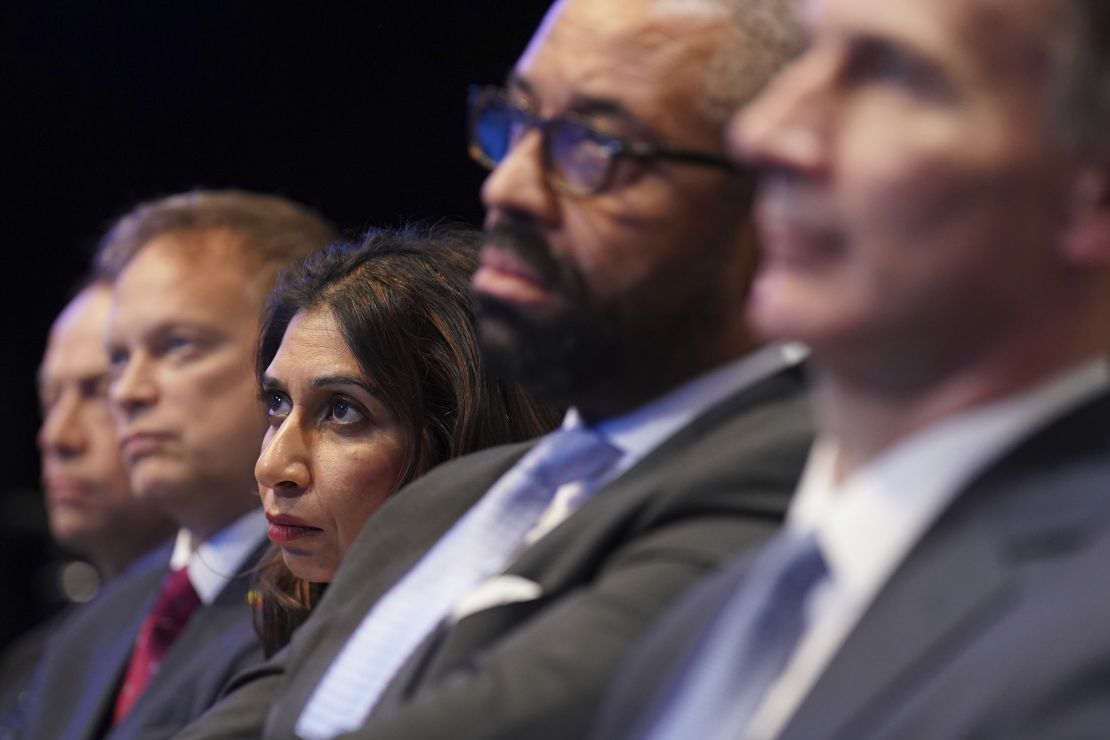 'We really can win this thing'
The most optimistic group of Conservatives currently are those within Sunak's orbit. This group sincerely believes that, despite the polls,  Sunak stands a very decent chance of remaining prime minister after the next election. There is some merit to this view: since Sunak's green U-turn he has seen an improvement in his poll numbers and his personal approval ratings are better than those of anyone else in his party, according to the pollster YouGov. 
Many highly respected political operatives have returned to the party to work on the election campaign and, as one of them told CNN: "I wouldn't have given up my well-paid job if I thought we were going to lose." 
The frustration for Sunak's allies is that despite their optimism, so many of the party's other factions have already decided that the next election is lost, and are digging into their respective trenches before the post-election blame game starts.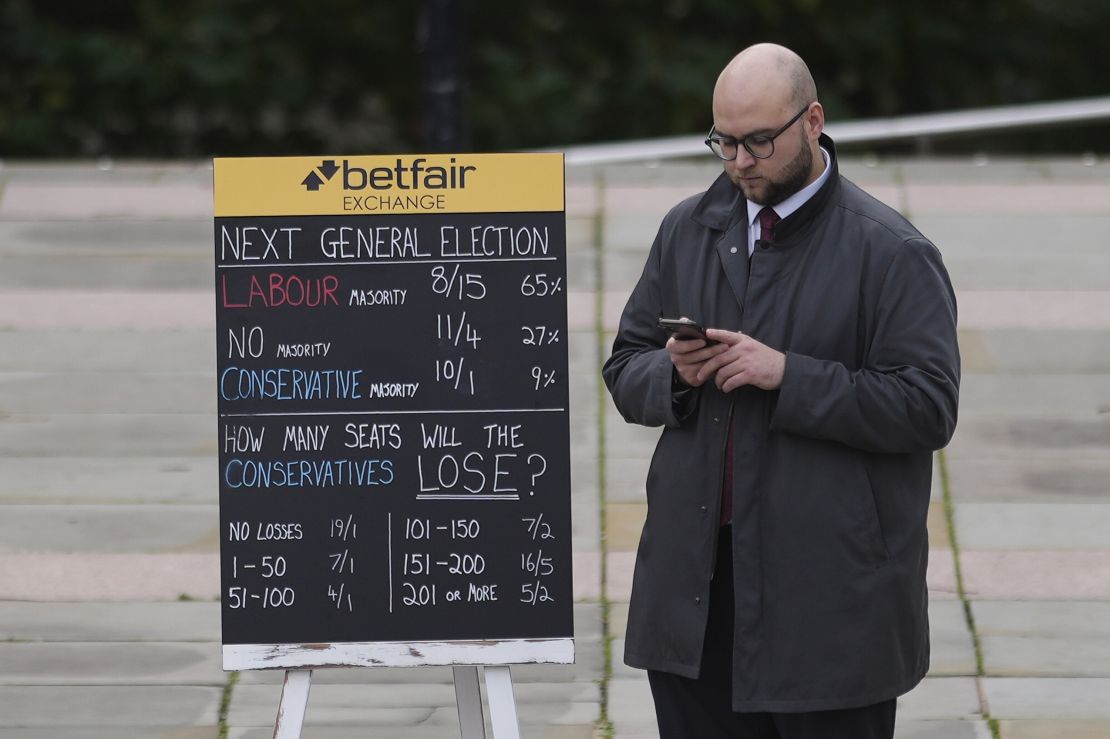 A government source told CNN: "It will be a tragedy if we lose because these people for whatever reason cannot get over themselves and get behind Rishi. We really can win this thing but we need them to come with us. Labour just are not that good." 
Adding to the sense of inevitable loss was the open and obvious debate about the future of the party beyond Sunak. Events like the one Truss attended were, in the eyes of many members, the starting gun for a battle over the party's soul once in opposition.  
Indeed, many of the frontrunners to succeed Sunak should he lose – including members of his own cabinet – spoke at an unusually high number of cosy, "in-conversation" style events with friendly hosts, playing for the applause of party members in the audience. 
Despite all of this, Sunak could reasonably call this year's conference a success, if you compare it to other conferences in recent years. He has improved the party's prospects since taking office and there wasn't the same sense of doom that lingered over last year's meeting. 
It's more that this is a party that feels tired, confused and is at times acting desperately with its hotchpotch of red-meat policies and populist rhetoric. It might not be fair and it might not even be accurate, but the general sense of deflation was more potent than that of optimism.