LeBron James says his son, Bronny James, is "doing extremely well" after undergoing "successful surgery" following his cardiac arrest in July – and is even aiming "to get back on the floor this season" for the University of Southern California (USC).
The 18-year-old suffered the cardiac arrest during a basketball practice at USC and was hospitalized, before being diagnosed with a congenital heart defect. His family said he should make a full recovery.
"Bronny's doing extremely well," James told reporters at the Los Angeles Lakers' media day. "He's began his rehab process to get back on the floor this season with his teammates and USC.
"[After] the successful surgery that he had … he's on the up and up. It's definitely a whirlwind and a lot of emotions for our family this summer, but the best thing we have is each other.
"We stuck behind each other and gave Bronny strength throughout the whole process and we're happy to see where he is today. We look forward to seeing what his future has in store for him."
Entering his 21st year in the NBA and going in search of his fifth title, James said he intends to dedicate the upcoming season to his son.
Bronny is widely considered a first-round prospect in the 2024 NBA draft and James has previously spoken about his desire to play alongside his son in the NBA.
The 19-time All Star went on to praise the USC coaching and medical staff for how they handled his son's cardiac arrest, as well as the people at Cedars-Sinai Medical Center and the Mayo Clinic, where Bronny was treated.
"Nothing else matters beside my family," James said. "And obviously I'm going to dedicate this season to Bronny because of the incident that happened this summer and understanding that it puts everything in perspective.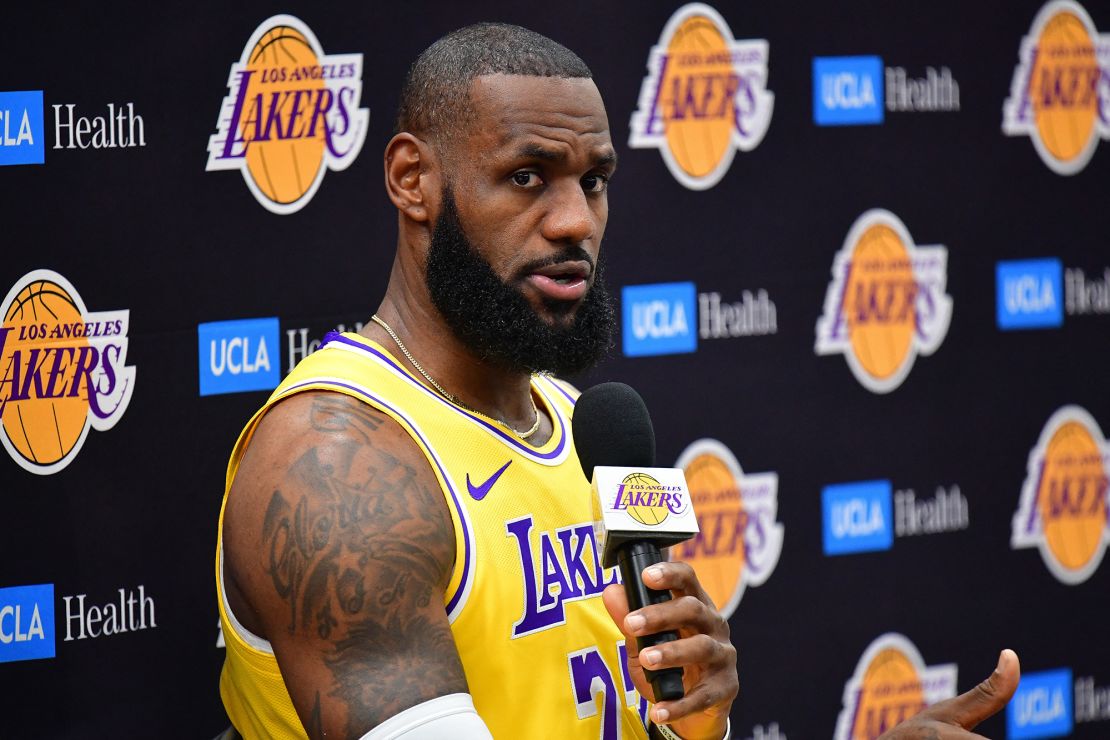 "No matter what's going on in your life at that point in time, the only thing that matters is your family. So to see what he's been through over through last few months, it's been a lot.
"I can only imagine how it's been for him because it's been a lot for me, it's been a lot for our family. But the man above definitely has given us a lot of strength and given Bronny the strength to bounce back."
James was also asked whether this season would be his last in the NBA. "I don't know, I don't know," he replied.
Asked if he could expand on his answer, James responded: "No I can't because I don't know. I'm happy right now.
"I'm excited, looking forward to tomorrow and getting the training camp going and getting going, but I don't know what the end of this road looks like, or at the end of the season. I have no idea."
LeBron did, however, express interest in playing for Team USA in next summer's Olympic Games in Paris, where he could win his third gold medal.
"I'll see how I feel at the end of this season, but from the players that we have here that I can think of off the top of my head that can fill that roster up, I don't think it would be too much of a physical toll. I wouldn't have to do much," the 38-year-old said with a grin.
"I mean, rebound a little bit, pass a little bit, defend, block some shots, you know. But we'll see. We'll see what happens."