A group of animal rescuers came to the rescue when two dolphins got stuck in shallow waters off of Cape Cod, with the marine mammals veering dangerously close to stranding.
It took a full day and multiple vessels for rescuers to safely return the dolphins to deeper waters, according to a news release from the International Fund for Animal Welfare.
The nonprofit, which is based in Yarmouth, Massachusetts, says that they started receiving calls about the dolphins on Thursday morning. Several dolphins were swimming near the mouth of the Herring River in Wellfleet, says the news release.
IFAW's first tactic was to attempt to herd the animals back into deeper water.
"Volunteers remained on scene throughout the morning before sighting two dolphins in 'the gut' of the river, an area well-known for its shallow, difficult-to-navigate mud flats," Lauren Cooley, an animal rescue responder and stranding biologist with IFAW, said in the news release. "With an 11:00 AM high tide on our side, we mobilized to herd the dolphins back out to deeper water."
The organization deployed three different vessels to coax the dolphins out of the shallow area of the river, according to the news release.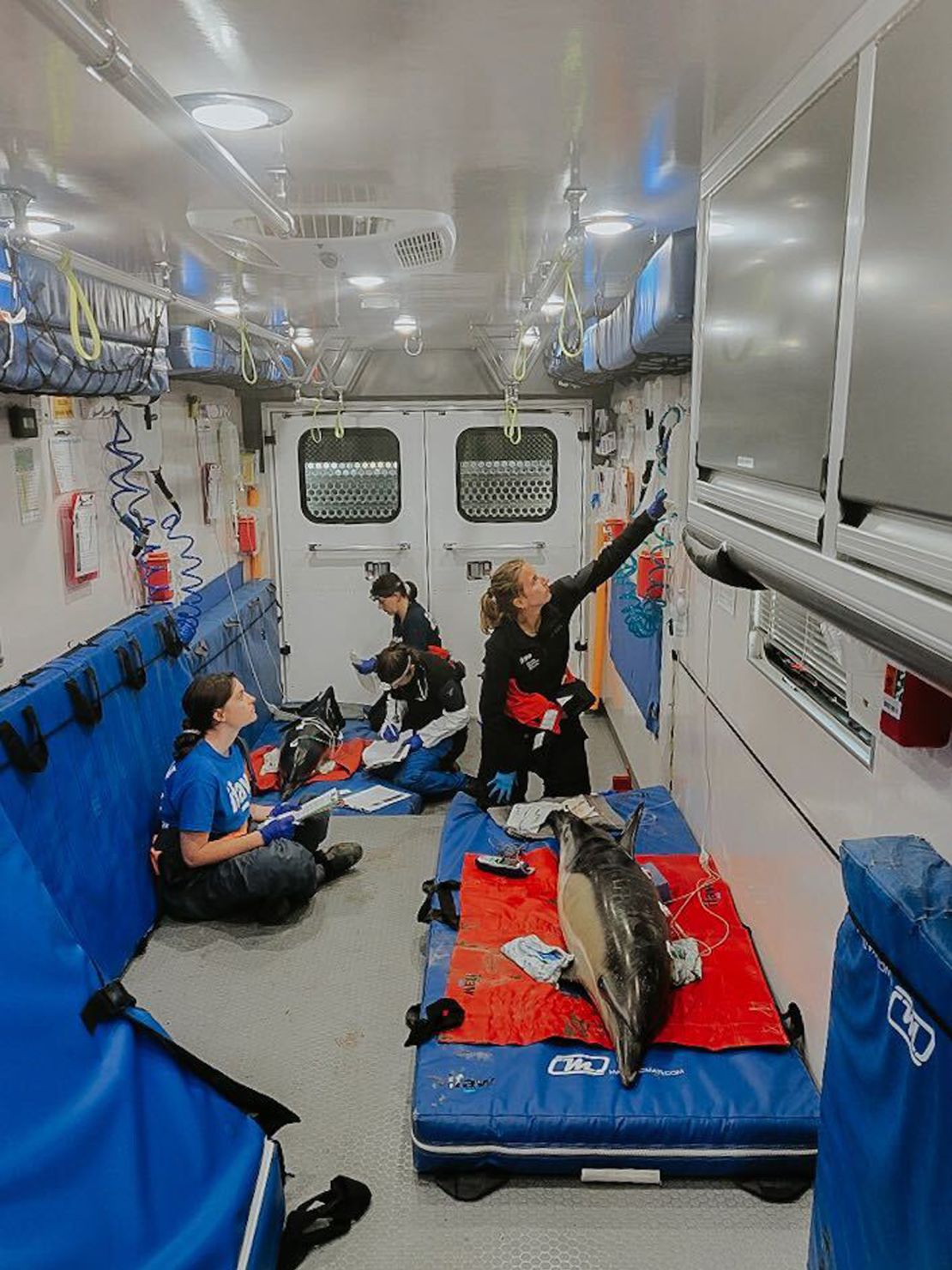 But the herding technique was unsuccessful. The team pivoted and decided to "extract the two dolphins along Chequesset Neck Road" using their "one-of-a-kind mobile dolphin rescue vehicle," says IFAW.
"It was a long, tiring day for these dolphins, and with the tide going out, we knew their greatest chance for survival was to transport them to deeper waters," said Cooley in the release. "With our mobile capabilities, we were able to give the dolphins a full physical exam, treatment, and supportive care to counter the effects of being trapped in shallow water. The deeper waters off Provincetown will be key to their success back in the wild."
The pair of dolphins were released at Herring Cove Beach in Provincetown at sunset, according to IFAW. The organization will continue to monitor their movements using a "temporary satellite tag" over the next few days, according to the release.
IFAW has previously said that Cape Cod sees more live dolphin strandings than any other place in the world. The organization runs a Dolphin Rescue Center to help rehabilitate and care for stranded dolphins until they can be safely released.
The nonprofit says it has responded to more than 400 live stranded dolphins, whales, and porpoises, over the last five years.
Dolphins and whales can become stranded due to bad weather, old age, sickness, and navigation errors, among other factors, according to the Fish and Wildlife Foundation of Florida. Stranding in shallow waters or on land can be deadly for the marine mammals.
The Fish and Wildlife Foundation urges beachgoers to call trained responders if they see a stranded or injured marine mammal, rather than trying to push the animal back into the water.