Surviving members of the Little Rock Nine – Black students who were the first to desegregate schools and break the color barrier in Arkansas – said they are "as bewildered as they were" more than 65 years ago by moves around the nation to limit access to portions of American history.
"Suppressing knowledge does not serve us well," said Elizabeth Eckford, one of the students who braved racist protesters to attend school during the Civil Rights Movement.
Eckford spoke Monday during events to mark the anniversary of the Little Rock Nine's efforts to desegregate Central High School in Arkansas' capital city. Five of the eight surviving civil rights leaders attended the event.
The audience, which included dozens of current high school seniors, gave the speakers a standing ovation as they took the stage in an auditorium that is now listed as a National Historic Site. The group spoke about their memories of those days when U.S. soldiers had to escort them to and from classes.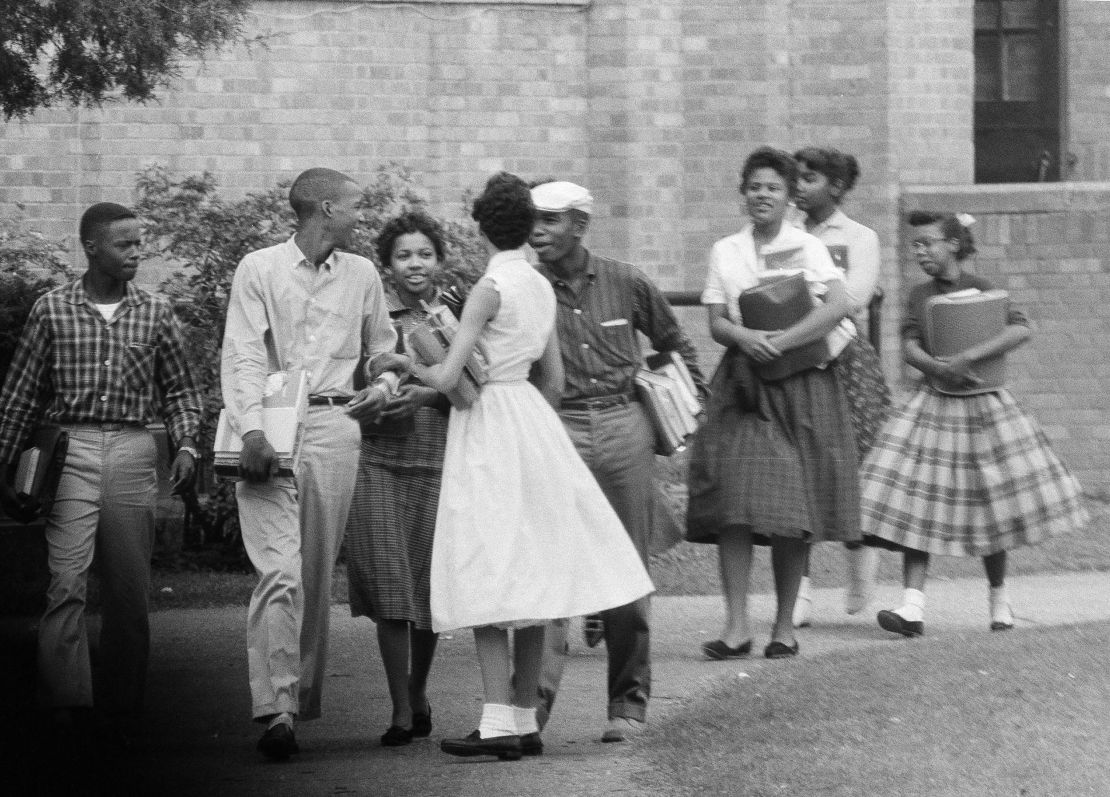 "It's imperative that schools provide educational possibilities for students, which includes all of the history," Terrence Roberts said.
After graduating from Central High School, Roberts went on to receive a Ph.D. in psychology and run a private practice.
Melba Patillo Beals said being harassed at the school hurt her soul, but the oppression energized her to graduate and launch a successful career in news reporting and to earn degrees. She encouraged the students to achieve their dreams, just like she has.
"Whatever somebody tries to stop you from doing is a gift," she said. "Do you really think that you can oppress somebody and the results be what you hope it will be? It won't."
"We at Central High School proved we cannot be oppressed."
In a press conference following the anniversary event, the group was outspoken on their concerns about the future of education in some states and school districts across the country.
"It seems to be a movement afoot around the country to restrict not only AP courses in African American Studies, but almost any other thing that you might think of that might lead to students developing a more thorough understanding of what is truly going on around them," Roberts said.
"It's tantamount to, well I was going to say burning books, but they are doing that too," he said. "So, they are burning books; they are interrupting coursework; they are proposing a new narrative – a fictional narrative – that will be used instead of the whole truth – I don't understand it, honestly."
Quoting W.E.B. Du Bois, he later added, "Either America will destroy ignorance or ignorance will destroy America. … It seems like ignorance has a head start."
Though more than 65 years have passed, Minnijean Brown-Trickey said she sees similarities between today's education landscape and the one she faced during desegregation. She said she looks to the young people affected by changes in their education to demand better. After all, that's what happened with the Little Rock Nine.
"I know it is going to happen because it has happened before," Brown-Trickey said. "They are going to get sick of being told they don't deserve to know. … They are going to be tired (of having) somebody decide whether they should feel guilty or not and they are going to rise up."
"I am waiting for that," Brown-Trickey said.
The surviving members of the Little Rock Nine acknowledged that America's path to equality has been winding.
"We have gone back and forth," Eckford said. Although the fight has been long and hard, she said she looks "forward to the possibility of positive change."
"That has been the American way," she said.