"Dumb Money" takes full advantage of its David-vs.-Goliath underpinnings to turn a tale of stocks and finance, a la "The Big Short" or "Too Big to Fail," into a crowd-pleasing underdog story. Paul Dano heads a sprawling cast as the guy leading the rebels with pitchforks on behalf of GameStop, resulting in a film that's smart and satisfying enough to earn every dollar it makes.
Adopting a whimsical tone similar to Netflix's docuseries "Eat the Rich: The GameStop Saga," director Craig Gillespie (whose nice touch with quirky fact-based stories includes "I, Tonya") follows these events through the eyes of a dizzying number of players, including uber-rich hedge-fund managers – who initially laughed off the threat – and various people who bought GameStop stock, driving up the price while playing a dangerous game as to when or whether to cash in their paper wealth.
At the forefront of that stood Keith Gill (Dano), a.k.a. Roaring Kitty, a former trader whose online advice via YouTube and Reddit's WallStreetBets ran counter to the "smart money" regarding GameStop, as embodied by Melvin Capital's Gabe Plotkin (Seth Rogen), who had heavily shorted, or bet against, the stock.
"It looks like there's one guy driving all the buying," the hedge-fund types snicker, only to watch those smug smiles fade as GameStop stock keeps soaring and their losses mount.
Written by Lauren Schuker Blum and Rebecca Angelo from Ben Mezrich's book, the movie feels a little too busy and frenetic at first, before gradually settling into its groove amid the interlocking tales, each told with a running on-screen tally of the character's net worth: Gill and his family, including Shailene Woodley as his wife and Pete Davidson as his slacker bong-hitting brother; America Ferrera as a nurse/single mom; Antonio Ramos as a GameStop employee; Talia Ryder and Myha'la Harold as a pair of students who begin investing; Sebastian Stan as Robinhood co-founder Vlad Tenev; and Nick Offerman as the billionaire CEO of Citadel.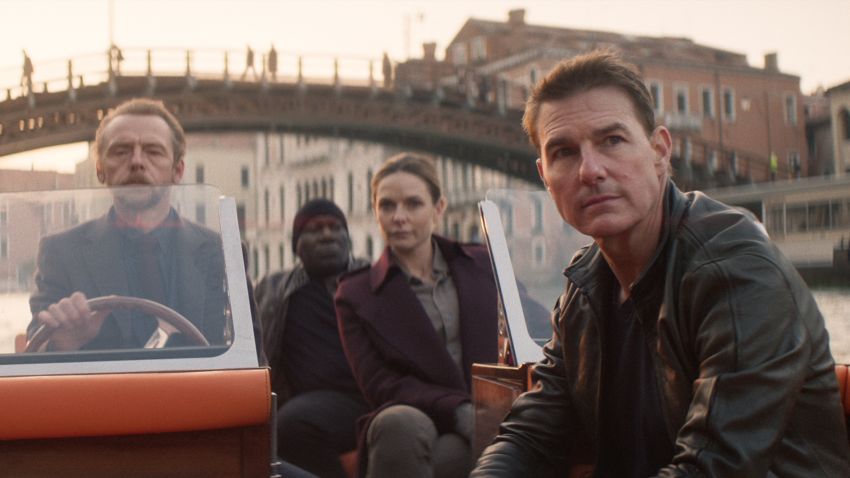 Hollywood Minute: 'Mission: Impossible' update
While there's clearly some fudging and composite characters in the narrative, Gillespie deftly weaves in footage from business-news channels to lend authenticity to the proceedings, as well as a clip from Stephen Colbert's show that neatly sums up the forces at play here.
The film derives its anchor, though, from Dano's relatable portrait of an ordinary guy from a working-class Massachusetts town who took on the investing elite and made them look stupid. (As a footnote, he's reunited with Rogen after Steven Spielberg's "The Fabelmans," although in terms of who's taking from whom, the roles are somewhat reversed.)
The underlying allure of the GameStop story hinged on people manipulating a system that has traditionally felt stacked against them, finding a sense of unity and common purpose while humbling the high and mighty and knocking them off their corporate perches.
"Dumb Money" might lose a little nuance and complexity in corralling all its facets into movie form, but boiled down to what will please an audience (in theaters, or more likely later at home), the smart money says most people won't care.
"Dumb Money" premiered in select US theaters on September 15, expanding on September 22 and September 29. It's rated R.