An effervescent young woman with a bubbly laugh and a radiant smile. A stellar student on the cusp of earning her master's degree. A beloved daughter making her mark thousands of miles from home.
That's how Jaahnavi Kandula's loved ones describe the 23-year-old graduate student from India who, police say, was fatally struck in a Seattle crosswalk in January by a city police car responding to a call.
Now, almost eight months later, Kandula's family and friends are grieving yet again following the release of body-worn police camera footage that captured a phone conversation in which a Seattle officer laughs and suggests $11,000 as compensation following her death.
The video's release last week has sparked outrage across the nation, especially within the South Asian diaspora – inspiring rallies, meetings with elected officials and online petitions demanding justice for Kandula. It's also grabbed the attention of onscreen celebrities like Priyanka Chopra, Farhan Akhtar and Lilly Singh, who have posted online about her death.
"To know that Jaahnavi did what only a small percentage of girls in India have the opportunity to do, which is get an education and that too abroad, but have her life taken and dismissed in this way is simply heartbreaking and unjust to the highest degree," Singh wrote on Instagram.
"At what point does the world stop dismissing the value of girls and women, specifically Indian girls and women?"
A day after Kandula was fatally struck, Officer Daniel Auderer – a "drug recognition expert" – was sent to see if the officer whose vehicle hit her had been impaired, police documents show. In police footage from that day, Auderer can be heard explaining how he thinks she was hit.
"But she is dead," Auderer says January 23 before laughing, apparently in response to the person on the phone.
"No, it's a regular person," Auderer then says. Moments later, he replies: "Yeah, just write a check" and laughs.
"Yeah, $11,000. She was 26 anyway," he adds, mistaking Kandula's age. "She had limited value."
Auderer "intended the comment as a mockery of lawyers," he wrote in an August 8 letter to the city's Office of Police Accountability released Friday by the Seattle Police Officers Guild. "I was imitating what a lawyer tasked with negotiating the case would be saying and being sarcastic to express that they shouldn't be coming up with crazy arguments to minimize the payment."
"The comment was not made with malice or a hard heart," Auderer wrote of what he said while on the phone January 23 with union President Mike Solan, adding he "believed the conversation was private and not being recorded."
Auderer and Seattle Police did not immediately respond to CNN's requests for comment.
The Seattle Community Police Commission, a city entity that provides oversight of the city's police department, recommended Wednesday that Auderer be placed on unpaid leave as his comments are investigated. The recommendation, which the panel made in letter to the city's police chief, is not binding.
"There is simply no context that could possibly make these comments acceptable," the letter reads.
"The reported explanation that he was mocking lawyers does not make this unprofessional and inhumane conduct any better because it shows … a callous dismissiveness toward police accountability systems," the commission's co-chairs said in a previous statement, after the footage was released.
For Kandula's loved ones, "it is truly disturbing and saddening to hear insensible comments on the bodycam video," her family told CNN in a statement.
"Jaahnavi is a beloved daughter and beyond any dollar value for her mother and family," they told CNN in a statement Monday. "We firmly believe that every human (life) is invaluable and should not be belittled, especially during a tragic loss."
Rallying for justice and a full investigation
On Saturday, crowds marched through the Seattle intersection where Kandula was killed carrying signs reading, "Justice for Jaahnavi," while chanting demands for police to take action against its officers. In California and New York, others have also protested.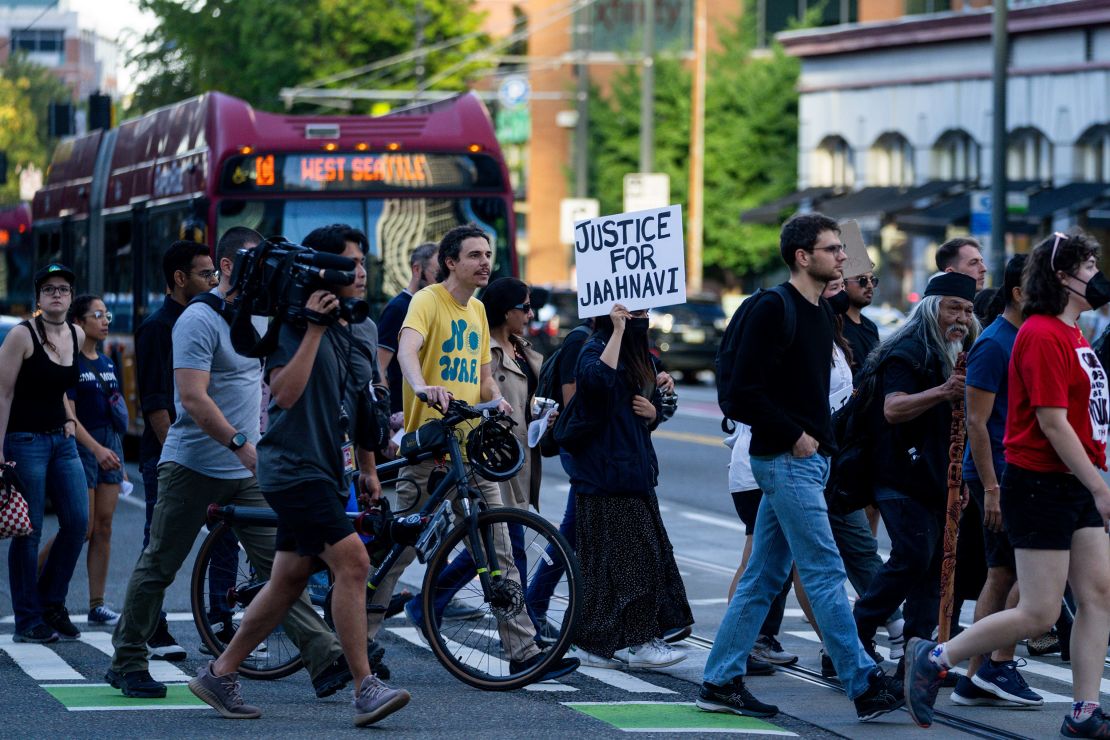 The Indian Consulate General of India in San Francisco has called for a "thorough investigation" into Kandula's death and demanded action against those involved in the incident.
"Recent reports including in media of the handling of Ms Jaahnavi Kandula's death in a road accident in Seattle in January are deeply troubling," the consulate wrote September 13 on X, previously known as Twitter. "We have taken up the matter strongly with local authorities in Seattle & Washington State as well as senior officials in Washington DC."
Kandula's death and Auderer's taped comments about it led Democratic US Rep. Ro Khanna to remember his own father, who migrated to the US in his 20s, Khanna wrote on X.
"The life of every Indian immigrant has infinite value," the California congressman wrote. "Anyone who thinks that a human life has 'limited value' should not be serving in law enforcement."
US Rep. Pramila Jayapal also issued a demand for justice for Kandula, saying the case made her "sick to my stomach," the Washington state Democrat wrote on X.
Seattle Police, "recognizing the public concern around this video," released Auderer's body camera footage on September 11 "in the interest of transparency," it said in a statement. The department declined to comment about the timing of the release.
The department "has been in touch with the family of the victim pedestrian and continues to honor their expressed request for privacy," it said. "As others in the accountability system proceed with their work, we again extend our deepest sympathy for this tragic collision."
It's not clear whether the officer whose vehicle hit Kandula is being criminally charged; CNN has reached out to Seattle Police for comment. In the driver's case, the King County Prosecuting Attorney's Office is "independently reviewing those case materials now for a charging decision," it told CNN on Wednesday, adding the Office of Police Accountability is responsible for investigating Auderer's body camera footage.
'A young soul full of dreams and hopes'
Kandula was from India's Kurnool District in Andhra Pradesh and spoke Telugu, the president of the Telugu Association of North America, Niranjan Srungavarapu, told CNN. The group helped return her remains to India in January, he said.
Kandula had come to the United States in 2021 to pursue a master's degree in information systems in the College of Engineering at Northeastern University's Seattle campus, according to the school. She would have graduated in December.
"Jaahnavi, a young soul full of dreams and hopes, came to the United States with the aspiration to pursue her master's degree and be a beacon of support for her family," the association said in a statement to its Seattle community and members. "Her future was a shining light, cruelly extinguished."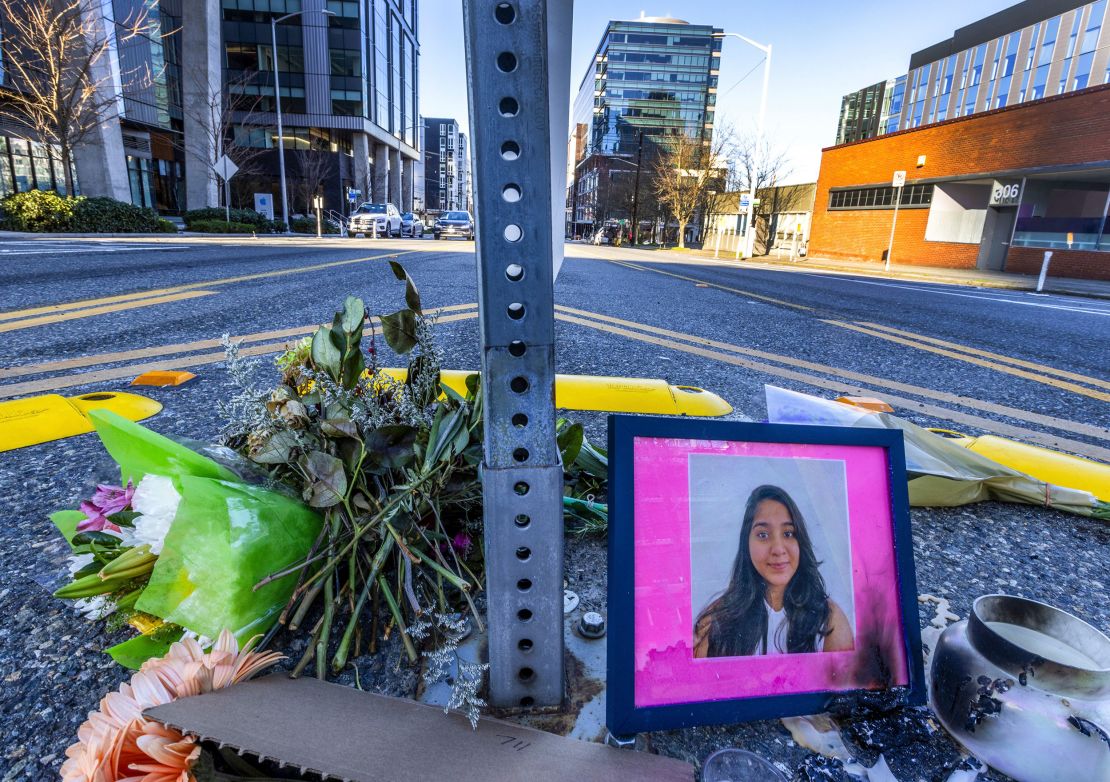 On campus, Kandula had shown "tremendous engagement" and everyone "loved her bubbly laugh, sense of humor and infectious personality," the school's dean, Dave Thurman, said shortly after she was killed.
The university plans to award Kandula her degree posthumously and present it to her family, it said Thursday in a statement. The university's main campus in Boston on Tuesday hosted a "moment of reflection, remembrance, and unity" to honor Kandula's memory, the school told CNN.
Kandula "warmed the hearts of every person she came in contact with," a family statement in January said, according to CNN affiliate KING. "She had an innate ability to connect with people from all walks of life."
"She was a daughter to a single mother who teaches elementary school in India," the statement continued, and "in spite of earning less than 200 USD per month, her mother educated Jaahnavi" and encouraged her to pursue higher education in the US in hopes that she would "have a better future and better life abroad."
CNN's Sharif Paget and Andy Rose contributed to this report.