North Korean leader Kim Jong Un received body armor and drones as parting gifts while wrapping up a trip to Russia that has alarmed the West over the potential for military cooperation between Moscow and Pyongyang.
The send-off capped a rare, six-day visit that saw Kim hold talks with his Russian counterpart Vladimir Putin, raising the possibility North Korea could provide Russia with weaponry to aid its invasion of Ukraine.
On Sunday, Kim left the eastern city of Vladivostok, where he inspected warplanes, toured an airfield and visited a Pacific Fleet frigate, to return to Pyongyang in his heavily-armored private train following a grand farewell ceremony, Russian and North Korean state media reported.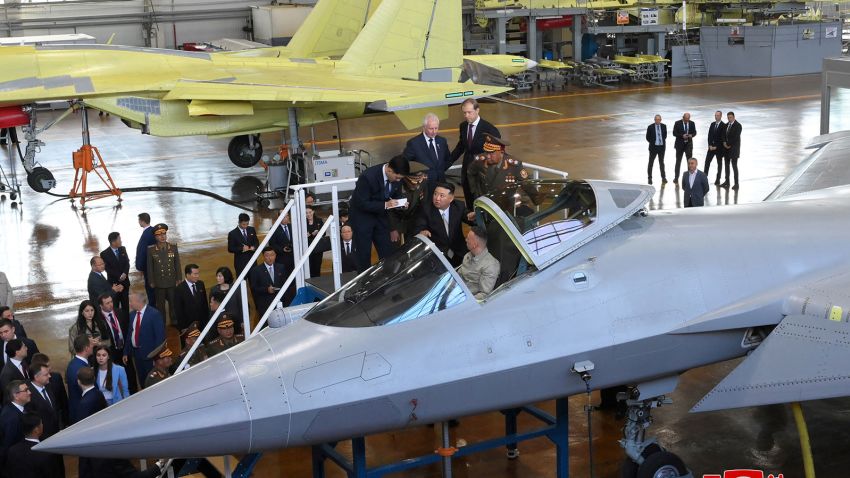 Sanctions in focus as Kim tours Russia
Traveling more than 4,000 kilometers (2,400 miles) across eastern Russia, the North Korean leader was given the red carpet treatment throughout his trip, much of which was spent visiting military sites.
North Korea is heavily sanctioned and is in need of everything from energy to food to military technology.
As Kim left, the governor of the far eastern Russian region of Primorye gave him a bulletproof vest and a set of drones, Russian state news agency TASS reported.
"This is a body armor with protection zones for the chest, shoulders, throat and groin, and it is much lighter than its known analogs," the state news agency added.
Kim was also presented with five attack drones produced in the same region, as well as a Geranium-25 aircraft-type reconnaissance drone, TASS added. A set of special clothing that is invisible to thermal imaging cameras was an additional gift.
Following a farewell ceremony that included a red carpet and honor guards, Kim was seen boarding his personal train, which left Artyom railway station while Russian officials waved, in a video published by Russian state news agency RIA Novosti.
The train was expected to travel more than 200 kilometers (124 miles) from Artyom to the border town of Khasan, RIA reported.