September started with a typhoon that ripped through Hong Kong, uprooting trees and flooding the city. It was the first of a slew of extreme weather events that have hit ten countries and territories in just 12 days – the most catastrophic being the floods in Libya, which have killed more than 11,000 people according to the UN and left many thousands missing.
Scientists warn that these types of extreme weather events, affecting countries all over the world, may become increasingly common as the climate crisis accelerates, putting pressure on governments to prepare.
"Global warming actually changes the properties of precipitation in terms of frequency, intensity and duration," said Jung-Eun Chu, an atmospheric and climate scientist at the City University of Hong Kong – though she added that this summer's devastation was due to a combination of different factors including natural climate fluctuations.
The huge toll of the floods also highlights the urgent need for governments to prepare for this new reality, and the ways conflict-ridden and poorer countries sit on the front lines of climate disasters.
Governments "have to be ready," said Chu. "They have to start thinking about it, because they've never experienced these kinds of extreme events before."
One of the worst storms in Europe
This month, swaths of the Mediterranean region have been lashed by Storm Daniel, the result of a very strong low-pressure system that became a "medicane" – a relatively rare type of storm with similar characteristics to hurricanes and typhoons which can bring dangerous rainfall and flooding.
The storm, which formed on September 5, affected Greece first, releasing more rain than is normally seen in an entire year. Streets turned into deadly rivers, submerging whole villages and forcing emergency workers on inflatable boats to rescue families from their flooded homes.
At least 15 people died, according to the Greek Prime Minister Kyriakos Mitsotakis, who called it "one of the most powerful storms to ever hit Europe."
The floods, which followed devastating wildfires in the country, "have the fingerprints of climate change," Greek environment minister Theodoros Skylakakis told CNN on Tuesday.
"We have had the warmest summer on record. The sea was very warm, which lead to this unique meteorological event," he said.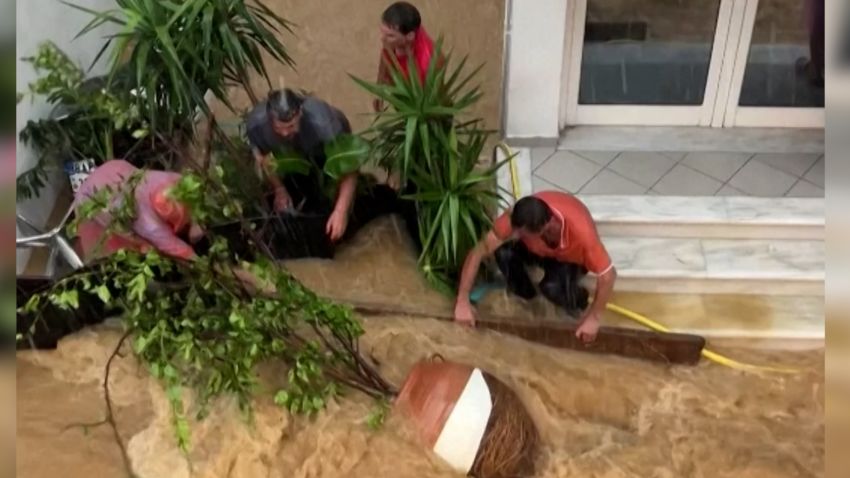 See people try to save belongings in Greece's rushing floodwaters
Neighboring Turkey felt the impact too, recording at least seven deaths. Residents in wooded areas had to wade through knee-high water, surrounded by fallen trees – while parts of Istanbul, the country's biggest city, saw deadly flash floods which killed at least two people.
Severe flooding also struck Bulgaria, north of Greece, with at least four deaths confirmed.
Elsewhere in Europe, a separate storm – Storm Dana – saw torrential rain across Spain, damaging homes and killing at least three people.
Devastation in Libya
By far the most devastating impact was felt in Libya, as Storm Daniel moved across the Mediterranean, gaining strength from the sea's unusually warm waters, before dumping torrential rain on the northeast of the country.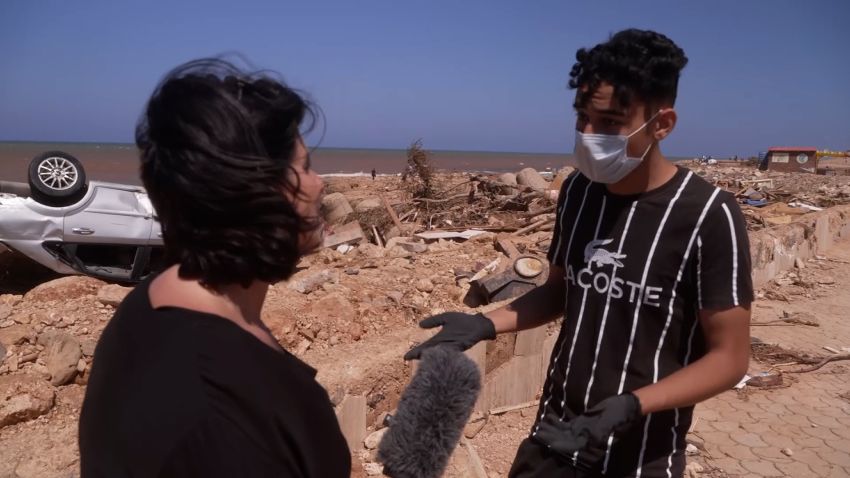 Pulling bodies with 'a rope tied around his waist.' How Libyans deal with lack of international help
The catastrophic rainfall caused the collapse of two dams, unleashing a 7-meter (23-foot) wave, according to the International Committee of the Red Cross (ICRC). The water rushed toward the coastal city of Derna, wiping out entire neighborhoods and sweeping homes into the ocean.
More than 11,000 people are dead and at least another 10,000 still missing, according to the UN, with many believed to have been swept out to sea or buried beneath rubble.
As the nation reels, and as search and rescue operations grow desperate, experts say the scale of the disaster has been greatly magnified by a combination of factors including crumbling infrastructure, inadequate warnings and the impacts of the accelerating climate crisis.
"This is a tragedy in which climate and capacity has collided to cause this terrible, terrible tragedy," said UN aid chief Martin Griffiths on Friday.
Libya has been wracked by a civil war and a political standoff for almost a decade, with the nation split between two rival administrations since 2014 – one of which isn't recognized by most of the international community, and which controls the region where Derna is located.
The North African country's fragmented state has made it unprepared for the flooding, experts say, and may hamper delivery of urgently needed humanitarian aid.
"The situation in Libya has been steadily deteriorating due to years of conflict and instability, compounded by the impacts of climate change," said Ciaran Donnelly, senior vice president for crisis response, recovery and development at the International Rescue Committee.
"Globally, climate change has made these extreme weather events more frequent and intense, making it even harder for communities to cope and rebuild, especially in conflict-affected regions," he added.