Hollywood A-lister Taika Waititi is much more comfortable holding an Academy Award than lifting the Rugby World Cup trophy.
"I was picturing dropping it because I'm notoriously clumsy and, you know, I break everything," the director and actor told CNN World Sport's Amanda Davies. "I was very nervous about holding that thing a little bit. I think I held it for about seven seconds and then gave it back," he continued.
Waititi got his hands on the Webb Ellis trophy for his new documentary "Tour de Rugby," which has launched on New Zealand Rugby's streaming platform NZR+ – although he did have to wear white gloves as only champions are allowed to hold it with their bare hands.
Known for making the last two of Marvel's "Thor" movies, Kiwi Waititi embarked on a journey across France, meeting the likes of rugby greats Jerome Kaino, Andrew Mehrtens and Sébastien Chabal for the documentary.
Speaking to CNN from a Parisian rooftop on the eve of this year's World Cup, the lifelong rugby fan recalled the last time he attended the quadrennial event.
"The only World Cup I've been to is the very first one in 1987 with my father and that was a very special moment," he said. "Also managed to see John Kirwan, the great John Kirwan, run the entire length of the field against Italy to score a try."
That inaugural tournament was the first of three Rugby World Cup titles for New Zealand. The All Blacks' quest for a fourth didn't start as planned after a 27-13 defeat to host France in the opening game. They've now suffered two losses in a row having lost to reigning champion South Africa in August before the World Cup kicked off.
While Waititi believes the All Blacks can triumph again, he jokes that it isn't the end of the world if they don't.
"I'm confident. I can't speak for anyone else, but I think this is sort of when we're at our best," he said. "We don't want to be winning every single time, it just gets boring. You gotta let other people have a go. You know, it's like when you have kids, you gotta let them win sometimes."
'If I could get them off the couch'
Waititi introduced his wife, singer-songwriter Rita Ora, onto the pitch to perform at last year's Women's Rugby World Cup, which New Zealand went on to win on home soil.
"I think that the women winning the World Cup last year is just great for New Zealand and great for women's rugby," said the 48-year-old.
"I for one, as the father of two daughters, was really stoked and really just happy that we actually had a really successful World Cup with a great turnout. A lot of crowds coming to see it and yeah, that was beautiful and I think it helps the game no matter what your gender."
With part of the FIFA Women's World Cup having taken place in New Zealand this year, have Waititi's girls – Te Hinekahu and Matewa – been swayed from soccer to rugby?
"If I could get them off the couch, I wouldn't mind what sport they play," he quipped.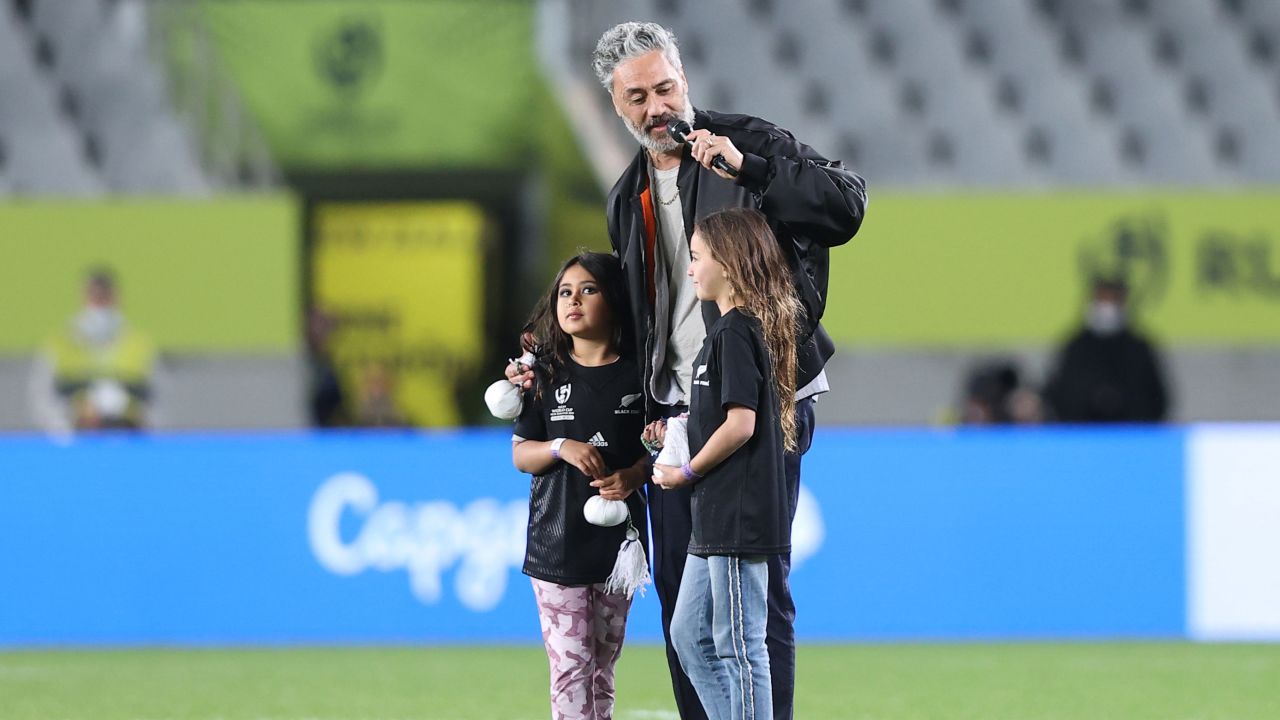 Next Goal Wins
The All Blacks are still expected to progress to the quarterfinals with Namibia, Italy and Uruguay making up the rest of Pool A. But the Rugby World Cup has provided some of the biggest upsets in the history of sport, notably when Japan stunned South Africa in 2015.
Waititi is soon to release a comedy-drama movie based on the American Samoa soccer team, which famously suffered the biggest-ever defeat in international football, 31-0 to Australia.
But the 2020 best screenplay Academy Award winner for "Jojo Rabbit" doesn't seem keen on directing a rugby movie anytime soon.
"I think most sports are quite difficult to capture in a really exciting way," said Waititi. "I think the last rugby movie would have been 'Invictus,' maybe. I think you have to have played rugby to really understand how to capture it and how to film it.
"I never really played soccer, football, a lot, but this film, 'Next Goal Wins,' which is coming out in a couple of months, is about one of the biggest losing football teams in the world.
"[It's a] true story of American Samoa and how they rose to success. That was my first foray into shooting that game and I was very nervous about it because I'd seen a few football films in the past, and it's just a hard game to really make look exciting on film, but I think we did a good job," Waititi said.
However, if the All Blacks do end up lifting the Webb Ellis trophy in late October, the passionate rugby fan might just be persuaded to change his mind.