Ukraine's President Volodymyr Zelensky has tapped Rustem Umerov, a Crimean Tatar, to become his next defense minister, replacing Oleksii Reznikov at a critical time for Ukraine's counteroffensive.
Umerov will have a bulging in-tray if and when the Ukrainian parliament approves his appointment.
The change in leadership comes as Ukraine's relationships with allies and donors enter a new phase. Kyiv is trying to accelerate the training and deployment of F-16 combat planes and acquire a host of other equipment and weapons from its western allies to help push forward its counteroffensive.
But the Defense Ministry is also trying to develop an indigenous weapons production base in concert with western defense firms, including efforts to develop new long-range capabilities that could be used against targets inside Russian territory.
The Defense Minister is also Ukraine's main interlocutor with western allies through the Ukraine Defense Contact Group. Reznikov, had developed relationships with senior US and European officials through the Group. The next meeting of the Group is later this month.
But Umerov too has extensive experience as a negotiator. He has been closely involved in prisoner of war exchanges and helped to broker the Black Sea Grain Initiative. In that role, he repeatedly expressed skepticism that Russia would abide by the deal. He is currently the chairman of the State Property Fund, whose mission is to attract investment into Ukraine.
A survivor and businessman with links to the Gulf
Zelensky chose Umerov for the top defense job even though Umerov is not a member of his political party, the Servant of the People. Instead, he represents a smaller liberal Golos party, which is in opposition.
A Crimean Tatar, Umerov was born in 1982 in Uzbekistan, where tens of thousands of the Muslim ethnic minority had been deported by Stalin in 1944. He moved to Crimea as a child in the dying days of the Soviet era.
He told Forbes in an interview last year that his personal background had influenced his role with prisoners of war. "I survived the resettlement back home to my historical homeland in Crimea. I know what reintegration is, and I know what temporary occupation is. Therefore, it is not a blanket statement to me what human rights are. For the last eight years I have been involved in the issue of exchange of political prisoners and prisoners of war. I am very concerned about this matter."
Crimean Tatars have faced persecution and exodus, mainly at Russian hands, at least since 1783, when Russian Empress Catherine the Great annexed Crimea after wresting it from the Ottoman empire.
Umerov is a Muslim, and said last year "Ukrainian Muslims are fighting for Ukraine's independence and sovereignty." His background has also enabled him to develop links with the Gulf states, including Saudi Arabia which assisted with a high-profile prisoner exchange last year. He was the Ukrainian official who greeted prisoners of war when they arrived in Saudi Arabia.
In an interview with the Center of Humanitarian Dialog in Norway last October, Umerov recalled speaking with Zelensky's presidential office as the first Russian missiles landed around Kyiv.
"From that moment on I was asked to establish channels of communication. At the time it was Turkey, so that Turkish President would call Russia's President and ask what is Russia trying to do."
He also spoke of the tense months leading up to the conflict. "I started preparing colleagues at the office, saying we need to be ready physically, mentally, what should be done. So people should train to hold weapons. I also explained to colleagues that they should have no hesitation because the invaders are coming to kill."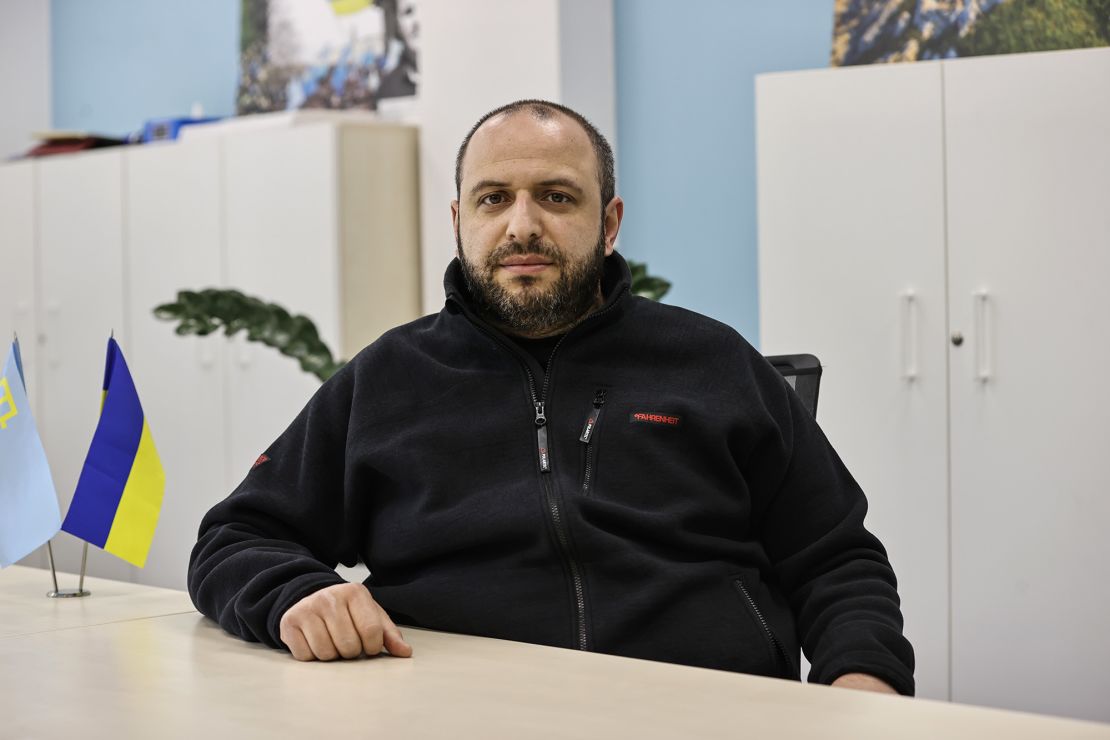 Umerov's background is in business, but he also taken on a number of diplomatic and political missions. Before entering parliament four years ago, he founded an investment company, ASTEM, focused on communications, information technology and infrastructure. The ASTEM Foundation is one of the donors of the Ukrainian Emerging Leaders program at Stanford University.
Analysts say his business background may be important as the ever-growing military machine in Ukraine is transformed, absorbing billions of dollars of international aid and acquiring a wide array of western equipment as it aligns itself with NATO standards. However, Umerov has little direct experience in the defense sector.
Umerov also told Forbes that only Ukraine could win the war with Russia. "After we win the war, we will be among those who will determine the fate of Russia jointly with our partners. Ukraine should have the leading role in this process."
Reznikov's exit
Umerov is replacing Reznikov, whose long tenure – he had been in the post since before the full-scale war started – had been damaged by contract scandals involving the Defense Ministry.
There have been several investigations into corruption in procurement at the Ukrainian Defense Ministry, which have threatened to overshadow the focus on reforming Ukraine's military into a modern force based on western technology and tactics.
While allegations of corruption did not impinge personally on Reznikov, he acknowledged they had been damaging. The investigation also led to some unease about the allocation of aid among western partners, who are supplying Ukraine with billions of dollars worth of equipment and aid.
It was widely reported at the beginning of this year that Reznikov would be moved to a different ministry. He posted on Twitter in February: "Thank you all for your support, as well as constructive criticism…We draw conclusions. We continue the reforms. Even during the war."
"We have launched an internal audit that checks all procurement systems. It is still in progress," Reznikov said then.