Ukrainian President Volodymyr Zelensky has fired his defense minister, citing the need for "new approaches" as the war with Russia enters its 19th month.
"This week, parliament will be asked to make a personnel decision … I have decided to replace the minister of defense of Ukraine. Oleksii Reznikov has gone through more than 550 days of full-scale war," Zelensky said.
The president nominated Rustem Umerov, the former people's deputy of Ukraine, to become the new defense minister.
"The Verkhovna Rada (legislature) of Ukraine knows this person well, and Mr. Umerov does not need any additional introductions," Zelensky said. "I expect parliament to support this candidate."
Umerov is currently the chairman of the State Property Fund, whose mission is to attract investment into Ukraine, and has been closely involved in prisoner of war exchanges. He also served as a senior negotiator in the Black Sea Grain Initiative, and more than once expressed skepticism that Russia would abide by the deal. Russia has since abandoned the scheme.
His appointment comes at a critical time for Ukraine's counteroffensive in the south, and as its relationships with allies and donors enter a new phase. Ukraine is trying to accelerate the training and deployment of F-16 combat planes as well as acquire a host of other equipment and weapons to help push forward its counteroffensive.
Reznikov submitted his resignation Monday, writing on Facebook: "Following the decision of the President of Ukraine Volodymyr Zelensky, I submitted my resignation to the Ukrainian Parliament. I am ready for the report. Let's keep the line!"
He also posted photos of himself with his resignation letter.
Reznikov has served as defense minister since November 2021, having previously served in other governmental roles such as deputy prime minister, according to his biography on the defense ministry website.
His removal comes in the wake of a number of corruption scandals involving Ukraine's Ministry of Defense.
Zelensky fired a slew of senior officials at the start of the year over a scandal linked to the procurement of wartime supplies; the country's deputy defense minister resigned after facing allegations of corruption; then in August, Zelensky dismissed all officials in charge of regional military recruitment centers, citing numerous ongoing criminal proceedings.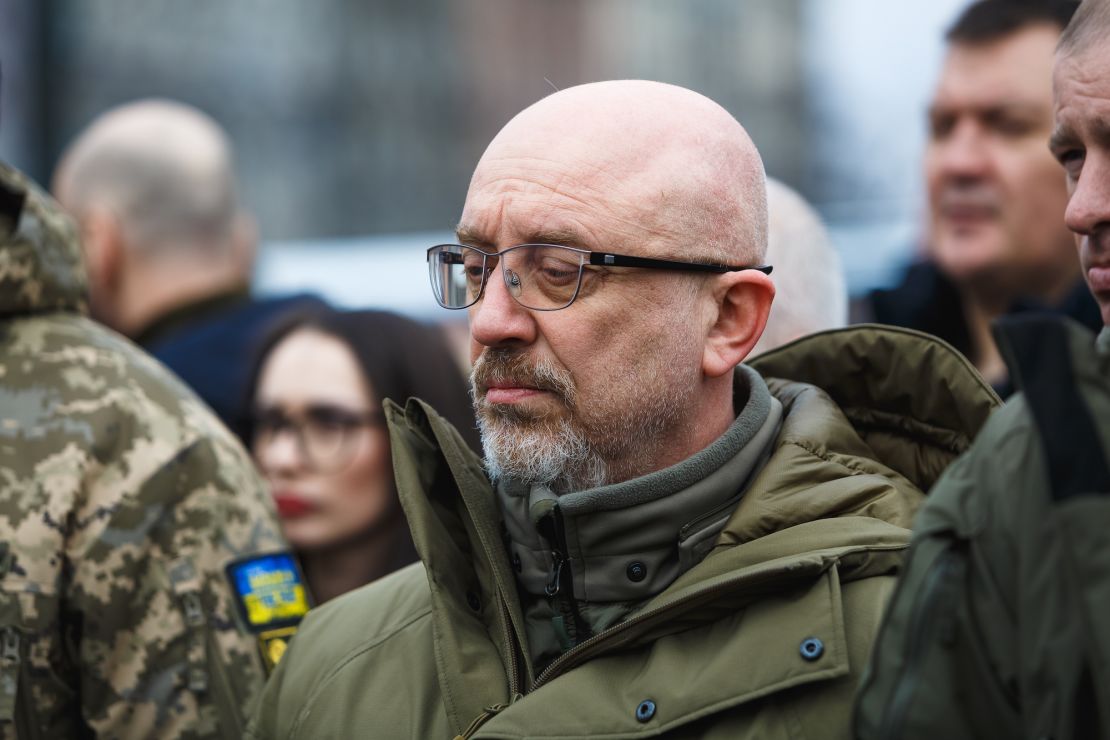 While Reznikov has not been implicated in any of these scandals, they have still been seen to damage him by association.
And on Saturday, one of Ukraine's most powerful oligarchs and a key Zelensky supporter, Ihor Kolomoisky, was arrested as part of a fraud investigation.
Zelensky has said rooting out corruption across Ukraine's government is vital to Kyiv's chances of attaining long-awaited membership in NATO and the European Union.
According to a 2021 report by Transparency International, Ukraine is the second most corrupt country in Europe after Russia. Globally, it ranked 122nd of 180 countries.
Zelensky's promise to rid the government of corruption was one of the reasons behind his rapid ascent into power in 2019. A former comedian who played Ukraine's president on a hit TV show, Zelensky had zero political experience at the time of his election – but managed to tap into the nation's deep-rooted disappointment and disgust over rampant corruption.
Ukraine officially became an EU candidate state last year, but Brussels has made it clear that Kyiv will need to step up its fight against corruption if it wants to become a full member.
CNN's Tim Lister, Victoria Butenko and Maria Kostenko contributed reporting.