Ukraine's counteroffensive is "moving forward" after Kyiv made some headway in its campaign to recapture territory seized by Russia, Ukrainian President Volodymyr Zelensky said on Saturday.
"Ukrainian forces are moving forward. Despite everything and no matter what anyone says, we are advancing, and that is the most important thing. We are on the move," Zelenksy said on X, formerly known as Twitter.
It is unclear if Zelensky is referring to a specific official or comment, but he appears to be trying to reverse the narrative that Ukraine's summer counteroffensive has, to date, delivered poorer-than-expected results. Some media outlets carried reports citing Western officials saying Ukraine had spread its troops too thinly.
After much anticipation, the counteroffensive formally got underway in mid-June. Gains, though, have been hard won and there have been no captures of major settlements as Kyiv's troops encountered well-defended Russian lines.
Despite continued sluggish progress, Kyiv said in mid-July it felt no pressure for quick results. By the end of the month, Ukraine had committed more troops to the southeast of the country, a sign that it had identified potential weaknesses in Russian defensive lines.
That decision appears to be yielding some results. In recent days, the Ukrainian military has notched victories in the southeastern Zaporizhzhia region, this week penetrating the "first line" of Russian defenses.
Ukraine's military said on Saturday it was consolidating its positions there and conducting counter-battery fire near Robotyne, a strategically located village in Zaporizhzhia that Ukrainian troops secured last week.
That progress is a sign that Kyiv is edging closer to Moscow's sprawling network of fortified trenches along the southern front.
John Kirby, the coordinator for strategic communications at the US National Security Council, said Friday that Ukrainian forces had made "notable progress" in the previous three days, achieving "some success against (the) second line of Russian defenses."
Further gains there would help Ukraine break the "land bridge" connecting mainland Russia to the Crimean Peninsula, which Kremlin annexed from Kyiv in 2014 in violation of international law.
Russia's Ministry of Defense, however, said Saturday it had repelled four Ukrainian attacks in the area around Robotyne and a the nearby settlement of Verbove.
CNN is unable to verify immediately the battlefield claims of either side.
Zelensky and Kirby's statements echo what Ukrainian Foreign Minister Dmytro Kuleba told CNN's Christiane Amanpour on Friday. Kuleba said Ukraine's partners, including the United States, "understand that things are moving in the right direction" and there is no "slow down" in progress.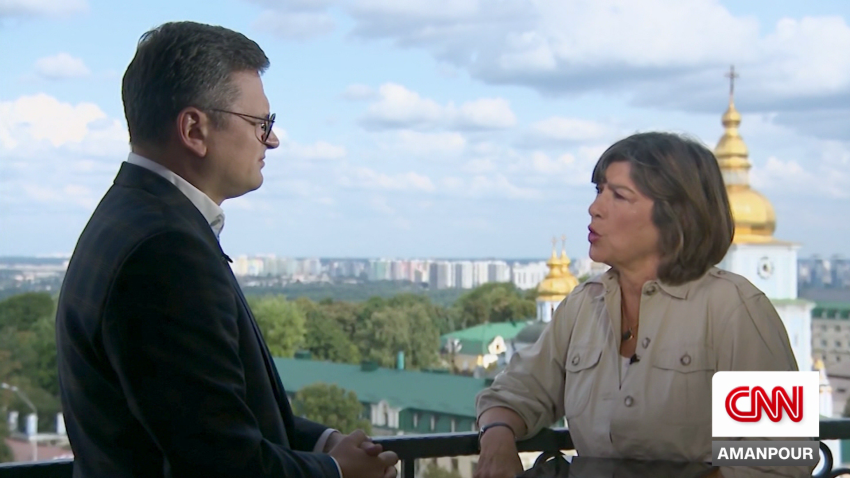 "We are not failing, we are moving forward," Ukraine's foreign minister tells CNN
Kuleba added that those criticizing the pace of the counteroffensive should pay greater consideration to the soldiers leading it.
"How does it feel when you come back from your mission and you take back your phone, you open it, and you start reading all the smart people saying how slow you are and that you're not doing well enough?" Kuleba said.
CNN's Darya Tarasova, Andrew Carey and Andrew Millman contributed to this report