Editor's Note: Onnie Willis Rogers is a former collegiate gymnastics champion at UCLA and a professor of psychology at Northwestern University whose research focuses on human development, diversity and equity and education. The opinions expressed here are her own. Read more opinion at CNN.
Becoming a successful gymnast almost always starts with preschool-aged kids in leotards barely able to do a cartwheel. It usually ends in high school — or college, for a few of us — at which point most athletes retire from the sport. When people ask me, a former competitive gymnast, if I'm still active in the sport, I usually just say, "gymnastics is not like basketball; it's not a pick-up sport."
In my experience, if you started gymnastics after the age of six, you started "late," and if you competed into the college years, you were "old." This prevailing attitude has taken many talented gymnasts out of the sport and crushed the dreams of countless young athletes who were no doubt told that the window had closed and that they had missed their shot.
But over the past couple of decades, collegiate gymnastics has been disrupting this narrative, with gymnasts performing impressively at the elite scene well past their teens — and sometimes, considerably after their college careers.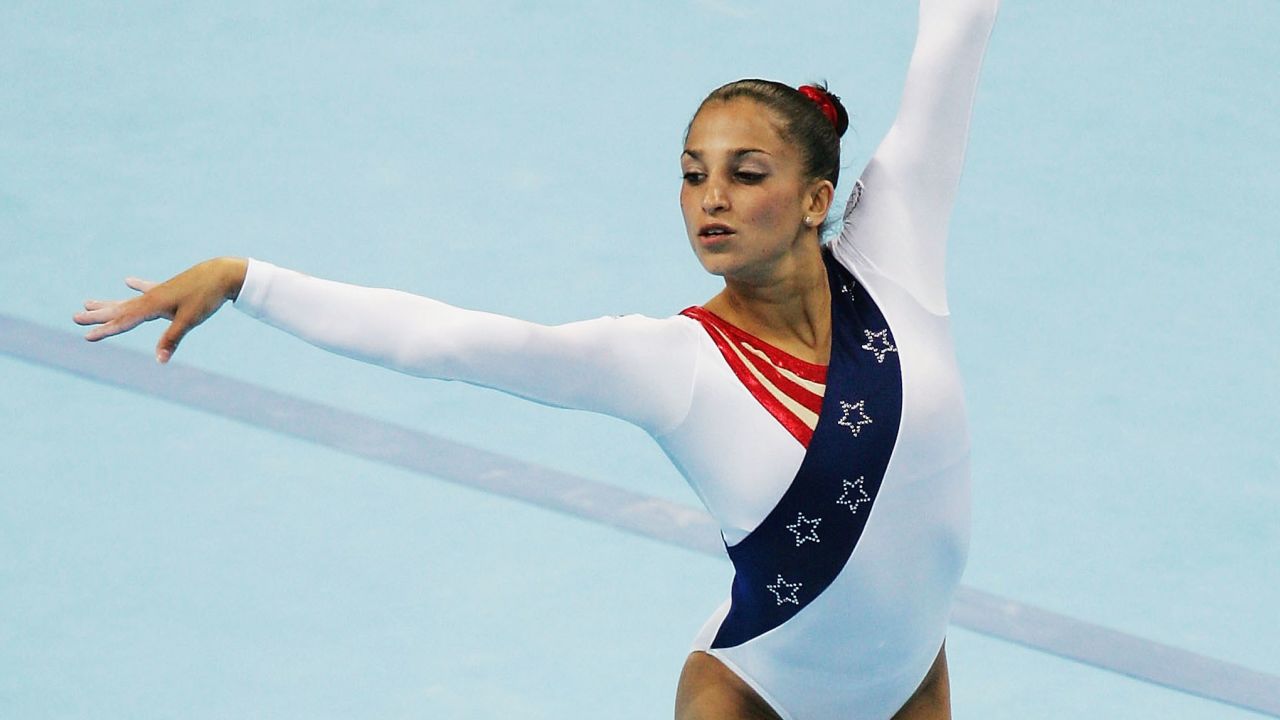 For example, after a successful career at UCLA, Mohini Bhardwaj, at the age of 25, went on to be named captain of the 2004 Olympic team where she earned a silver medal. And in the last Olympic cycle, Chellsie Memmel returned to the sport — after a nine-year hiatus — as the 32-year-old mother of two. Her performances, as well as her social media posts about her training, inspired many, and gave some of us reason to question the old narrative about "aging out" of the sport.
Oksana Chusovitina, from Uzbekistan, is the oldest Olympic gymnast. She's competed in eight consecutive Olympic games (on three different countries' national teams) and at 48, she's planning to compete again at the Paris Olympics next year.
Then of course, there is Simone Biles, who is the most decorated gymnast in history and at 26, an elder stateswoman for the sport in the United States.
Biles stunned the world again this past weekend, capturing her eighth US Gymnastics all-around title, becoming the oldest woman ever to win while breaking the record for most all-around titles by any gymnast, male or female.
It's not just her gymnastic brilliance that is causing jaws to drop, but the fact that she won her most recent championship after a two-year break from the sport. Athletically speaking, Biles has picked up exactly where she was when she stepped off the mat after the 2020 Olympics Games. (The games were held a year later because of the Covid-19 pandemic.)
In a sport where the scores separating participants sometimes differ by mere hundredths of a point, Biles prevailed at nationals with a nearly 4-point victory. As a former elite gymnast, member of the USA Gymnastic National Team and 4-time NCAA Collegiate Champion, I know what it takes to compete at the highest level and to sustain success over time. But to step away for so long and return as champ? Biles is without question the greatest ever to chalk up.
It's become almost routine to rattle off superlatives when describing just how magnificent an athlete she is: her remarkable athletic ability, the precision of her technique, the unparalleled amplitude she achieves as she soars in her vaults or in her tumbling passes. We are all fortunate that we get to witness an athlete of this caliber attain near-perfection, routine after routine. Biles has given us a gift.
She has also changed the narrative about who gets to be a champion, and who gets to excel at the thing they love. She is a married woman well past the age at which most female gymnasts have abandoned the sport. (Male gymnasts have always had a longer horizon, especially at the Olympic level). And Biles has only gotten better with age. She grew up, but she did not outgrow the sport.
Beyond gymnastics, Biles offers us something else to embrace: the lesson that we have the power to change restrictive narratives that do not serve us. Expectations about "how things are supposed to go" in our careers can help us, but they can also limit us.
Biles insisted on leaving her sport to take care of herself before coming back on her own terms — ignoring the rules about how things should be done. In the process, she honored her own individuality and her own humanity. That's been a game-changer for her personally and for gymnastics. It's been a great lesson for those of us outside the sport as well.
Putting it in her own words: "We have to protect our minds and our bodies and not just go out and do what the world wants us to do… We are not just athletes, we're people at the end of the day, and sometimes you just have to step back," she said, after withdrawing from the Tokyo Olympics. It was, in fact, another gift from the athlete who has often been called the GOAT.
What she showed all the young gymnasts hoping to follow in her footsteps is that overwork and emotional distress and pushing through pain and trauma do not result in optimal performance. In our work-obsessed world, athletes — just like the rest of us — are routinely told to work harder for longer hours and that if they are serious about their endeavors, they will limit the time they spend away from professional endeavors.
I can't help but wonder whether Biles would have been able to perform so well now if she had not listened to herself and had the courage to step away for a while.
When she acknowledged the need for a mental health reset and took herself out of the Olympic finals in Tokyo, it shook the world. Some were critical, calling her selfish and a quitter, but people who were more discerning were supportive. They celebrated the impact this had on de-stigmatizing mental health concerns in sport and for women broadly — especially Black women. This moment showed us what it looks like to trust others and give them the support they deserve. It is how we change the narrative: When someone tells us what they need, we should trust them.
Get Our Free Weekly Newsletter
Seeing the incomparably high level Biles has now reached leads me to wonder: Would this level of excellence have been possible if she had "pushed through" and not taken time away? Would she still have craved the joy and the challenge of gymnastics? Without having put her mental health first, would she still trust herself enough to do the most difficult maneuvers humanly possibly on the sport's biggest stage?
I don't think so. Trusting herself enough to do exactly what she needed when she needed it has only increased her confidence. Biles had the self-awareness and social support to live out her truth, and we are all the grateful beneficiaries of that wisdom.