Editor's note: Gib Brogan is a campaign director at Oceana, an advocacy organization, where he leads the effort to protect North Atlantic right whales and improve the management of US fisheries. The opinions expressed in this commentary are his own. View more opinion at CNN.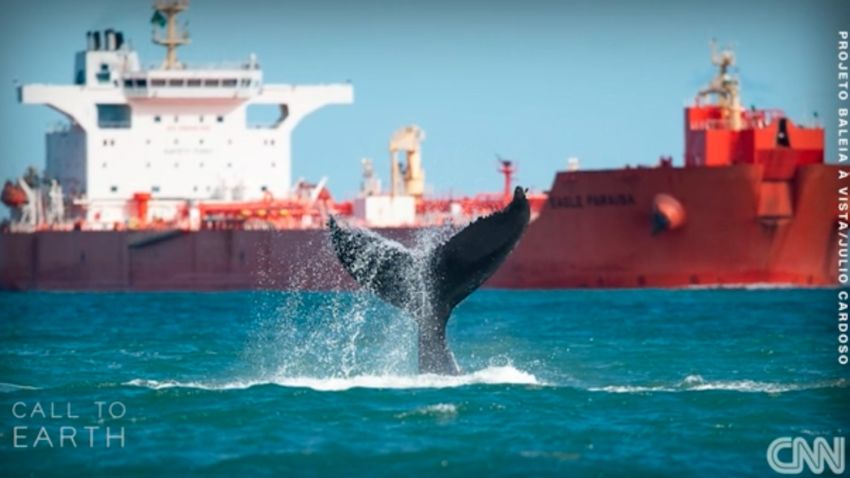 Protecting whales from one of their biggest threats
North Atlantic right whales and speeding boats just don't mix. When a boat strikes a North Atlantic right whale, it can cause traumatic injuries and even death. With only around 340 of these whales remaining along the East Coast of the United States and Canada, they are on the brink of extinction.
Boat strikes and fishing gear entanglements are top threats to these critically endangered whales. Scientists estimate the species can only recover if less than one North Atlantic right whale dies per year from these human causes. They have been listed as endangered under the Endangered Species Act since 1970.
These whales live in a constant state of danger, navigating a jungle of an estimated 1 million fishing lines and busy shipping lanes from their calving grounds in the US Southeast to their summer grounds in New England and north into Canada. If all of that weren't enough, this whale is hard to see because it is dark in color, lacks a dorsal fin and is vulnerable because it swims near the water's surface.
Studies have found that a boat's speed is a major factor in boat-related collisions with North Atlantic right whales, with speeds of 10 knots (11.5 mph) or less reducing a whale's risk of death by 80% to 90%. At high speeds, captains cannot maneuver to avoid them, and the whales swim too slowly to move out of the way.
To reduce the threat of boat strikes to these whales, the National Oceanic and Atmospheric Administration in 2008 issued a vessel speed rule to establish mandatory seasonal slow zones for boats 65 feet in length or greater in areas where the whales were expected, and short-term voluntary slow zones triggered by whale sightings. The speed limit of 10 knots (11.5 mph) was set to reduce the risk of a boat killing a whale.
Our oceans have changed since 2008. North Atlantic right whales are spending more time in the colder waters in Canada and different parts of US waters so these seasonal slow zones no longer match when whales are present. Over time, it's become clear that even smaller boats can kill North Atlantic right whales.
In February 2021, a male calf, only about a month old, was killed by a 54-foot sport fishing boat. This calf died from the severe trauma of the boat's propeller cutting deep into its back, a fractured skull and crushed ribs. The calf's mother, known as "Infinity" to whale researchers, was also struck and reportedly has not been seen since she was spotted a few days afterward with cuts. This collision shows how dangerous strikes from smaller boats can be. To save these whales from extinction, NOAA must extend the speed limits to smaller boats, not just large ships.
After an extensive review of the current vessel speed rule, NOAA proposed updates last year to protect these whales better. At the time, NOAA said, "During the past two and a half years alone NOAA Fisheries has documented four lethal (death and serious injury) right whale vessel strike events in US waters. These events are impeding the species' recovery and contributing to the population's decline."
NOAA allowed months of public review and accepted comments through October 2022. The agency has advised the White House that it expects to finish reviewing these comments and take final action by this December.
The proposed changes make sense: Adjust the location of the seasonal slow zones to where the whales are located now compared with 2008; apply the speed limits to boats 35 feet in length and up; shift the short-term voluntary speed zones triggered by whale sightings to mandatory zones, among other updates.
But there has been recent controversy around NOAA's proposed changes. Some members of Congress have proposed delays to finalizing these slow zones. Although none of these delays has moved forward in Congress at this point, any setback risks pushing the right whales over the edge of extinction. With only 340 whales left, we don't have much more time to save these whales.
Despite assertions from recreational fishing and boating enthusiasts, these slow zones are not new and do not close access to the Atlantic Ocean or prohibit these activities — boats 65 feet and larger have been subject to the slow zones along the East Coast for 15 years. These zones simply update the existing seasonal slow zones with newer information about when and where whales are expected, improve how the 15-day slow zones are triggered when whales are spotted in certain areas and ensure that boats must comply with the speed limits. And these slow zones are only in effect when the whales pass through on their migratory path from Florida to Canada and back each year. This speed rule needs to apply to smaller boats that can and do kill whales.
Get Our Free Weekly Newsletter
In NOAA's proposal, the updated slow zones remain seasonal and temporary, with almost all of these slow zones (except a smaller zone near Nantucket and Georges Bank that runs through the end of June) having no impact on most US boaters between Memorial Day and Labor Day — the most popular boating months — as most of the whales are in Canada during those times.
When it comes to boater safety, the current and proposed updated vessel speed rule will not put boaters at risk or in danger. Boaters are exempt from the speed limit if safety is on the line, such as if a storm is approaching or a warning for high winds is issued. The proposed changes offer expanded exemptions compared with the original 2008 rule for situations that present a threat to the health, safety or life of a person.
We can save this critically endangered whale from extinction, but it requires action now. The North Atlantic right whales are running out of time.